Cabinet design trends come and go, but the range of selection we're seeing in 2021 is unparalleled. There's something here to suit every taste, from bright colors to high-tech materials and exciting new cabinet front styles. So let's dive a little deeper and get a taste of 2021 kitchen cabinet style!
Thermofoil Cabinet Style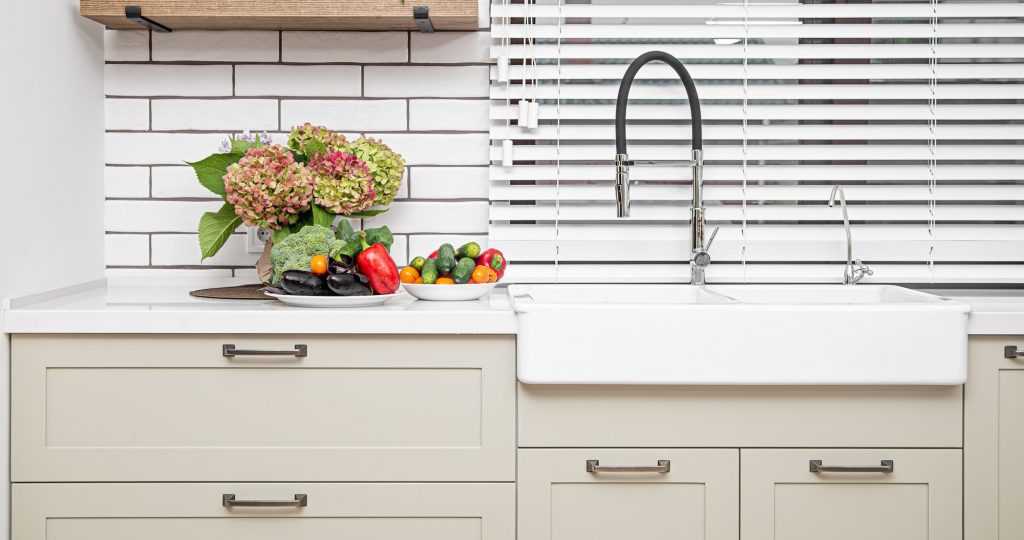 Despite its name, there is no actual metal in thermofoil. Instead, it consists of a thin layer of vinyl topcoat vacuum-pressed onto a surface. This surface is most often made of medium-density fiberboard (MDF) and becomes your cabinet doors and drawer fronts.
Thermofoil may not be everyone's first selection in cabinetry materials, but those who choose it love it. Thermofoil—also called rigid thermofoil or "RTF"—is a staple of budget kitchen renovations and remodels. Although some dislike its vinyl appearance, it has distinct advantages that can win over even the pickiest homeowner.
Thermofoil offers a variety of benefits that might surprise you, too. It is a nonporous material, and its seamless application makes it watertight. The color is always consistent, and they are virtually maintenance-free. Perhaps best of all, thermofoil is extremely budget-friendly, and with professional application and periodic maintenance, it can easily last ten years or more.
Fast Cabinet Doors offers thermofoil products in a range of sizes, designs, colors, and textures.
AR756 RTF
This lovely thermofoil model features a raised inset panel with rounded corners and tiered detailing. These cabinets bring just as much depth and charm to a kitchen as any wood product, and they are incredibly durable and affordable to boot. Choose from a wide array of color options, including finishes that mimic the look of grainy wood. This cabinet style would look fabulous in a cottage or farmhouse-inspired kitchen or a mid-century modern-esque space.
DRS131 RTF
This model is essentially the thermofoil equivalent of a shaker cabinet. It shares the same design as a wood shaker counterpart, with its recessed center panel and square edges. The DRS131 RTF is an excellent choice for anybody with a preference for modern or contemporary design. For the homeowner seeking mod-on-a-budget, this thermofoil alternative is an excellent way to go.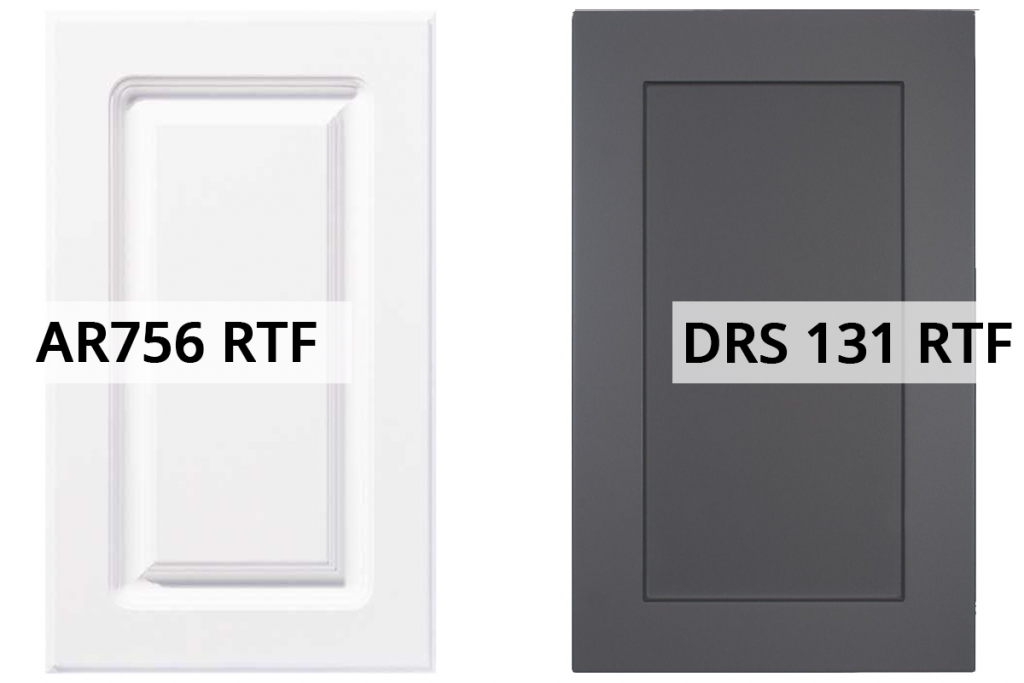 Wood Cabinet Styles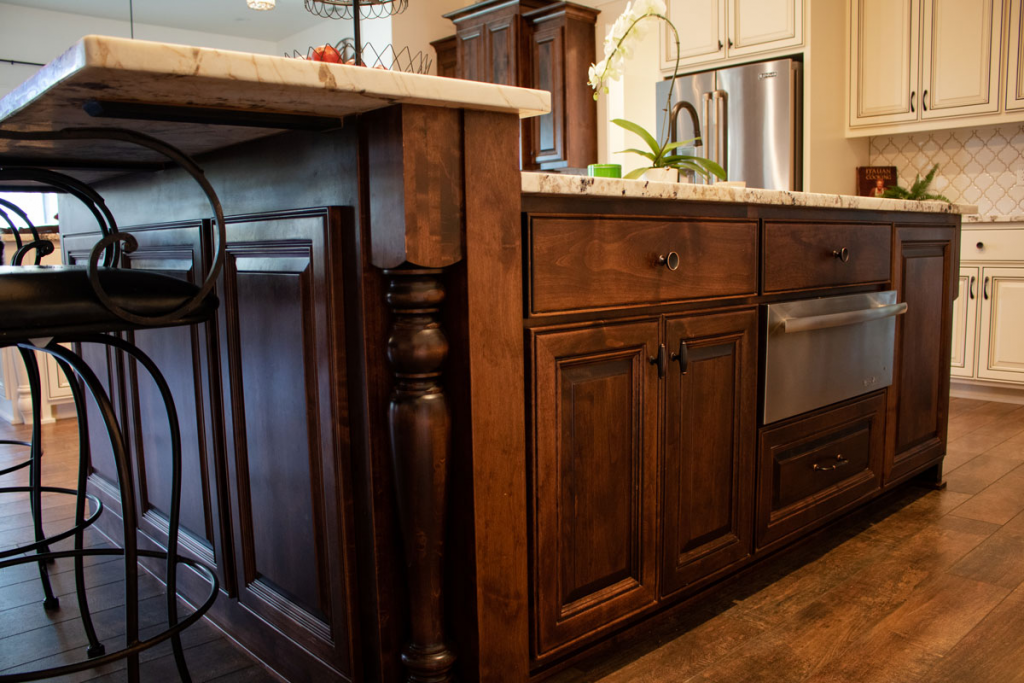 At Fast Cabinets, we're proud to offer a staggering range of cabinetry in an array of materials. Although we offer alternatives, wood cabinets are far and away the most popular choice among homeowners—and homebuyers.
All Fast Cabinet Door products are hand-crafted here in the United States, specifically in California and North Carolina. You can purchase any of our designs in your choice of wood species, including Alder, Maple, White Oak, and Red Oak. Each cabinet is as unique as the tree it was crafted from. In addition, the natural characteristics of wood lend themselves to color variation, and this is also true when a finish is applied.
Shaker
Shaker cabinets are a classic style that is extremely popular with homeowners and builders. These are our most popular cabinet doors, and it's no secret why. Their simple, stylish design makes them instantly recognizable: the shaker consists of five panels, with four surrounding the outer edge and one larger panel sunk in the middle. Thanks to its tiered and dimensional design, the ubiquitous shaker cabinet creates instant texture and depth in any kitchen. Because of their simple, clean lines, shaker cabinet doors pair well with most interior designs, especially in modern, contemporary, or transitional kitchens.
Artesia
Artesia updates the classic shaker with a subtle yet stylish twist. Shaker doors have what's called a 'square edge'—that is, the place where the outer panels meet the recessed inner panel is a hard 90-degree curb. This gives the shaker a sleek, modern look, but not everyone is sold on its uncompromising lines. That's why the Artesia is the perfect compromise: it combines the shaker's dimensional paneling with a softer, beveled interior edge. Instead of a 90-degree angle, there's a gently-inclined slope that softens the look of the shaker door without losing its sleek appeal. Artesia doors are perfect for farmhouse and mid-century modern-style kitchens.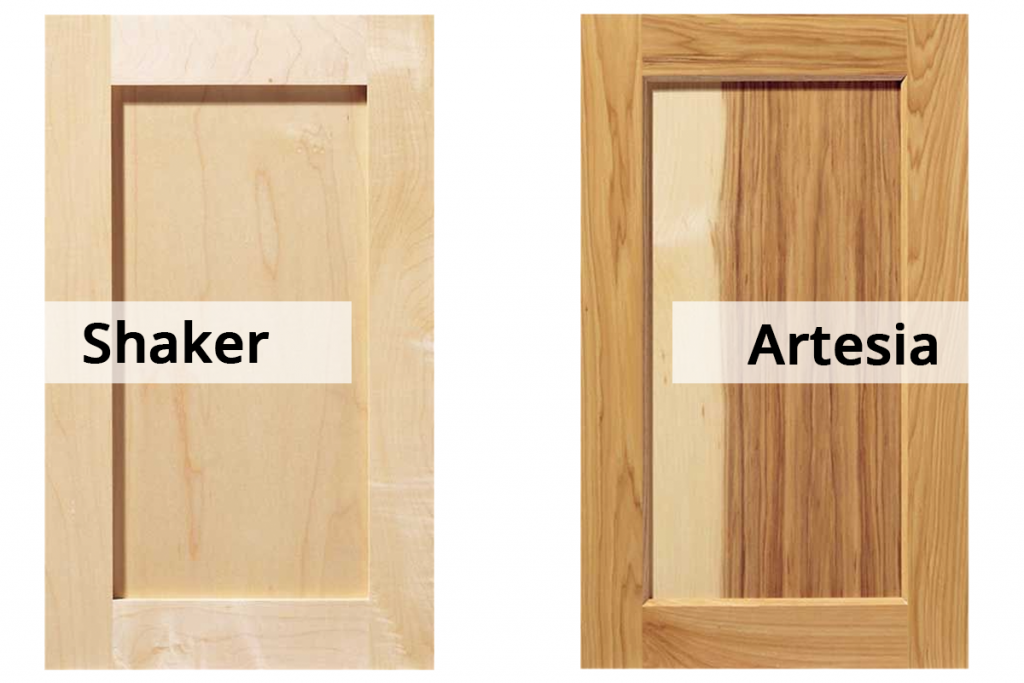 Revere
Revere cabinet doors are classically elegant and pair beautifully with a wide range of kitchen styles. This cabinet features four outside panels and a raised inner panel with beveled planes. Our Revere doors also come with custom detailing on the inner edge to add extra dimension and visual appeal to your space. The Revere design makes a subtle statement in any kitchen and looks right at home in farmhouse, traditional, and transitionally-styled spaces.
Adobe
The Adobe door is simple yet beautiful, featuring four raised outer panels with a beveled exterior edge and an inset center panel surrounded by carved tiered designs. It's familiar and welcoming; it's detailed without being ostentatious. And best of all, the Adobe cabinet door is surprisingly affordable, making it ideal for the homeowner on a budget.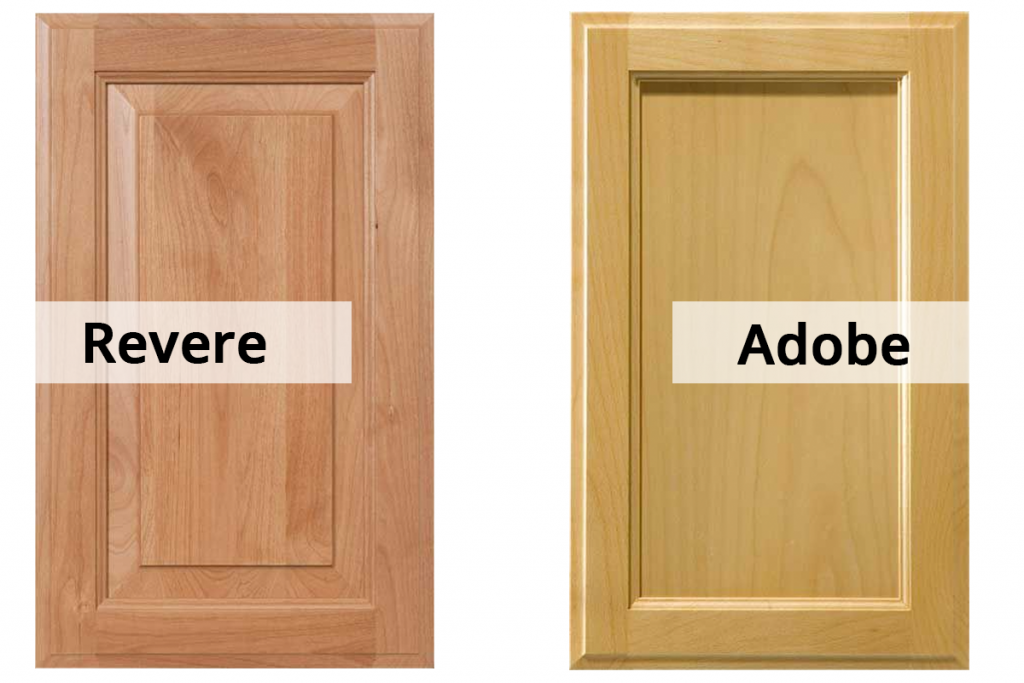 Diaz
Another popular choice for Fast Cabinet customers is the Diaz design. With its multiple beveled planes and bevy of unique details, our Diaz cabinets are a work of art. This piece's appealing dimensionality and classic design make it a superior choice for homeowners who appreciate the finer things in life but need to stay on budget.
Heritage
Our Heritage cabinets' layers of concentric rectangles make it both visually intriguing and eternally elegant. With its luxurious raised panels and finely detailed framing, this is the perfect choice for a traditional kitchen or a refined farmhouse.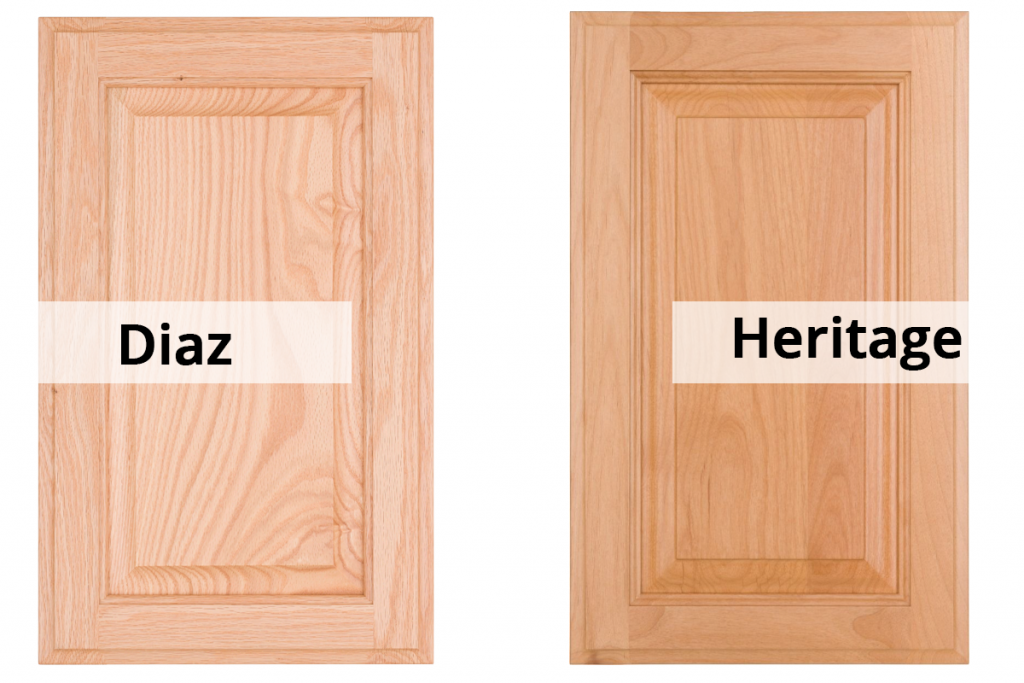 Campbell
The Campbell is yet another variant of the shaker cabinet door. Instead of a single square edge, the Campbell offers an additional 90-degree tier ringing the central inset panel. Less stark than the original shaker but no less stylish, the Campbell design draws the eye towards the interior panel while easing the visual transition. Because it marries the elegance of carved designs with the popular shaker profile, this style is perfect for almost any kitchen, from farmhouse to modern to transitional and beyond.
Plank
The Plank cabinet makes no bones about its streamlined design. This cabinet style is sometimes called a flat-front or slab cabinet, as that's pretty much what it looks like. These cabinet fronts are seamless blocks of wood, but you would be surprised at how stylish and versatile they are despite their simplicity. This design isn't quite as common as some others on this list, but the builders and designers who love them just can't get enough. They're ideal for contemporary and mid-century modern kitchens, and they look amazing with a sleek, unfussy grab-bar or handle.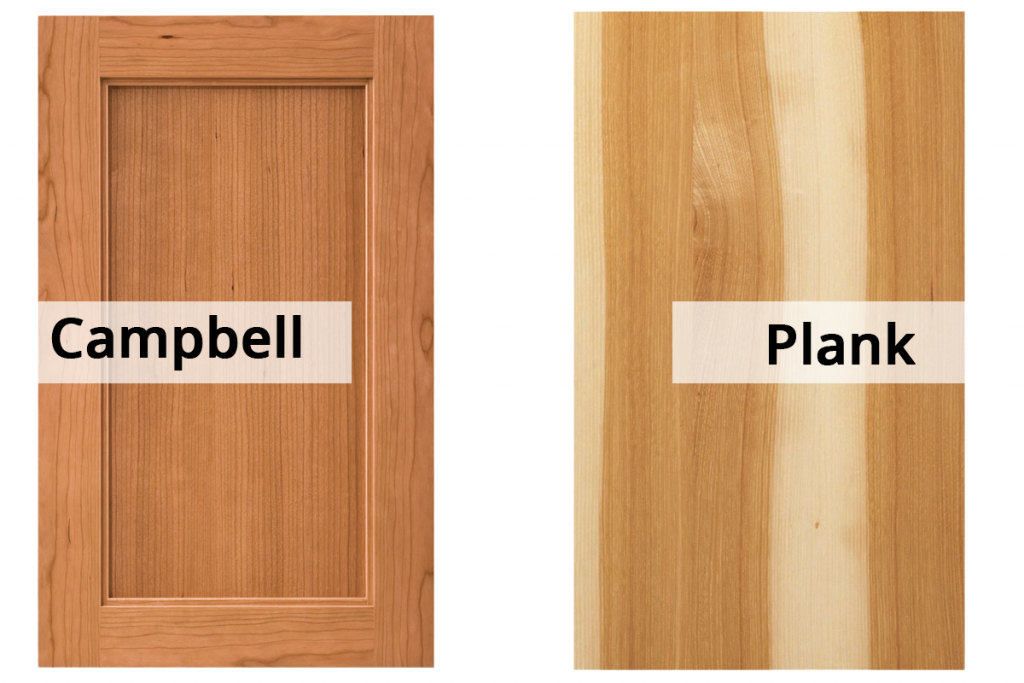 Think you've found the cabinet for you? Or maybe you're still hunting for the perfect one. If you don't see a style you love on this list, don't be afraid to keep looking! Our list is far from comprehensive and only covers our top 10 selling products.
At Fast Cabinet, it's a simple task to measure, order, and install your new set of cabinets. A cabinet upgrade can completely transform the look and feel of your kitchen, and it is significantly less expensive and disruptive than a complete kitchen remodel. We invite you to explore our selection online. You'll find everything you'll need to reface or makeover your cabinetry, from cabinet doors, drawer fronts and boxes, interior organizers, and hardware. Connect with our design specialists if you have questions; we're always here to help.