Did you know that a good, budget-friendly kitchen remodel can get you as much as an 81% return on investment when selling your home? It's true! While a midrange kitchen upgrade may not be as cost-efficient as, say, replacing your garage door—a fix-it with a whopping 98% ROI—it can also significantly improve your overall enjoyment of the space. It may also attract prospective buyers who might not have considered your home otherwise. In fact, a drab and dated kitchen can be not just an eyesore: it can also kill your chances of making a good sale when the time comes.
But the trick to a good kitchen remodel is perfecting the balance between style, utility, and affordability. Just because you pour tons of money into a remodel, that doesn't mean you'll enjoy it more—or earn money back upon sale.
That's why we've compiled 11 of our best tips and tricks for a kitchen upgrade that's both functional and fashionable. You shouldn't have to compromise one for the other! And best of all, these hacks are just the thing for home renovators on a budget. Check them out, and let us know which ones are your favorite!
Let's get into it.
1.   Open Up
Heavy upper cabinetry can easily overwhelm a small or dim kitchen. Fortunately, there's a simple and budget-friendly solution, one that's just as practical as it is stylish for any kitchen. Instead of reinstalling smaller cabinet boxes, why not replace them with open shelving units? These homeowners have opted for two rows of sleek and elegant wooden shelves resting on streamlined metal brackets. The combination of rich, coffee-colored wood and black metal gives off a modern vibe with a slightly rustic influence, while the open-faced shelving makes the kitchen appear larger and airier. The homeowners have accessorized their shelves with lots of glass storage jars, so their contents are both accessible and attractive. Try it yourself. Open sesame!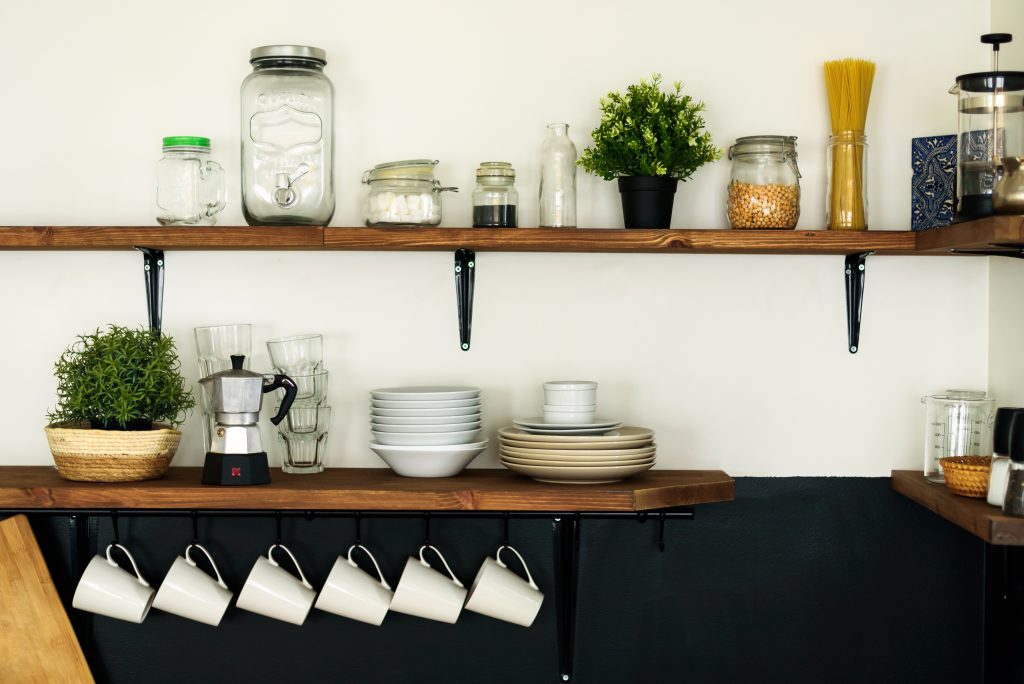 2.   Wallpaper Beyond Walls
Are you tired of your glass-front cabinets? Maybe you're looking to change things up, or maybe you're just sick of looking at your stacks of mismatched dishware jumbled inside. Glass doors are supposed to show off the goods… but what if you don't want to put your goods on display? Either way, there's a simple and budget-friendly way to update your glass-front kitchen cabinet doors. Choose a textured wallpaper and lay it against your cabinet display windows pattern-side out. This subtle adjustment can bring a surprising amount of dimension and visual interest to your space. It's a funky, flexible, and budget-friendly alternative to replacing your cabinet doors. Plus, you can always swap out wallpapers when you're ready to change things up again!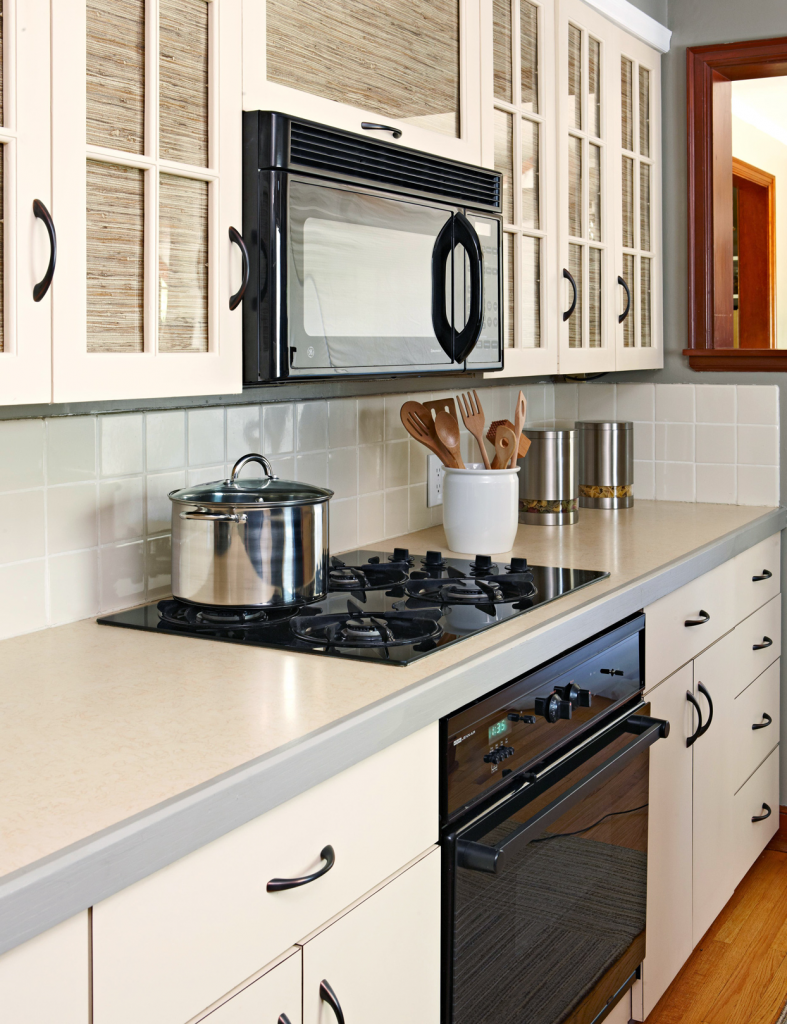 3.   Alternative Materials
Here's another glass-front cabinetry update tip, but this one takes the opposite approach. Rather than disguising your cabinet's interior with wallpaper, consider trading your glass doors for something a little more rustic. If you prefer a boho-chic, farmhouse, or mid-century modern look over the polished, traditional look of glass, simply swap out your glass for an alternative material. You could use chicken wire, as these homeowners have done, or even a fine mesh to create a subtle metallic texture. Or if wire isn't your thing, why not try a lattice made from wood or wicker? You can even choose the width of the weave, which means you can show off more or less of your cabinet's interior, depending on preference.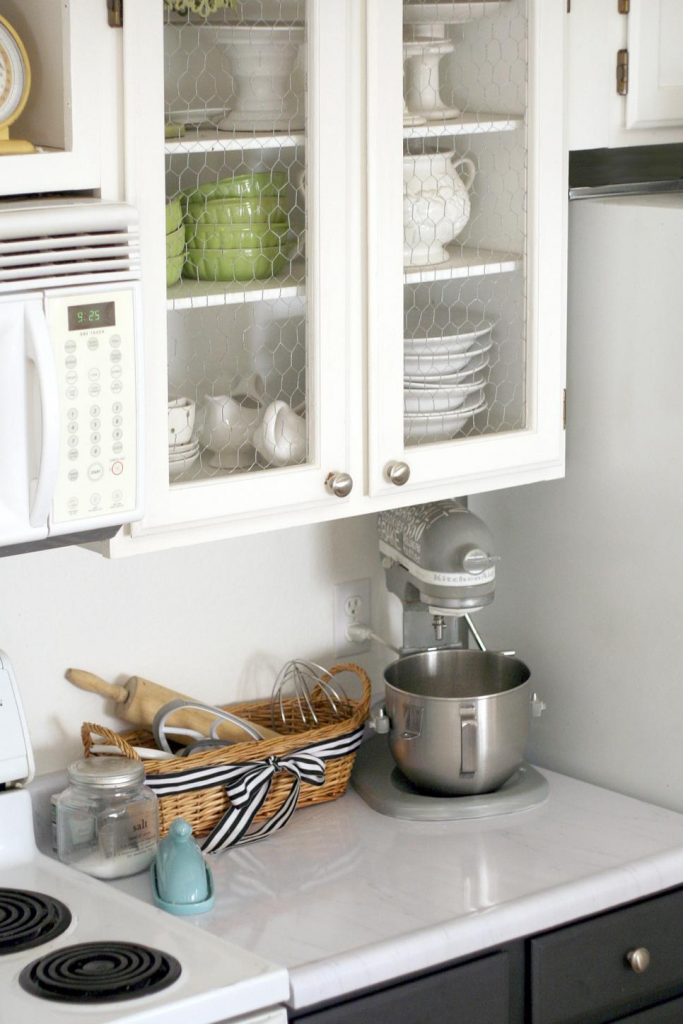 4.   Harness the Hardware
We've talked before about the power of new hardware, but it bears repeating because it's true! Replacing your cabinet's hardware gets you maximum impact for minimum investment and can totally change the vibe of a space. This makes it a great budget-friendly kitchen solution! If you're working with a relatively neutral backdrop, like the kitchen shown here, for instance, your choice of hardware will pop all the more. This kitchen's pale palette and timeless textiles allow the hardware to speak for itself – and these homeowners have chosen hardware that is sleek, subtle, and blends beautifully with the rest of the space. But imagine, if you will, the homeowners had instead opted for cup pulls in brushed nickel or even something like these two-tone art deco style handles from Etsy. A whole new vibe, right? Don't underestimate the power of hardware!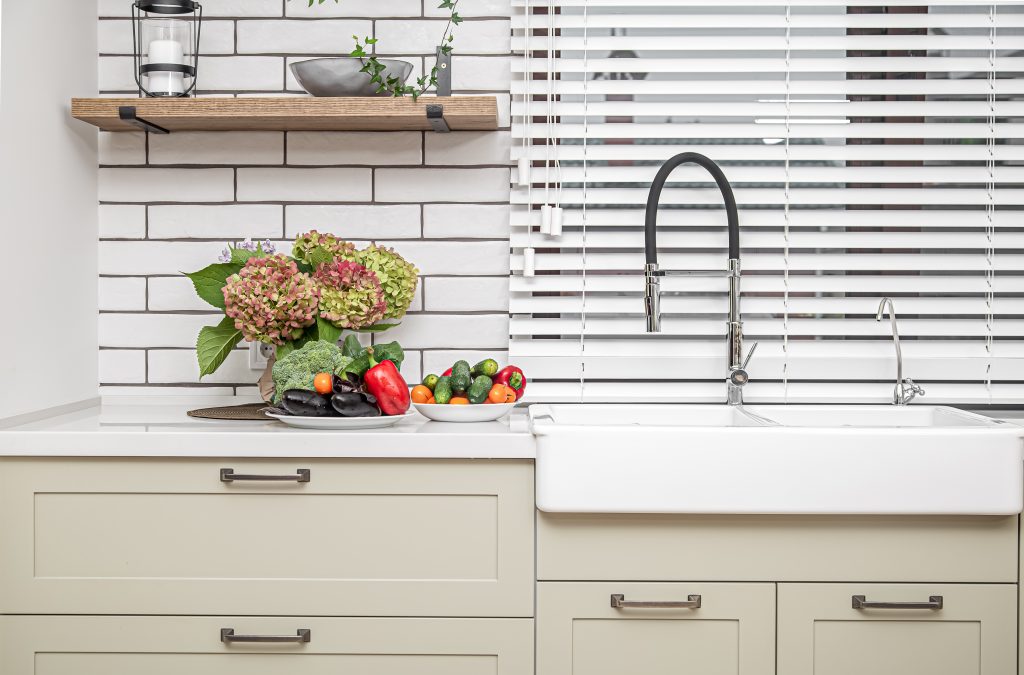 5.   Shed Some Light on the Situation
You don't always need to add fancy new elements to your kitchen to make it look good; sometimes, it's just about illuminating what's already there. Such is the purpose of under-cabinet lighting. It's a great and relatively affordable way to spotlight your countertop—and it's especially valuable if you've invested in a beautiful countertop worth showing off. Under-cabinet lighting is also aptly referred to as 'task lighting' because it helps shed light on your kitchen work surfaces. Not only is task lighting aesthetically pleasing, but it's also an essential part of kitchen safety. Especially when you're using sharp implements and heat sources, you should be able to see exactly what your hands are doing. These homeowners are making the most of their under-cabinet task lighting, as it casts a warm yellow glow over their beautiful Japanese-inspired kitchen corner.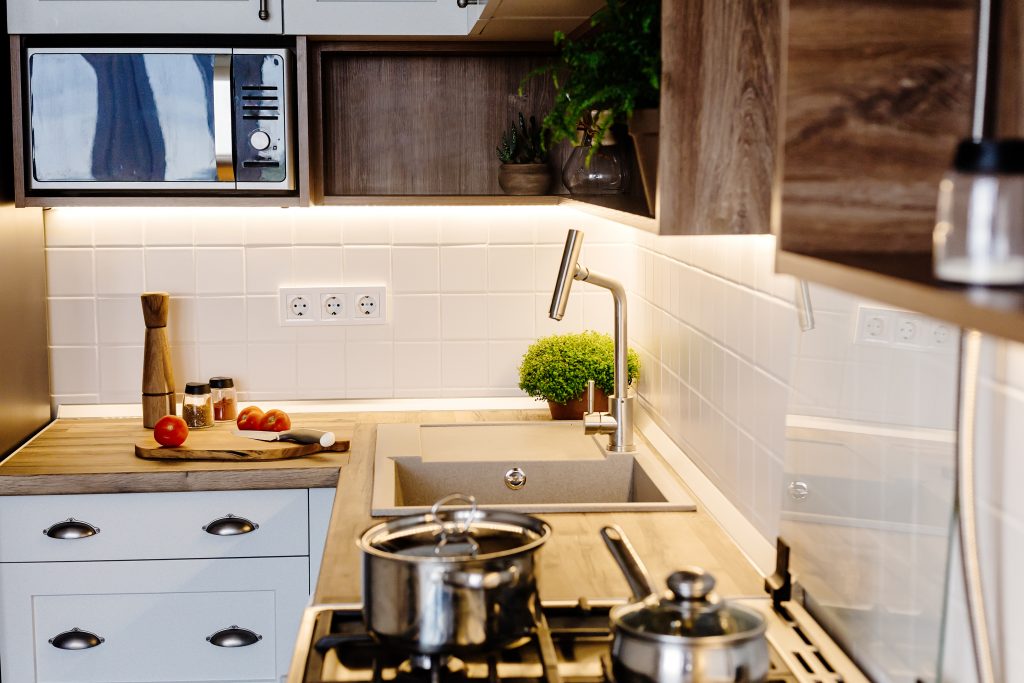 6.   Dual-Use Furniture
Let your furniture do double duty, so you don't have to. These homeowners have repurposed a bar height table to serve as a dining space and a kitchen island. Their choice of furniture perfectly complements the home's minty green farmhouse aesthetic. In the name of upcycling (very trendy these days, and eco-conscious to boot!), you can buy the furniture second-hand and replace the counter surface, as these homeowners have done. The table-island's positioning makes it perfectly accessible as both a food prep station and a kitchen dining area. It even has a convenient footrest! All you have to do is tuck a couple of bar stools underneath for a stylish, affordable, and space-conscious island upgrade.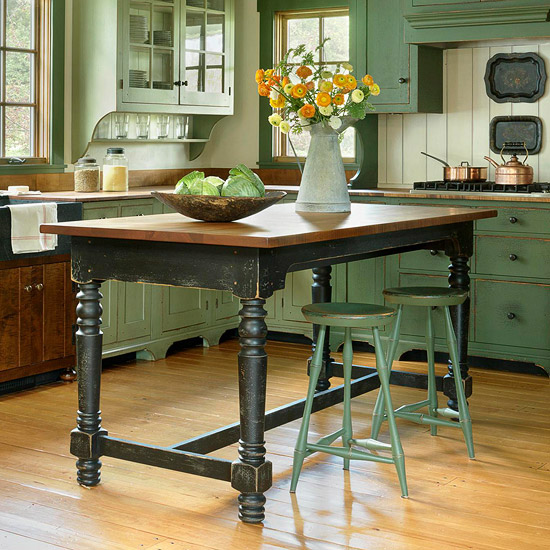 7.   Elegant Upgrades
Give your kitchen island a luxe architectural upgrade with the addition of molding. You'd be surprised by what a few strips of painted wood can do for your island! These homeowners have added shaker-style molding to their island, imitating the shaker-style doors of the cabinetry. And to make it blend cohesively with the rest of the space, they've painted the molding a deep dove grey, matching the existing lower cabinetry and crown molding. The finished product is beautifully balanced, elegant, and has the appearance of symmetry. Although the island molding isn't the most prominent feature in the room, it adds a subtle touch of luxury and gives the island a finessed, well-finished look.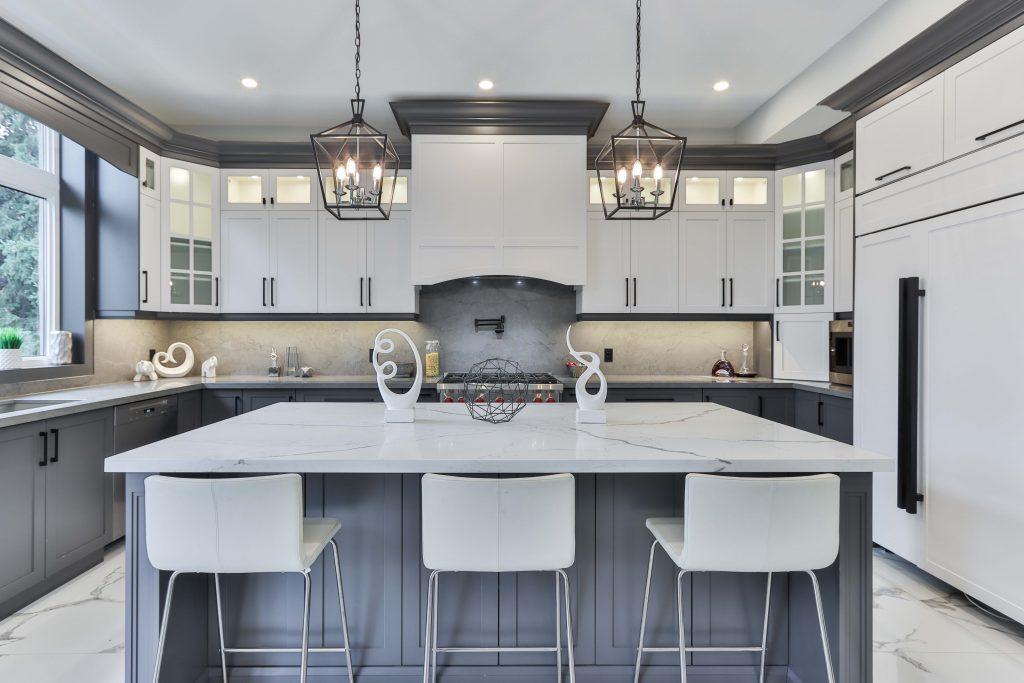 8.   Countertop Reconfiguration
This tip may not be quite as budget-friendly as some of the others on this list, but it certainly can pack a punch in the kitchen, both for you and any potential future buyers. Typically, the most costly and most sought-after countertop options are natural stone, like marble, granite, slate, and quartz (okay, that last one is manufactured stone, but we're still counting it). These are beautiful, durable, and timeless options, but if you're looking for style and utility on a budget, there are still plenty of choices out there. These homeowners, for example, have elected for a gorgeous countertop made from slabs of butcher's block. You could also try solid surface countertops like Corian and laminate, which mimic the look of natural stone at a fraction of the cost, or industrial-style options like concrete and even stainless steel.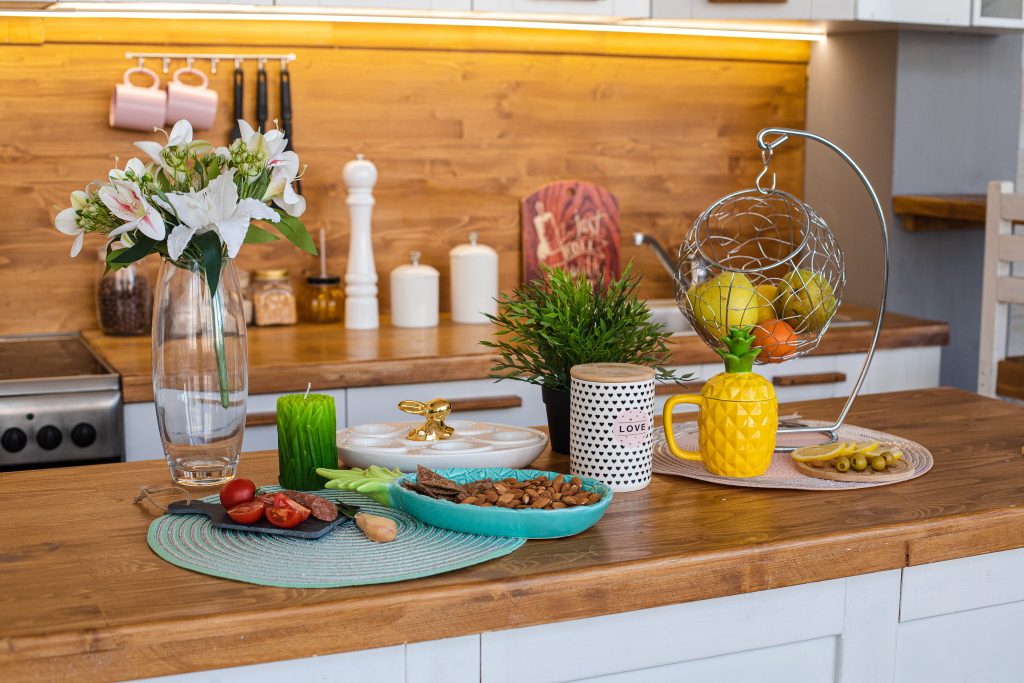 9. J'A-door
Replacing your cabinetry can be a time-consuming and expensive undertaking. But if you're just looking to give your kitchen a cosmetic facelift, there's just no need to tear out everything and start from scratch. Replacing your cabinet doors is the fastest, easiest, and most affordable way to update your kitchen cabinetry. Your cabinet boxes, aka the bones of your cabinetry, don't need to be taken out unless they're structurally unsound or if you're fundamentally changing your kitchen's layout. If the bones are good, just remove the doors and replace them with new ones! It's a simple and effective way to bring your cabinets up to date with the latest trends at a fraction of the cost of total replacement.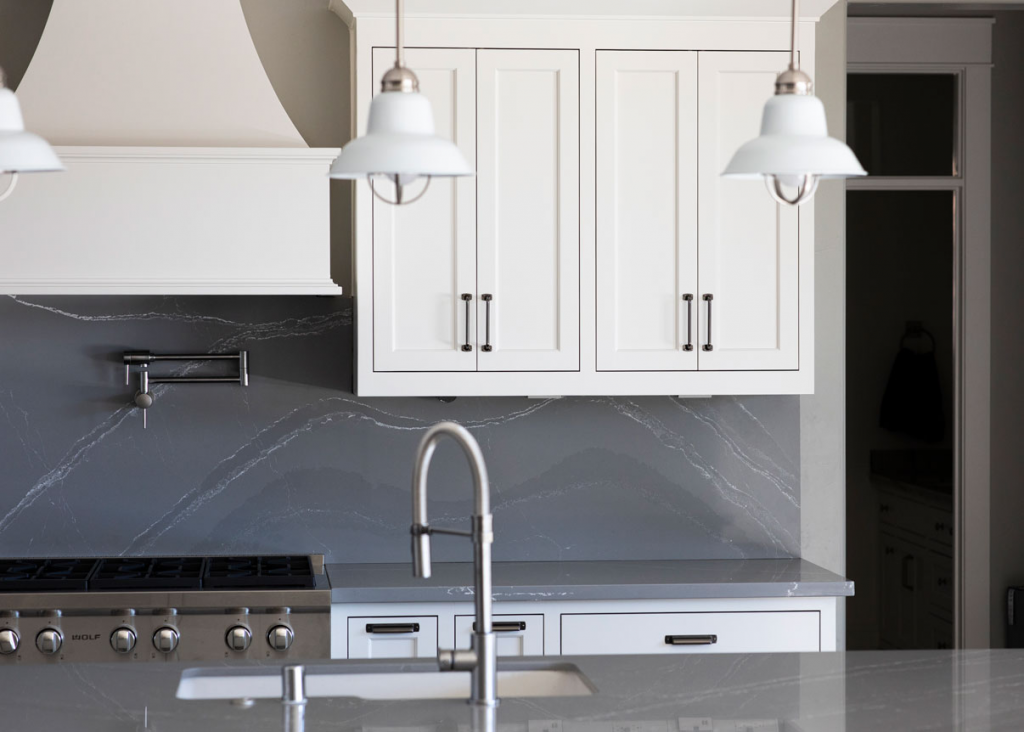 10. Refresh and Renew
Painting your walls is the simplest way to give your kitchen new life. This tip probably seems like a big 'no duh!' – but we think it's worth reiterating. A splash of paint can have a genuinely transformative effect on a space, and the kitchen is no exception. Depending on your selection, a good can of paint can cost between $20 and $80, making it a super-efficient, flexible, and affordable way to update your space. Whether you choose a crisp white, a subtle neutral, or a bold pop of color, paint is a great way to spice up your interior design. Plus, a fresh coat can help cover up many sins, including permanent stains, burns, and discoloration. Just be sure to clean the wall first!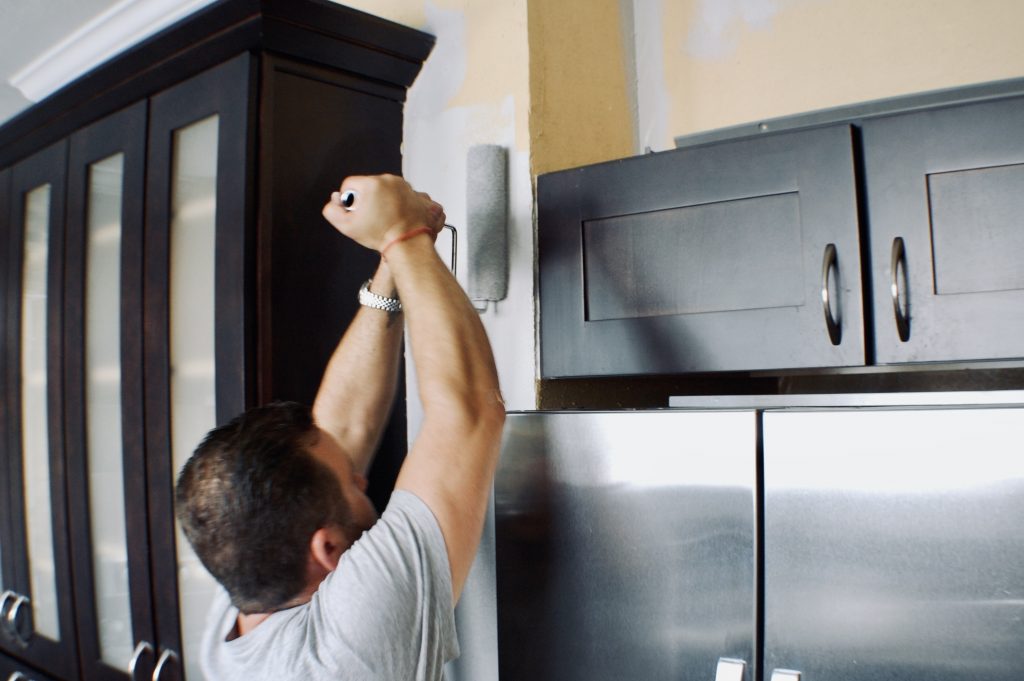 11. Fix Your Faucet
Much like cabinet hardware, your faucet can be an untapped source of style—all it needs is a fixture replacement. These homeowners opted for a matte black curved-neck faucet featuring a sleek and simple handle and are perfectly matched to the black cabinets and hardware and the inside of the sink. These are folks who know how to coordinate! The overall look is modern, elegant, and refined, and the perfectly matched faucet adds to the overall appeal.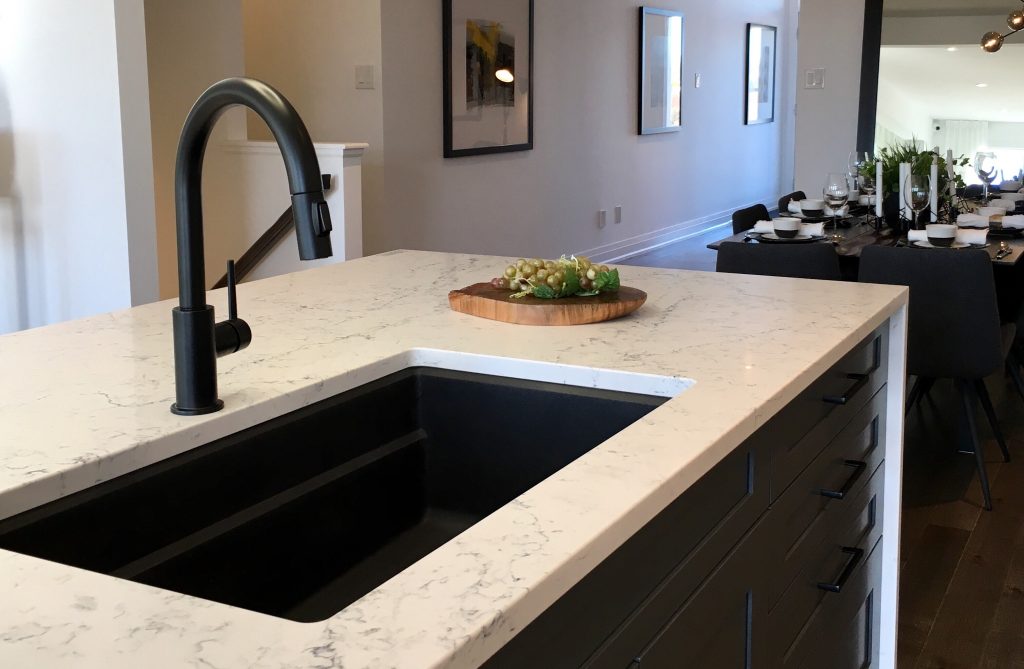 It doesn't matter if you're spending big bucks or working towards budget-friendly options: we think you can beautify your home and kitchen for any cost. It's all about fulfilling your vision, meeting your needs, and thinking outside the (cabinet) box. Did you find any upgrade tricks that speak to you? Visit us online to share your ideas and success stories with us. We'd love to hear from you!