What does 2021 have to offer in terms of kitchen design trends? We've assembled a list of 30 of our favorites to share with you, so buckle in and read on!
Kitchen Color Trends
White Kitchens
Being bright doesn't always have to mean bold colors. You can still light up a room with white, and it's especially effective if that room is a kitchen. Kitchens tend to be the rooms that have the most natural light, which makes it a prime locale for a lick of white paint. While pure white can look a bit stark under cold synthetic light, natural daylight washes it in a warm glow, making it shine.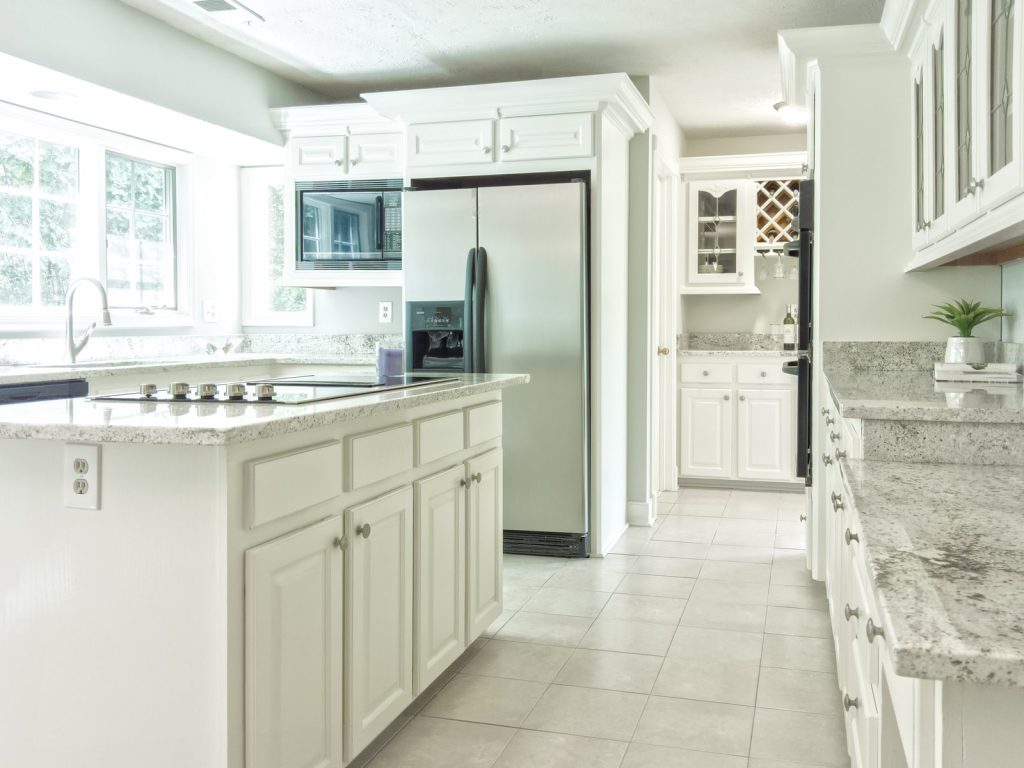 Bold Color Contrasts
As much as we love a good neutral palette, bold color combinations really set our hearts a-flutter. There's something so striking about a kitchen that mixes and matches its color scheme. For an eye-catching effect, try choosing colors from opposite ends of the color wheel. For instance, combinations like purple and yellow, blue, and orange, and green and pink are known as 'complementary schemes.' They can bring a spark of energy and life to any space, and with a bit of forethought, can look truly glamorous. We know that a bold color kitchen trend isn't for everyone, but we think bright is right for the homeowner with flair!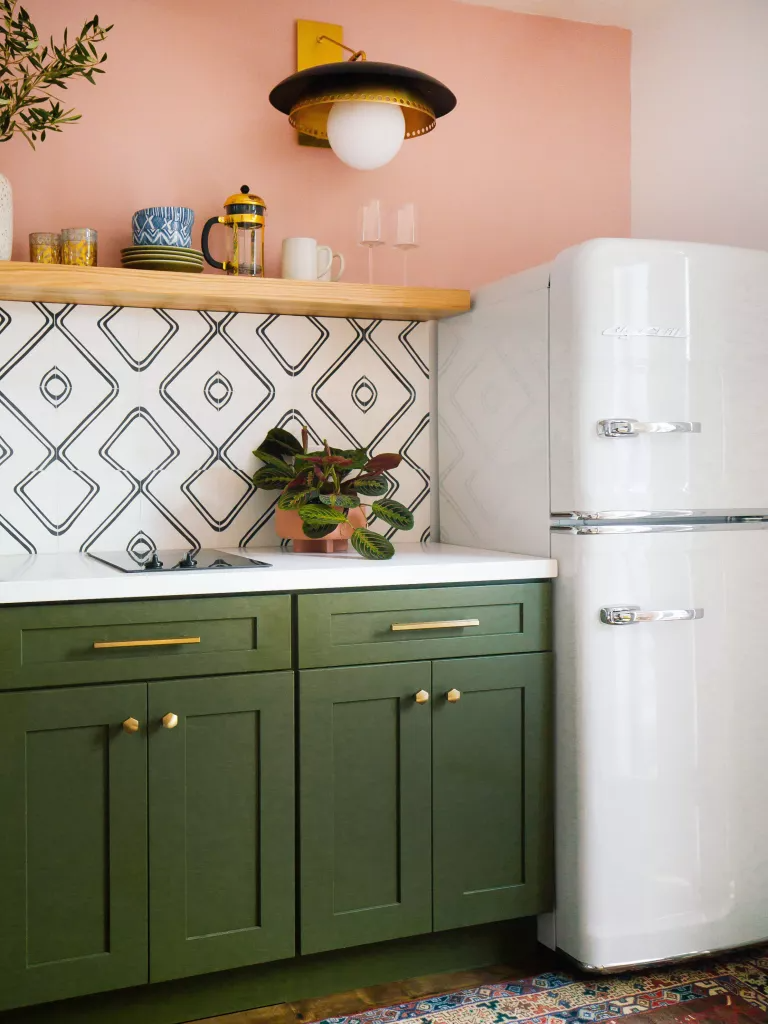 Dark Horse
Gleaming white kitchens have gotten a lot of shine over the past decade, but now it's time for us to appreciate the dark kitchen. Many homeowners are afraid to embrace the drama of a dark kitchen, but we think there's something oh-so enticing about deep, saturated hues. Like some of the other trends on this list, dark kitchens may not be for everyone, but for those of you who have your finger on the style pulse, luxurious dark tones may just be the next big thing. Cabinets and floors in black and velvety chocolate brown are having a moment, and dark hues on the walls like deep navy and charcoal grey look extremely elegant. They may not fit the typical image of the 'cheerful' kitchen, but they're certainly relaxing, beautiful, and subdued without being boring.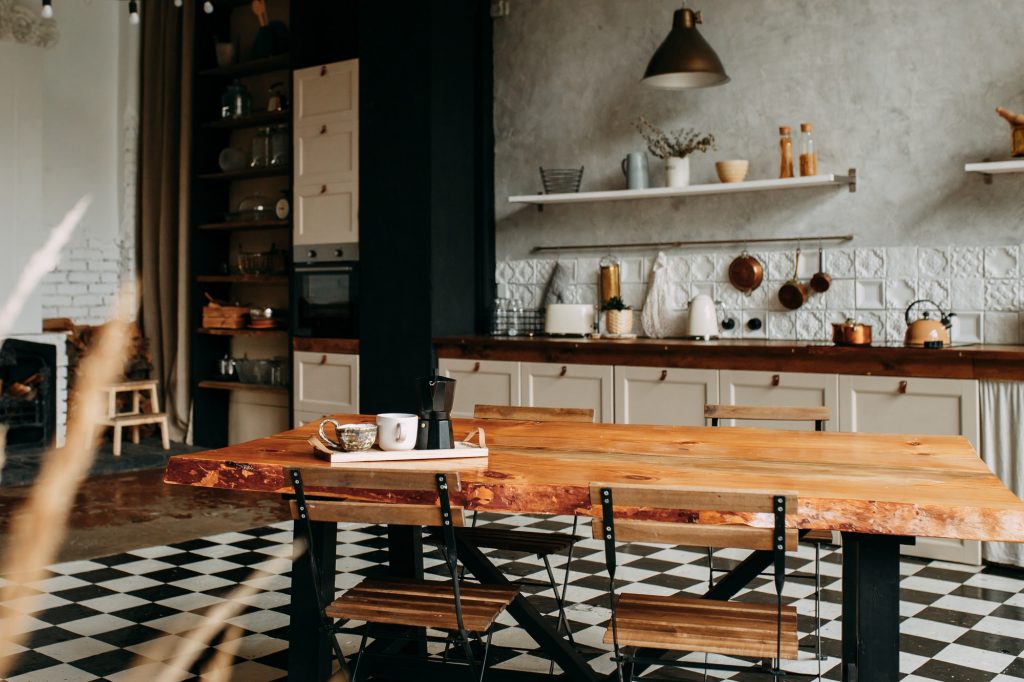 Monochromatic
Who said monochrome was boring? If you like the idea of going over to the dark side (as seen above) but think the heavy color palette might overwhelm your space, the monochrome kitchen trend might be more your speed. This doesn't mean every single item in your space has to match perfectly. Instead, a monochromatic palette utilizes different shades and hues of a single color. Take, for example, this tone-on-tone blue scheme. You can clearly see two different tones of blue paint: the lighter tone is used on the cabinet fronts and a richer, darker blue is used on the walls. Of course, it's nearly impossible to get every single element in your kitchen to fit in with your color scheme (after all, variety is the spice of life) but applying a consistent color palette to your large architectural elements is a beautiful way to bring color into your space.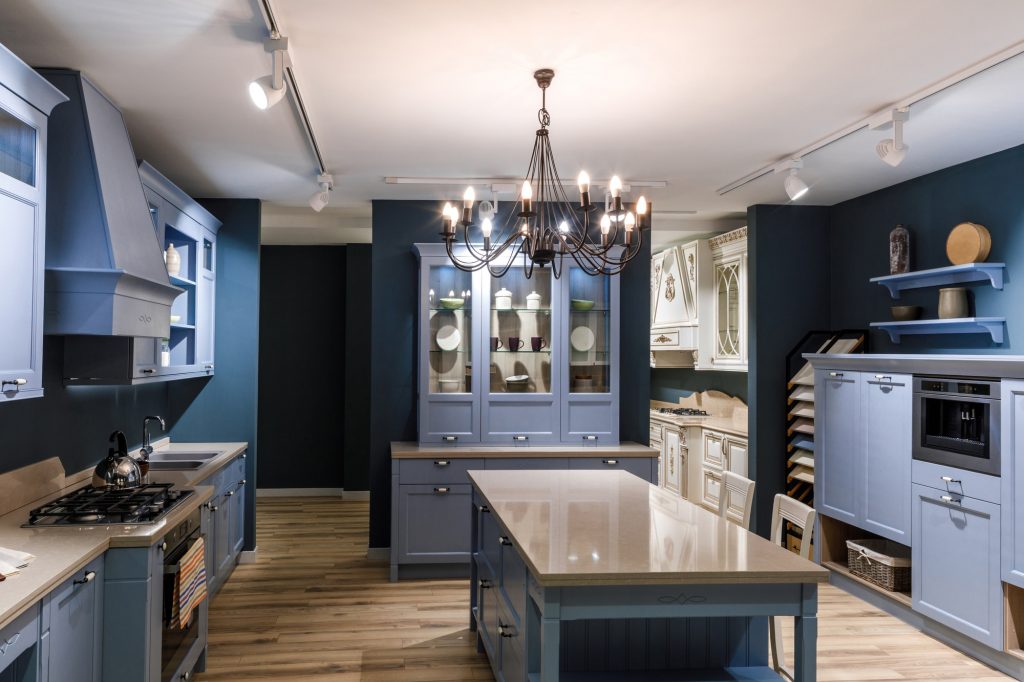 Metallics
Metallics are continuing their 2020 winning streak. Go for gold, silver, and bronze when choosing your kitchen finishes. Try adding shine to your space with metallic cabinet hardware, light fixtures, faucets, and even sink interiors. Don't be afraid to add some sheen with your appliances! And for a little extra glitz and glam, you can always add items on your walls and countertop, either decorative or functional. Remember, it's okay to mix metallics so long as you start with a dominant metal tone that suits your overall color scheme. Then you can sprinkle in a few other metallic hues to add color, texture, and shine to your space. Warm metallics like gold, copper, and bronze often look better with warm-toned colors (e.g., reds, beiges, and browns), cool metallics like silver, nickel, and chrome look best with cool tones (e.g., blues, greens, and greys).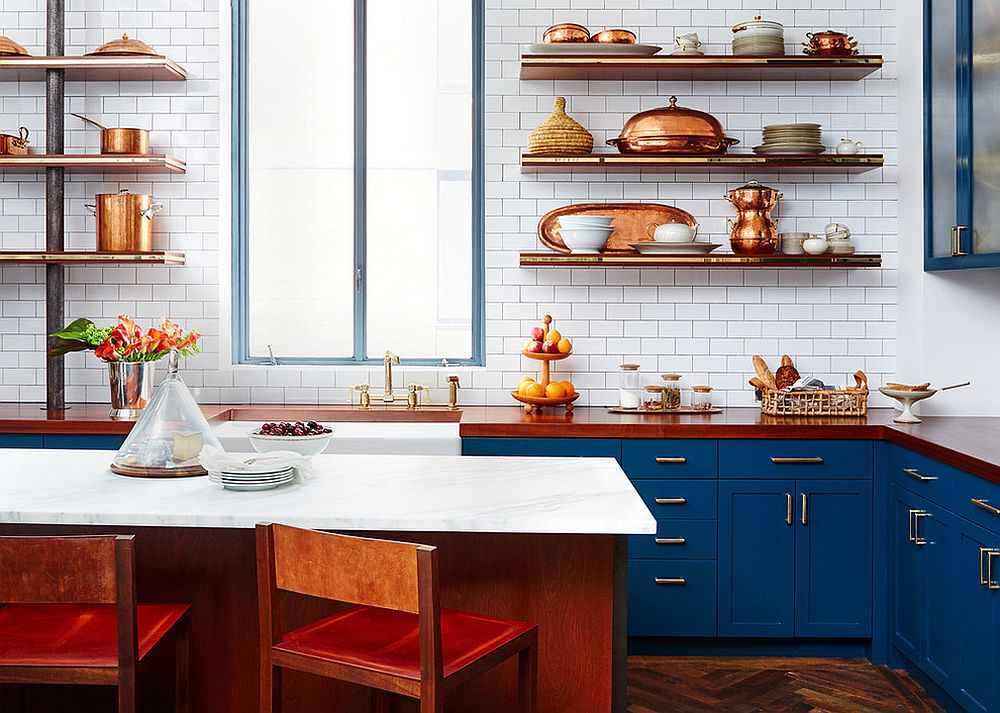 Kitchen Design Styles
Retro Design
Everything old is new again. People always say that style trends run on a cycle, which probably explains why we're once again seeing the return of the retro aesthetic. Maybe you're incorporating this into your kitchen with mid-century modern design elements, vintage furniture, or retro pop-art style décor. 50's diner checkerboard floors can be surprisingly cool and versatile, while retro kitchen appliances and mod-style lighting make fantastic statement pieces. Maybe you're incorporating a little bit of the retro aesthetic or a lot; maybe you're influenced by the 1950s or the 1970s. Whatever the case may be, it's never wrong to borrow trends from the past!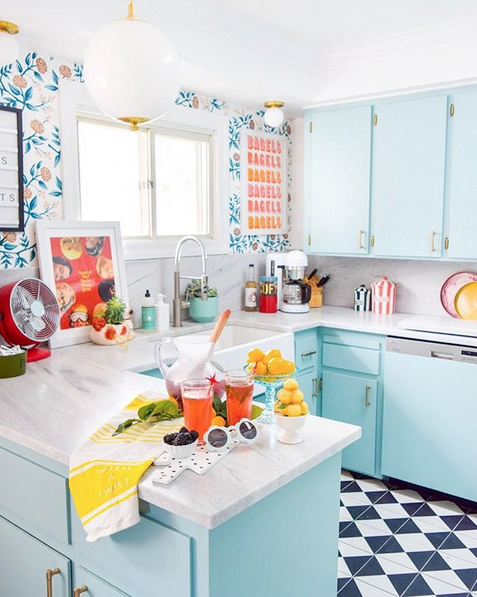 Geometry
You don't need to be good at math to know that geometry in your kitchen is an A+ choice. The shapes and lines of geometric patterns can create a truly stunning and unique look in your kitchen, no matter where you put them. Whether it's geometric floor tiles, a mosaic on your backsplash, a wallpaper print, or even a light feature made up of strong, bold lines; geometry can be a striking accessory to any space.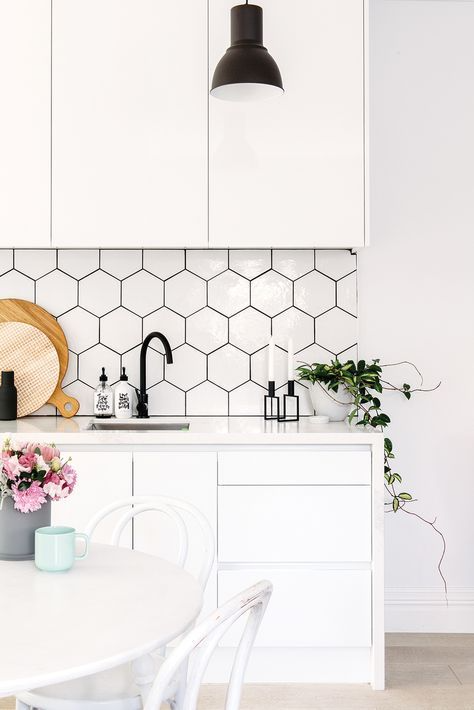 Trends in Kitchen Countertops
Countertop Makeover
If you're seeking something outside the box with your interior design, you might want to try an alternative countertop. 2021 is all about expanding your horizons, and these alternative options certainly fit the bill! If you're looking to do an easy makeover on an existing wood or laminate countertop, why not try painting it? Textured finish paint like Giani's stone paint or Rustoleum applies smoothly onto most surfaces, including primed wood, and it's so simple to redo if the paint is ever chipped or damaged.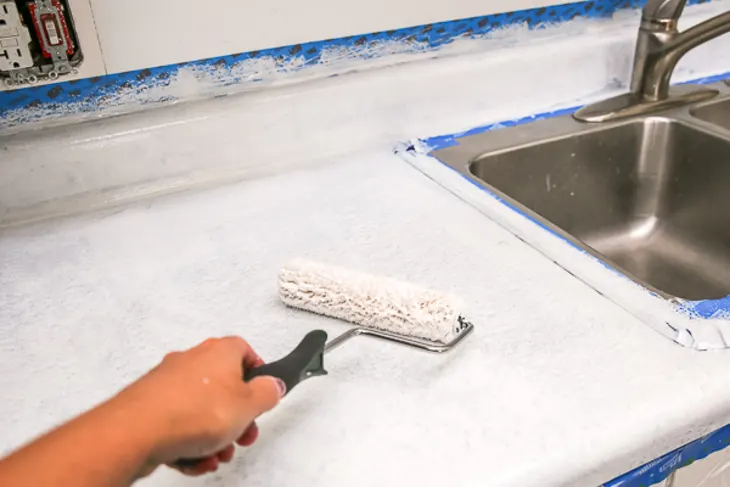 Alternative Countertops
Tile isn't just for your floors! It can also make a great alternative textile for your countertop. The wonderful thing about tile—and porcelain in particular—is that it's nonporous and highly durable. It may be a little pricier than some options, but it's super durable, beautifully glossy, and will last a long, long time with a bit of upkeep. Or how about butcher's block, which is gorgeous to see and touch? While they do need to be cared for and oiled periodically, they offer a warm and earthy vibe to any kitchen.
On the flip side of the textile coin, there's concrete. Concrete is versatile, energy-efficient (it captures heat and releases it when temperatures cool down!), and be customized in any number of ways using paint or other finishes. Plus, it looks great with all kinds of other materials like wood, glass, and tile. It's also available in hybrid products like Granicrete, a mix of—you guessed it—granite and concrete.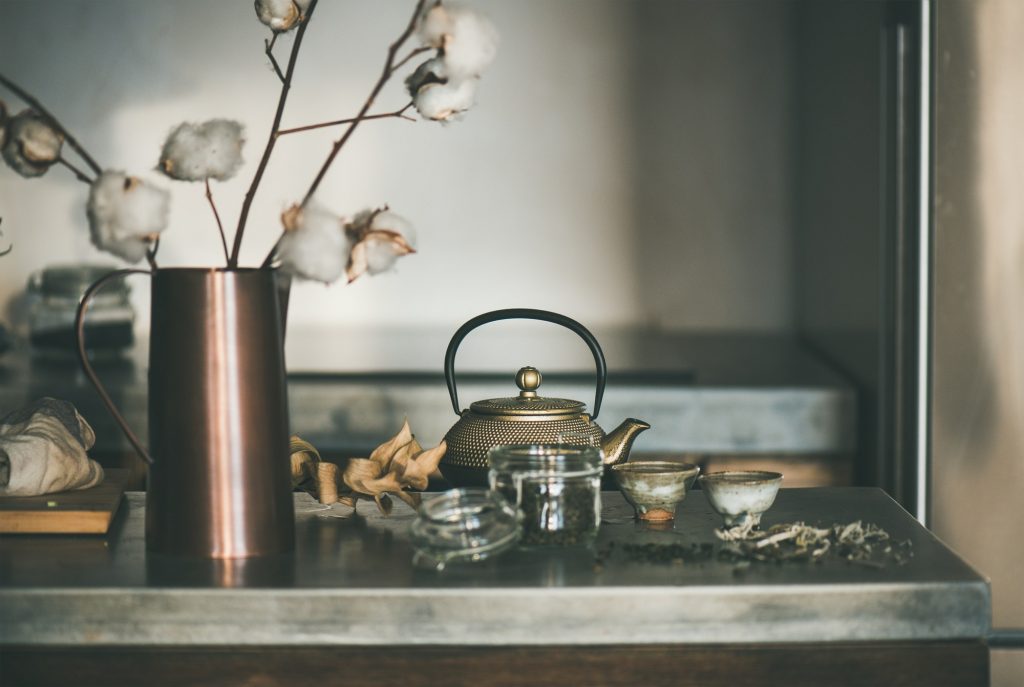 Upcycled Countertops
If you're an eco-conscious homeowner or just have a taste for the eclectic, you might consider an upcycled option for your countertop. There are few things trendier these days than being environmentally friendly, so this is one bandwagon you can hop on shamelessly! Maybe you have old furniture, doors, or wooden planks lying around, but if not, it's easy to come by them at recycling centers or secondhand stores. The motto here is, "if it's broken, fix it!" as it's relatively simple to turn castoffs into treasure (or have a contractor do it for you). If you're after an affordable and stylish kitchen DIY, a repurposed wooden countertop might be just the thing you're looking for. Just finish it with some primer, sealant, and/or paint, and you'll be ready to go!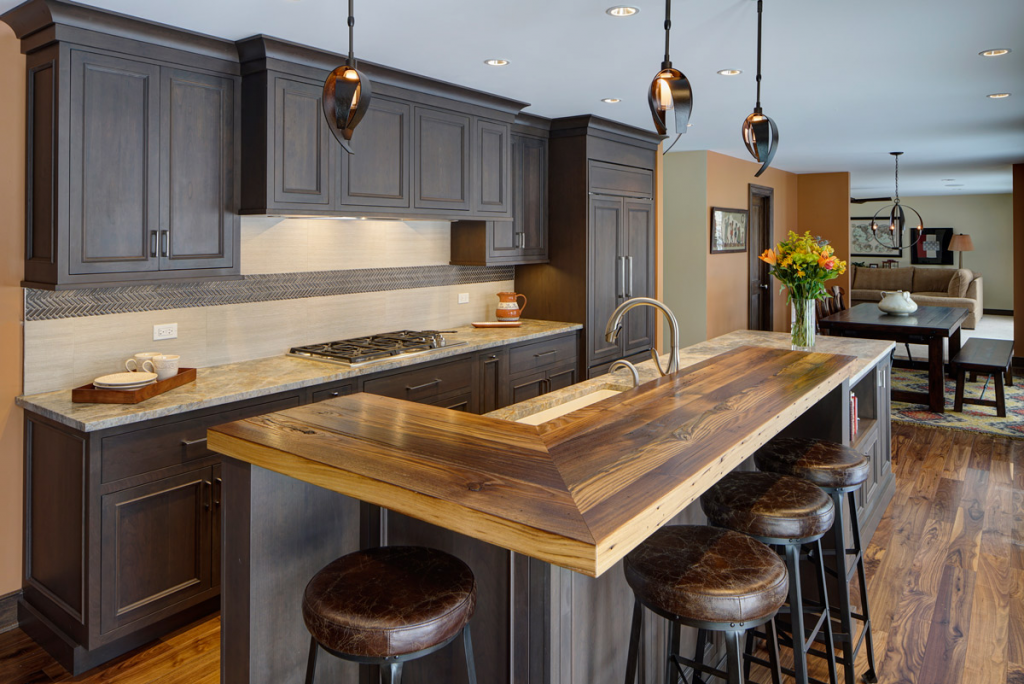 Recycled Countertops
This one isn't a DIY project, but it's just as eco-conscious—and incredibly stylish! You may be surprised by how beautiful, and hardy recycled glass countertops really are. These slabs are speckled with shards of broken glass—some countertops contain up to 80% recycled glass—and offer any kitchen a lovely and truly unique aesthetic. The glass can be subtly monochrome or vibrantly multicolored, depending on your preference, and the glass can be suspended either in concrete or acrylic casing. They're highly durable, chip and stain-resistant, and with a little TLC, they can last you a long time. While they aren't the most affordable option on the market, they're typically more budget-friendly than most natural stones like granite!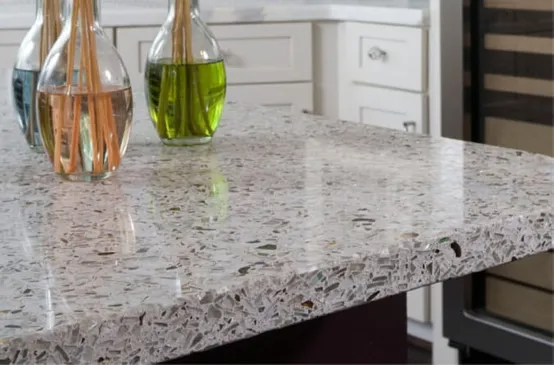 Trends in Kitchen Textiles
Mixed Textiles
Tired of the matchy-matchy kitchens of old? So are a lot of other homeowners, it seems. Younger homebuyers especially seem to be leaning towards a more eclectic aesthetic in their kitchens. But just because it doesn't match, that doesn't mean it's not coordinated, and that's the vibe we're going for with mixed materials. Whether it be fabric, wood, metal, or anything else, don't be afraid to mix and match, so long as you're keeping the final cohesive product in mind. All your choices should ultimately be in service of a final vision; it should look eclectic, not thrown together. But when it's right, it's right!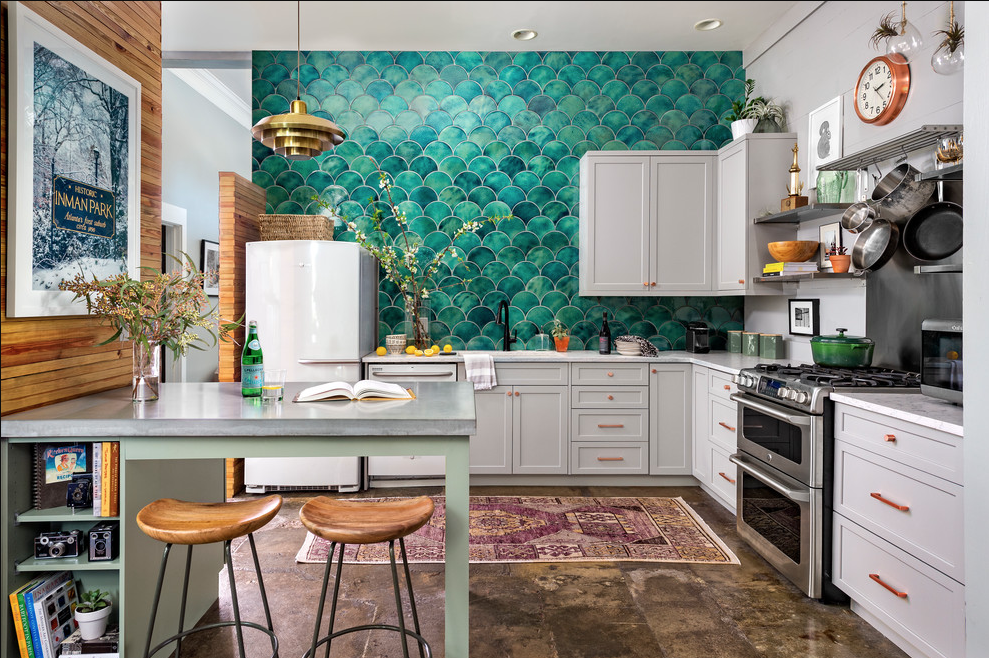 Surprising Materials
When it comes to design trends in 2021, expect the unexpected. This is especially true of repurposed materials. "Out of the box" kitchens may be more affordable than bespoke options, but they aren't exactly unique. Give your kitchen that extra edge with special customization using unique materials. Think about using floor tiles as backsplash, recycled wood for open shelving units, and giving repurposed furniture new and unexpected life. This dresser turned kitchen island is a great example.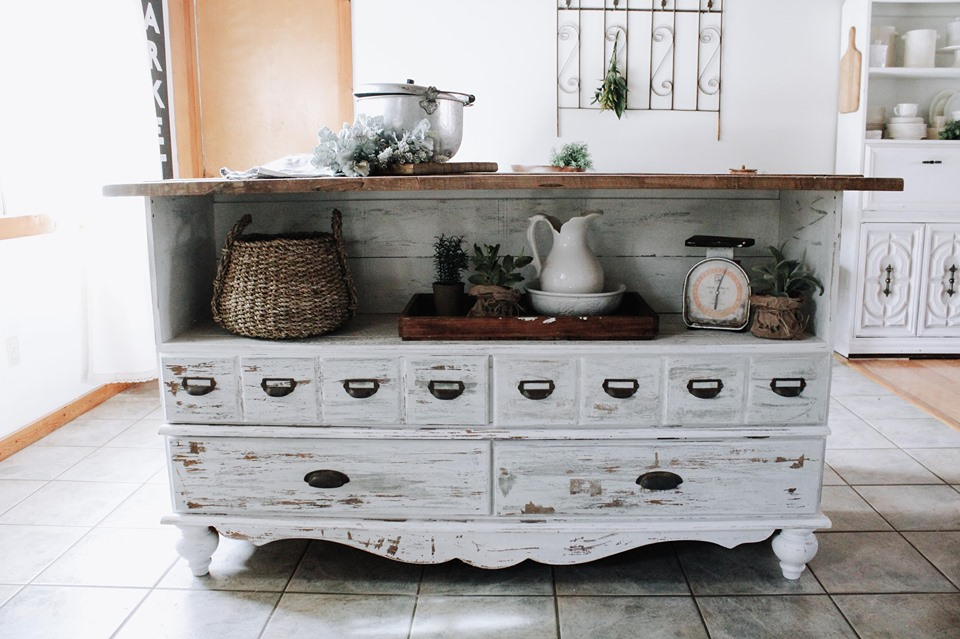 Kitchen Cabinetry & Storage Trends
Open Face Shelves
Stylish, functional, and super accessible, open face shelves are having a moment in the sun. In the past decades, homeowners have shown a clear preference for having all their dishware secreted away, hidden out of sight behind cabinet doors. No longer! Some homeowners are now turning, in part or whole, to the open shelving trend. Floating shelves—so named because of their lack of visible supports—are la mode right now, though shelves with visible brackets are also beloved for their craftsman-style aesthetic and added weight support. Whether you choose to add an open shelf or two to show off your favorite dishware, or you want to get it all out in the open, these minimalist shelves are a perfect fit.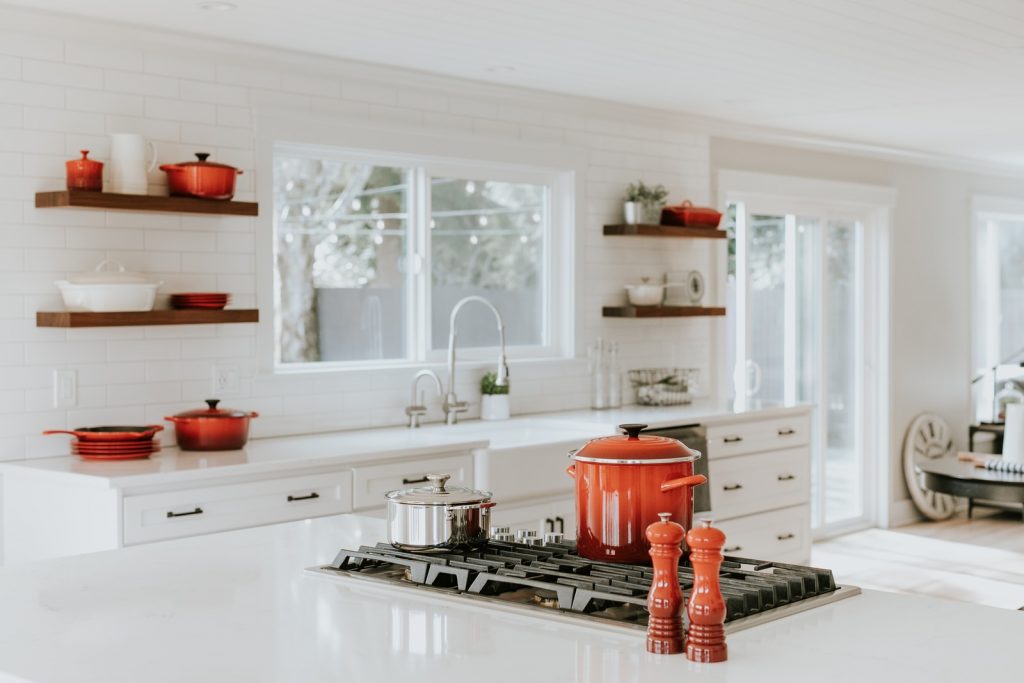 Mesh Cabinetry
Want to keep your fine dishware on display but wary of open shelving units? Not to worry! There's a solution that can mesh perfectly with your kitchen aesthetic. You've probably already guessed it: it's mesh! It's a happy medium that shows off your best china while also protecting your cabinet contents from destructive hands (and paws). Try blending traditional wood frame cabinetry with mesh windows to show off the goods inside. A fine woven mesh would look beautiful in a farmhouse or country-style kitchen; rattan mesh would be a treat in a mid-century modern or coastal style kitchen, and a metallic chain link mesh would suit an industrial-style kitchen to a tee.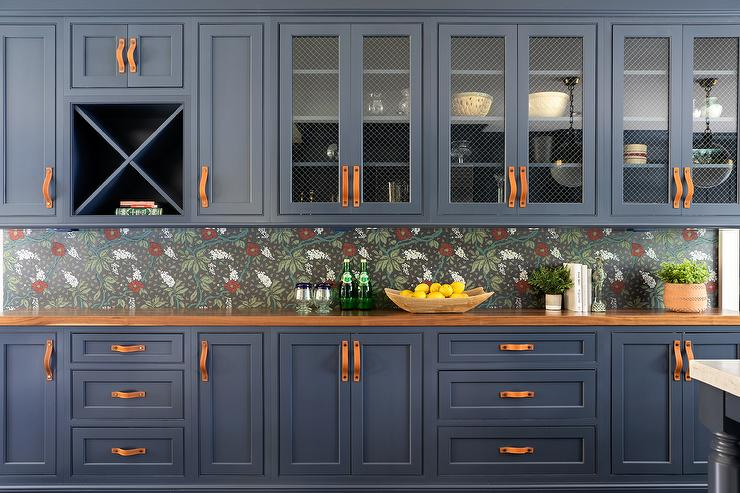 Glass Front
Mesh not your cut of tea? Why not go back to tradition with glass-paneled cabinets? They're beautiful and still offer the same display features as a mesh-front cabinet but work better with traditional and transitional style kitchens. A cabinet door cut for glass makes it extremely easy to accomplish this look. They're sleek, affordable, and work well with virtually every color, pattern, and texture!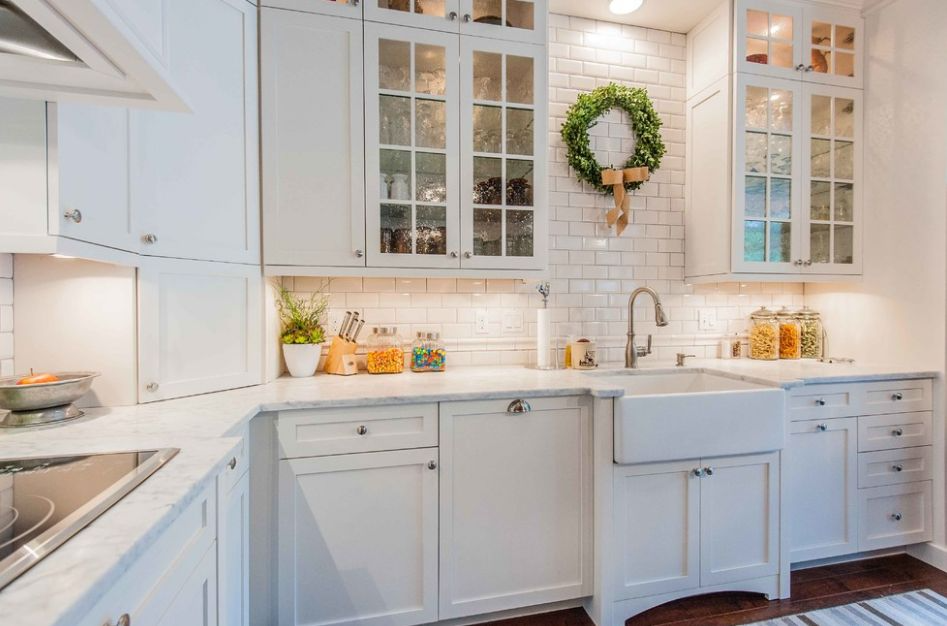 Sink Skirts
Is the sink skirt making a comeback? We say yes! This may have something to do with the 2020 cottagecore renaissance—that obsession with the idyllic country lifestyle. This movement is characterized by soft, romantic colors, patterns, and textures—so a sink skirt fits perfectly into that vision. Instead of having a cabinet under your sink, why not elect for a decorative tension rod and a swath of flowy pleated fabric? This allows for full accessibility to your under-sink storage, and it's a cute way to add visual interest and softness to an otherwise hard-edged kitchen. Plus, it's so easy to swap out your sink curtains: take them off and throw them in the wash, or simply replace them for a quick and affordable style update!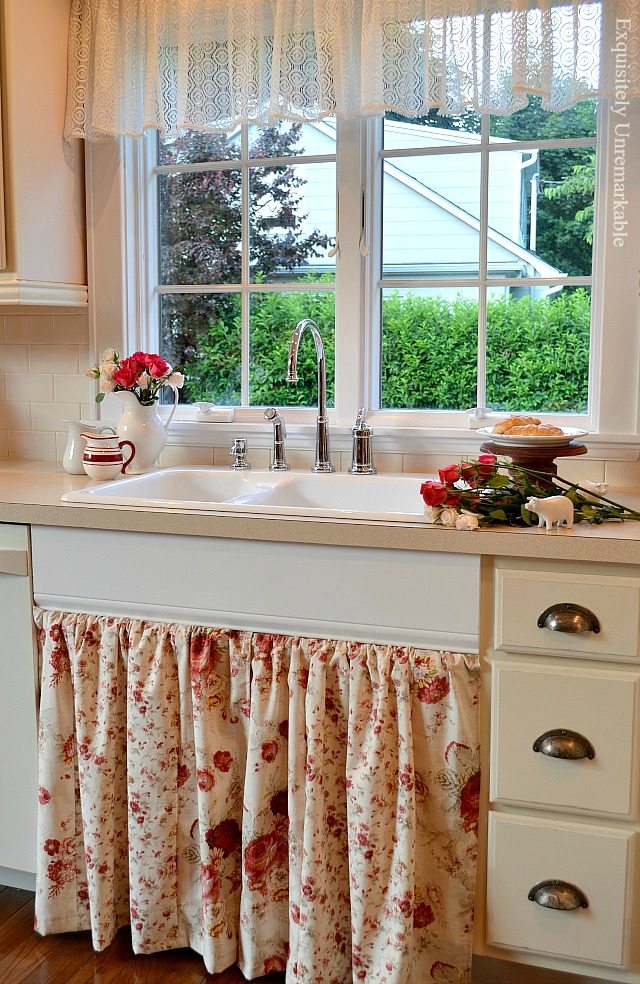 Slab Cabinetry
Slab or 'flat front' cabinetry is exactly what it sounds like. There are no frills, embellishments, or ornaments to be found here. The cabinet fronts consist of single solid slabs and perfectly complement a more simplified and modern kitchen aesthetic. Slab cabinetry looks impressive with a range of styles, from contemporary and mid-century modern to Asian and Scandinavian. This cabinet style pairs beautifully with sleek, simple hardware, or even no hardware at all (more on that below). The lack of accessories puts the focus back on the craftsmanship of your beautiful cabinetry. Solid Panel cabinet doors make this style achievable and very easy to style.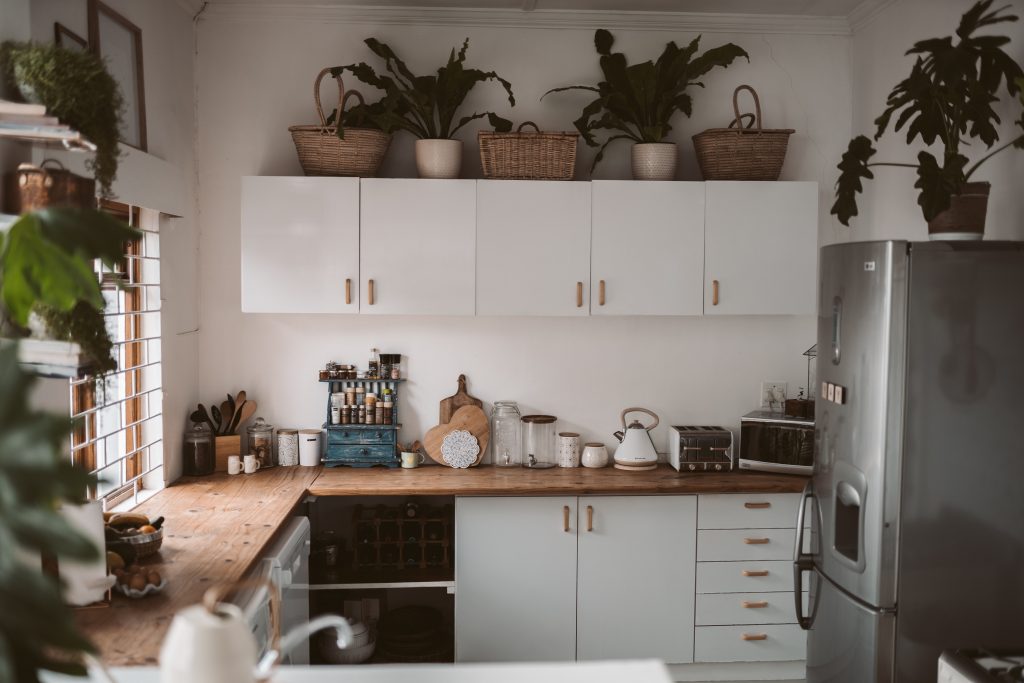 Go Handle-less Kitchen Trend
You don't need cabinet hardware in your kitchen to get a handle on things. The newest rising trend in kitchen innovations is handle-less cabinetry. Push-to-open technology eliminates the need for handles on both upper and lower cabinetry and makes it incredibly easy to access the contents even when your hands are occupied. But if these high-tech drawers don't strike your fancy, you may prefer the look and feel of recessed handles or pull-grips. This pared-down look streamlines your kitchen's aesthetic and brings the quality of your cabinetry into focus.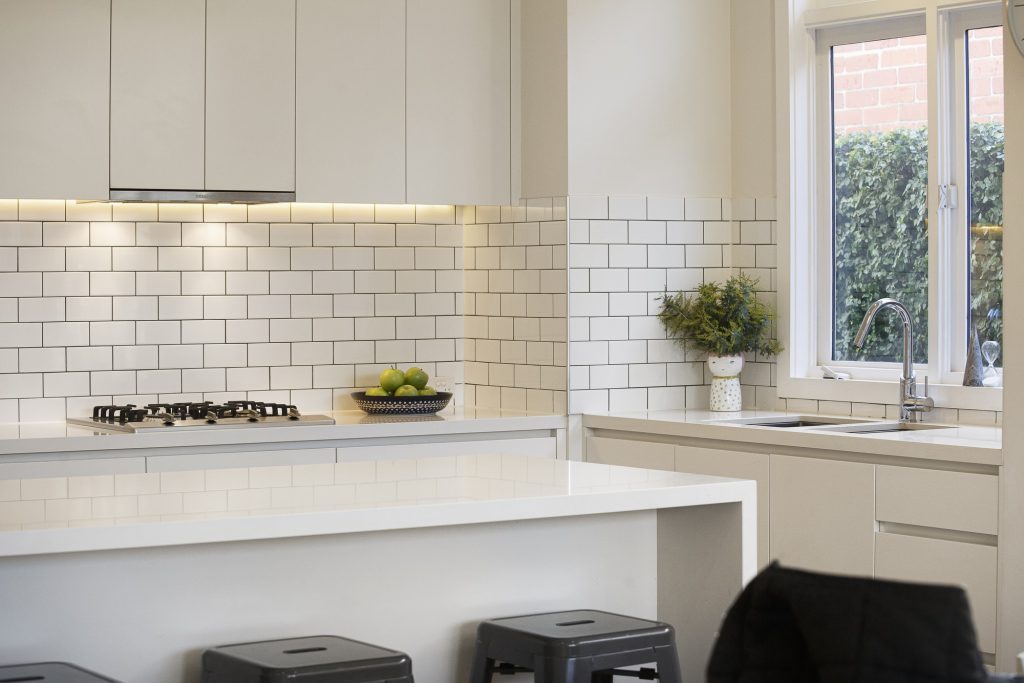 The Pantry Cabinet
Not every homeowner wants (or needs) a full-size walk-in pantry in their kitchen. Maybe you don't have the space to build one, or you feel that you can't justify the investment. But just because a walk-in pantry isn't suitable for your kitchen doesn't mean you have to go without a pantry altogether. That's why the pantry cabinet is the perfect middle ground. It's much more space-efficient for storage, takes up minimal kitchen real estate, and blends seamlessly with the rest of your cabinetry. Both practical and stylish, a roll-out cabinet pantry makes it incredibly simple to store all your dry goods and access them at a moment's notice. You can purchase them prefabricated or custom-built in any shape, size, depth, material, and finish. Customize your pantry with a pull-out pantry to keep everything organized and easy to reach. Cabinet plus pantry equals a match made in heaven!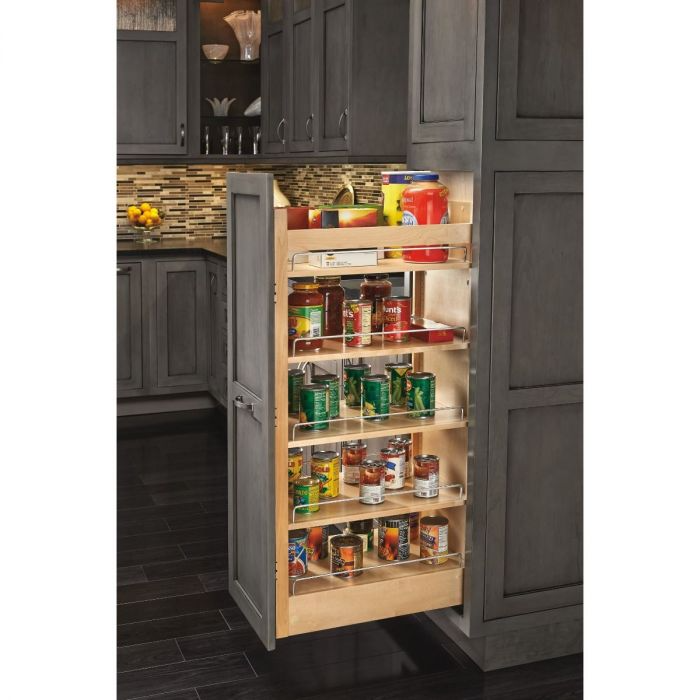 Organizational Tools
When it comes to cabinetry, it's what's on the inside that counts. Yes, the exterior gets plenty of attention, as well it should. But you must admit that opening those glossy doors and finding a rat's nest of dried goods inside is a bit off-putting—not to mention a total hassle when it comes time to cook! It may not be quite as exciting as what's on the outside, but we think that good storage deserves a nod as a 2021 trend. Fortunately, there are plenty of innovative products out there to help keep your cupboards and cabinets organized this year. From a pull-out blind corner basket to rolling racks and rotating shelves, organizing your kitchen wares is easier—and more stylish—than ever before. We genuinely believe that the best kitchens are the ones with exceptional storage!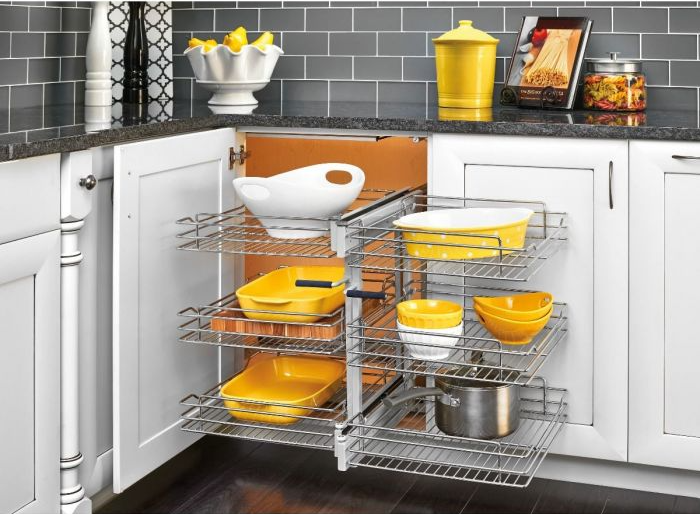 Kitchen Lighting Trends
Pendant Lighting
Just one way to light your space, pendant lighting is a sleek, elegant, and eye-catching solution for any kitchen. Pendant lighting is any fixture that descends from the ceiling and is held by a rod or wire. The fixture itself doesn't touch the ceiling: it just hangs, as a jewelry pendant hangs from a necklace. Pendant lights come in all shapes, sizes, and lengths; they come in clusters and single strands; they can come as simple bulbs, or they can come with decorative shades. Use a single pendant or line several up in a row. Whatever your preference, this lighting can be functional and fashionable, and even the subtlest pendant can make a real statement. Speaking of which…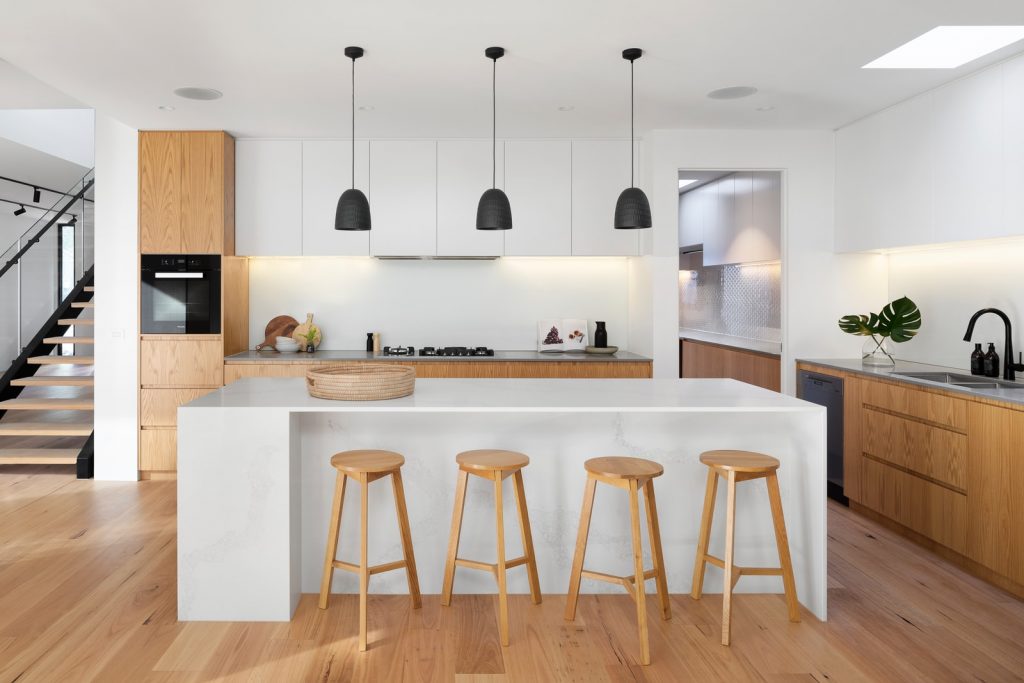 Statement Lighting
Let your lighting make a statement! If you're the kind of homeowner who likes to keep your design aesthetic relatively neutral, you may be looking for that perfect element to shake things up. We get it: trends come and go, and you don't want to invest in a bold and trendy design that will look dated in 5-10 years. That's why statement lighting is the perfect solution. By creating a kitchen that acts as an aesthetic blank canvas, you can let your statement light feature do all the talking. A statement light fixture on a neutral backdrop can easily be interchanged to keep with the current style. Plus, using light as a focal point draws the eye upwards, making your ceilings appear higher and your rooms larger.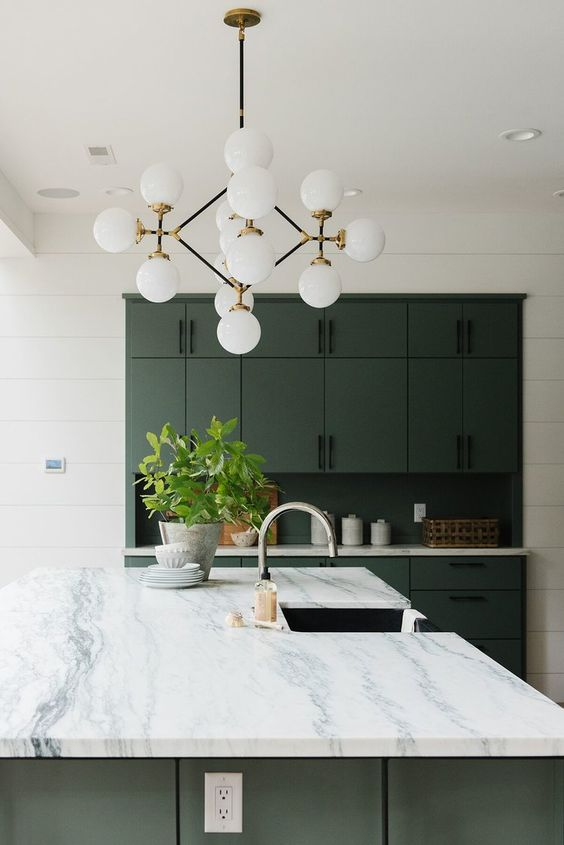 Trends in Kitchen Fixtures & Appliances
Smart Appliances
Why stick with a smartphone when you can have an entire smart home? Smart and digital appliances have been all the rage this year, and it's not hard to see why. These savvy solutions can do pretty much anything, from setting the temperature of your fridge to adjusting the toastiness of your toast. You can preset the oven to heat up remotely with the touch of a button or ask your fridge to tell you about the weather. With innovative and customizable smart appliances, the opportunities are endless.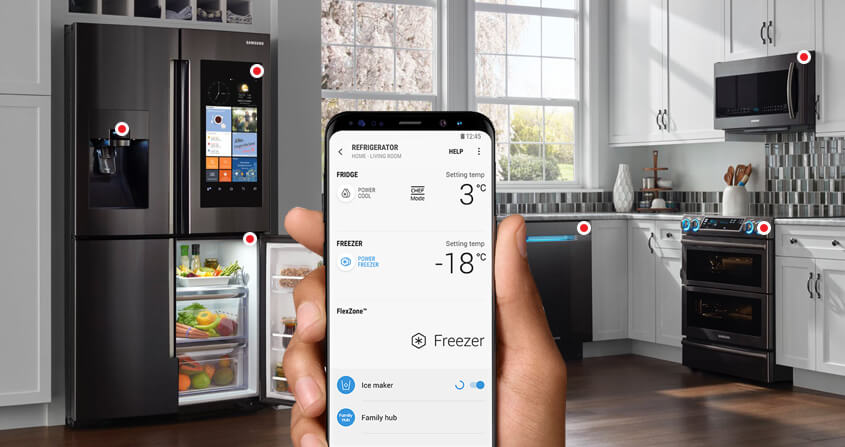 Specialty Items
Equip your kitchen with your favorite niche specialty items! Because they're specialty, they're bound to be more expensive than your average run-of-the-mill toaster, but they also show that your kitchen is customized to you and your interests. If it's in your budget, consider investing in one or two items of interest. For instance, if you have a vested interest in artisanal coffee, you might consider purchasing a home espresso machine and housing it in a kitchen corner with your favorite mugs and coffee accessories. Or, if you're a wine lover, perhaps you'd enjoy a wine fridge—miniature or full size—with a special rack for wine glasses. These are, of course, nice to have items that are not practical for every kitchen. Even still, there's something extraordinary about having a space that's custom-made just for you, isn't there?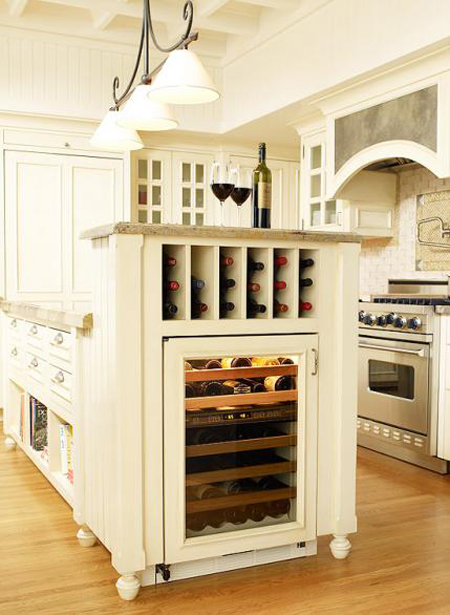 Gas Stove/Range
A good gas stove or range is a thing of true beauty. There's nothing wrong with an electric stove, but the look and feel of a gas burner just can't be beaten. Not only is it luxurious, but it's also ideal for even cooking and is typically preferred by chefs.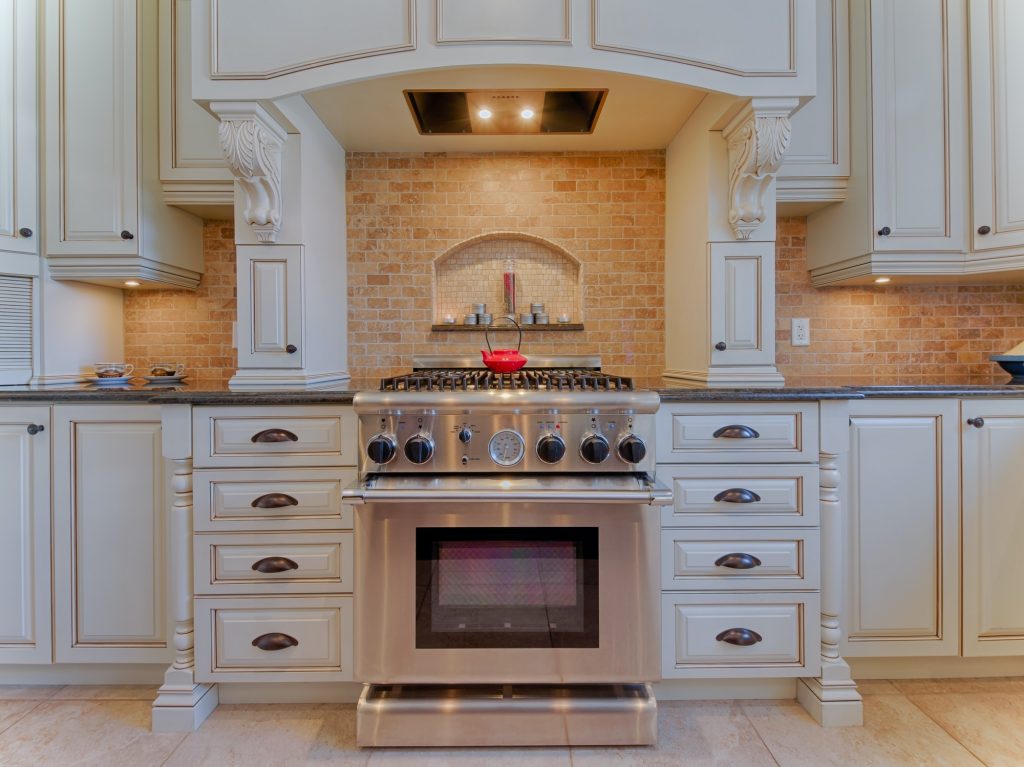 Range Hood
Range hoods may be practical, but that doesn't mean they have to be an eyesore. Sure, the average range hood is used to funnel away steam and smoke from cooking, but the illustrious French range hood is something else altogether! The French range hood is a glamorous feature that will ratchet any kitchen up to 10 on the style charts. These elaborate beauties look incredible in traditional and (of course) French country-style kitchens, but they're also available in every style under the sun. They can be big and extravagant or sleek and subtle. Either way, you're keeping your kitchen safe and smoke-free and doing it in style!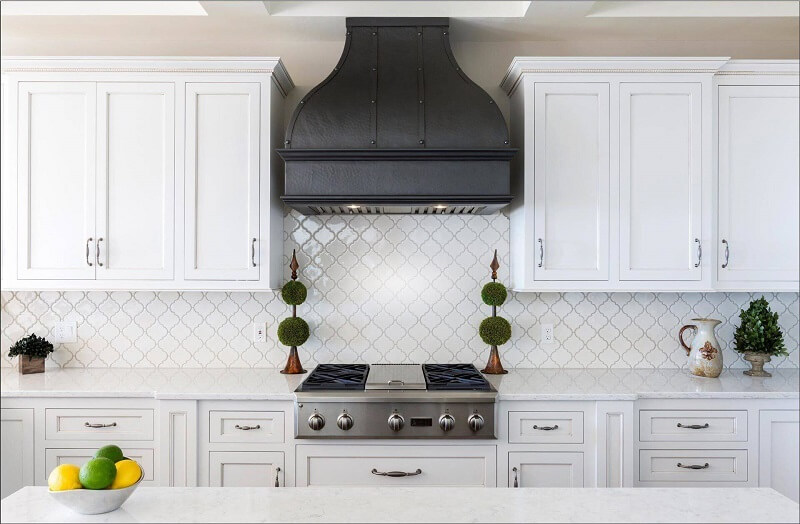 Farmhouse Sink
Remember when we said cottagecore was a dominant trend in 2021? Well, this means that farmhouse sinks are making a comeback as well. Farmhouse or 'apron front' sinks consist of a rectangular tub and are incredibly spacious and deep. They have one broad, seamless front panel, which makes them a gorgeous addition to any kitchen. While farmhouse sinks often only have one bowl, they can sometimes be separated into two to make washing and rinsing less of a hassle. Because they extend over the lip of the counter, you don't have to lean over to wash dishes, making this sink both ergonomic and stylish. Plus, you can get them in various styles and patterns, making them adaptable to almost any home aesthetic!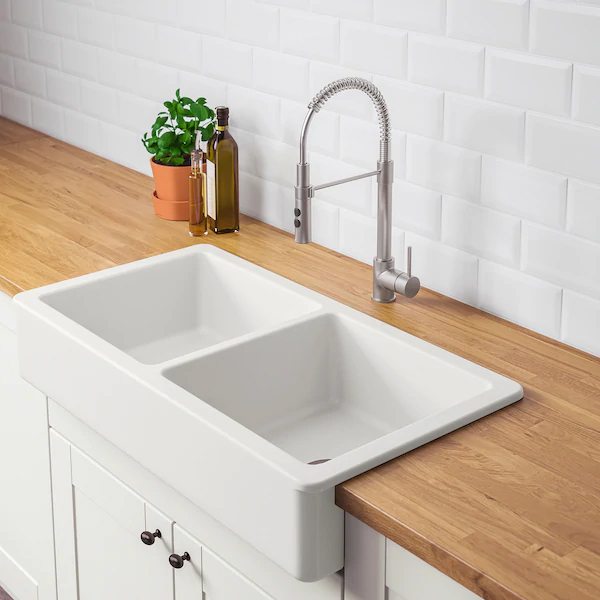 Kitchen Layout Trends
Open Concept Kitchen Design
Open concept kitchens are the trend that keeps on trending. Some things stick around for a good reason, and this is one of them. When you're entertaining, you probably want to be able to enjoy time with your friends, rather than just being tucked away in the hot kitchen laboring over a pot roast. Well, an open concept layout with an efficient kitchen triangle can give you just that.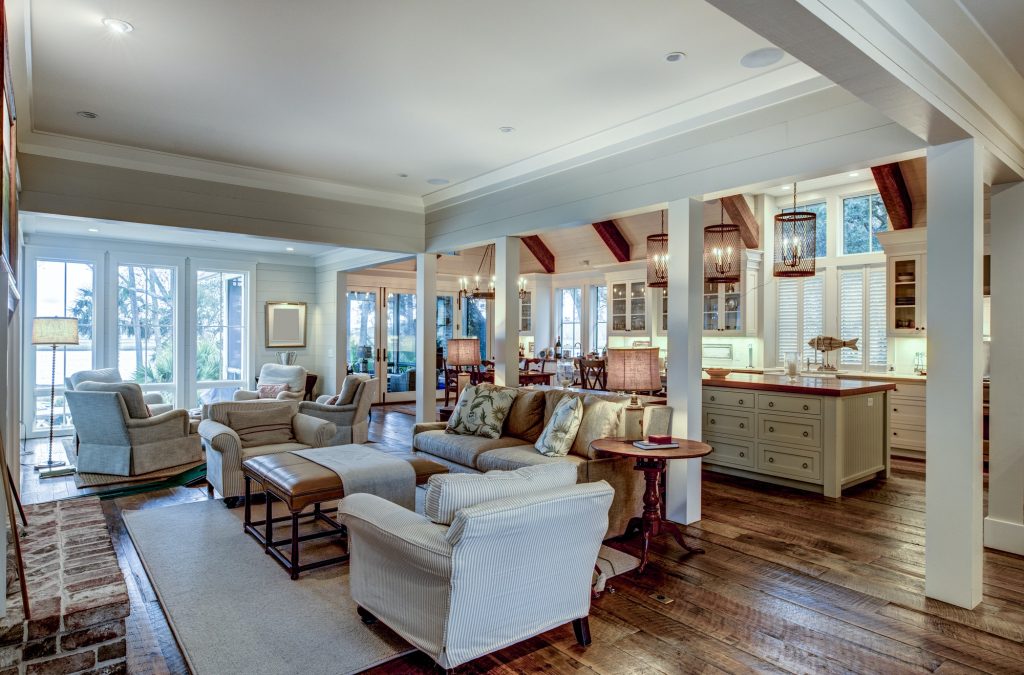 Kitchen Island Trends
It likely comes as no surprise that kitchen islands are still a treasured addition to the home. And why not? They're both incredibly fashionable and functional. They complete the much sought-after kitchen triangle; they provide extra workspace and storage room and be used as a breakfast bar and entertaining area. There truly is nothing bad we can say about the kitchen island. But have you heard of the double kitchen island? It seems there never can be too much of a good thing, and the only thing better than one island is, well… two! As shown on Coco Cozy, this double island setup is the perfect kitchen addition for homeowners who love to cook, host, and entertain.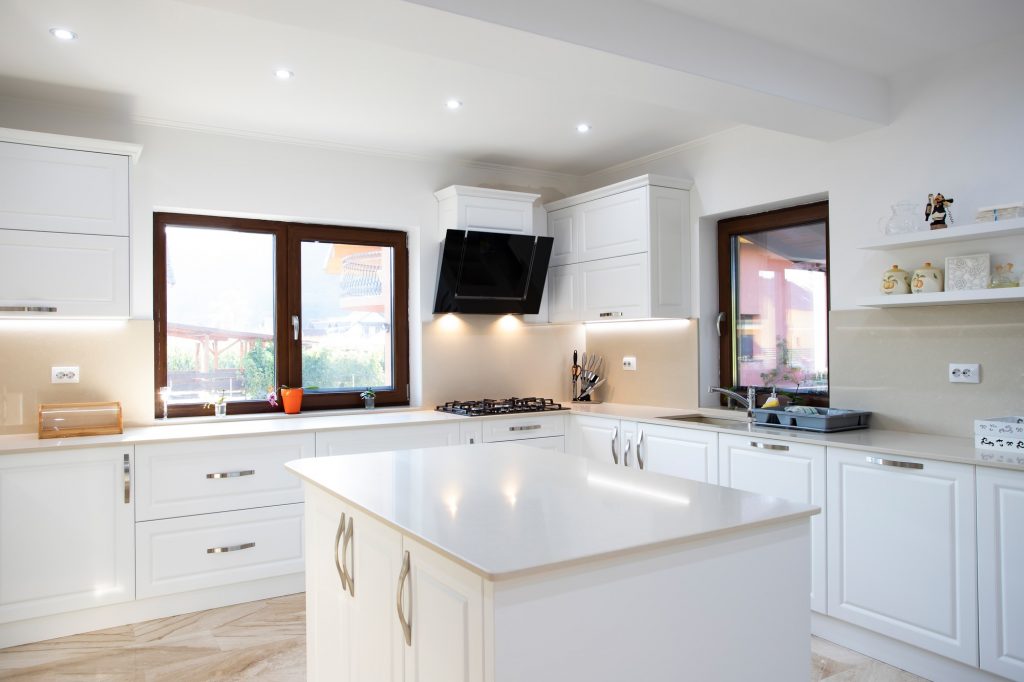 We hope you're feeling inspired for a kitchen update because we certainly are! For more design and décor ideas, browse our collection today.