A galley kitchen is a big decision. You either already have one or you're drawn to the unique benefits that you can't get from other kitchen layouts. The ups and downs for galley kitchens are a bit more extreme than you see with standard kitchen layouts. While you might be severely limiting your design choices, you're also saving yourself a large amount of money and making your practical use of the kitchen more efficient and enjoyable for the life of the design.
In any case, there is something to be said about the appeal of simplicity, which you definitely get in a galley. Here are some galley kitchen ideas that will help you decide if this style is right for you and what to do with it if it is.
What is a galley kitchen and why should you have one?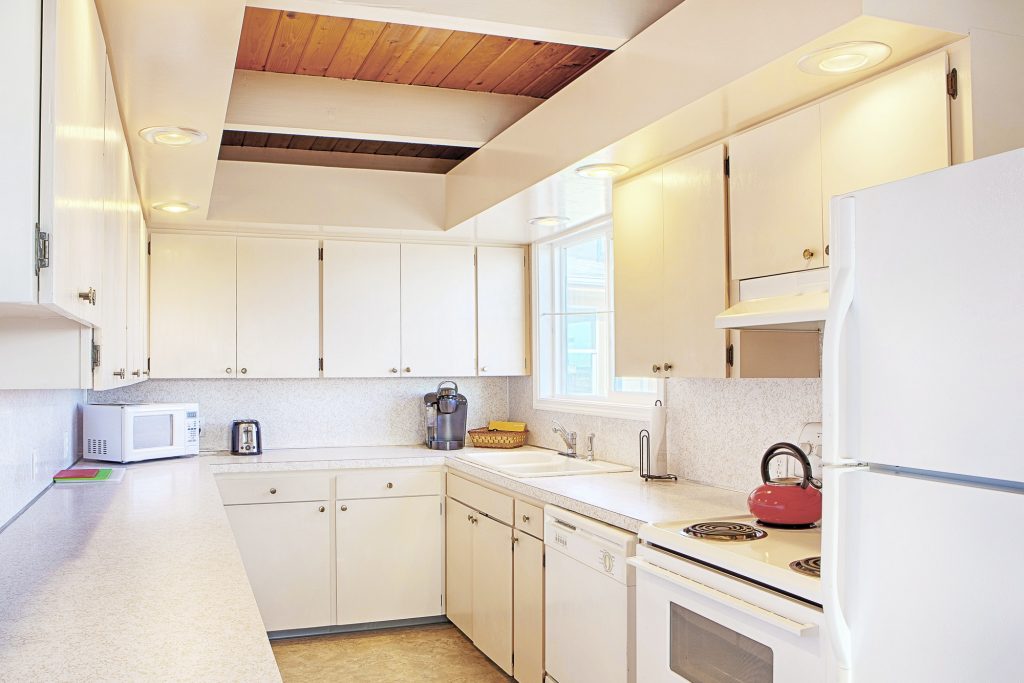 A galley kitchen or corridor kitchen is a kitchen that's long and narrow, typically running on both walls of a narrow room. Because kitchen features like cabinetry and appliances take up a lot of depth from the wall, the resulting space resembles a corridor. A galley kitchen may be open at both ends or may cap itself off or lead to an exterior door. Generally, galley kitchens will have upper and lower cabinets, long countertops, and a full array of appliances.
Because they're smaller, galley kitchens are typically cheaper to design and build than other layouts, but smaller isn't necessarily a bad thing. Many cooking enthusiasts enjoy the convenience of having supplies, ingredients, and appliances all close at hand. A well-designed galley will have key services clustered in a way that makes food preparation and cleanup much more comfortable and convenient.
Choosing a galley kitchen can enable you to dedicate more square footage to other rooms of your home. The reduced counter area and floor area can dramatically reduce your costs and allow you to upgrade your countertop and flooring materials and other features of the kitchen. Optimizing the space with high-quality materials is a great way to maximize your return.
Things to Consider When Designing a Galley Kitchen
There are a few minor drawbacks to a galley kitchen. If you have two or more chefs in the home who like to work simultaneously or if the kitchen is a major hot spot for your family, a galley kitchen might not be right for you. Also, if you tend to spread out and use a lot of counter space when you're cooking or doing family activities in the kitchen, you should consider the reduction in counter space.
There will also be less storage space unless you have an exterior pantry, so consider the volume you tend to store in the kitchen. And finally, if you're remodeling because you're planning to sell, you should be aware that galley kitchens have a lower resale value than other kitchen layouts. Buyers tend to prefer a visually open kitchen. Here are some things you can do to optimize your galley kitchen design.
Bare Necessities
The more features you add to your galley, the less space you're going to have. Strip it back to the bare essentials: refrigerator, cabinetry, stove and oven, sink, dishwasher and pantry optional. If you start installing islands and breakfast nooks, you're going to end up with a feature-rich kitchen that no one can fit in.
Galley Kitchen with Island
If you really want a galley kitchen with an island, there are a couple of ways to go about it. You can install a mobile island that can be simple rolled out of the way when space is at a premium. You could opt for a half-wall or even no wall on one side and use that space for an island. We'll get more into one-wall kitchens in just a moment.
Choose your sink carefully
If having a giant sink isn't a top priority to you, save some space by scaling it down. You can fit in the big, dual-basin sink if you just have to have it, but you'll have to sacrifice some space for it. You'll find that under-mounted sinks provide the same volume capacity without taking up unnecessary counter space. Drop-in sinks have lips and sometimes built-in rims that sit on top of the counter and have to be sealed there, eating away at more of your precious kitchen space. A modestly-sized, under-mounted sink will maximize your countertop savings.
Cabinet Design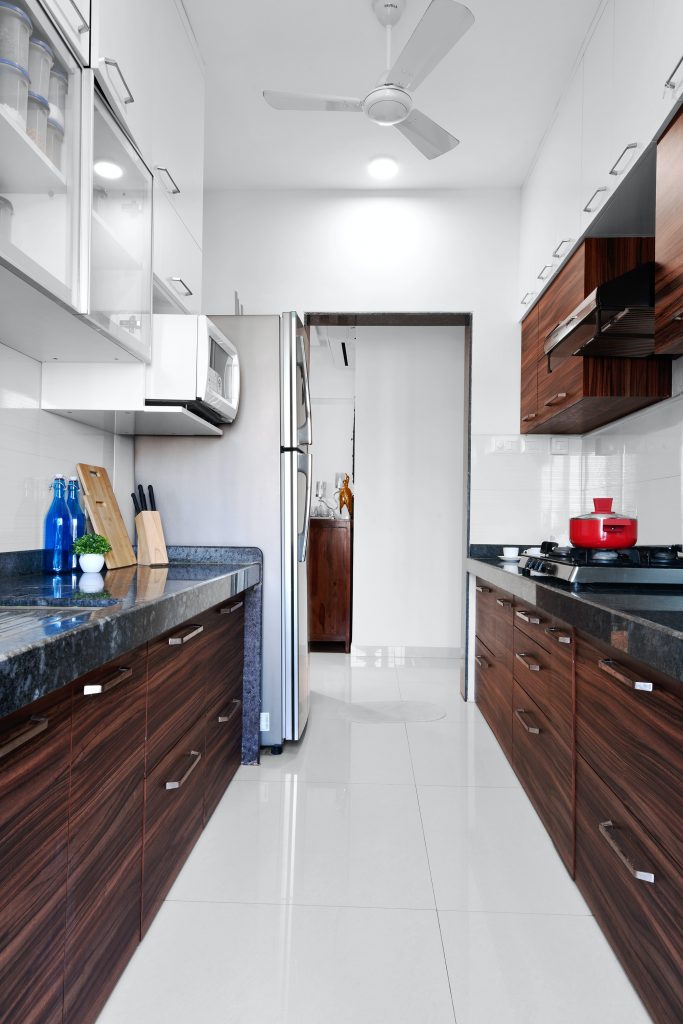 A lot of galley kitchens have upper cabinets that run all the way up to the ceiling to create more storage space inside. It's a great storage solution, but it can make your kitchen feel looming and imposing. By putting some space above the cabinets, you can make the room feel bigger and less claustrophobic. Use a nice cabinet door design that breaks up the vertical reach and don't forget to design inside the cabinets. Use hooks, Lazy Susans, rolling shelves, and any other tricks you can pull out to optimize your storage space.
How much walkway do you need?
Take some time to consider what's comfortable for you and your family. Will anyone need to get through the kitchen in a wheelchair or walker? Will you have to squeeze past each other when passing? If you have to, stand side by side with a family member and measure how much width the two of you have together. Then, start your galley kitchen design with the walkway width that's comfortable for you and work outwards. If you can't seem to make it work, try opening up one wall and using the other wall for features, fixtures, and appliances. More on that later. Keep in mind that if you create too big of a walkway, you'll start to diminish the efficiency that galley kitchens are known for.
Don't cramp your style.
Darker shades on large surfaces tend to make rooms feel smaller, perhaps because of the reduction in reflected light. Using lighter and brighter tones will create the illusion of a more open and airy room. Lightly stained or natural, light-colored woods like bamboo and birch are perfect for galley kitchen cabinetry. Stick to white or very light appliances and fixtures.
Kitchen Layout Ideas: How to Design a Galley Kitchen Along One Wall
One-wall kitchens are hugely popular right now and it's because removing that wall, figuratively speaking (mostly), opens up a whole world of versatility and potential for personality. You see one-wall kitchens a lot in apartments and condos with open floor plans, but we're seeing them more and more in single-family dwellings. They're efficient, spacious, affordable, and attractive, but they can be difficult to design for someone who's new to the concept.
Think Workflow
Think about what you reach for when you're cooking, making your morning coffee, or preparing a snack. What about when you're cleaning up? Think about when your hands are full or covered in soap suds. One way to make the most of the space is to put the sink between the refrigerator and the stove. This also helps your fridge dissipate its heat since it's not near the stove. If you're going to have a dishwasher, put it next to the sink on whichever side is most convenient for you to load it from.
Chop your wall in half
No, not the wall with your kitchen on it. The other wall. If you're working with a corridor space and you want to design a one-wall kitchen to create more breathing room, find out if your opposite wall is weight-bearing. If not, talk to your contractor about cutting it in half or even removing it completely.
Close the space with an island.
If you're not working with a corridor space but you are designing a one-wall kitchen, consider whether an island could help section off your kitchen area, provide more space for food preparation, and create additional storage. If your space is open but limited, consider a mobile island that you can push out of the way depending on your family's activities. A mobile island will also allow you to adjust your work triangle for optimal kitchen efficiency.
Kitchen Dining Combo
Want more prep space and seating? A strategically-placed dining table next to your one-wall kitchen can break up the space and provide more work surface, just like an island, but with comfortable and inviting seating that's hard to get in a galley or one-wall kitchen design.
Go Big on Storage
If you're worried about storage space, there are definitely things you can do to solve the problem. Floor to ceiling cabinetry is one option that can provide more storage space than many medium-sized, multi-wall kitchens have. If you're interested in chic design, find a nice, antique wall hutch. Italian kitchen styles are very popular in 2021, meaning you can hang your most beloved pots and pans around your walls and ceiling, throw in some open shelving, and call it a theme.
Light it Up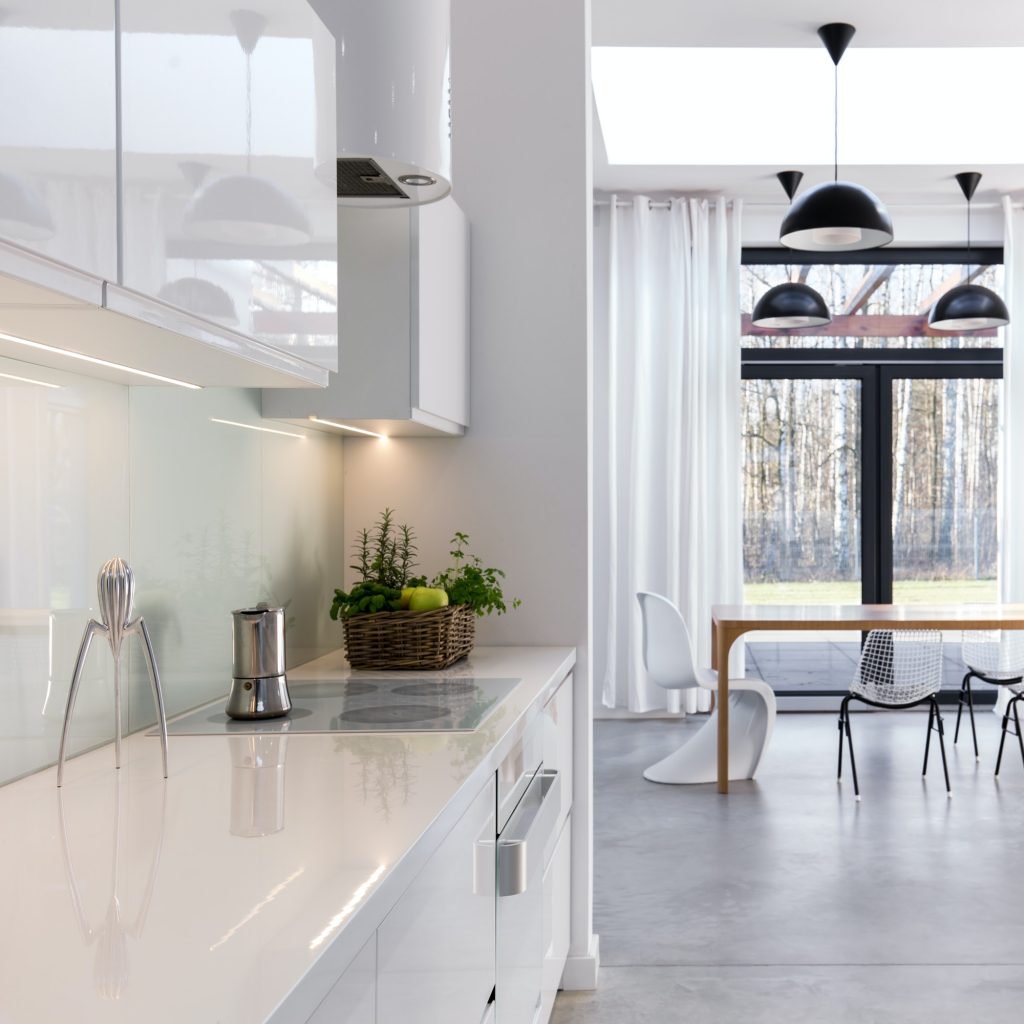 Inadequate lighting is a great way to make all your efforts to expand your small kitchen fall flat. Go big with lighting. Get pendants, tracks, under-cabinet lights, recessed lighting, and something nice over the table or island. You saved on flooring and cabinetry, so you can spend on lights that will brighten and open the entire room. Use bulbs with a high lumen rating where you want the brightest lighting.
Not sure if a galley kitchen is right for you? Take a look at these 10 Kitchen Design Ideas to inspire your remodel.