Paint Colors for Kitchen Designs That Will Stand the Test of Time
Heading into a new year is a great time to update and upgrade your home's most popular room, the kitchen. But what color palettes are going to keep you on-trend for 2021 and many years to come? First, let's talk about what a color palette is. Your color palette is made up of all the different colors you're going to use in your redesign. It should have a few neutrals for your larger, plainer spaces like background walls and other areas you don't want to draw attention to, as well as a strong accent color or two.
Applying Your Color Palette
A lot relies on personal taste, but there are some basic guidelines to get you started, like putting your neutrals on the large, boring surfaces. Accent colors are for highlighting the areas you want to draw attention to. It might be your backsplash, a smaller cabinet arrangement, your appliances, or a small dividing wall. A darker color is great for the walls under your cabinets in prep areas to really make your updated cabinetry pop. Darker colors can be used in flooring to make your structures stand out more. Use them strategically to "push" surfaces back if you have a small kitchen. Lighter colors will catch the light and bring things forward. Don't forget to include your other materials like granite, marble, wood, and metal when choosing your palette to prevent things from clashing later on.
Latest Design Trends for the Modern Kitchen
Going into 2021, we're seeing three forks of design in the kitchen, no pun intended. Open Italian kitchens with exposed storage, natural finishes, and earth tones are making a strong comeback, as are contemporary kitchens with sleek lines, smooth surfaces, and custom cabinetry. The third fork is a blend of the two styles that creates the warm atmosphere you want in your kitchen without sacrificing modern elegance.
Floor Plan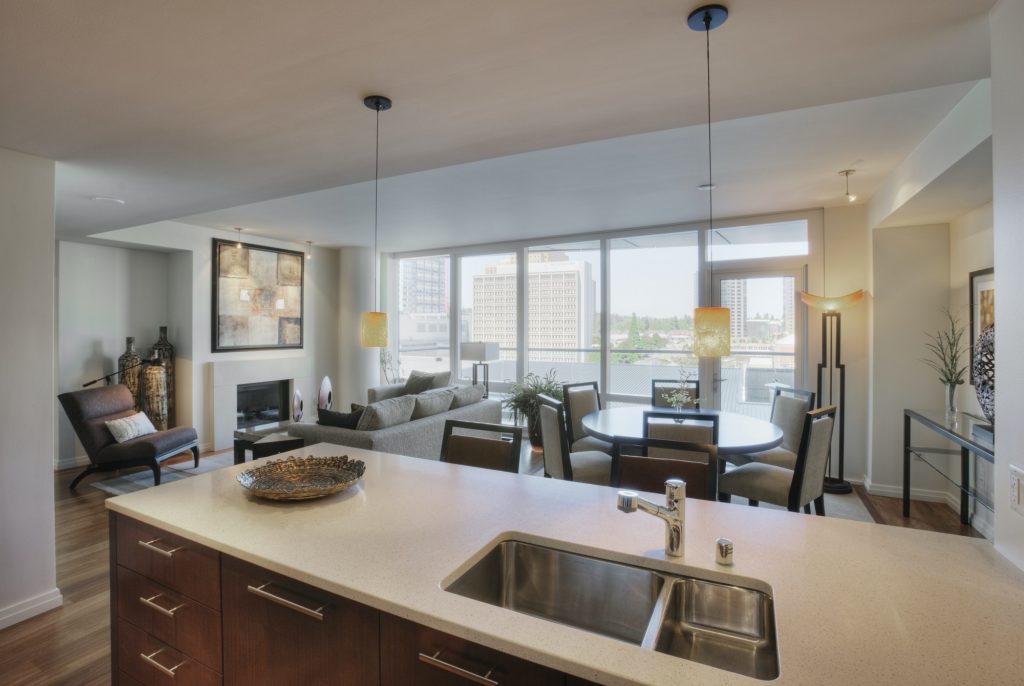 While open floor plans have been popular for decades, the cyclical nature of design trends is bringing the closed or "broken" layout back around, but don't panic if you have an open floor plan. You don't have to remodel your entire living area. "Zoning" will allow you to create a closed look and feel by implementing strategically-placed dividers, and they don't have to be ugly or obvious. Hanging house plants and standalone furniture can create the perfect transitions to each area of your home.
Colors
Modern kitchens are becoming bolder when it comes to accents. The go-to neutral color palettes are warming up, replacing grey and beige with subtle tones of blue, green, pink, and this year's hottest kitchen color, greige, a beautiful blend of warm grey and beige. This means your highlights have to step it up too. Go for dramatically brighter colors like red or teal. When choosing materials, go for paint instead of laminate or veneer, except for your cabinet bodies (see below). Paint lasts longer, is easier to repair, and creates a higher-quality look. The trick to choosing a color palette that will stand the test of time (because who wants to do another remodel in two years?) is to look at previous trends and identify what was a "flash in the pan" and what has shown some staying power.
Color Palette Kitchen Trends 2020
Last year, hot kitchen styles were all about increasing color saturation. We saw a lot of navy, black, teal, grey, beige, and warmer neutrals like sage and blush. Overly-dramatic matte black is out this year. It's been replaced with a warm gunmetal grey. Plain grey and beige are out too. Warm neutrals and striking accent colors are showing some serious longevity, even going back to 2018's kitchen color trends, which is when mint and pink started gaining popularity.
How to Choose Your Kitchen Cabinet Colors
Before you choose the color for your cabinets, you should figure out what your kitchen color palette is going to be. You've got an idea of the trends, but how do you decide which one is right for your kitchen? You're going to be stuck with these colors for a while, so it's important to give it some thought before making any purchases. Start by looking at the rest of your house. Each area should have its own palette, but every palette should fit into your overall theme to avoid looking tacky and thrown-together. Get some paint cards that match the other colors in your home and compare them to paint cards for the color trends you like. See where you can make smooth transitions from one to the other. If you're remodeling the whole house, that's not going to help much, so move on to the next step.
Check out your current kitchen style, or if you're renovating, your soon-to-be kitchen style. If it's more Italian, consider sticking to earth tones, and don't worry. Earth tones offer just as much variety as the more "synthetic" palettes. If your kitchen is more contemporary, you can get away with more vibrant pops of color. Identify your opportunities for accent color and imagine how different accents might look.
Once you've settled on a palette with a strong accent color, you can figure out which color is best for your cabinets by evaluating the layout of your kitchen one more time. Smaller cabinet arrangements are the perfect opportunity for a bold accent. Larger arrangements look more elegant in your base or neutral tones or in a nice natural finish. But wait! Before you finalize your plans, check out these cabinet color ideas that can upgrade your kitchen remodel without upgrading your budget.
Unique 2021 Cabinet Ideas: Two-Tone Cabinets and Coffee-Stains
Two-tone color schemes add a ton of dimension, which is a must for large cabinet arrangements. It works best on cabinet doors that already have some dimension to them, like custom raised panels, but two-tone colors can be applied in different ways that work for everyone. You can make your upper cabinets a different shade than your lower cabinets, make your cabinet doors a different shade than the "boxes" or "bodies", or make the main panel of the doors and the boxes a different color than the raised panels.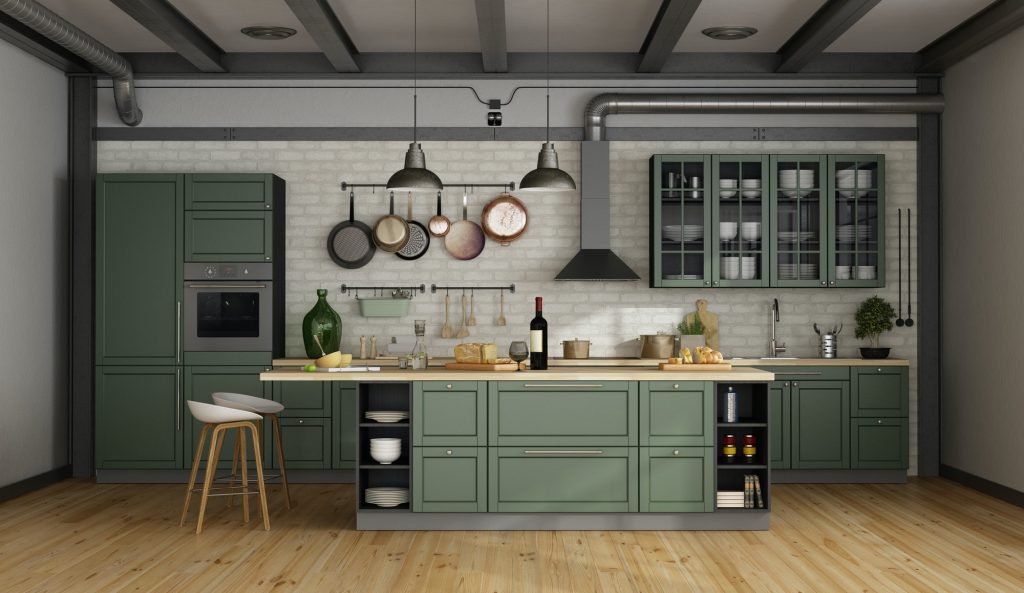 Another gorgeous cabinet color trend in 2021 is a coffee-stained natural wood finish. DIY remodel pros are taking natural wood and literally staining it with coffee grounds to get a light stain that really shows the natural grain and texture of the wood. Don't worry, you don't have to stain your cabinets yourself to get this stylish new look. You can get the same finish from a light, ashy stain with low gloss, preferably matte, and it will probably last longer. Low gloss is another hot trend in 2021 for your kitchen cabinets, so check out some other matte finishes if you don't like the coffee-stained look.
How do you change kitchen cabinet colors?
You don't have to replace your entire cabinet structure if you don't want to deal with the installation process or if you're trying to stay under-budget. You can update and upgrade your cabinets just by refacing or refinishing them. This is where veneer comes in handy. Refacing cabinets involves replacing the doors and applying a veneer to the body. Refinishing allows you to keep your doors but requires a bit more work to remove the old finish and apply a new one to both the doors and the cabinet body.
10 Kitchen Color Palettes for 2021 and Beyond
Peacock
Neutrals: mint, beige
Accent: teal
Materials: marble, stainless steel appliances
Royal
Neutrals: sage, greige
Accent: eggplant
Materials: natural wood finish, black appliances
Sunshine
Neutrals: daffodil, greige
Accents: lemon, gunmetal
Materials: dark granite, stainless steel appliances
Forest
Neutrals: white, grey
Accents: spruce
Materials: marble, stainless steel appliances
Lavender
Neutrals: lavender, white
Accents: eggplant
Materials: marble, black appliances
Nautical
Neutrals: grey, white
Accents: blue-grey
Materials: natural wood, white appliances
Hazelnut
Neutrals: eggshell, blush
Accents: hazelnut grey
Materials: black granite, black appliances
Tuscan
Neutrals: Tuscan beige
Accents: squash, hazelnut
Materials: natural wood, stainless steel appliances
Shade
Neutrals: eggshell
Accents: greige
Materials: natural wood, stone, stainless steel appliances
Pastel
Neutrals: sage, blush
Accents: gunmetal
Materials: granite, stone, stainless steel appliances
There are so many options for color palettes for your newly designed space. Make sure to pick a palette that matches your style but also matches the overall style of your house. Need some inspiration fro your remodel? Take a look at our post on 10 Kitchen Design Ideas to Inspire Your Next Remodel.