With the right combination of cabinet doors and tools, your cabinet installation is sure to be a breeze. Just make sure you've got the appropriate materials, and have purchased all the hardware you'll need to finish this project. To help streamline that process, we've put together a list of handy tools and materials to have in order to easily paint or stain and attach the cabinet doors for a finished, professional look.
Before installing the doors or drawer faces, make sure your cabinet boxes are ready for the install. Remember, being able to finish a kitchen remodel project requires having all the necessary pieces to the puzzle, including cabinet hardware and tools alike.
Install Tools
Many of these tools are likely ones you have on hand. There is an array of other specialty tools for installing cabinets, you don't need to purchase these, although they might make the job a little easier. Below are the tools you definitely need and are more than capable of doing the job.
Measuring Tape
Level
Pencil
220-grit sandpaper
Drop cloth or Painter's Plastic
Paint Brushes
Painter's Tape
Drill
Mallet
Phillips-head screwdriver
Phillips-head driver bit
Materials Needed
Prior to starting your installation, make sure you have all the materials close by to ensure a smooth and successful process.
Wood screws
Cabinet Hardware
Stain or Paint
Top Coat Finish
Before installing your cabinet doors and drawer fronts, finish any staining or painting you want to do. Make sure all paint has completely cured and all stain is dry. Now that you've got your cabinet doors ready to go and your tools in hand it's time to install them!
Installing kitchen cabinets can be a breeze by following these quick tips:
Ensure sure your cabinet hinges are level and in the correct location before you install the doors. Make this easier by marking the location of your cabinet hinges with painters tape.
When you screw the hinge in place, make sure that it sits perfectly flush with the door so you don't end up with crooked doors or a gap where there shouldn't be.
When installing multiple doors, use a level to mark a line for the second cabinet door. Holding the level against the bottom of the first cabinet door, draw a line under the opening for the second door. This line will give you the proper angle to match the second door up to the first door.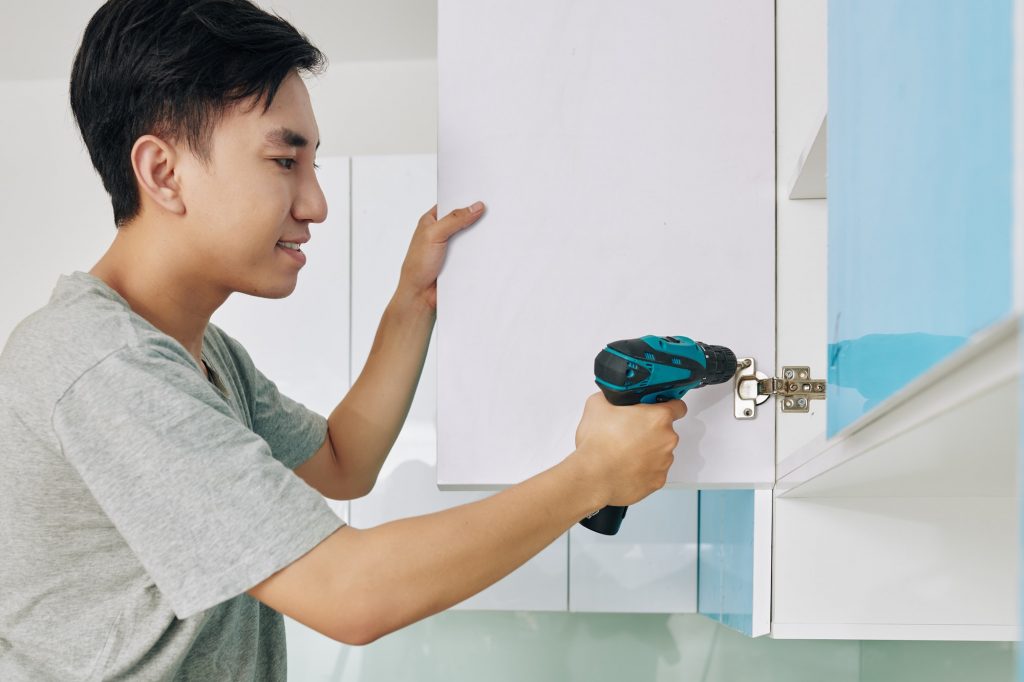 Good luck remodeling! If you need some tips for painting or staining your cabinet doors or drawer faces head over to this post, we walk you through step by step and even included some Pro Tips. If you have any questions about installation or products, feel free to give us a call at 1-866-558-0855 or email us at [email protected] and our customer service team would be happy to assist you!