Picture yourself in this space and imagine your ideal aesthetic–is it modern and sleek, or traditional and functional? Is it a bright, clean room for culinary experimentation or a more intimate, area for family mealtimes? Whatever you decide, it's a certainty: the paint and finish you choose for your cabinet doors will factor in heavily.
When you buy new cabinet doors from FastCabinetDoors.com you have the ability to purchase a finished product or take on a DIY project and paint the doors and drawers. Although any door can be painted, the material of the doors greatly affects the outcome.
Here's an overview of cabinet door finishes, plus an analysis of what different materials mean for the purpose of painting your doors.
Finishes
Paint Grade Cabinet Doors
When selecting wood or material for cabinet doors, the main factor to be aware of is wood grain. Finishes on cabinet doors with a wood-like Oak will result in a noticeable wood grain through the paint. When staining, this might not be a negative. However, generally with paint you want a smooth finish.
Alternatively, a wood species like beech, alder, or maple sands smooth and after a couple coats of primer and paint the wood grain is virtually unnoticeable. This will give a smooth finish and is what most consumers are looking for when they paint cabinets. Another option for the type of wood is medium density fiberboard, or MDF. MDF is made of broken down hardwood or softwood residuals into wood fibers. These fibers are then combined with wax or a resin binder and formed into panels.
Finished and Unfinished Cabinet Doors
While wood grain is a crucial aspect of cabinet doors, it's also important to understand the style of finish that will best protect the environment that they're in. For instance, if you're ordering unfinished kitchen cabinet doors, you want to make sure to finish them with at least a colorless polyurethane finish to protect against moisture and stain damage. If the natural, bare wood color is not quite the look you are going for then you can stain and/or paint and finish with a colorless polyurethane.
The final texture of your finished kitchen cabinets can be anything from matte, to semi-gloss, to gloss. Although a matte finish will lend to a more opaque color, a glossy finish allows for easier cleaning and maintenance. In a kitchen, a glossy finish is likely the option you will want to go with, this will allow for easier cleaning with grime, grease, and food splashes.
Painting Tips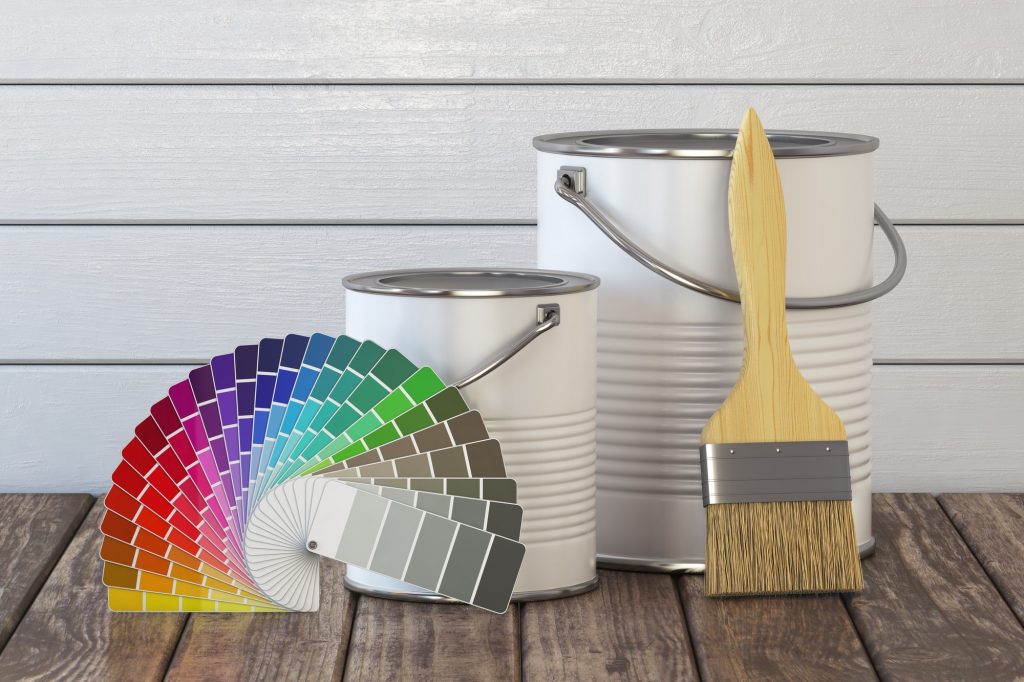 As long as you have the time – and patience – to do it right, painting kitchen cabinets is a simple process. Make sure you have prepped (take a look at our instructional on prepping here) correctly and then take a trip to the home improvement or paint store to pick out your colors.
Picking out Finishes and Paint
Once you've made it to your local paint store, there are a few things you'll want to consider. Beyond just the color, or colors if you are going for a contrast look, both the finish and the base need to be taken into account. Always make sure to use a primer and invest in high quality paints, since this will yield better results.
Painting Tools
Now that you have a foundation of knowledge regarding cabinet door finishes, we recommend investing in the right tools to properly finish your new hardware. For the nicest finish a paint gun is recommended. If a paint gun is not available, opt for using a 2 – 2.5 inch fine bristle brush instead of a paint roller. You want to make sure to always paint two coats, letting it dry fully between each coat. Keep in mind, you are using the paint to build a surface.
Pro Tip: After your final coat of paint, allow your cabinet frames, drawer fronts, and doors to fully cure before putting them all back together. Remember, being fully cured is different from being dry, follow the instructions for time allowance for the paint you have chosen.
If you're after a more in-depth tutorial on painting cabinets doors, head over to this post, where we break it all down down for you! If you need help deciding on unfinished or finished, or wood types, give us a call! Our customer service representatives would be happy to assist you!