In every remodel, the cabinet doors you choose can change the appearance of the kitchen dramatically. But don't be discouraged – with a quick crash course in the different kinds of cabinet doors available on the market today, you will be able to pick the right doors for your kitchen without breaking a sweat.
There are four main types of doors to choose from when considering options for your kitchen. Among these four types, each variation pairs well with different styles or themes. Additionally, each offers features and design traits that make unique from other kinds of doors.
We've compiled a list of all four main types of cabinet doors, a list that should help you decide which type of door panel is right for you and your remodel!
These cabinet doors give your room a timeless, traditional feel. The middle panel is raised, creating a groove between the frame and central panel. This groove defines each door and panel and creates highlights and shadows that bring depth to the cabinetry. This is one of the more expensive styles on the market, as it requires a higher level of precision craftsmanship. If you want to really change the look of any room or existing cabinetry, these doors are a great option for you because they stand out from the door frame and offer a classic and custom look.
If you've ever seen or heard of a Shaker Door then you'll know what an inset panel door looks like. The Shaker door is one of the most popular cabinet door styles. It's known for being adaptable and giving any home a fresh look with clean lines. All inset panel doors are straight-forward designs featuring a recessed center panel surrounded by a frame. These simple, straightforward doors add a sense of warmth and beauty to traditional, transitional and contemporary settings without adding the costs often associated with more complex designs.
Solid panel doors offer smooth, clean lines and are great for showcasing a particular color or finish in your home. Generally known as a European style door, with a lack of lines it is used for a seamless look. These doors have become fairly common in modern kitchen design, and feel instantly contemporary.
A glass cabinet door gives an open and spacious look to a kitchen. When you order a cabinet door cut for glass you will receive the frame sans the middle panel. The door is routed to hold a glass panel instead of a wooden panel. Glass is not included when you order a door cut for glass, it is recommended you take the door to a local glass specialist to have it properly fitted. The type of glass you get will depend on the style you are going for. Glass inserts come frosted, leaded, textured, or etched it many different designs. Or of course, you could get clear glass.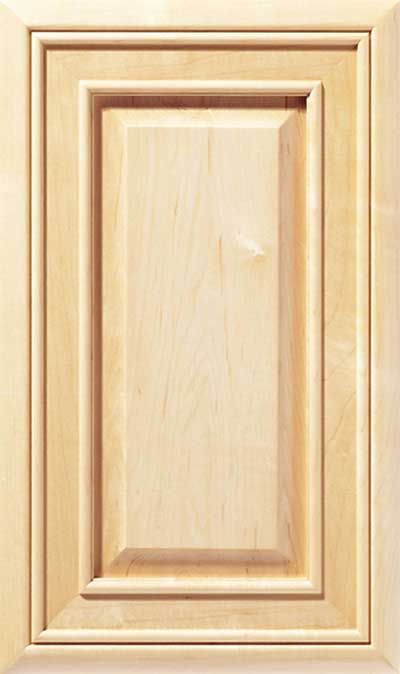 Whether you are doing a full remodel or just purchasing replacement kitchen cabinet doors, each style brings with it a unique character. While any of these styles can guide a kitchen into a specific design direction, they all have the ability to conform to the design style you're going for in their own ways.
Don't forget about your cabinet door hinges! Take a look at our guide on hinges and how to choose the right ones for your home.