Congratulations! You've completed a total cabinet refacing project and are ready for the finishing touches. You're ready to wrap up the project of refacing your existing cabinets and it's time to consider how you want to open your beautiful cabinets.
It's time to talk about cabinet knobs and pulls.
If this decision feels like an afterthought, it shouldn't be. If you've ever wandered through the vast aisles of your local hardware store, then you've almost undoubtedly strolled past the seemingly endless variations of cabinet knobs and pulls, distinguished by their different types, styles, colors, and finishes.
This guide will provide insight into the world of cabinet knobs and pulls. As soon as you know the differences between the three main types of hardware – knobs, pulls, and cup pulls – you'll be able to reach a decision much more easily. Let's get into it.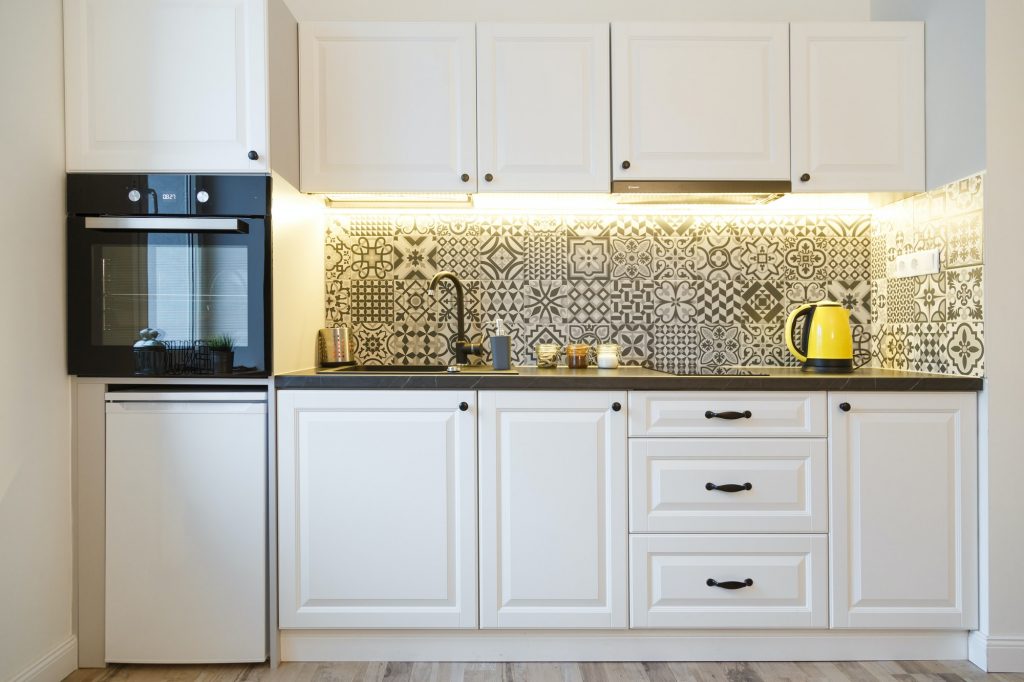 Knobs
A style typically featured on doors, knobs make it easy to open a cabinet, especially uppers, with just a couple fingers.
Even though cabinet knobs can seem like a very simple design choice and not overly exciting, they come in a variety of styles and colors in order to meet a wide range of design needs. Whether you're in the market for knobs that are intricate and luxurious, or exceedingly simple and modern with clean geometric edges, they're remarkably easy to find.
Pulls
Compared to knobs, pulls (often referred to as handles) tend to be longer and allow you to fit between two and four fingers in them. Pulls are mainly found on drawers to serve as an easy tool for pulling them out, and can come in both squared or rounded designs. Speaking of designs, pulls are similar to knobs in that they can be as intricate, or as simple, as you desire to suit the aesthetic of your kitchen. Plus, even though pulls are typically seen on drawers, there is no reason to not use them on doors.
Cup Pulls
Like typical pulls, cup pulls are seen widely on drawers. However, the difference between the two is in the design. As the name implies, cup pulls are a half cup or dome that is attached to the drawer front. The drawer front creates a flat back, allowing your fingers to go in just about an inch or so.
While cup pulls are great for drawers, they can be awkward when used with doors and aren't regarded as a great fit for that role.
Mix and Match
At the end of the day, there is no rule that requires you to use a different style for doors and drawers. At the end of the day, go with what fits your design and don't be afraid to mix and match, or make it all the same. As mentioned above, knobs and pulls are universal and can be used on doors or drawers, with the exception, of course, being cup pulls. However, the choice is yours to make and is dependent on the design you are looking to achieve!
While often seen as the final step in a cabinet refacing or kitchen remodel process, changing hardware can also be your only step. If you are aiming for just a quick refresh, it's surprising how much of a difference changing out that cabinet hardware can effect the space.
For help with installing your new knobs and pulls once you've chosen them, be sure to head to this post, where we break down the installation process in step-by-step fashion.
We hope this guide was helpful. If you have any questions please do not hesitate to call. Our customer service team is happy to help!