One of the staples of the standard kitchen, double cabinet doors open to reveal twice the storage space of their smaller counterparts. The standard width for wall cabinet and bases is 30 inches wide, which is the maximum width for a single door. Any wider cabinet base would require a double door to offer the best proportions and storage needs.
Besides that, though, there isn't much that separates these two types of doors. They're both easy to install as long as you're following detailed instructions, and both require knowing the exact dimensions of the space you intend to install them in.
Luckily, the process for measuring openings for double cabinet doors mirrors the process for single cabinet doors, with the addition of a few extra steps. Don't let that deter you, though. With a little guidance, you'll be able to accurately determine how big your double cabinet doors need to be to fit specific spaces.
Making sure you are taking accurate measurements rings true no matter the type of cabinet door you are measuring for. To get the best results without obstructions, prior to taking your base cabinet measurements, we recommend removing all current cabinet doors and hardware.
In this guide, we'll review everything you'll need to measure cabinets for double doors, as well as how to record the most accurate dimensions possible. Let's dive in.
Tools Needed:
Tape Measure
Pen/Pencil
Paper (or print these instructions)
1/2 Inch Overlay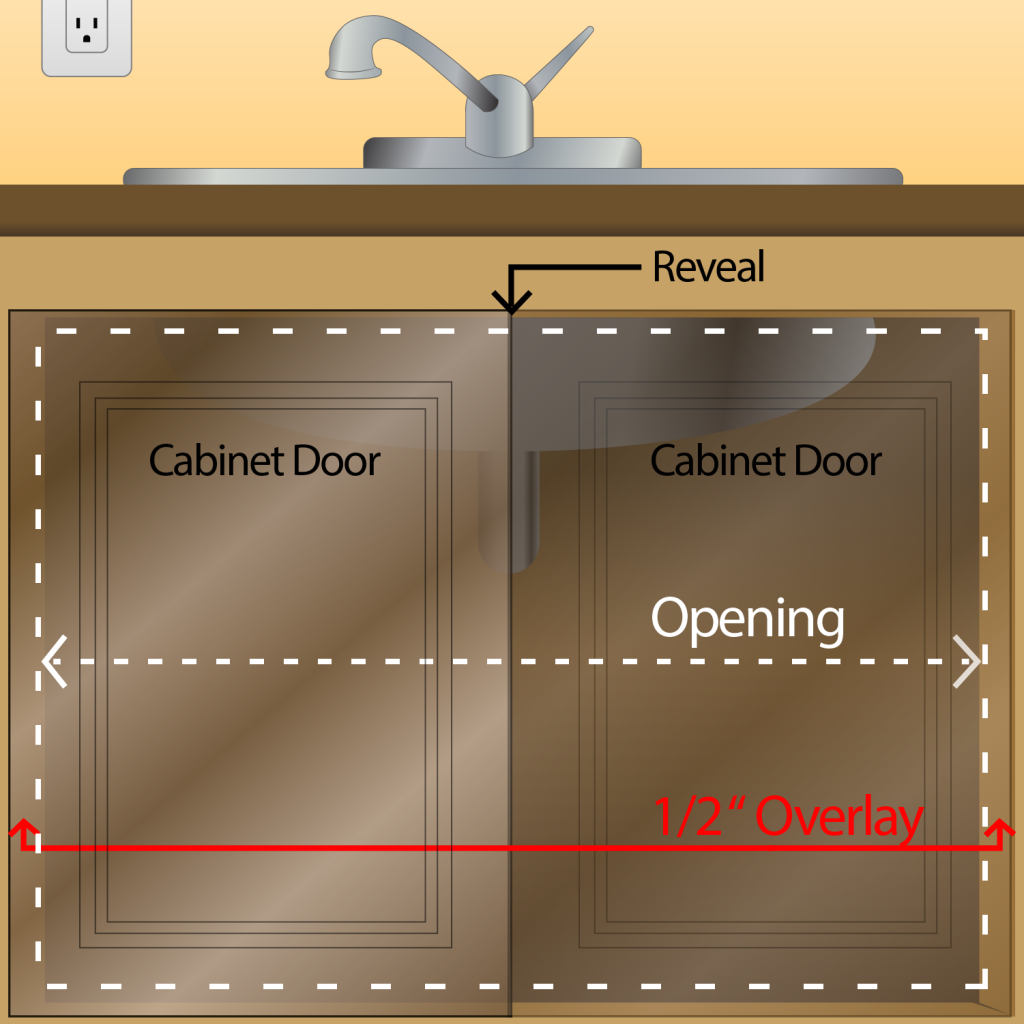 1/2″ overlay is the standard across the industry for cabinets.
For the width, place your measuring tape on one inside edge of the opening, then pull the measuring tape towards the opposite end of the cabinet opening. Once your tape reaches the other edge, make note of the measurement you see on the measuring tape.
Repeat step 1, but measure from top of the cabinet opening to bottom of the cabinet opening.
Once you have your cabinet door opening width and height measurements, we need to do a little math. For the height, add 1" to your measurement. For your width, add 7/8″ and divide the total width by 2.
A common question we get around this point is: Why 7/8" and not 1"?
Adding 7/8″ will give you ½" on the hinge sides of the door and leave an 1/8" reveal in between the doors.
Width formula: (W + .875)/2 = Width
Height formula: (H + 1) = Height
If you entered your opening measurements above:
your opening width and height are W x H
your cabinet doors size is W x H
With this short tutorial in the books, you should have the proper measurements to move forward with installing your double cabinet doors. It truly is as easy as that; you just need a few common household tools and the willingness to solve a few simple equations. If math isn't your strong suit, though, we'd suggest keeping a calculator handy.
Remember, these instructions are for measuring double cabinet doors, not single. For instructions to measure for single cabinet doors, head over to this post. Depending on your kitchen layout and design you might need to know how to measure corner cabinets or cabinets that have lazy susans. Since knowing how to measure for these cabinet doors is a little different, we made a tutorial just for this – head over to this post to find out more.
If you need any assistance please be sure to reach out, we are always happy to help! And don't forget to take a look at our posts on cabinet hinges and boring options as well.