Let's take a moment to marvel at the modern Lazy Susan turntable. For so long, it has lived up to its name by streamlining the distribution of food and condiments. Whether it is sitting in the middle of a kitchen table or nestled in a corner cabinet in your kitchen space, the Lazy Susan has proven to be a valuable piece of the entire kitchen ensemble.
Because of its shape, the Lazy Susan may not seem like the most optimal product to have in a corner cabinet. After all, that's a lot of edges for a well-rounded turntable to reside in. But truthfully, a Lazy Susan can be a great fit for that space, especially when paired with a custom cabinet door for that corner.
Do you have a corner cabinet with a Lazy Susan turntable inside? Getting a custom cabinet door for a Lazy Susan cabinet is easier than it may seem and comes down to just a few simple steps. You won't need many materials, either. Really, the most essential tools that you'll need for this project are some basic measuring skills and the ability to do some simple math. Or better yet, a capable calculator. If you have a smartphone, chances are you have exactly that.
Follow along as we take you step by step below, or hop over to our YouTube channel and watch as we follow these same instructions.
Materials
You don't need much, but there are a few essential tools needed for this process:
Step 1 – Measuring
To get things started, remove your cabinet doors from the cabinet boxes. This will ensure the most accurate measurements, free from obstructions.
For the width, the opening from one edge to the center should match the corner to the other edge, but due to varying cabinet construction they might not be. Measure from one inside edge of your cabinet opening to the corner of the opening (where your two doors will meet), then measure from the corner to the other inside edge of the cabinet opening.
Take note of the left and right cabinet openings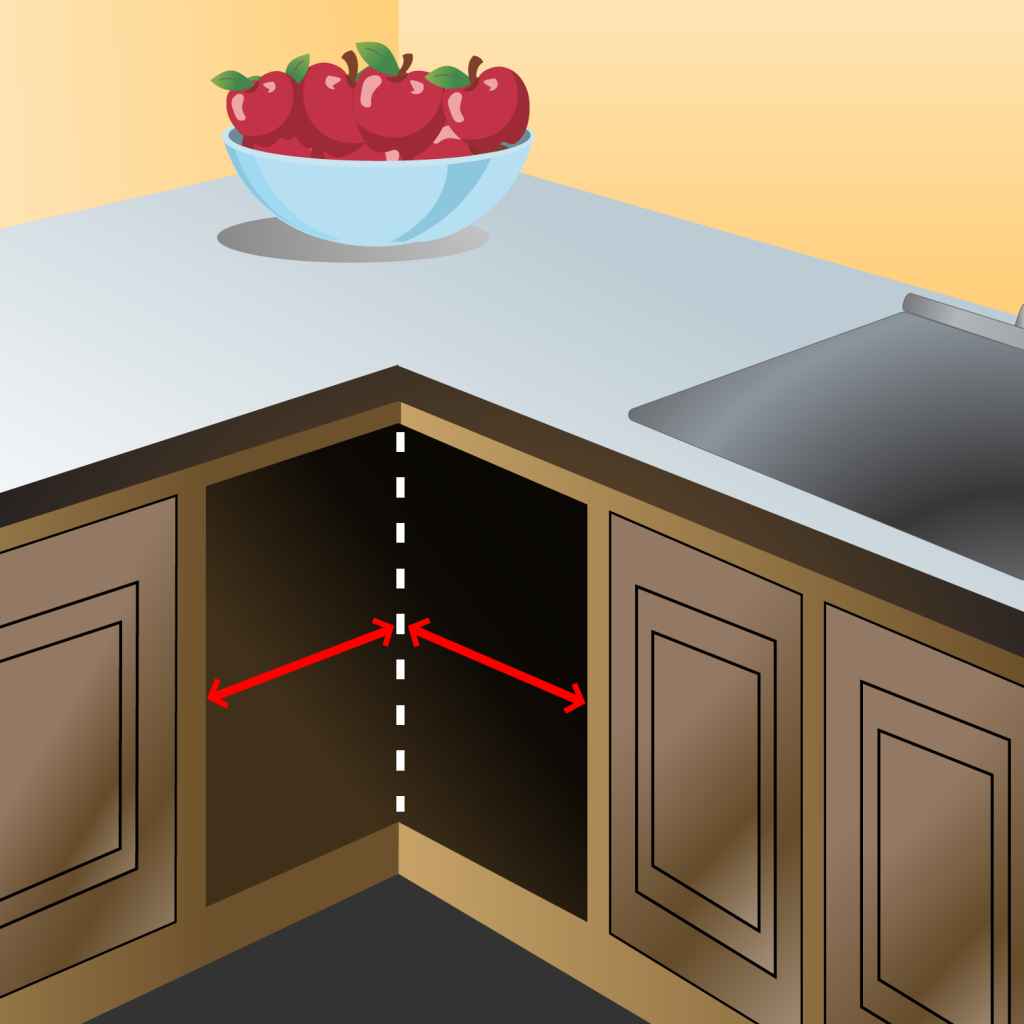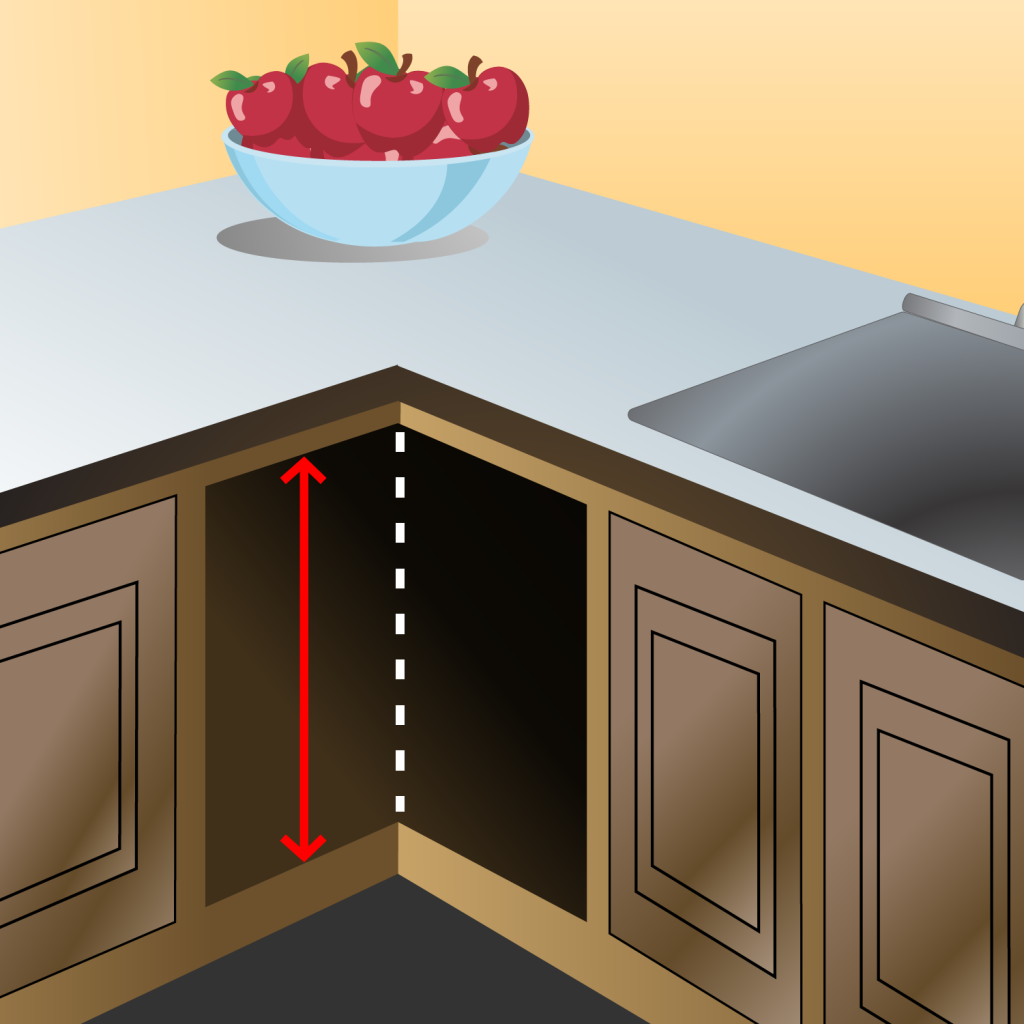 For the height, measure from top of the cabinet opening to bottom of the cabinet opening.

If the height varies slightly between both sides, use the height that's consistent with the rest of your cabinet doors. It's stylistically important to maintain your horizontal lines.
Take note of your cabinet door opening
Once you have your cabinet door opening widths and height measurements, determine the thickness of your new doors. Most doors will be ¾", but some are 7/8". Add your ½" overlay, then subtract the thickness of the door.
Step 2 – Calculate
Time for some math, but don't worry, it's pretty easy, and if you use our online calculator here, it does the math for you!
We have to subtract the thickness of each door so they do not butt up against each other as they open and close.
Width formula: (W + ½") – (Thickness of door) = Width of door
Height formula: (H + 1") = Height of door
If you entered your opening measurements above:
Your opening width and height are W x H
Once you have your measurements you can head on over to the desired door and place your order. Remember, your left and right doors might be slightly different in width.

Step 3 – Order
Once you find the cabinet door style you would like to order, select the wood type and fill in the final width and height measurement from earlier.
Quick Tip: Add each door to your cart separately, we will be doing different boring options for each one.
Boring
When you get to the 'Bore and Hinge Options' drop down, select 'No' and click add to cart for your first door, the left side. For the second door, the right side, select 'Lazy Susan Boring + Hinge Set' and click add to cart. For more information on boring, take a look at our guide here.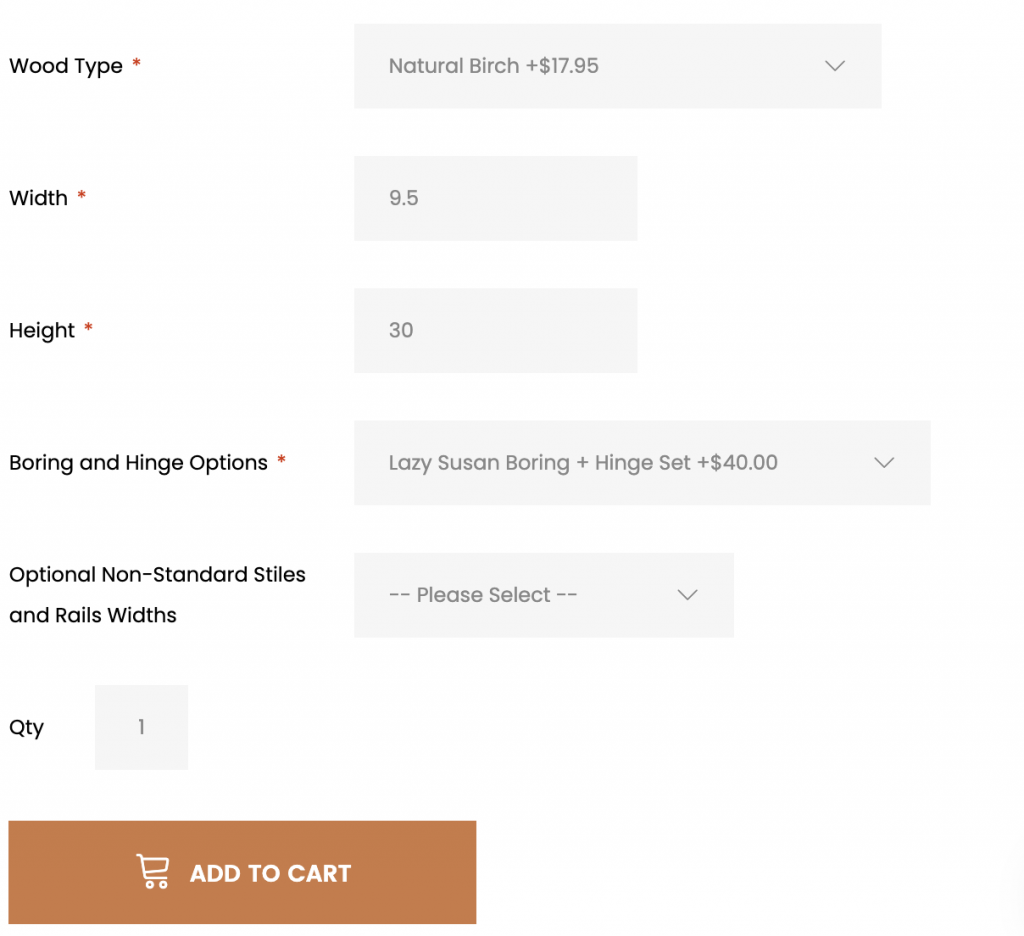 Pro Tip: When ordering your doors be sure to pick a style with no outside edge detail so that they fit together properly. Your finished and installed cabinet doors will have a small square gap so that they can open and close properly.
Just like that, your corner Lazy Susan turntable has a proper set of cabinet doors to be enclosed with. There are three different steps to follow to complete this process, although all of these steps can be completed without expert levels of knowledge when it comes to kitchen remodels and cabinet doors.
Check out these posts if you need help measuring for a single door or double cabinet doors!
We hope this tutorial has been helpful, please reach out to us if you have any questions or need any assistance.