Here at Fast Cabinet Doors we offer both thermofoil cabinets and wood cabinet door styles. Depending on which type you go with, methods of caring for your new cabinets will vary.
Thermofoil doors and drawer fronts are made with 100% flexible vinyl that is molded over medium density fiberboard (MDF) or engineered wood. This results in a finished product that has a smooth, durable surface that resists chipping better than painted surfaces. Unlike wood cabinets, thermofoil cabinets don't require protective coatings, which makes them lower in maintenance.
No Heat
If exposed to high temperatures, the vinyl from the thermofoil can peel. Heat shields, which are essentially metal strips, between the cabinets and the heat source, can be installed to help protect the cabinets against the heat.
Appliances – when using appliances that give off heat, like toaster ovens, crock pots and deep fryers, do not place then under your thermofoil kitchen cabinets.
When Cooking – When using the oven or stove, always use the overhead fan to help with steam. Open a window or use your exhaust fan to help control steam buildup and moisture.
Cleaning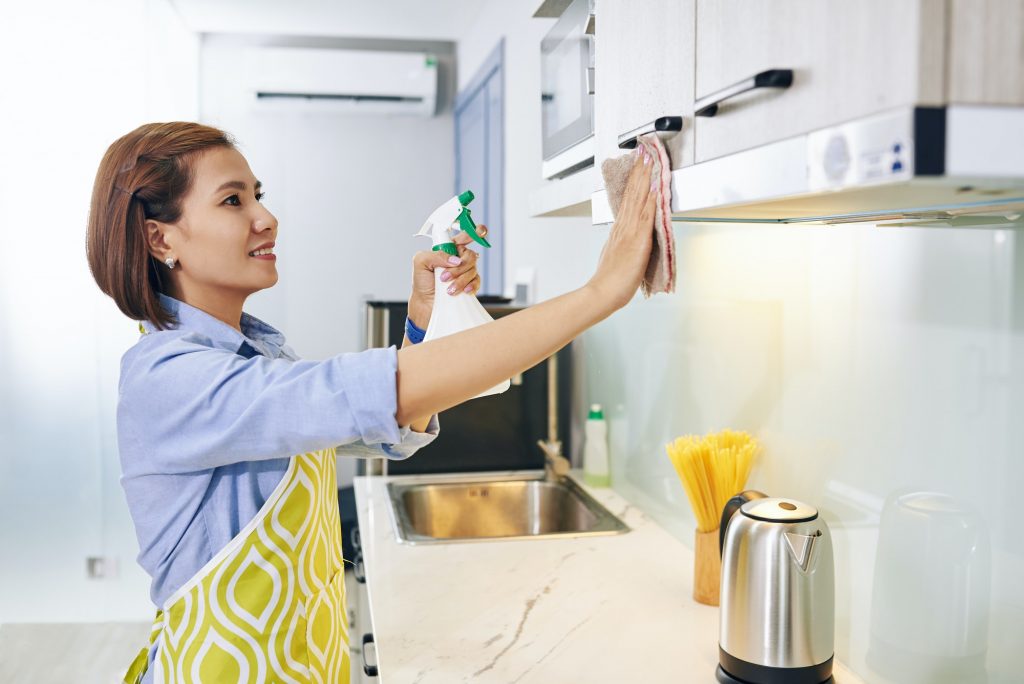 In addition, when cleaning thermofoil cabinets never use water. Water can dull or mark the finish and if the exposure is extreme, can even warp the cabinet.
Wipe weekly with a dry clean lint-free cotton cloth
Never use a dishcloth to wipe your cabinets, they may contain grease and detergents.
Clean spills, splatters and water spots immediately; prolonged exposure to spills could discolor or stain your cabinet finish.
Stay away from certain cleaners, such as any abrasive cleaner, most solvent based cleaners and harsh chemicals such as sink & toilet bowl cleaners, any cleaner in combination with a brush, cleaners containing ammonia, or baking Soda
Always use a cotton cloth or non-abrasive sponge
Take care when using the self cleaning mode on your oven. Read all directions including how to protect cabinets prior. The high heat generated from self-cleaning cycles of ovens or ranges may discolor thermofoil cabinetry; we recommend using heat shields or opening your doors and drawers fully when using the self-cleaning cycle.
General Care
Exercise caution around areas near the sink and dishwasher that come in contact with moisture, be sure to dry the area as quick as possible.
DO NOT wax thermofoil cabinetry.
To limit the fading effects of UV rays, thermofoil furniture should not be placed in direct sunlight. Blinds, curtains and UV furniture polish are recommended to help protect against UV rays.
If your cabinet doors have a glass insert, use an ammonia free cleaner on the glass, taking care around the frame. Avoid spraying cleaner directly on glass as run off could damage the frame.
To learn more about what thermofoil is and how it differs from wood check out this post. As always, if you need any help or have any questions, please give us a call. Our customer service team is always ready and happy to help.