Painting oak cabinets white can be one of the most rewarding, worthwhile projects you can do for your home. Whether the look you want to achieve is the more traditional whitewashed look of oak kitchen cabinets painted white, or something more modern and striking, white can completely transform your kitchen. Allowing the entire room to be brightened up and rejuvenate the area for years to come.
We'll show you here how to paint oak cabinets white, what styles of kitchen this look would benefit most, and the styles and colors of counter tops that would work best with oak kitchen cabinets painted white.
If your current oak cabinets need a refresh and you're considering white as the winning color, you'll want to think about the counter tops you're working with. What look are you going for? Do you have a theme in mind? Are you open to changing out your counters, or do you want to keep the ones you have? And, do you want to do a whitewash, or a starker white look on your cabinets? Once you have the answers to those questions, you'll be better equipped to decide how your space will look.
Kitchen Themes
First, let's start with themes. This will help you get a feel for which counter tops and cabinet door combos will create certain looks, and which will clash. White stained oak cabinets are incredibly versatile, and that's one of the biggest appeals of this look. But nailing the theme starts with planning.
Modern Theme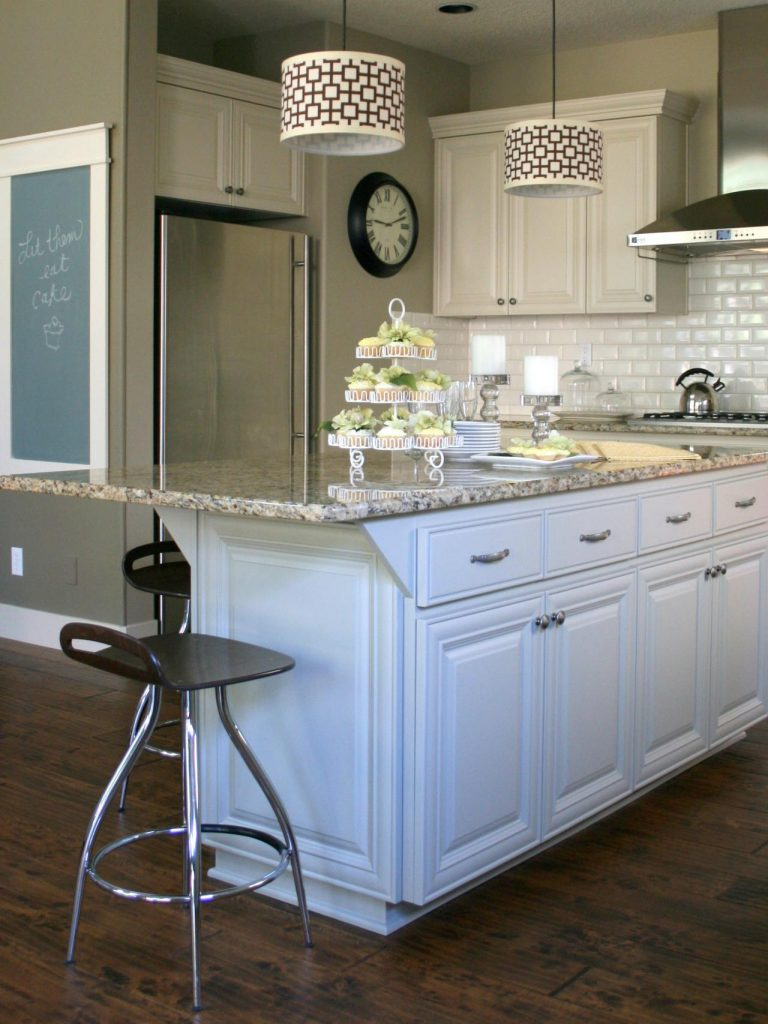 If you prefer color or character to come from appliances, accessories, or kitchenware instead of the cabinets or counter tops, then the neutral look is what you're after. White and gray marble, paired with white oak cabinets, is a potentially stunning and modern theme. The subtle contrast with the gray exudes elegance and class and feels bright and clean when paired with white stained oak cabinets. Similarly, cooler neutral tones work well in Corian (a durable surface made of alumina trihydrate and acrylic polymer) or granite.
Warm and Homey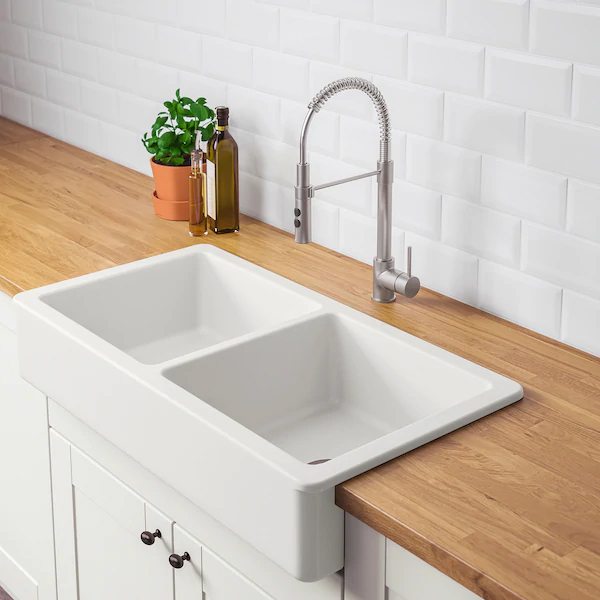 If you've got oak cabinets already, why not pair with wood counter tops? Wood is gaining popularity as a charming complement to white cabinets; the combination exudes warmth, comfort, and a rustic, lived-in feeling. If you have a large amount of counter top surface area, wood could detract from the striking appeal of painting oak cabinets white. For kitchens with more moderate counter space though, it's a traditional look that will always have you feeling at home. If you want something more durable, warmer browns and tans in Corian or granite with white cabinets will do the job.
Color and Contrast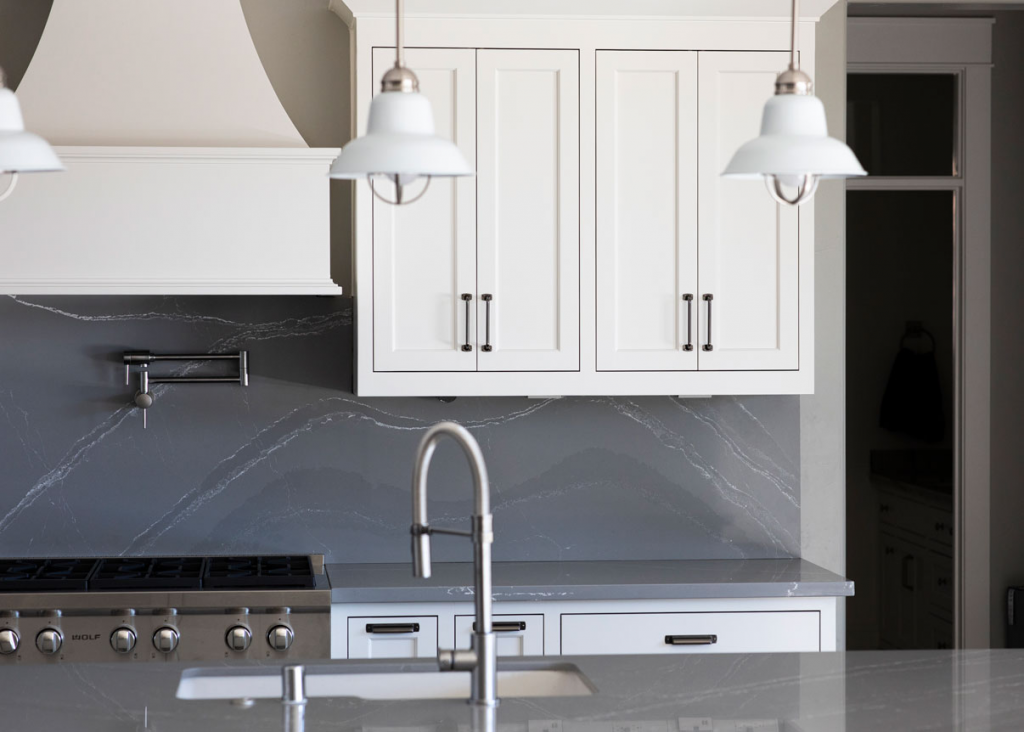 If you really want your white painted oak cabinets to pop, contrast is the way to go, and your options could range from dark, elegant granite or marble or Corian of numerous colors. No matter what you choose, the beauty of painting oak cabinets white is that the stark contrast will look great.
Tips and Tricks for Painting Oak Cabinets White
Be Organized: Painting kitchen cabinets is a fun, rewarding project, but it's also a bigger job than most people realize if you want your cabinets to look professionally done. Our advice is to make notes and labels for each cabinet door and piece of hardware you're dealing with, from disassembly to finish.
Be Patient: From cleaning to sanding to painting, white stained oak cabinets require you to be methodical and careful at every step. A rushed job will end up looking sloppy and won't help you achieve the high-quality look you're after. Anyone who's ever attempted to paint a surface that was not well-cleaned or properly finished knows the paint job will not end up looking right.
Think "Quality": From the cleaner you use to your stain and brushes, use good products. A great-looking kitchen featuring white stained oak cabinets obviously starts with good oak cabinet doors, too, so if yours are in need of an upgrade, check out our selection.
Supplies and Tools
Cleaner: You can find many good cleaning solutions for your cabinets, but Krud Kutter is a popular and effective option. If you have Dawn dish soap on hand, diluting some with water in a spray bottle is also a viable alternative.
Painters' tape
Stain blocker or Oil-Based Primer: You'll want to seal your oak cabinets to prevent the wood's tannings from leaching into the white stain or paint, which will eventually cause yellowing.
Spackling: Extremely handy for filling in the rough spaces that natural wood grain creates.
Small putty knife
320 grit sandpaper
Clean, lint-free rags
Denatured alcohol: If you are going for white stained oak cabinets, you will have to remove any existing paint entirely to prepare your cabinets for staining.
High quality paintbrush
Small foam paint roller
A high quality paint: "Satin-finish" enamel paint is a great option for painting oak cabinets white. If your oak cabinets should have a more stained look to them, of course you'll want to choose a high-quality stain instead.
How to Paint Oak Cabinets White
Remove The Cabinet Doors and Hardware:
When you do this, either use Post-It notes or some other temporary labeling method to make sure that your doors and hinges all go back where you got them from. This will help ensure that everything fits properly when you go back to reassemble. Some are fond of using separate containers, like plastic baggies, to keep all hardware in the proper place. Whatever works best for you to stay organized, just make sure you don't lose track of which doors and hinges go where.
Clean and Prepare the Cabinet Doors:
Using your preferred cleaner, remove any debris or dust from your cabinet doors and get them ready to be sanded, sealed, and stained or painted. Once the doors are clean and dry (use a lint-free rag or towel to dry them), begin to either sand or spackle, depending on your preferred finish:
White stained oak cabinets: To stain your cabinets white, you will first need to remove any paint or other sealant that may already be on your cabinets. Use a 50-50 solution of denatured alcohol to help do this and prepare the wood for staining, making sure to let the cabinets dry completely.
Painting oak cabinets white: Use your sealant or oil-based primer to complete preparation for painting.
Sand or Spackle the Wood Grain:
Depending on how much you want the wood grain to show, you can either begin sanding or get right down to staining (though we'd recommend at least a light sanding for even the most natural-looking finishes). If you want a completely sheer look, it is helpful to first use a putty knife and a very light layer of spackle to fill in the sparse spots created by the wood grain. Once the spackle has dried, sand with high-grit sandpaper for a smooth finish. Then, use a dry cloth to get rid of any dust from the sanding.
Paint Your Cabinets:
Start with the foam roller for your smoother cabinet surfaces, and use your smaller nylon brushes to get to smaller areas or recessed places that naturally appear in wood grain, if you didn't sand it down to a sheer finish. For the smoothest finish possible, apply your first layer of paint with the foam roller, let it dry, and then lightly sand with high-grit sandpaper before using soft brushes to repaint the cabinet. Then, wait for your new white oak kitchen cabinets to dry.
Reattach Your Cabinet Doors:
Finally, once the paint has dried, reattach your cabinet doors to their proper locations. Handle them gently, as it often takes days for the final finish to completely dry and harden.
Mission Accomplished
Job complete! Hopefully, you've seen that that coveted look of painted or white stained oak cabinets is not only achievable in your own kitchen, but absolutely doable as well.
Even if your goal is to add some more value to your home, then white stained oak cabinets, or cabinets painted white, are an outstanding choice: homes that stained or repainted their cabinets, according to a 2018 Cost vs. Value national report, saw a return of 81 percent on their investment. In a 2021 report, minor kitchen remodeling (such as painting oak cabinets white) translated to, on average, almost $19,000 in additional resale value.
It's not the simplest task in the world, and certainly not for those without some patience, but your efforts will absolutely pay off.