Ready to take your master bath from drab to fab? A bathroom refresh might be just what you need to transform your space—and your mindset—in the dog days of summer.
We've put together eight of our favorite bathroom updates, from DIY fix-its to inspiring overhauls. Whether you're tackling the cabinets, the shower stall, the lighting, or simply switching up the accessories, we hope that these ideas inspire your décor dreams.
1. Upgrade Your Cabinets
There's more than one way to update your bathroom cabinetry! For an affordable facelift, try replacing your cabinetry doors. In some cases, the cabinet boxes—the bones of your cabinetry—are structurally sound, but the facade just looks a little bit dated or tired. The cabinetry serves its purpose, but you want to update the style without spending a pretty penny. Fortunately, this is an easy fix: simply order new cabinet doors and drawer faces for a total makeover on a budget! If you're looking for a complete overhaul, you may be better off upgrading your cabinetry and starting fresh. Replacing your cabinetry, boxes and all, allows you to completely reconfigure and customize your bathroom setup.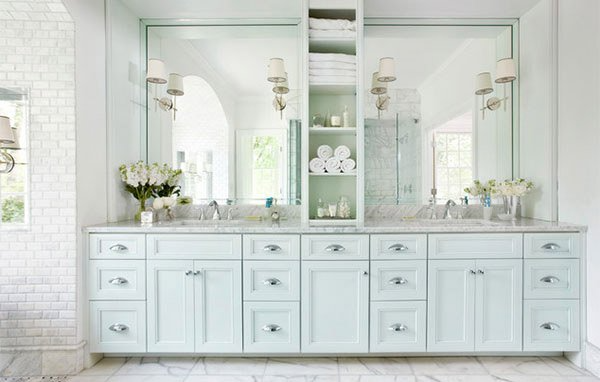 2. Replace the Shower Head
There's nothing better than a nice, hot shower at the end of a long day. For the ultimate shower experience, why not replace your current shower head with a luxurious new one? Rain shower heads are having a moment of late, probably because they imitate the peaceful sensation of rainfall all over your body. For some, it can be a welcome change from the powerful blast of a regular shower head! If you're looking for a gentle, soothing spa experience, a rain shower head is the way to go. You can also explore other options, including the combo shower head (two in one!), the removable handheld shower head, and, for the tech-savvy bather, the remote-controlled smart shower head. You can find all of these options and more in a range of styles, colors, shapes, sizes, and heights. There really is something for everyone!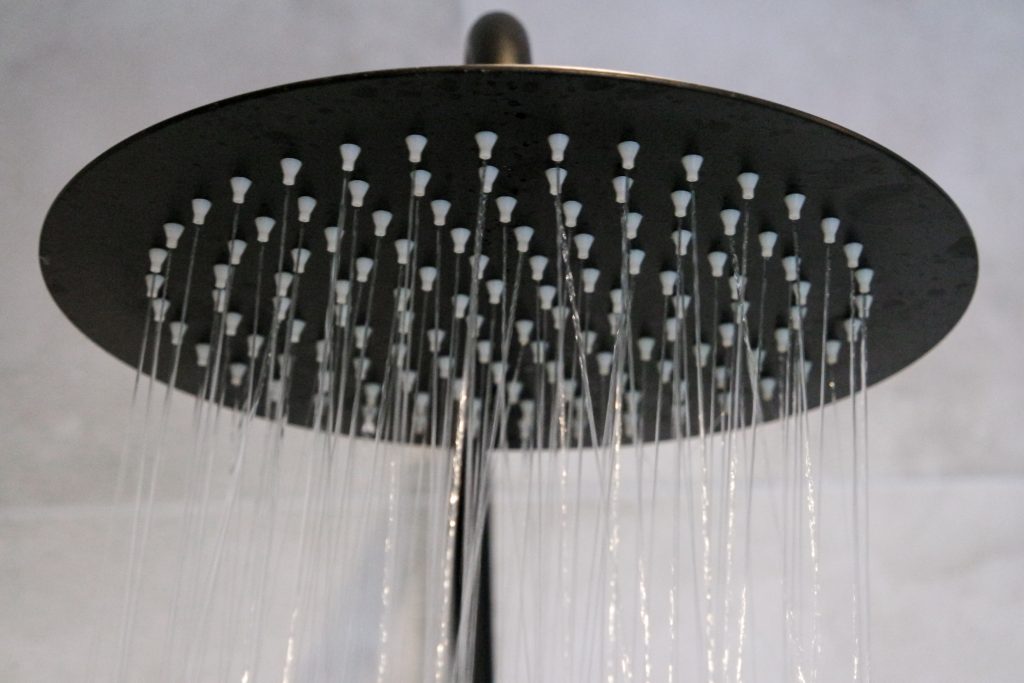 3. Switch out the lighting
Swap out your bland bathroom lighting for an illuminating statement piece. Eye-catching light fixtures draw the gaze upwards, which can visually elongate the space. If you have especially tall ceilings in your bathroom, pendant lighting can perfectly complement the height, making the space feel airy while also providing plenty of ambient illumination. This space features an intriguing set of bathroom vanity lights, varnished in matte black with metallic bronze accents. Their unique shape makes for an eye-catching fixture while also providing an abundance of overhead light. You might be surprised by just how much of a difference a simple fixture switch can make!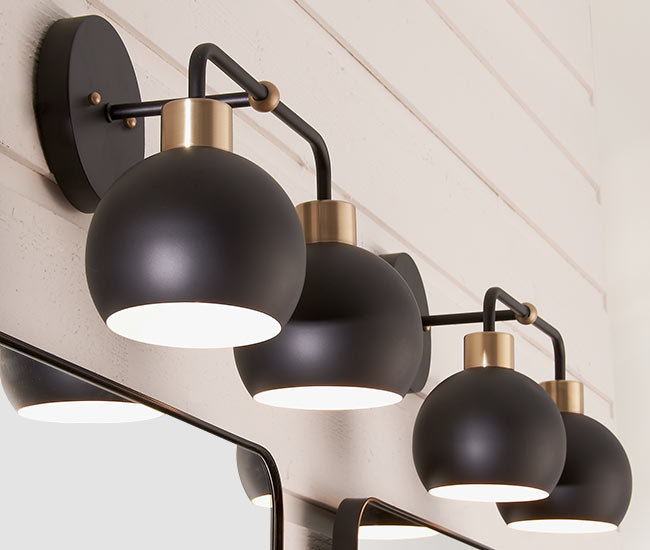 4. Stick With a Theme/Style
Consistent styling can really pull your interior design scheme together. Leaving your bathroom (or any room, really) unstyled can make it feel a bit disjointed from the rest of the home. If design flow matters to you, don't let your bathroom fall by the wayside. When you're designing any space, be sure to stick with a cohesive theme and/or style. That doesn't mean everything has to be the same – it just means that your designs should look like they belong in the same universe. The rooms of a home are a lot like a puzzle: the pieces all look different, but they fit together so that it creates a beautifully finished picture. This homeowner has styled their bathroom with a modern farmhouse aesthetic: rustic textiles with a hint of country sweetness tied together with a clean and simple color palette.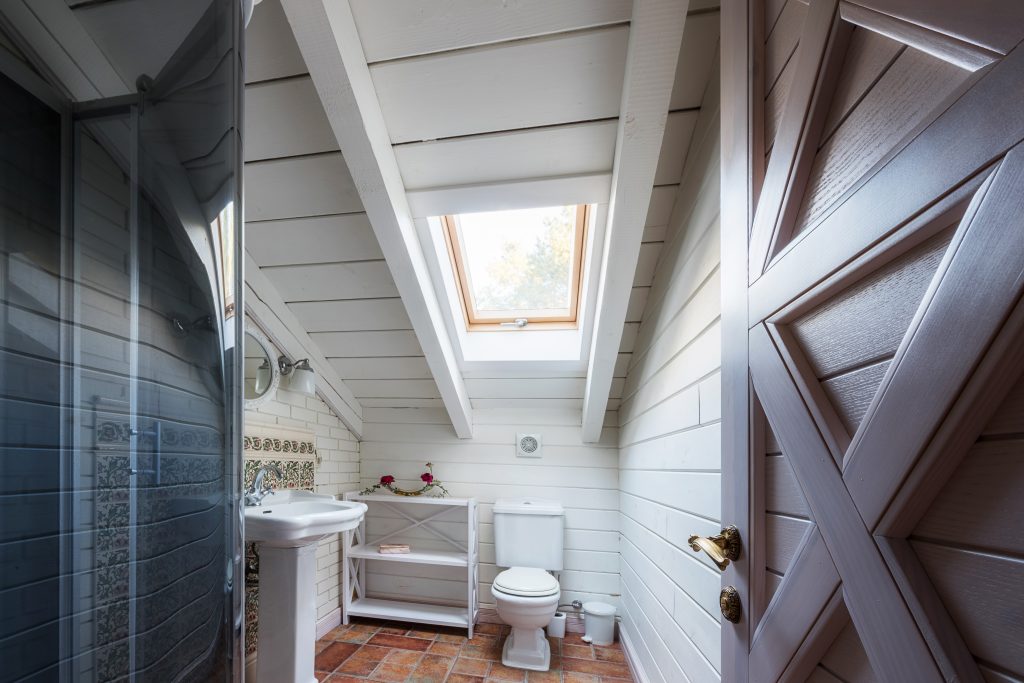 5. Go For a Differently Shaped Mirror
Mirror, mirror, on the wall… what's your favorite shape of all? We love designs that branch away from the 'norm'. We're used to seeing bathroom mirrors in traditional shapes like squares, rectangles, and even circles. For some, this works great – after all, if it's not broken, why fix it? But for those who are willing to think outside the box (quite literally), a uniquely shaped mirror can be a stunning feature in your bathroom. This mirror, for instance, is a striking octagonal shape surrounded by a metallic gold frame. If you look closely, you can see that the frame is slightly abstracted, the sides narrowing and thickening at different points. It's subtle but adds an incredible dimensionality to the already eye-catching geometric mirror. The neat lines, both straight and curved, featured in the rest of the bathroom perfectly complement the clean, streamlined look of the mirror's angles. The longer you look, the more you find to love!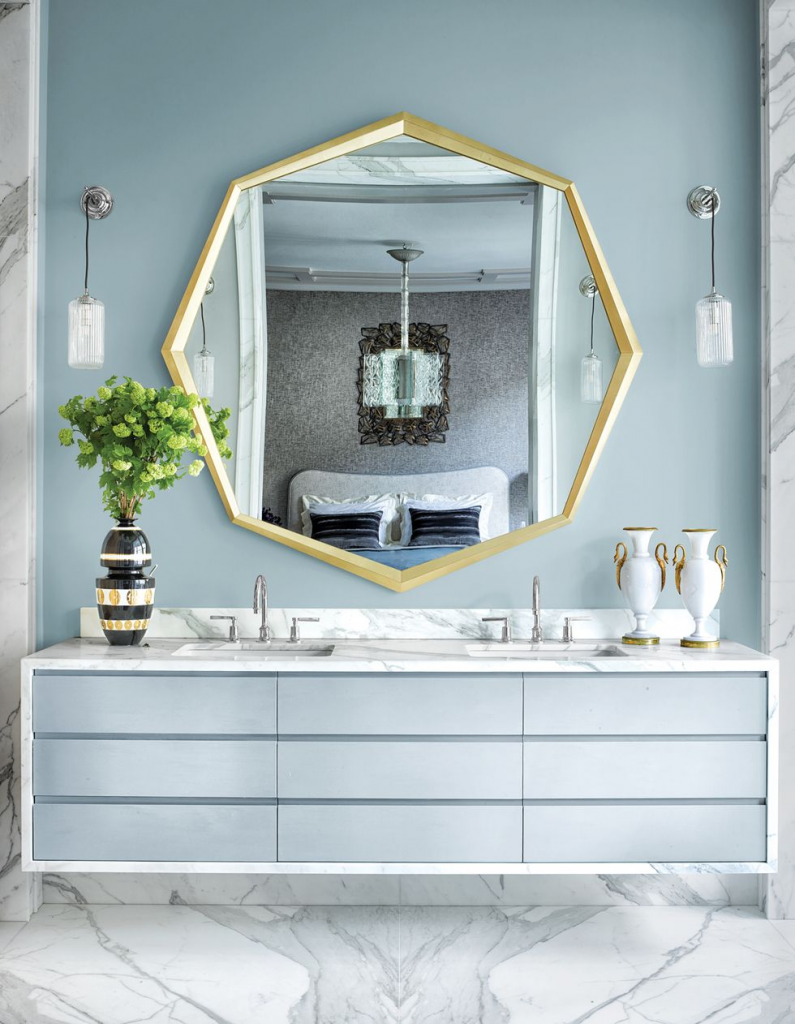 6. Add A Touch of Whimsy with A Bold Wallpaper
Many homeowners may shy away from the idea of a bright, punchy wallpaper in the bathroom, but we think there's nothing to be afraid of. Embrace the bold! Good wallpaper has the power to transform almost any space, and there are so many options out there, you're sure to find the one that speaks to you. There is, however, a trick to finding the right wallpaper for a space. Contrary to popular belief, you can absolutely use a bold printed wallpaper in a small bathroom and a smaller print in a bigger bathroom (and vice versa). Choose the color of your wallpaper to either complement or contrast the rest of the space's décor. If you're going to go with a wild print, it's best to keep the accessories subdued. You can see both principles at play in this bathroom: the cool blues and greens of the lush tropical print contrast beautifully against the warm burnished gold fixtures. Meanwhile, the white from the wallpaper ties in with the creamy stone sink, and the neat lines complement the busy print on the walls.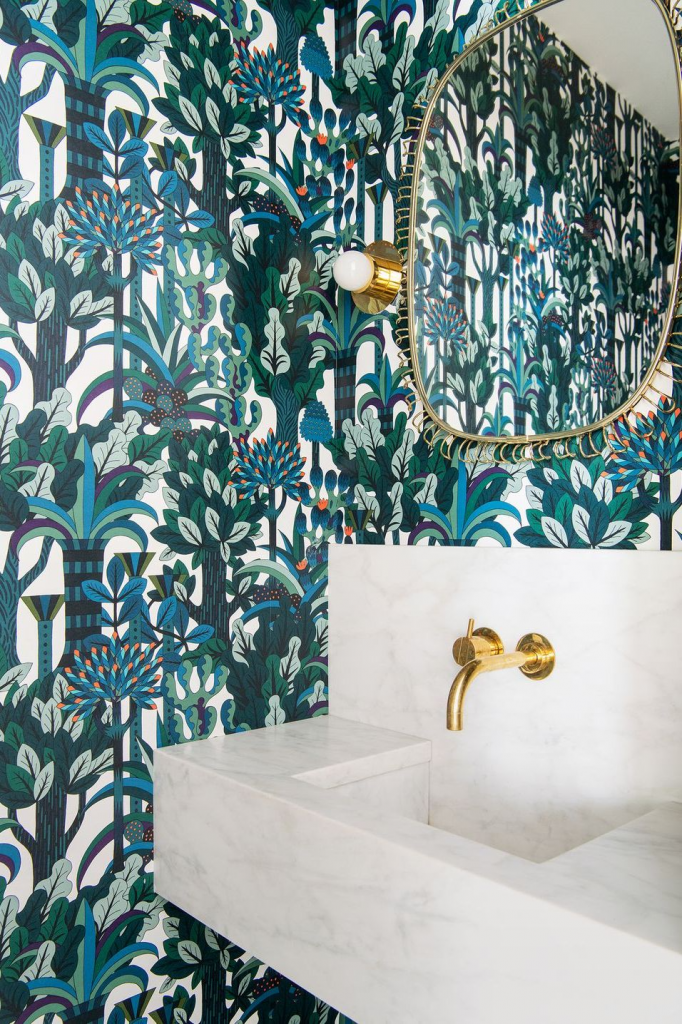 7. Plant Sanctuary
It's incredibly simple to turn your bathroom into a greenhouse, and you don't even need to have windows to do it! While not all plants appreciate the hot, wet atmosphere of a bathroom, others absolutely love it. Tropical plants are especially fond of the humidity, which makes them prime candidates for a lush bathroom plant sanctuary. To help you find the proper flora for your space, House Beautiful has compiled an excellent list of 24 indoor plants that are well-suited to life in the bathroom. This homeowner has turned their bathroom into a gorgeous oasis of plant life, with leafy plants, trailing strands, and miniature trees. Unfortunately, not all homeowners are blessed with such a sunny bathroom, but never fear! There are several plants that thrive in humidity and low light; all they need is the occasional dousing/misting. If your bathroom is windowless, you can help your plants thrive by allowing them to bask under a fluorescent grow light for several hours a day.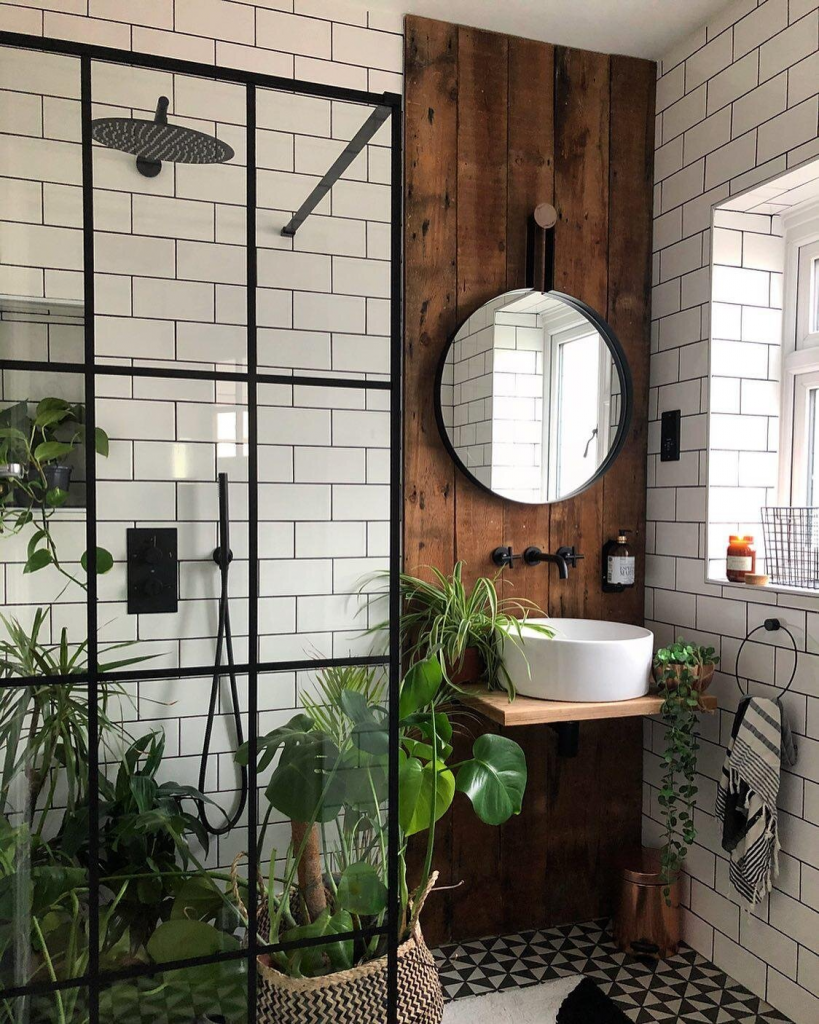 8. Update The Classic Stand-Alone Bathtub
A good stand-alone bathtub can be the piece de resistance of a stylish bathroom. These days, stand-alone bathtubs have evolved into luxurious pieces of modern art. They come in all shapes, sizes, styles, and even colors—although, in our opinion, there's nothing quite as stunning as a sparkling white tube taking center stage in an elegant master bath. This stand-alone bath is a tall rectangular model with curved, sloping ends for comfortable sitting. The tub is outfitted with streamlined chrome hardware, a surprisingly cool hue for such a warm-toned room. The finished result is both sleek and classic, and we're confident that the scenic view from the tub is the perfect backdrop for a relaxing spa night.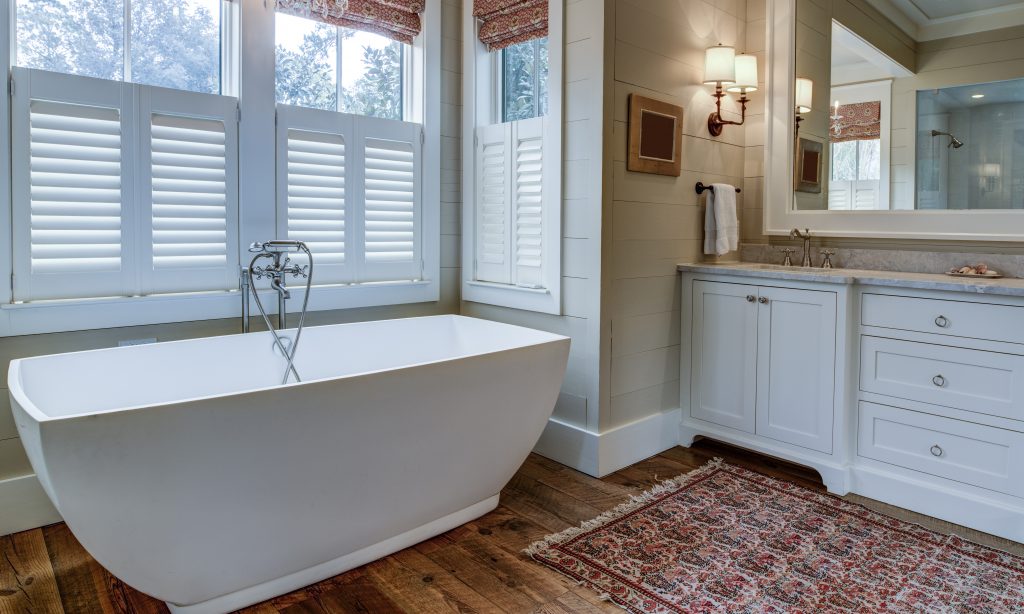 No matter the size of your project, Fast Cabinet Doors can help you find the perfect storage solutions and accessories. We design with homeowners in mind, and there's something for everyone and every room. Check us out online today, and be sure to share your design DIYs and interior inspiration.