Could your kitchen use a little something extra? Whether it's a fashionable feature or a functional element you're seeking, a kitchen island might be the perfect solution! An island effortlessly combines style and function, allowing you to optimize your kitchen space without sacrificing aesthetic appeal. Now the question remains, which kind of island should you choose?
If you're running short on kitchen island ideas, not to worry! We've compiled a list of our ten favorite island designs, along with photos, so you can visualize what an island might look like in your very own home. Read on to find your ideal island!
10 Kitchen Island Ideas
1. Workbench-Style Butcher's Block
This workbench-style island is made entirely from butcher's block. Butcher's block is a unique addition to any homeowner's kitchen. While wood isn't a textile commonly used in kitchens, butcher's block is an affordable and stylish option for islands and countertops, and with a bit of TLC, it can age gracefully and last you for years to come. Regular oiling will keep it sleek and shiny, and you can buff out minor scratches, burns, and other surface damage with a few passes of fine sandpaper, making it look good as new! Simple and rustic, this model features plenty of open storage space below, perfect for large, heavy kitchen appliances. Unlike many other kitchen islands, this one is not permanently attached to the ground, so you can move it around to suit your needs, whether you're hosting a large get-together or even renovating your kitchen. With the addition of a few tall stools, you can quickly transform your workbench-style island into a breakfast bar or extra table.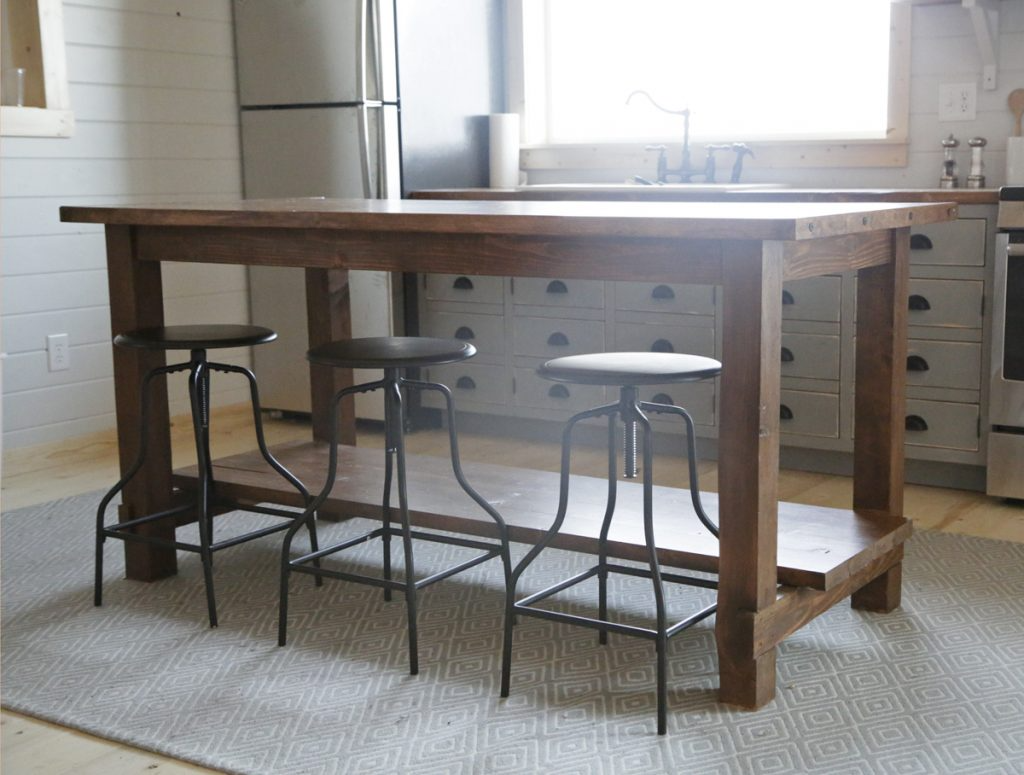 2. Cabinets with Overhanging Counter
Most countertops have at least a little bit of overhang; it's both aesthetically pleasing and functional, as the lip prevents crumbs and spills from getting into the cabinetry and provides a more comfortable working and standing space. This island is unique, though, as it affords around a foot or so of extra countertop overhang. Not only does this provide additional workspace when preparing meals, plating dishes, and other kitchen activities, as well as plenty of additional under-counter storage, it also provides an ideal sitting area. That extra leg room allows for the most comfortable and spacious breakfast bar, and depending on the size, can accommodate two people with ease. That means no more legs squished up against the cabinets while eating at the breakfast bar!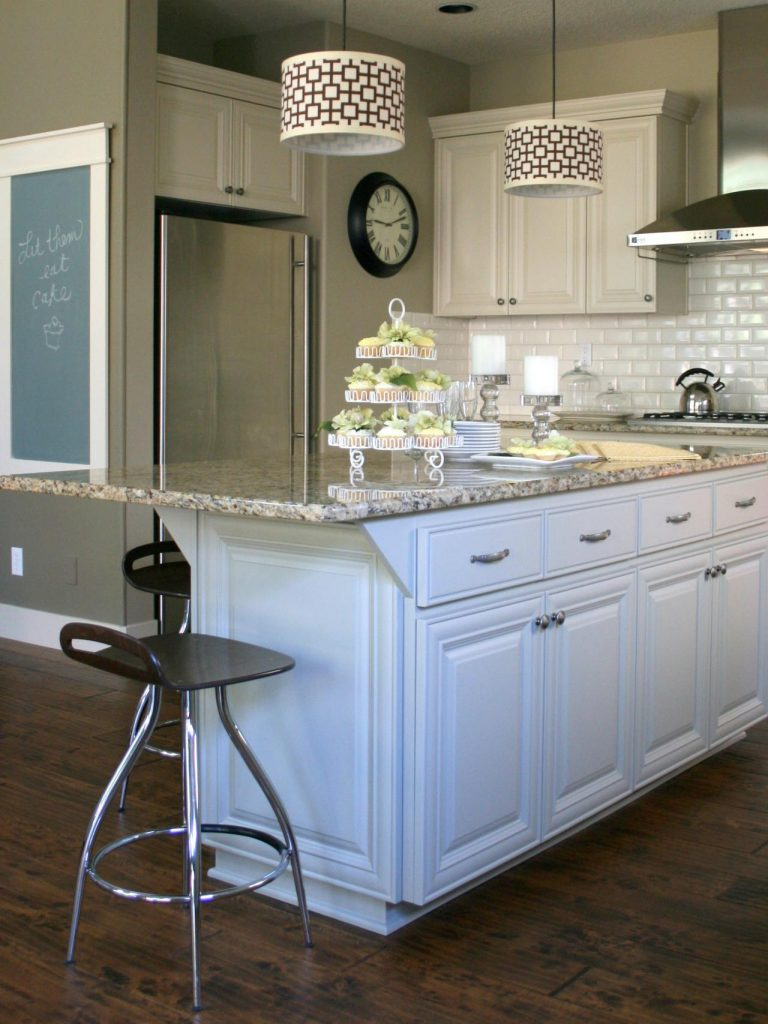 3. Round Island
For the homeowner who's anything but traditional, why not opt for a kitchen island that's as unique as you are? Forgo the traditional square or rectangular island in favor of an eye-catching round island! The round island is a rare and beautiful kitchen feature that will wow all your guests. There are many variations of the round island, including the full circle, the u-shaped island, the half-moon, and even the keyhole, which is a circular island attached to a rectangular seating area. This round island features 360-degree cabinetry, an abundance of counter space, and a hanging wire rack for storage – also circular, to complement the island's shape, of course! This kind of kitchen island is best suited to larger kitchens, and when done right, it can have an incredible impact.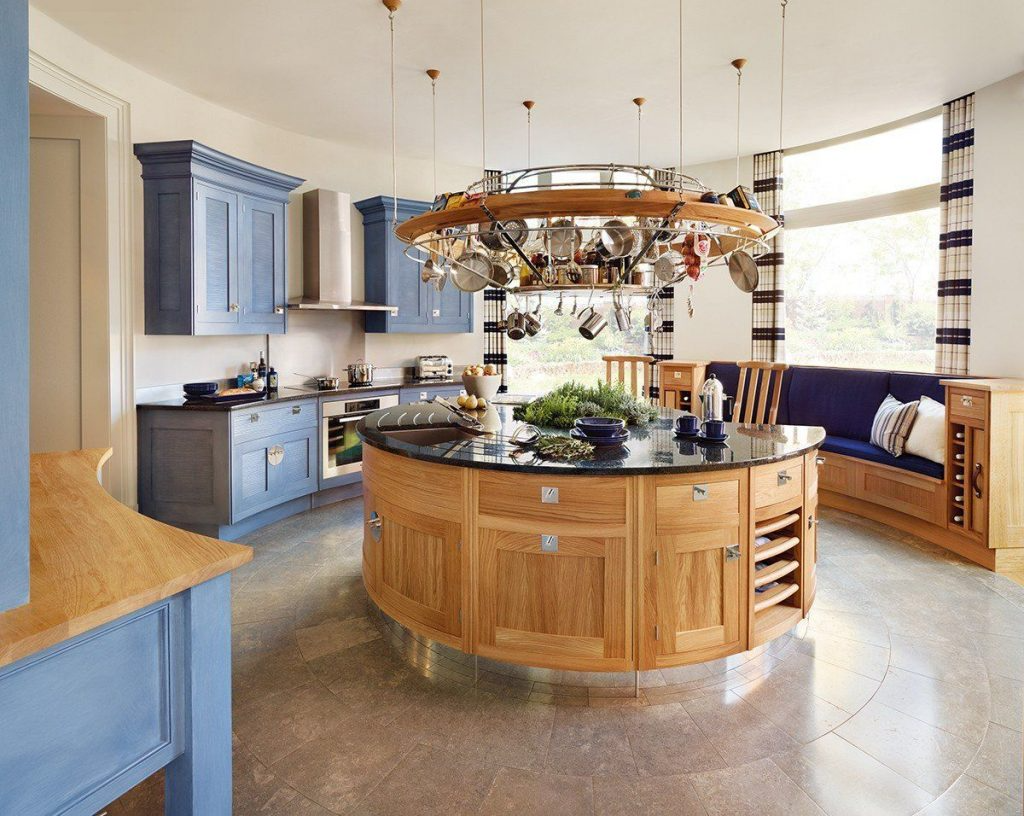 4. Brick Kitchen Island
Simple yet chic, the brick kitchen island is the embodiment of rustic style. The best part of a brick island is that it is remarkably versatile: it's incredibly easy to change the look of brick depending on how you accessorize it. Top it with butcher's block for a beautiful farmhouse aesthetic; blonde and honey-colored wood brings out the warm tones of the brick, lightening up the space and softening the brick's rough appearance. Top it with cement or dark stone, however, and you have an island with edgy-yet-elegant industrial appeal. And when it comes to bricks, you have lots of options. Lighter bricks in white-tinted almost-pink tones, true brick-red mixed in with slate grays and dark browns, or even faux bricks, which come in a rainbow of color options. With brick, the choices are endless!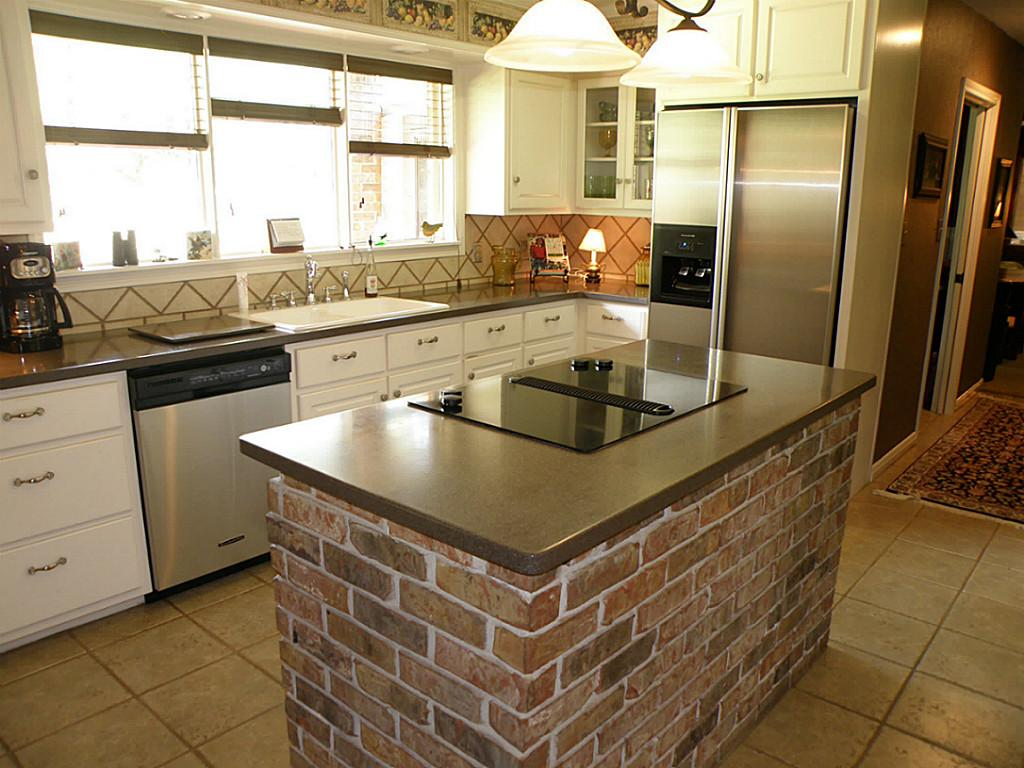 5. Multi-level Island
The only thing better than one island countertop… is two island countertops. Multi-level islands are a perfect solution for homeowners who want to add drama and dimension to their kitchen. Its main benefit is its added functionality: you might use one for food prep, and the other could be a breakfast bar and/or homework station for the kids. But the other perk of a multi-level kitchen island is the visual separation between the counter spaces: the added height and extension of the stacked countertop brings visual appeal and depth to your island. And, of course, the potential for extra storage space underneath is nothing to sniff at either!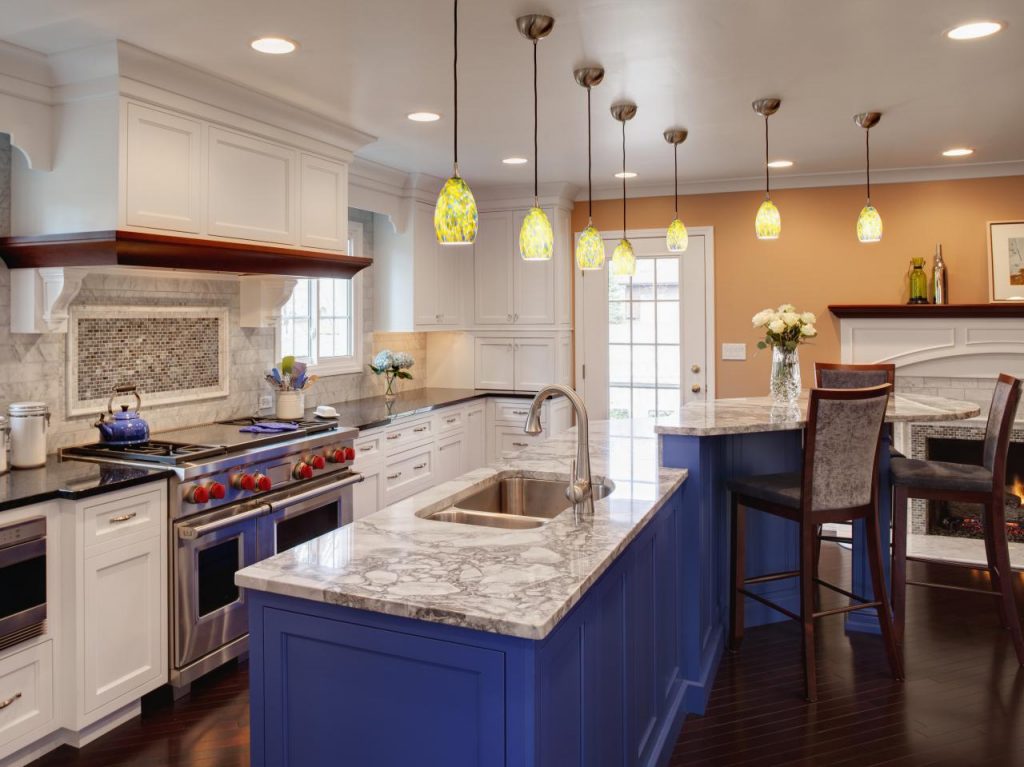 6. Built-In Appliances
An island with built-in appliances is a sleek and sophisticated way to organize your kitchen. Let's face it: kitchen countertops can get cluttered. That's why creating an island with integrated accessories can be an incredible space-saver for overcrowded kitchens. This island, for instance, has a built-in microwave, leaving the countertop tidy and unoccupied. Or maybe you're not having an issue with overcrowding; maybe you'd rather just have built-in appliances for extra convenience. You can see that the island also has a built-in sink, making it the perfect food prep station in miniature! Other islands with built-in features often include ovens, dishwashers, and minifridges. Whatever your needs may be, custom kitchen islands are built to measure and made to last.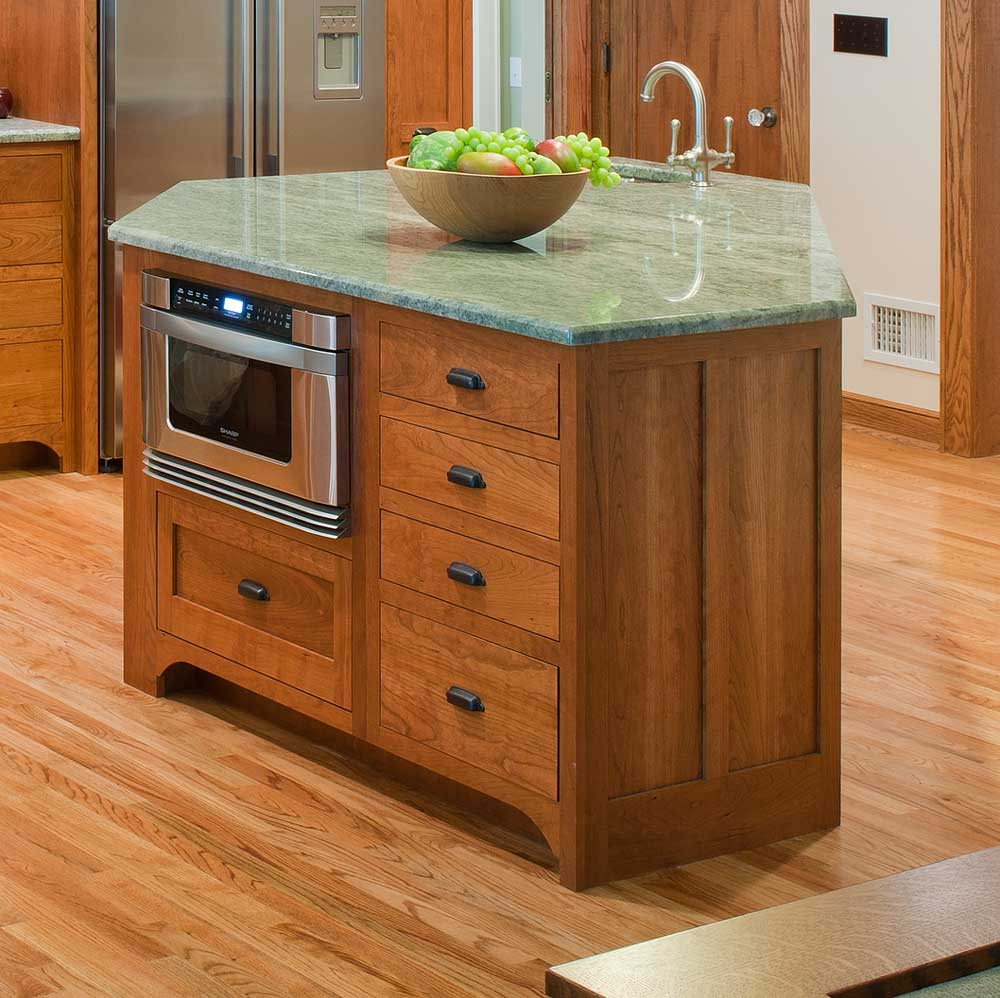 7. Minimalist
The minimalist aesthetic movement blends fashion and function in one sleek package. Admittedly, minimalism isn't everyone's cup of tea, but to those who embrace its refined luxury, the results are spectacular. Take this island, for example. The kitchen's aesthetic is simple and streamlined; some might even call it stark. But the overall product is anything but cold and sterile: in fact, it's warm, soothing, and elegant. The kitchen island embraces clean lines, chiseled edges, and a total lack of artistic embellishment. Instead, it combines natural materials –dark, rich wooden cabinetry and ultra-smooth light gray stone—into a chic and functional kitchen feature. The cabinetry provides ample storage space, while the significant stone overhang leaves plenty of room for comfortable island dining.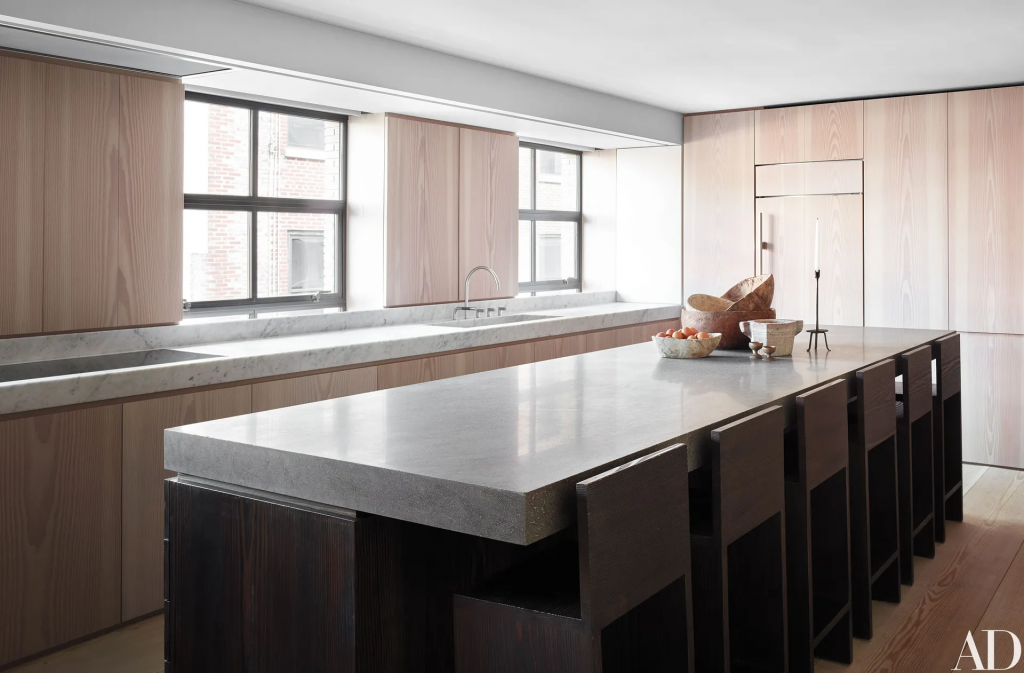 8. Contrasting Color
Color isn't just for your walls! If you like to keep your color palette relatively neutral and subdued but still want to add an eye-catching pop to your kitchen, why not pull in a contrasting color with your kitchen island? This duo-chrome kitchen features whites, creams, beiges, and light browns over most of its surfaces. The overall effect is bright and airy, but this otherwise beachy kitchen brings the drama with splashes of black throughout. Of course, the most prominent feature is the sleek black cabinetry, but you can see pops of black in the light fixtures, furniture, and even the countertops that line the wall. Yes, this kitchen pairs white wall cabinetry with a black stone countertop and velvety black island cabinetry with a white marbled countertop! Thanks to some clever accessorization, the overall look of the kitchen is bold but still cohesive. Who said black and white had to be kitschy?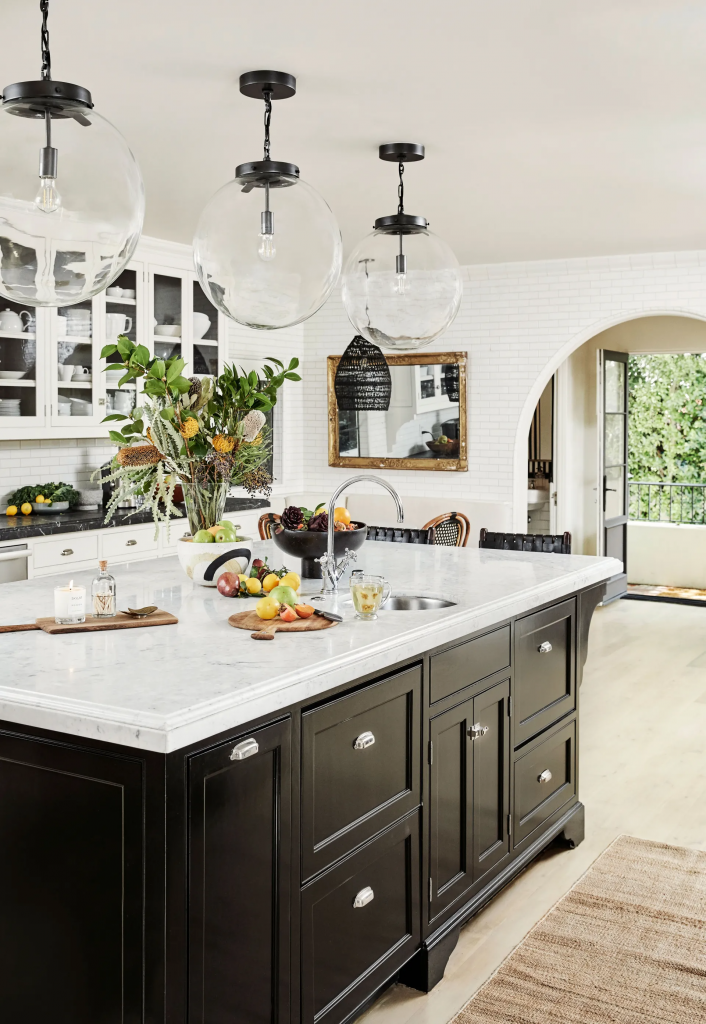 9. Sleek and Industrial
Depending on how you dress it, the industrial aesthetic can appear very similar to minimalism. However, the big difference here is the use of materials. While the minimalist movement derives its love of natural materials from its Bauhaus roots, the industrial style embraces human-made materials. Looking at this kitchen island, the difference is clear: the long metal legs and countertop give it a sleek, industrial vibe while also adhering to more minimalist traditions like clean lines and lack of ornamentation. In contrast to the aforementioned minimalist island, this island feels more akin to a commercial kitchen—it's more visually interesting, but it's also more stark. The slab cabinetry with simple metallic hardware makes the space look slick and practical. All extraneous items are hidden from view, thanks to the streamlined drawers and cabinetry. This truly looks like a kitchen of the future.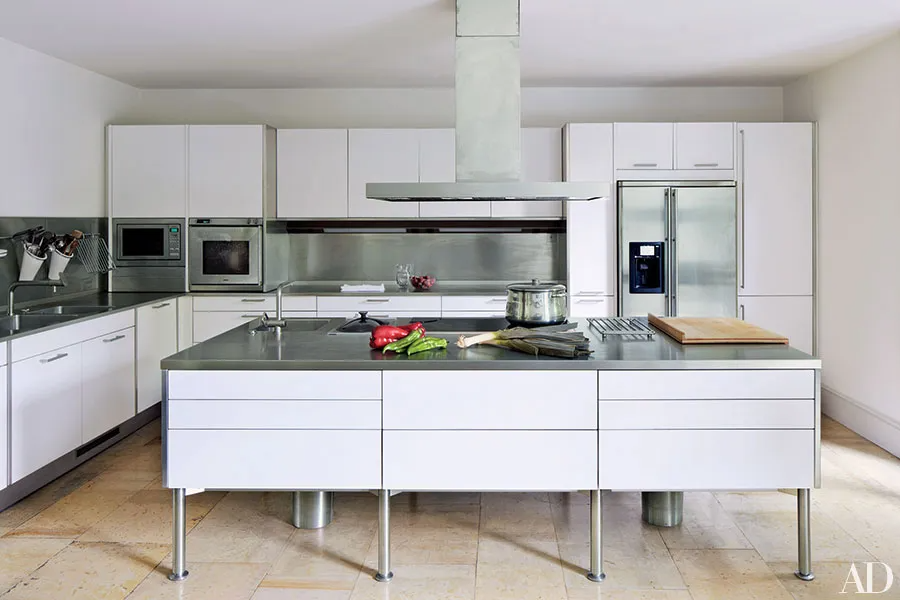 10. Double Islands
Double the islands, double the function, double the fun! Instead of investing your money into one gigantic central island, why not split it in two? This might seem unusual, but it's actually more common than you might think. Not only does it allow space for two cooks to work in the kitchen simultaneously, but it also provides your space with a whole lot of versatility. If you're not the kind of household that needs room for two chefs, consider using one island for food prep and storage and one for eating! By arranging the two islands parallel, you can maximize your functional space and keep guests and loved ones nearby while cooking—without compromising your work surface. As with the built-in island, you can incorporate all your large appliances directly into your island while keeping your space sleek and stylish.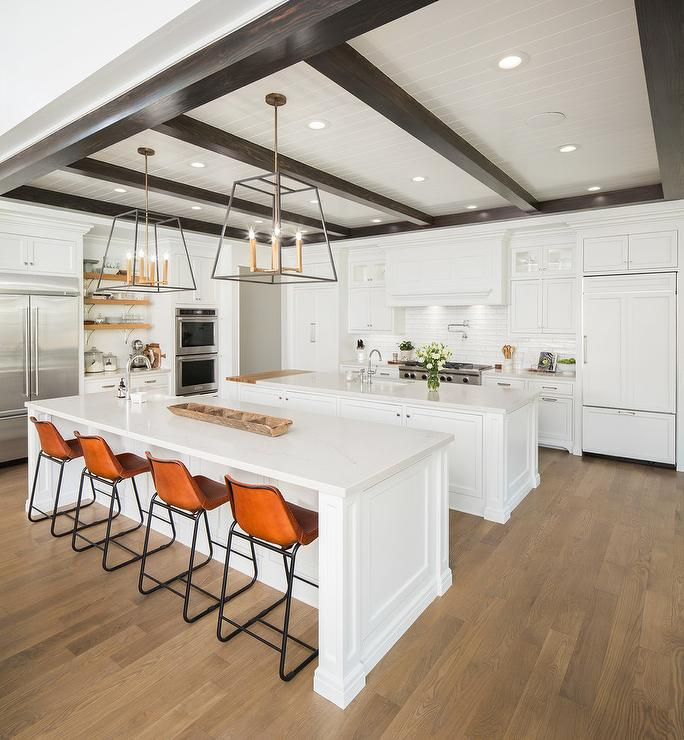 Did you find a favorite island among the bunch? If not, there are tons more options to choose from – or we can help you create a custom design of your very own. At Fast Cabinet Doors there are plenty of options for the cabinet doors on any kitchen island.