Just because your kitchen is small, that doesn't mean it's not mighty! Today, we're sharing some of our favorite decorating and design trends for stylish small kitchens, from cabinetry and storage to the almighty mirror (we talk about mirrors a lot, okay?).
Let's dive right into our top 20 tips!
1. Maximize Your Storage
Have one wall in your kitchen dedicated to storage. Cabinetry doesn't have to look heavy and stifling. Take this bright and airy kitchen, for example. It features an entire wall of slab cabinetry paired with chic and simple hardware, perfect for high and low storage. The wall of cabinetry is broken up by a door that's smack dab in the center and accented with a delicate geometric wallpaper to add dimension and visual interest. For easy organization and access, try pairing your wall of cabinetry with some of Fast Cabinet Doors' simple storage solutions. Unreachable high cabinets are no problem at all, thanks to our specially designed pull-down shelving system. Or check out our range of pull-out cabinet organizers—no more digging around in the back of the pantry with these products!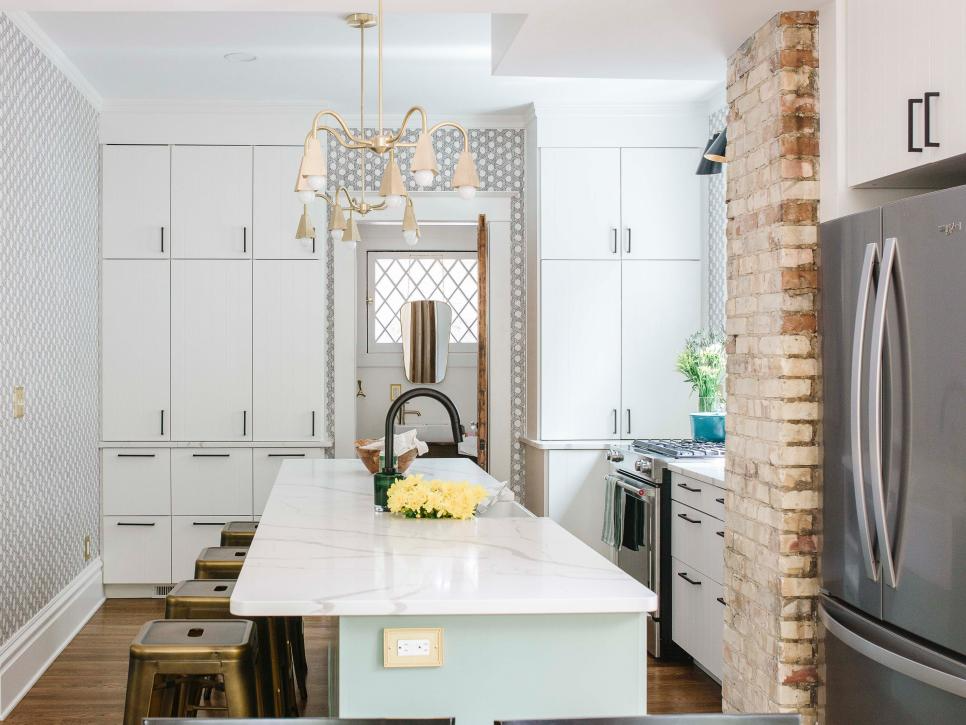 2. Embrace the Open Space
Don't go chasing waterfalls… unless it's a waterfall countertop! You may not have heard the name before, but you'll likely recognize this style of countertop: it features a horizontal counter surface that ends at a 90-degree angle and goes straight down to the floor. There's no decorative finished edge, just a smooth, seamless joint that gives your counter a beautiful, cohesive, and timeless appeal. The waterfall countertop, paired with the spacious open-concept kitchen layout, understated color palette, and elegant modern décor, give this space a gorgeous, airy vibe. This kitchen is already large and bright, but metallic finishes and mirrored surfaces can help bounce the light around, making any space feel roomier than it really is.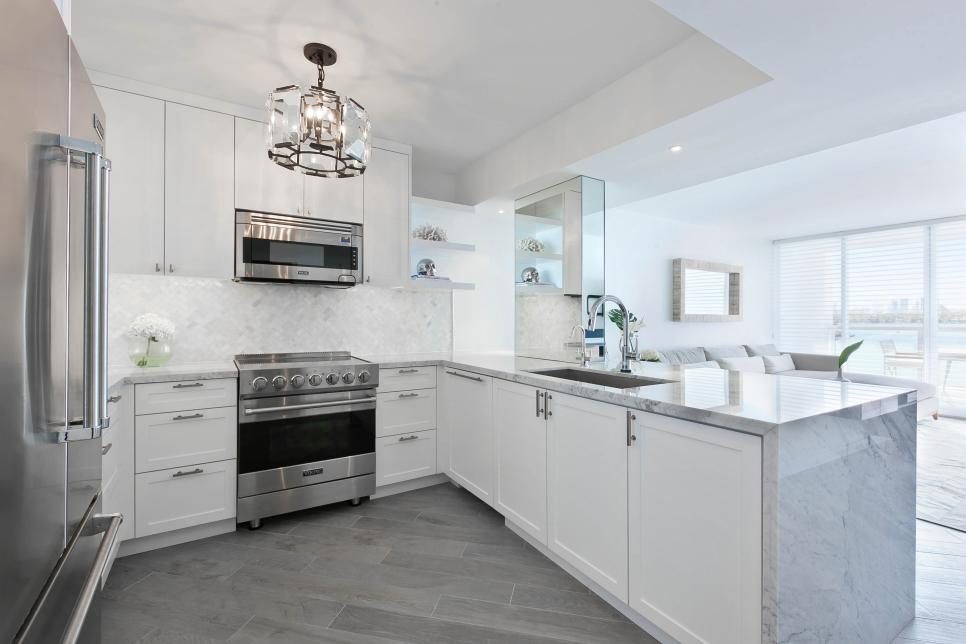 3. Go Vertical
If you are one of the lucky homeowners blessed with high ceilings, why not use them to your best advantage? High ceilings aren't just an attractive architectural feature: they're also an opportunity to incorporate additional design elements, both stylish and practical. This homeowner installed high-up cabinets color-matched to the rest of the kitchen cabinetry; these are perfect spaces for stowing large, infrequently used items or excess products like dry bulk goods or refill home supplies. The cabinet doors sit flush with the wall, making the space look neat and streamlined, and the cabinets are paired with a sleek, long-necked range hood and a simple drop pendant. The elongated hood and light fixture draw the eye upwards while simultaneously balancing out the high ceilings. The overall effect is a kitchen that is tall and functional and simple without looking empty.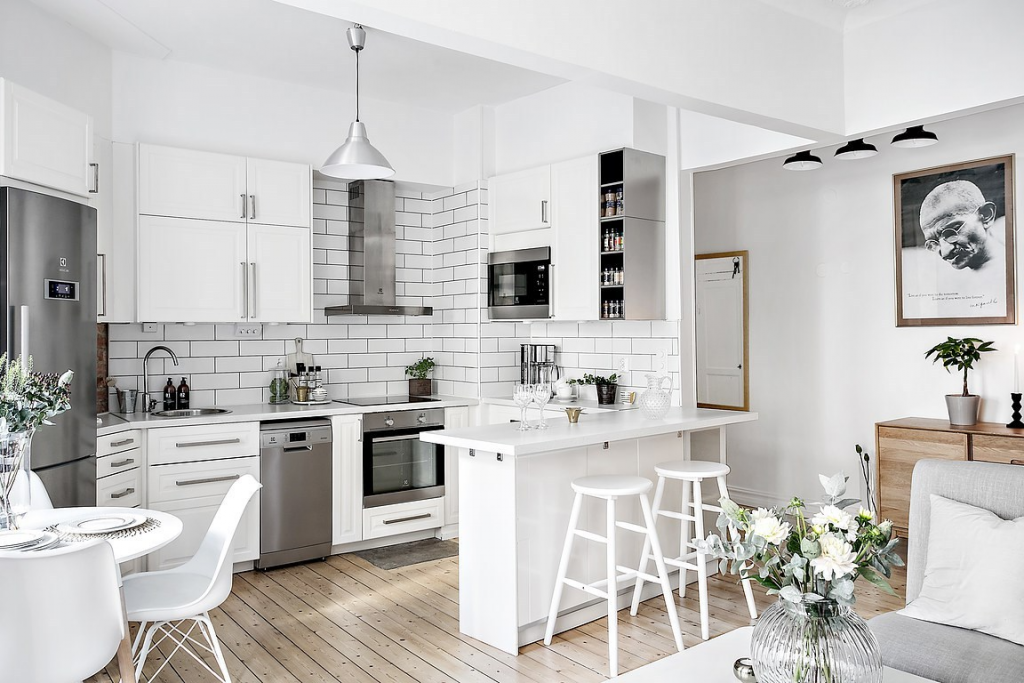 4. Multi-Functional Furniture
In a kitchen with limited real estate, you'll want to get the most function – and fashion – out of every square inch. This homeowner is doing just that with their petite, stylish kitchen: the long, narrow space is perfectly decorated with a punchy black accent wall, simple slab cabinetry, and an innovative, multi-use furniture item. This elegant waterfall-style unit is doing double duty as a kitchen table and functional island. While it might not be considered a 'true' island since it's supported on one side by a wall bracket, it still does the same job, all while taking up far less space. Because of its unique bar height, this unit is ideal for standing work, and with the addition of a few stools like the angular mod ones shown here, it easily transforms the island into a table.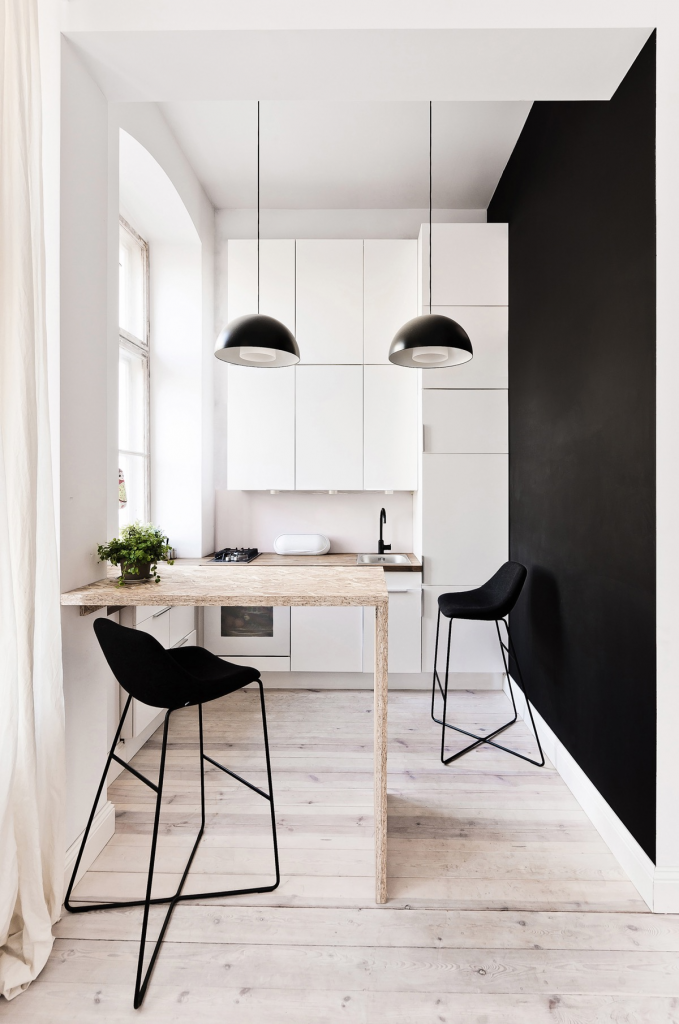 5. Use shelves in awkward-shaped spaces to limit unused space. Use to display cookbooks or other decorative items.
This kitchen is an unusual shape, but that hasn't stopped the homeowners from filling it with unique and stylish storage solutions. While the angled roof might pose issues for some, the homeowners have turned the awkward unfilled area into a functional space with some simple shelving. The sleek white floating shelves are the ideal size and shape for the space and transform a previously unusable cranny into a neat little display case for kitchen bits and bobs. Despite its diminutive size, this kitchen is perfectly functional, and not an inch of it goes to waste.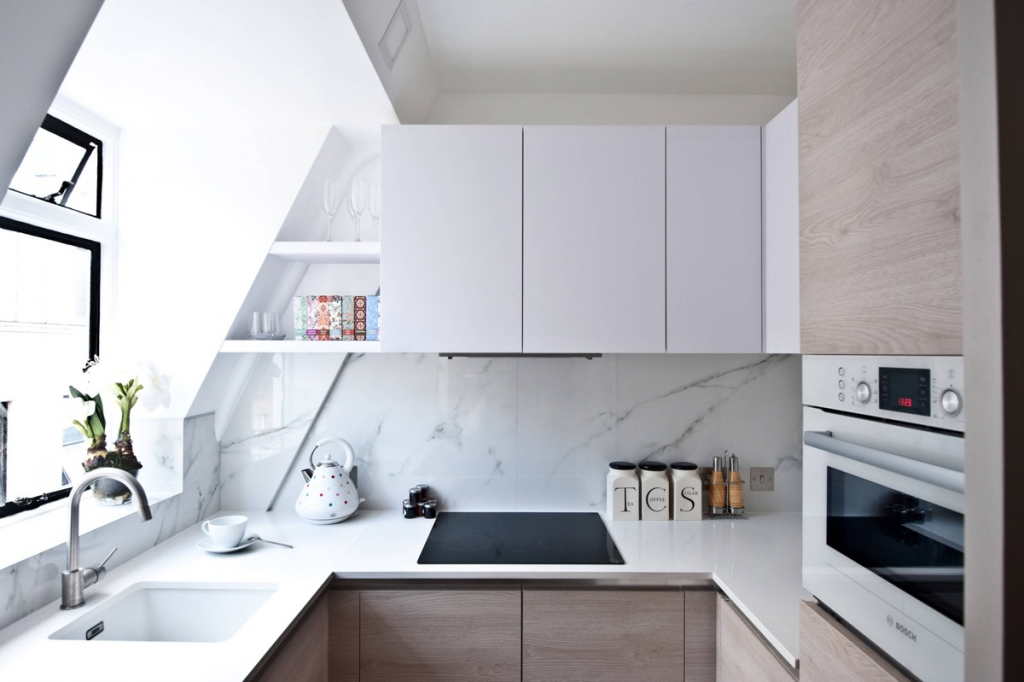 6. Art Is What You Make It
What is art, anyway? You may find yourself asking this question while visiting a modern art museum, but we think it can just as easily apply to your kitchen. Sure, kitchen utensils aren't exactly Van Gogh, but they can add something truly special to a space and can be just as pretty as they are practical. We're big advocates of using kitchen items as artwork, especially when they're as gorgeous and unique as the wooden cutting boards in this homeowner's kitchen. But you don't have to limit yourself to cutting boards: almost anything can be art if you display it the right way! Try rows of pots and pans hung by their handles or a few artfully arranged clusters of ceramic dishware like the ones in the photo.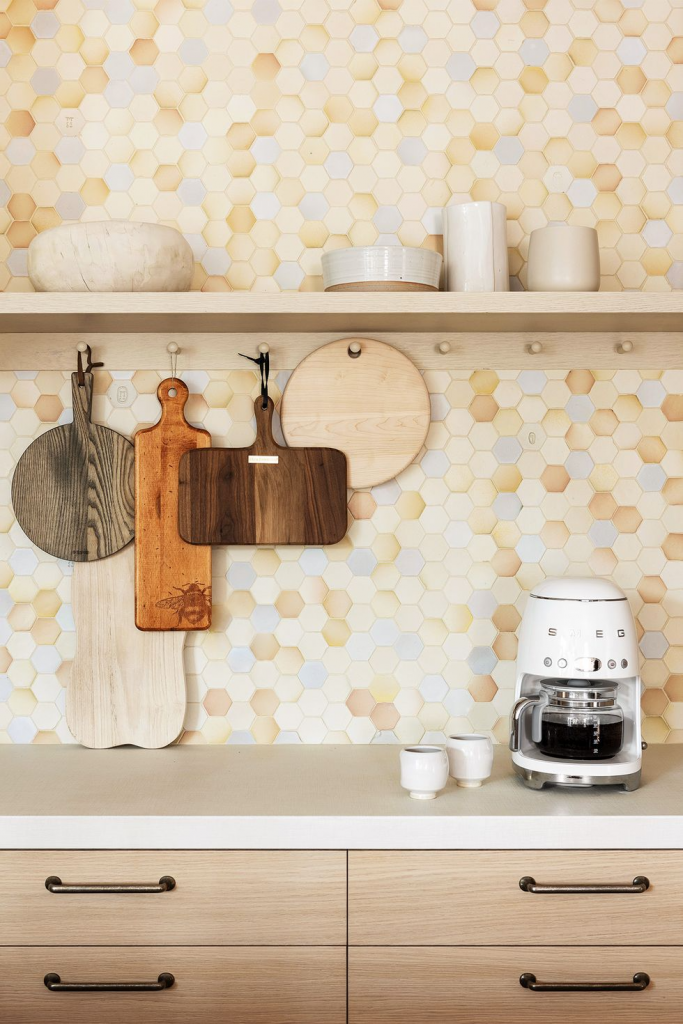 7. Build the Backsplash
Backsplashes may be used to guard against splashback, but they can be so much more than just a functional feature. This kitchen has a subtle marble-esque backsplash tile that runs all the way up the wall; at a glance, you might even think it was wallpaper! Who said you need to stop your backsplash at the cabinet line, anyways? Not only is it beautiful, dimensional, and cohesive, but it also draws the eye upwards and elongates the room, an especially nifty trick for kitchens with lower ceilings. Backsplash-tiled walls are a fantastic feature for the splash-prone and make an excellent choice for your accent wall. What's not to love?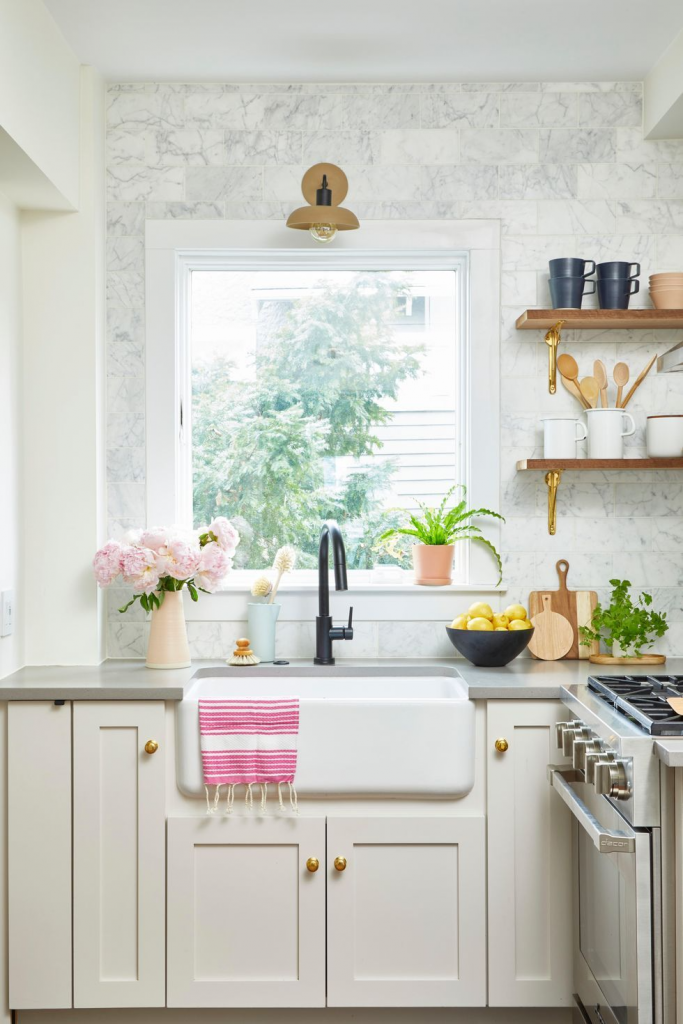 8. Eclectic Elements, Cohesive Look
These homeowners brought their black and white kitchen to life with a sprinkling of bold colors, patterns, and accessories. It's no secret that black and white are eternal favorites for interior design. They're classic, timeless colors that never go out of style, but you can easily dress them up and make them your own with the addition of eye-catching extras. The extras that stand out here are the black and white striped carpet, the splashes of sunny yellow, and the burnished copper knick-knacks. Although it stays within the primary color palette, the carpet adds a bold and brash pattern to the mix. At the same time, the yellow and copper elements sprinkled throughout brighten, enliven, and add sparkle to the otherwise neutral space. The use of black paint on the interior windowsill helps bring a stylish balance and harmony to what could otherwise be a very bottom-heavy designed kitchen.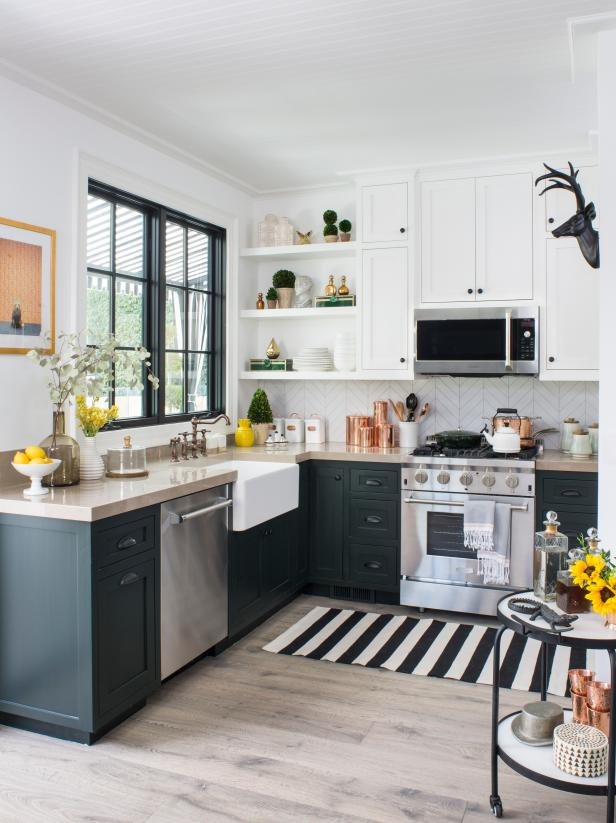 9.     Experiment with Scandinavian Style
The Scandinavian style of interior design is characterized by a combination of comfort, coziness, and curated minimalism. This might sound like an unusual mix; after all, we usually associate coziness with abundance and softness, and minimalism has earned a reputation for being stark and austere. Unfortunately, minimalism has been maligned: you really can have the best of both worlds! Take this kitchen, for example. The open concept floor plan and single wall of lower cabinetry keep the space from feeling closed; the mixed color scheme is simultaneously varied and calming thanks to the use of basic and unsaturated hues but is brightened with a few sparing splashes of buttery yellow. With plenty of natural light, a subtly elegant color palette, beautiful clean lines (both straight and curved), and layers of texture, this airy Scandinavian-inspired stylish kitchen is the furthest thing from cold.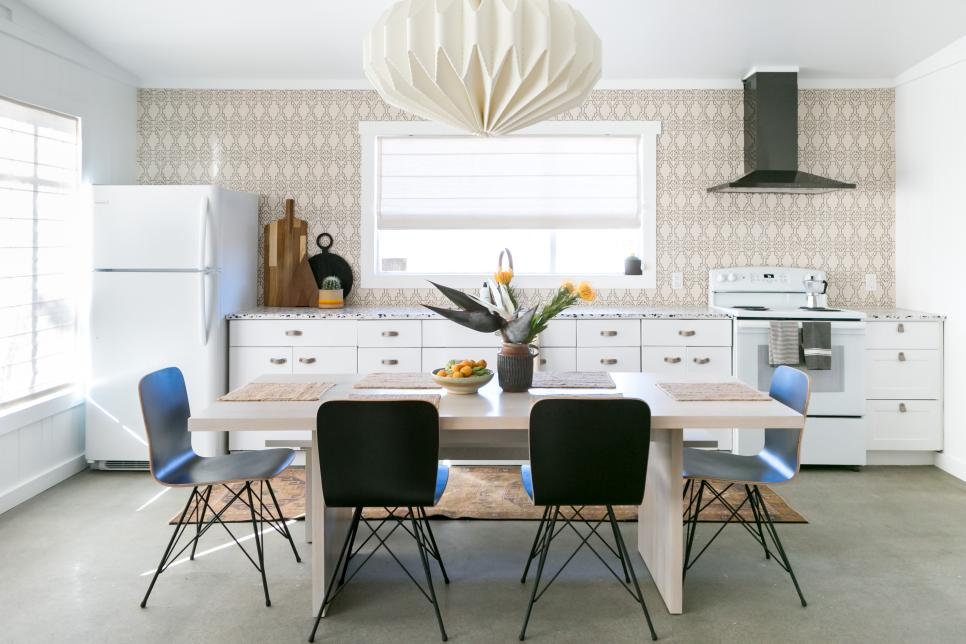 10. Mirror Image
These kitchen cabinets are all painted with the same unique shade, a light pastel that falls somewhere between dove grey and periwinkle blue. A lighter shade of cabinetry in a smaller kitchen can help open it up, all while staying abreast of current design trends. The homeowners paired this paint job with matching countertops and backsplash of identical pale stone. We already know that mirrors (and mirrored surfaces) can visually expand even the smallest of spaces, and this kitchen takes that concept and runs with it. The high gloss of the fixtures, hardware, appliances, and even the glass-paned upper cabinet doors make this kitchen feel upscale and elegant—but it's the mirror backsplash on the far wall that makes this kitchen shine!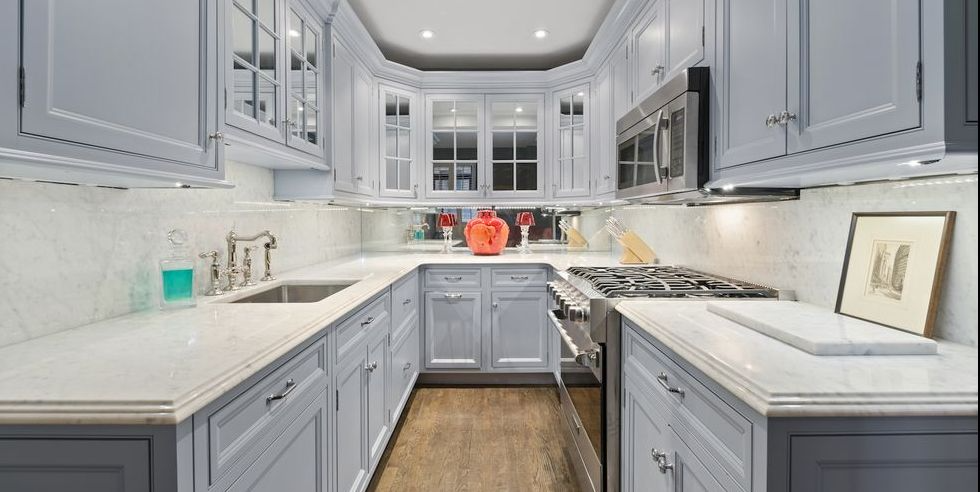 11.  Stylish Pipe Dream Kitchen
Have you ever considered using metal pipes as a design feature in your kitchen? You might be surprised by how chic pipes can look! Admittedly, industrial kitchens aren't for everyone, but this industrial-inspired concept ups the ante on elegance. These homeowners have installed an eye-catching, stylish metallic pipe suspended from the kitchen ceiling by brackets. The pipe is equally fashionable and functional, and the hooks allow the homeowner to hang all kinds of things on it, from cookware to ornaments and beyond. If you like the idea of a functional rod in your kitchen, you can choose one that fits your home's aesthetic: there are plenty of different products available in a range of styles, dimensions, and textiles. This kitchen has a rustic but elegant modern farmhouse vibe, and the gold and copper tones perfectly complement the fresh white cabinetry, mahogany flooring, and brown-toned rug.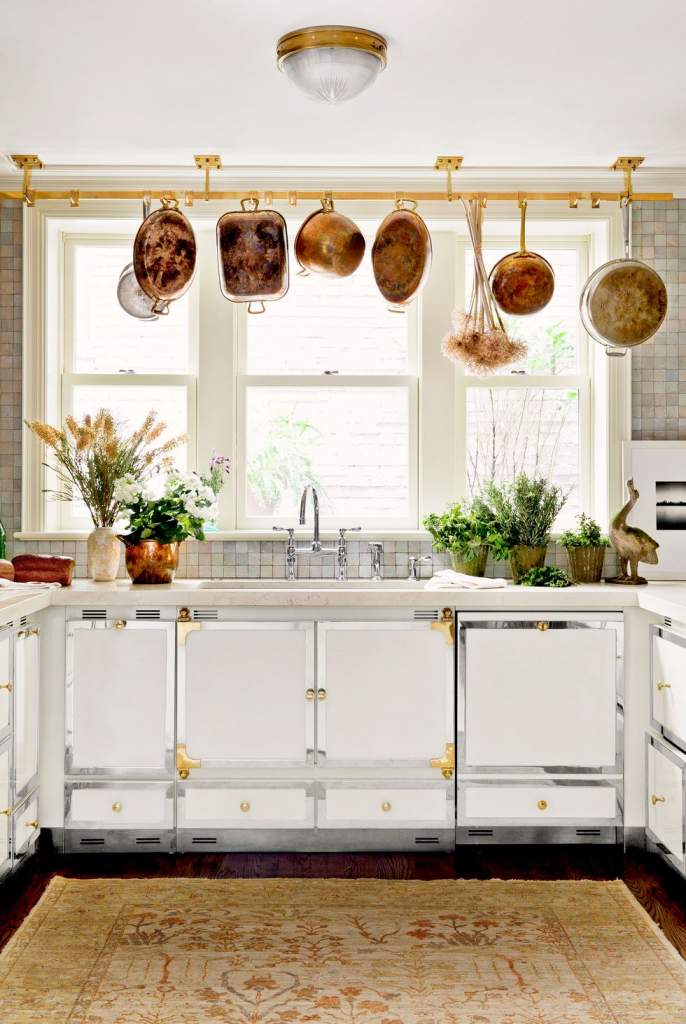 12. Pantry Paradise
For kitchen storage that's practical, stylish, and surprisingly discreet, look no further than the pull-out pantry. This ingenious storage device allows you simple access to every item in your pantry without the back-of-cabinet struggle. Fast Cabinet has cornered the market on these clever storage solutions, and we're proud to offer pull-out pantry units in both wood and wire shelf models. With height-adjustable shelves, drawers that effortlessly glide open and shut, and a soft-closing mechanism, you can easily store all your kitchen goods out of sight and out of the way. This kitchen, for instance, features a pull-out pantry tucked inside a custom shelving unit next to the fridge. Plus, it's covered with a full-length chalkboard. If the door isn't open to reveal the pantry inside, you'd never even know it was there!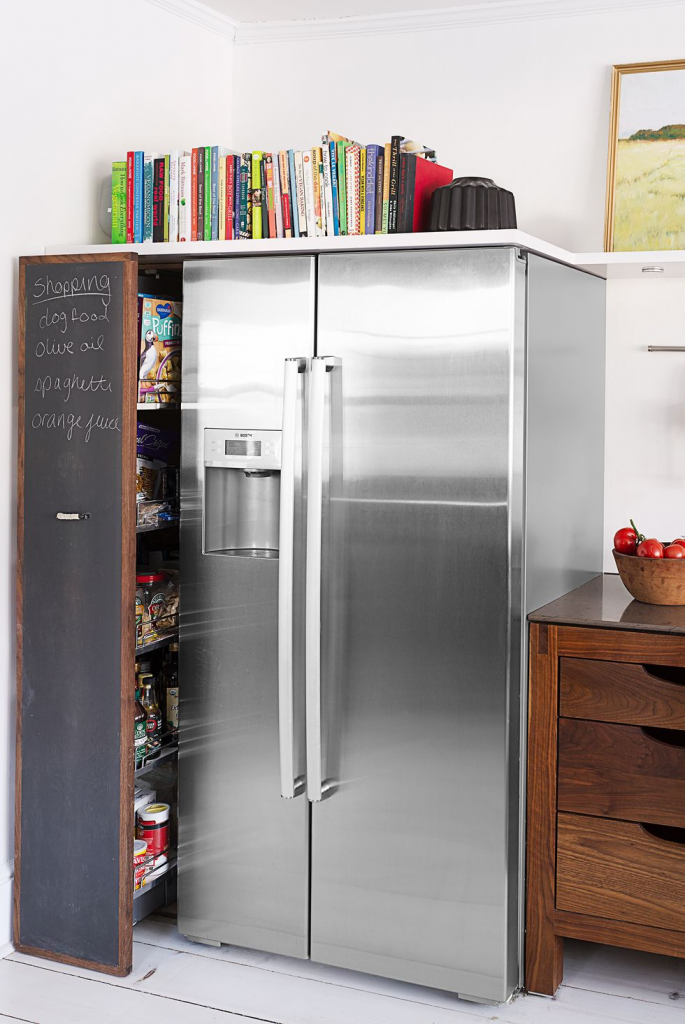 13. Appliances, Away!
Unfortunately, it's all too easy for clutter to accumulate on kitchen counters. Whether dishes, paperwork, car keys, or kitchen appliances crowding up your work surfaces, kitchen mess can really mess with your mind. Fortunately, there is a better way to stow your stuff – or at least your bulky kitchen appliances. This kitchen features a unique spring-loaded door, which lifts easily to reveal a hidden appliance cubby. This kind of storage solution is ideal for those heavy items that you'd usually have to lug out of your lower cabinets. At Fast Cabinets, we have a product that functions similarly to the appliance cabinet: the heavy-duty mixer lift provides access to even the heaviest appliances without having to stoop.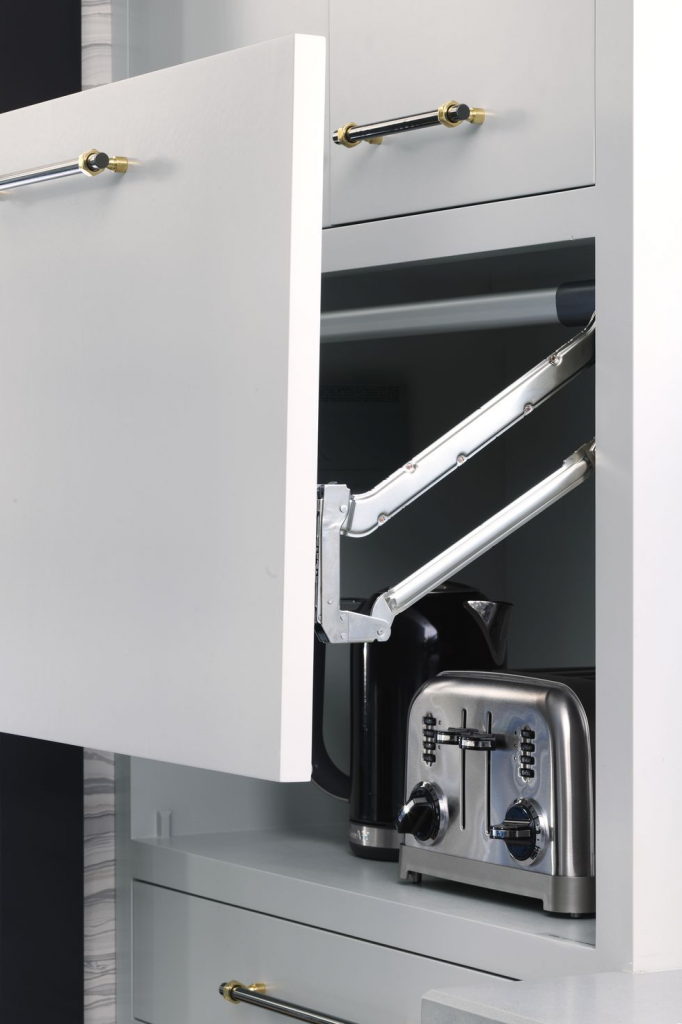 14. Mirror, Mirror
The careful placement of a mirror is one of the most effective décor tricks in the book. Not only are mirrors great for making rooms appear larger than they are, but they're also super handy when it comes to reflecting and bouncing light. Not every home can be blessed with an abundance of natural light. If your kitchen isn't letting the sunshine in, you can easily take matters into your own hands. Placing a mirror on the wall opposite your window can help to catch the rays that do enter your kitchen, and the bigger the mirror is, the more light it will be able to diffuse. Consider adding a mirror with an intriguing shape or one that complements the style of your decor. This kitchen, for example, used a mirror with a rounded top, which nicely juxtaposes the straight lines and hard angles of the rest of the room.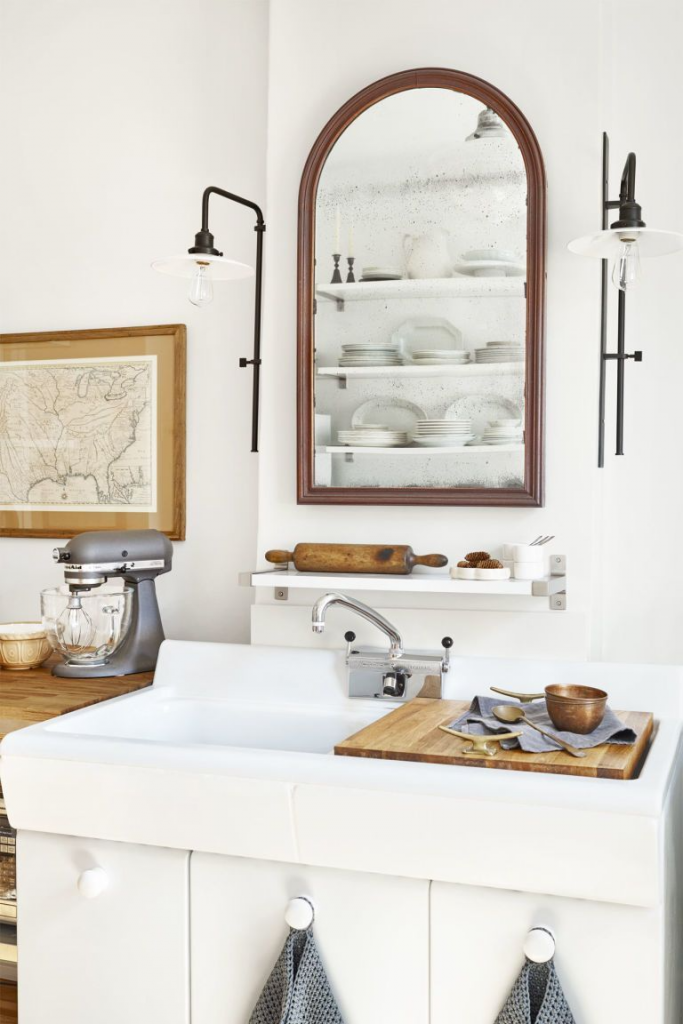 15. Go Big and Go Home
Do you have a tiny kitchen and an abiding love of patterns, colors, and prints? We say, embrace maximalism. This kind of look isn't for everyone, but those who love it simply can't get enough. Despite the busyness of this stylish kitchen, with its abundance of colors, textures, and styles, and its willingness to break the rules of design, it somehow all works together. There's a sort of eclectic cohesion to it, and even though this look is difficult to put together, the payoff is worth every second of effort.
If you love the unique, cozy vibe of maximalism, start with a bold printed wallpaper. Although the peony-print wallpaper in this kitchen may be eye-catching, it's also desaturated and delicate. The white and grey tones make this wallpaper surprisingly easy to build a color palette around. Even though it's a large print, it's also pretty neutral as patterned wallpapers go, making it an excellent choice for a base layer.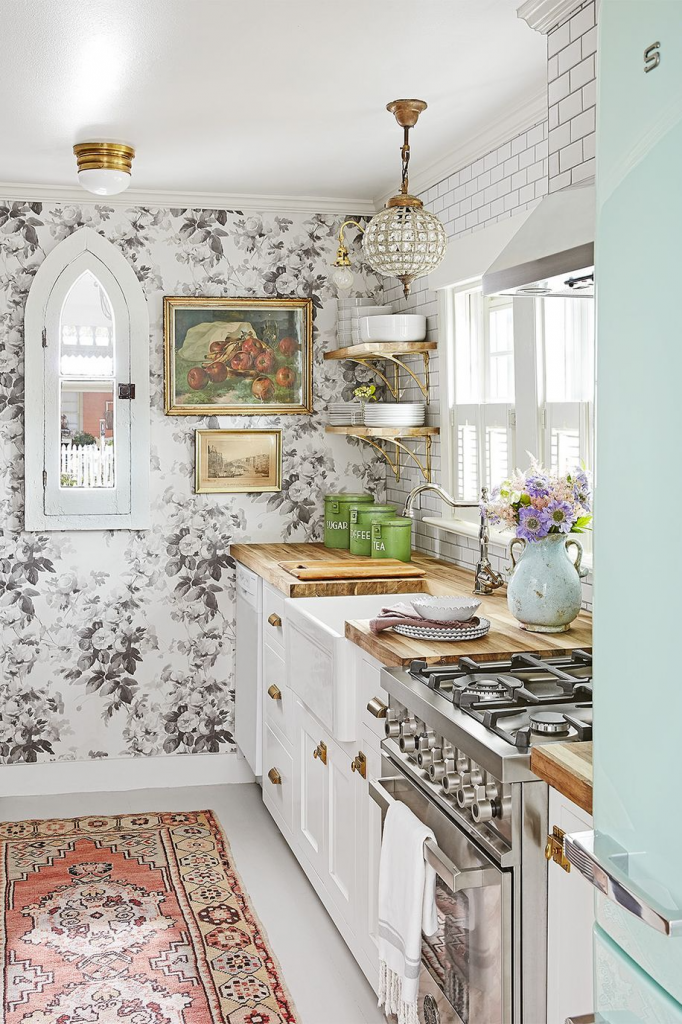 16. The Nook Look
Got an unused corner in your kitchen? Why not turn it into a cute little breakfast nook? You can take things up a notch by outfitting your new nook with bright colors – a surefire way to start your morning off right. Thanks to its emerald green, white, and bamboo design scheme, this kitchen looks like a garden in spring. To emulate this fresh and funky nook, forgo the chairs and try using padded benches with storage inside. This is perfect for busy families and homeowners who are looking for creative ways to store their stuff. Plus, it's just plain old adorable!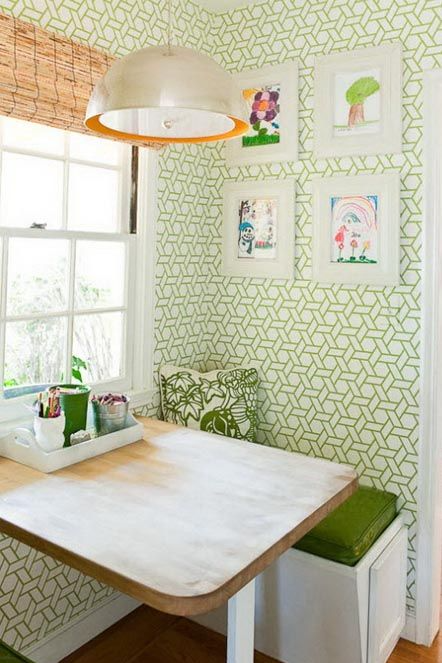 17. Mind the Gap
There's a space between your cabinets that just seems a bit… lacking. What to do? Well, you could try this simple and oh-so-stylish design trick: just install a shelf to bridge the gap of your kitchen cabinets. It really is that simple! Where you put it—and what you put on it—is entirely up to you. These homeowners have installed the shelf right over their sink and topped it off with decorative items, including dishware and plants. It's a great way to balance out the heaviness of your upper cabinets, it offers a sense of symmetry (as seen above), and it's just an all-around lovely spot to display your kitchen decor.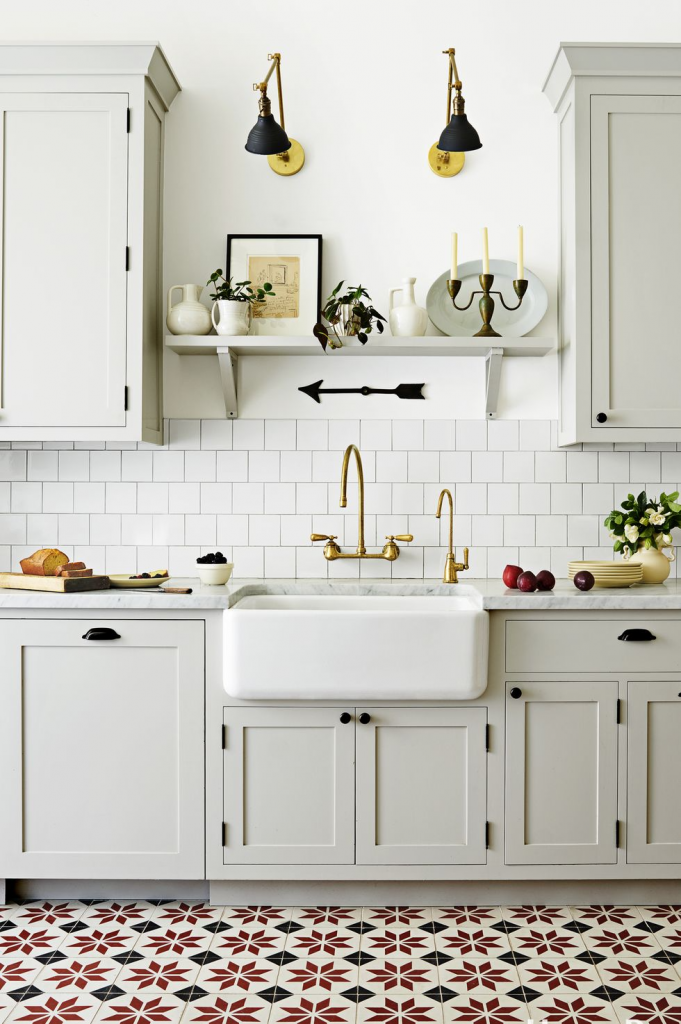 18. The Great White Way
White is timeless, so what better color to use when designing an elegant, enduring, and super-stylish kitchen? This kitchen used a wash of white to cover the walls, cabinets, countertops, and even the backsplash. The homeowners have effectively created a blank canvas where they can play around with their personal preferences and the latest decor trends. At the moment, they've introduced a few splashes of color, from the black hardware and fixtures to the eye-catching purple rug, plus the smattering of brown and terra cotta tones in the accessories. The best part about this design strategy is that it's easy to change things up with colorful extras!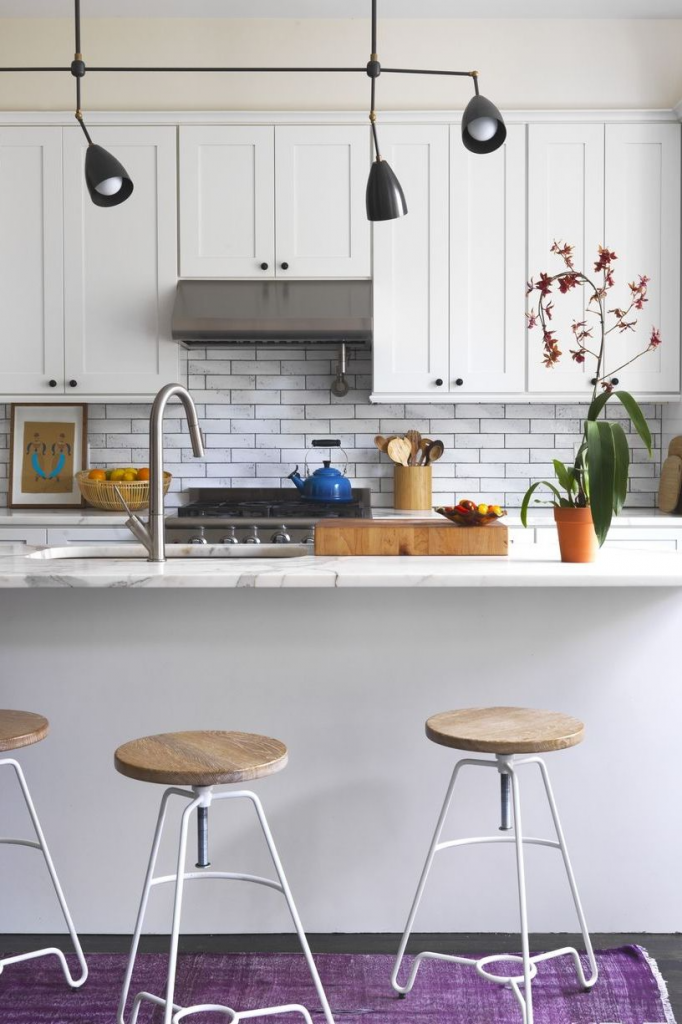 19. Nothing Like a Good Book…shelf
Learn how to make the most out of your unconventional materials! With everyone becoming more environmentally conscious these days, recycling and upcycling are becoming super trendy, especially when it comes to furniture and décor. This savvy homeowner has transformed an old bookshelf into a stylish display case for their kitchen stemware. Thanks to their height-adjustable shelves, bookcases can be excellent storage units for all manner of home goods—including the gorgeous, framed picture in this kitchen! You can take your bookshelf display case to the next level by painting it (black is always a great choice) and installing Fast Cabinets' under-shelf stemware holders.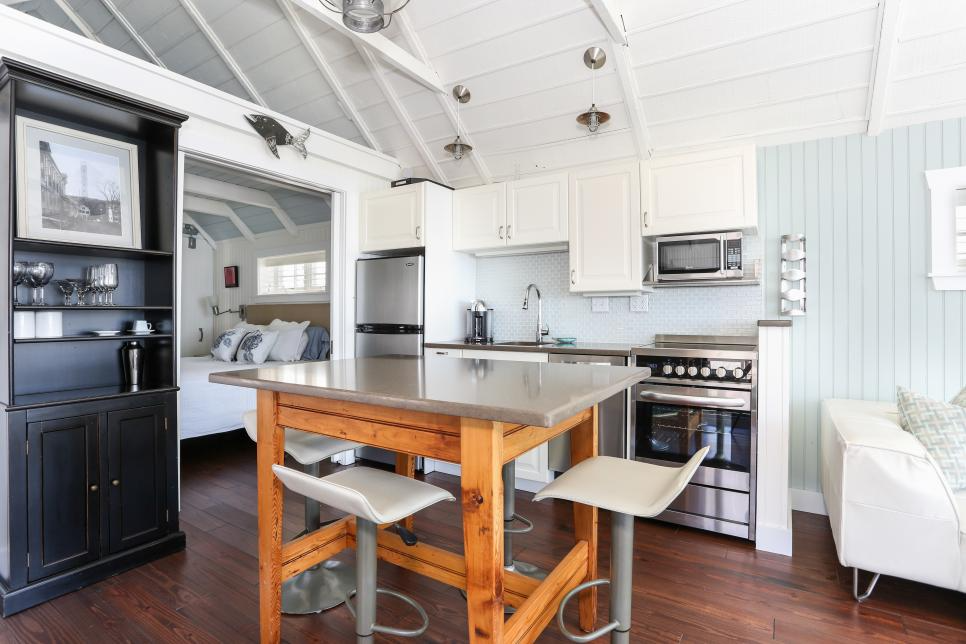 20. The Great Wall
Small kitchen, tall walls? No problem. If you've got a loft-style home with towering walls but no idea what to do with them, here are a few nifty little tricks to help you fill the void. You could do what these homeowners have done and continue your backsplash all the way up to the ceiling. It certainly adds an element of visual interest and draws attention to your kitchen's best assets. You can also use this space for displaying decorative or rarely used items. These homeowners, for example, have placed a gigantic mirror to bounce light, as well as stacks of colorful books and a few ceramic vases for dimension.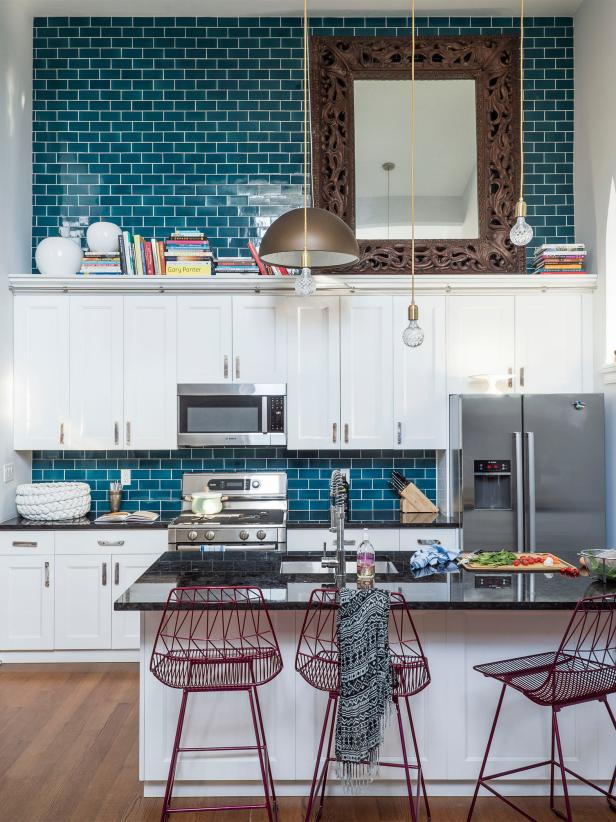 Do you have a favorite design tip? Let us know by connecting with us online. We always love hearing success stories from homeowners… and we're always on the hunt for the latest interior design trends. What will be next?