Are you itching to do a laundry room makeover? At Fast Cabinet Doors, we're always eager to try something new. That's why we're looking for new ways to dress up the most overlooked of spaces: the laundry room. Yes, the laundry room may be for utility, but that doesn't mean it has to forgo style.
We've assembled 15 of our favorite laundry room updates. Some are simple, some are more complex, but all of them are stylish and ultra-functional. Read on to find out what they are and see if they spark your imagination!
1. Give Your Laundry Room a Makeover to Match the Rest of the Home
Your laundry room should feel like a connected and cohesive part of the house. However you style your home, be sure to extend that style to each and every room. Let's face it: the laundry room is often neglected when it comes to styling and decor. It's a functional space that serves its purpose, no matter what it looks like, so why put in the effort to spruce it up? We say, why not spruce it up? You deserve to have a space that looks good and feels good to spend time in. This farmhouse-style laundry room employs a creamy color palette, with pops of brown-toned wicker, wood, and terra cotta pots. The shiplap walls, charming geometric tile, and simple, elegant cabinets make this laundry room a pleasure to behold.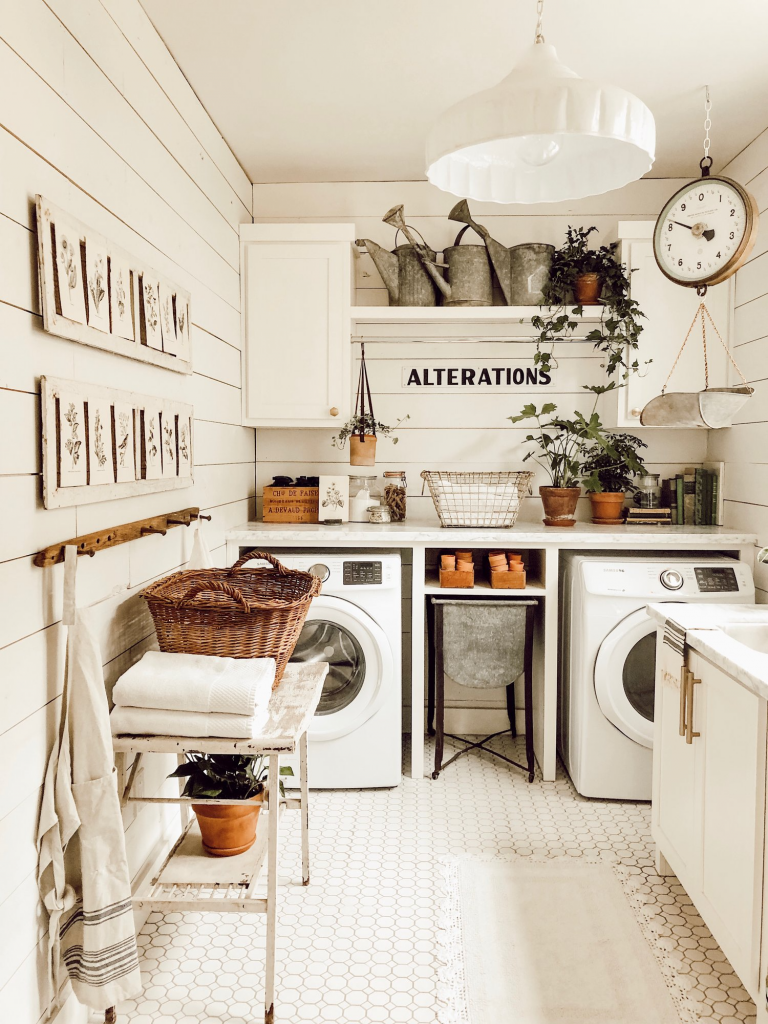 2. Install Lower Cabinets for Storage
Laundry rooms often do double duty as a storage space, so why not embrace it? You can transform your laundry room with the addition of custom lower cabinetry. This laundry room has installed tons of beautiful new shaker cabinetry, replete with hinged doors and stacks of drawers. Cabinetry is ideal for small storage, especially when paired with the right organizing solutions. Plus, it's an elegant and attractive way to avoid overcrowding your laundry countertops, manage your clutter, and give you plenty of wide-open surfaces to work on.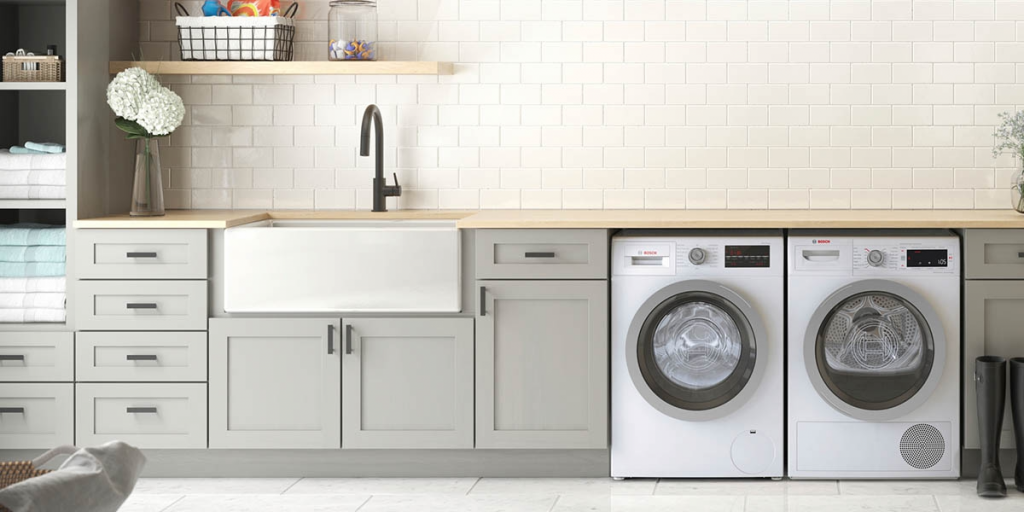 3. Replace Your Cabinet Doors for a Simple Update
Not looking for a total laundry room overhaul? Not a problem. You can still give your space a small but significant facelift by replacing the cabinetry doors. Cabinet door styles come and go, and while it might seem like an inconspicuous detail, you can absolutely recognize outdated, passé cabinet doors when you see them. Thankfully, it's easy to transform the look and feel of your space with this affordable DIY fix. Simply order your doors online with your preferred dimensions, color, material, and style, then install them yourself, or have a professional do it for you! New hardware will perfectly complement your cabinet makeover. Trust us: the result can be surprisingly impactful, and this minor fix will get you the most bang for your buck.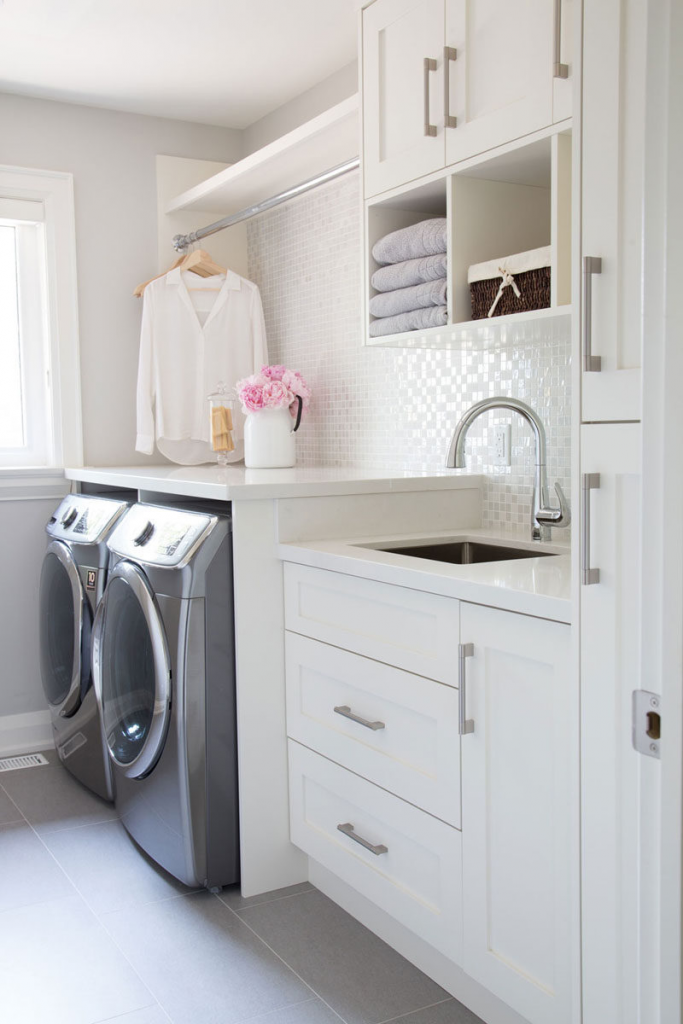 4. Use the Right Organizational Tools
Who wants to see hampers full of dirty laundry lying around the house? We prefer to keep the used linens out of sight and out of mind; that's why we've created organizational tools like the Bottom Mount Hamper. This unit features a heavy-duty patented slide system with a soft open/close feature to avoid noisy slams and painful pinches. This custom bottom cabinet is designed to hold up to 150 lbs. even when fully extended, comes with a hamper and lid, mounting brackets, and hardware. The hamper fits perfectly into the cabinet, allowing you to hide away laundry messes in the secrecy of your storage unit. Now that's a sight for sore eyes!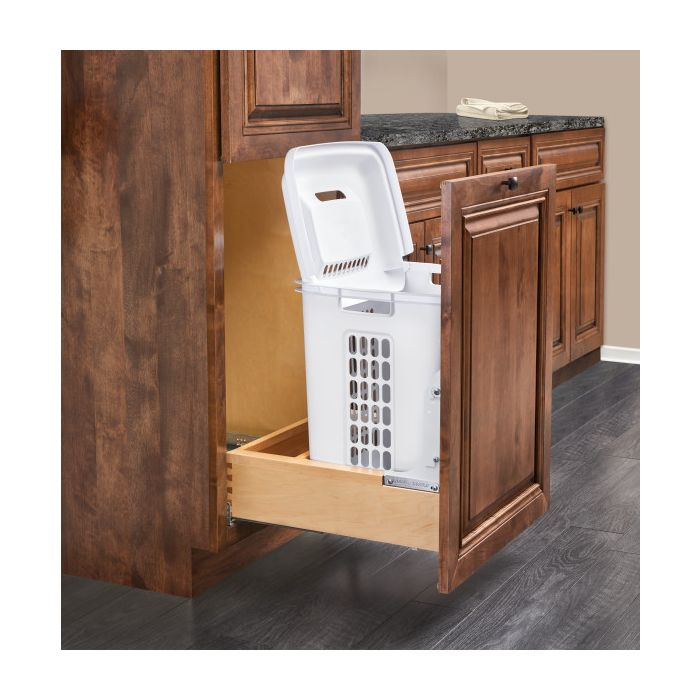 5. Open Shelving for an Airy Space
Pair your lower cabinetry with a set of equally functional and equally stylish open shelving units up top. Open-faced floating shelves can help balance the room's bottom-heavy appearance, keeping it from becoming cramped and overcrowded. Open shelves are the perfect solution for all kinds of storage needs. Lower shelves are a prime spot to store regular-use items—both accessible and out of the way—or a few plants for vibrant color. If you're concerned about cluttering up your shelves with home debris, just throw your bits and bobs into a wicker basket for a sleek and streamlined look. The upper shelves make a perfect home for less frequently used items or a few well-placed pieces of home décor.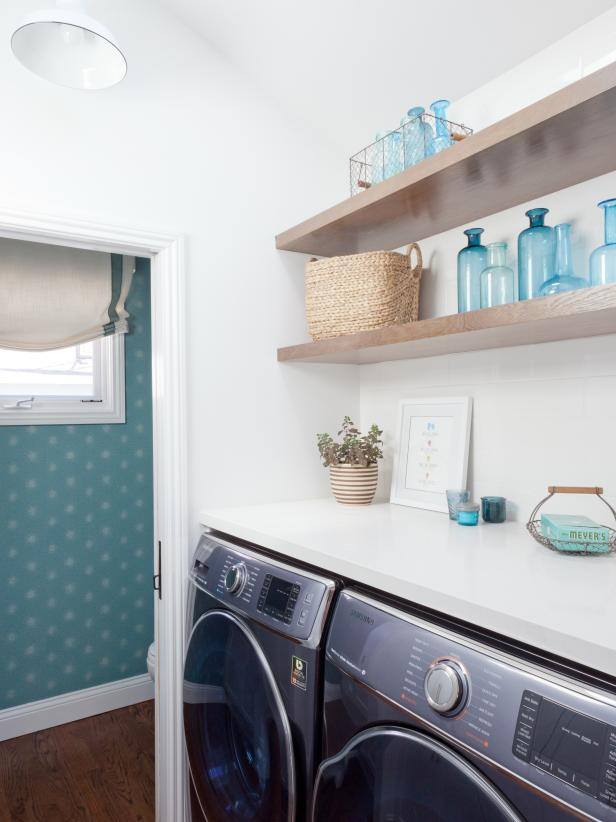 6. Use Hanging Racks to Dry Laundry
Do you ever find yourself disregarding your clothing's care labels and just throwing everything into the dryer indiscriminately? You wouldn't be the only one! Sometimes you just don't have the time or space to hang clothes up to dry. That's why hanging racks are an excellent investment for your laundry room update. This laundry room, for example, utilizes hanging racks not only as a place to dry your delicates, but it also doubles as an overhead storage space. Installing a hanging rack over your washer and dryer, or even your sink, is an ideal storage solution and space saver and one of many clever small laundry rooms ideas.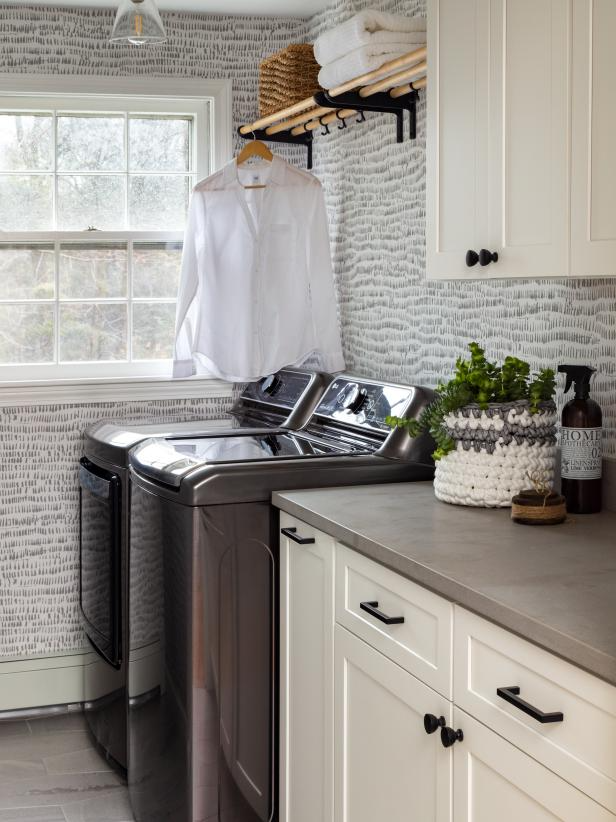 7. Have Fun with Color and Patterns
Your laundry room doesn't have to be boring! With its bright colors and bold patterns, this eye-catching laundry room proves that fashion and function can co-exist. Despite its unique mix-and-match approach to interior design, this laundry room is surprisingly cohesive: the funky sunshine-yellow wallpaper takes center stage. A pale minty paint beautifully complements it on the cabinetry, baseboards, and even the window trim. Setting the whole thing off to perfection is the subtly geometric floor tile and a few carefully placed color-coordinating accessories. Don't be afraid to play around with color and pattern in the laundry room: this space deserves to look as jazzy as the rest of your house! If color mixing isn't your bag, it's easy to make your laundry room pop with a fun big-print wallpaper.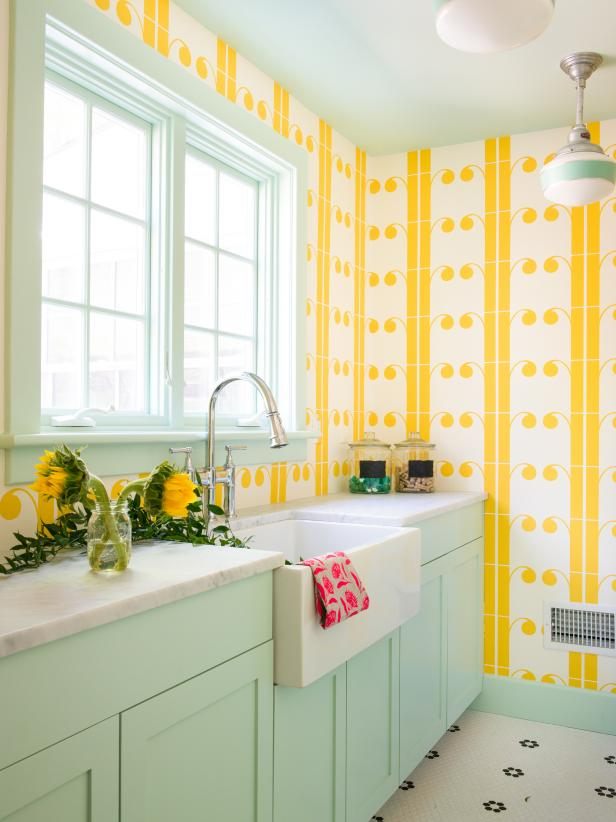 8. Upgrade Your Lighting with Ease
Let there be light! Laundry rooms can end up looking a little dim and dreary when neglected, but it's easy to add a splash of style with an intriguing light fixture. Thankfully, you can easily dress your space up with a modern and eye-catching pendant light. Pendant lights draw the eye upward, making your space appear taller than it actually is and give off plenty of light. Plus, you can find them in countless different styles, heights, and sizes, so there's one to suit every preference. You'll often find laundry rooms with recessed pot lighting—highly functional, but not the most exciting to look at. If your laundry room features underwhelming pot lighting, you can still install a pendant light without doing any expensive rewiring. Yes, really! Thanks to the innovative screw-in pendant light, you can easily swap your recessed lighting for a fashionable light feature.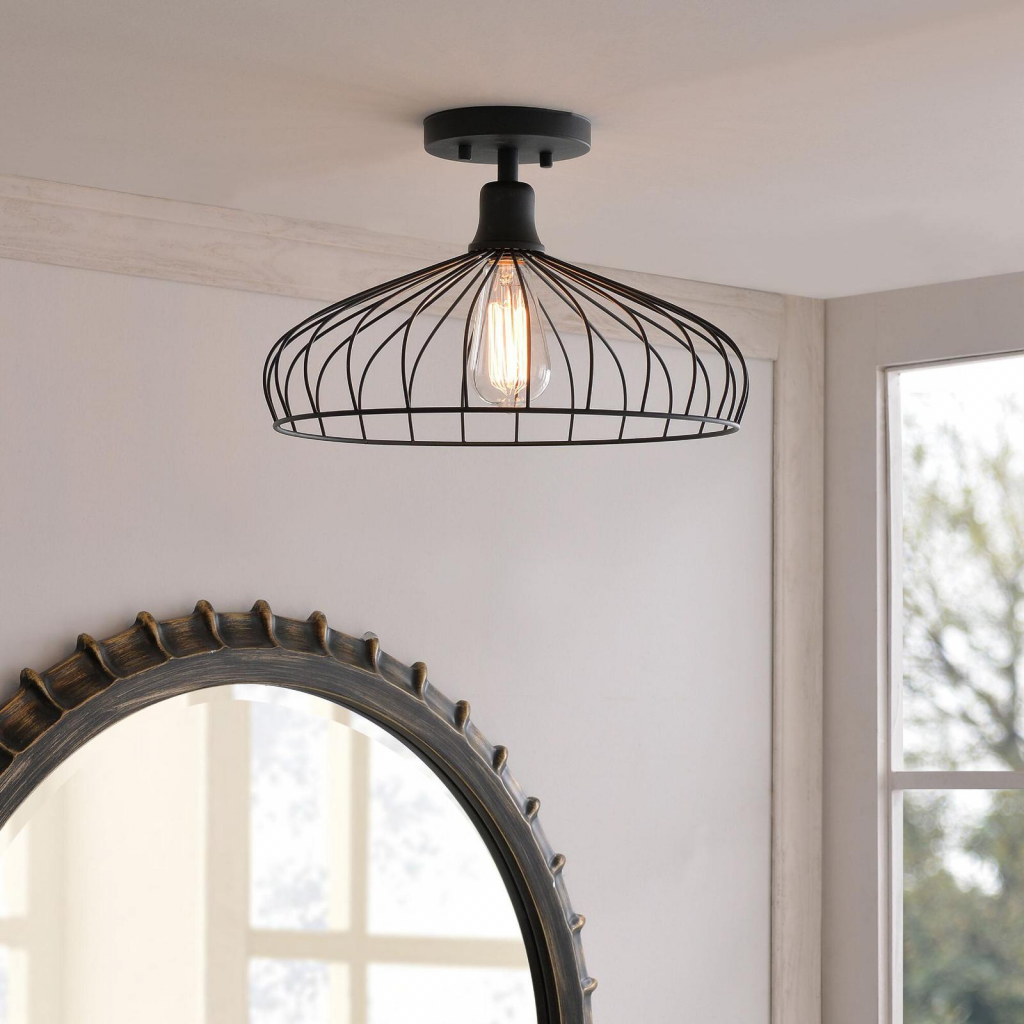 9. Laundry Room Countertop
If you have a front-load washer and dryer, this laundry room idea is for you. Why not install a countertop above your washer and dryer units? This simple update can turn your laundry room into a beautiful, cohesive, and functional space that's perfect for folding and stacking clean laundry. This homeowner has installed a gorgeous stone countertop above their appliances and added a farmhouse sink and white cabinetry all around. The countertop pulls the whole look together and gives the space a luxe, custom-built look, as well as a prime surface for performing chores and displaying home decor.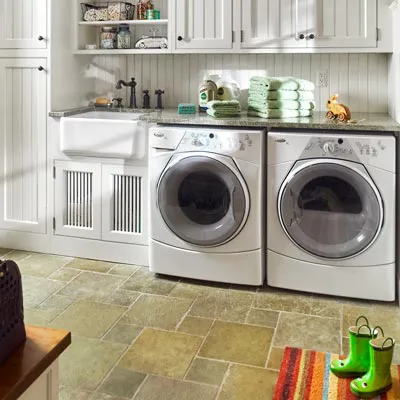 10. Glass for Glamorous Storage
Speaking of displaying home décor, this next tip is for homeowners who like to show off the goods – the laundry goods, that is! This ultra-organized homeowner uses elegant glass jars—with custom-made labels, no less—to display their laundry products. Not only is this an attractive way to store your regular household goods, but it's also accessible at a moment's notice: here, the items are stowed on an open shelf right above the washing and drying machines. Well, what about the extras? No worries: just toss them in a cute storage basket overhead or tuck them away in the cabinets until the next time you need to refill.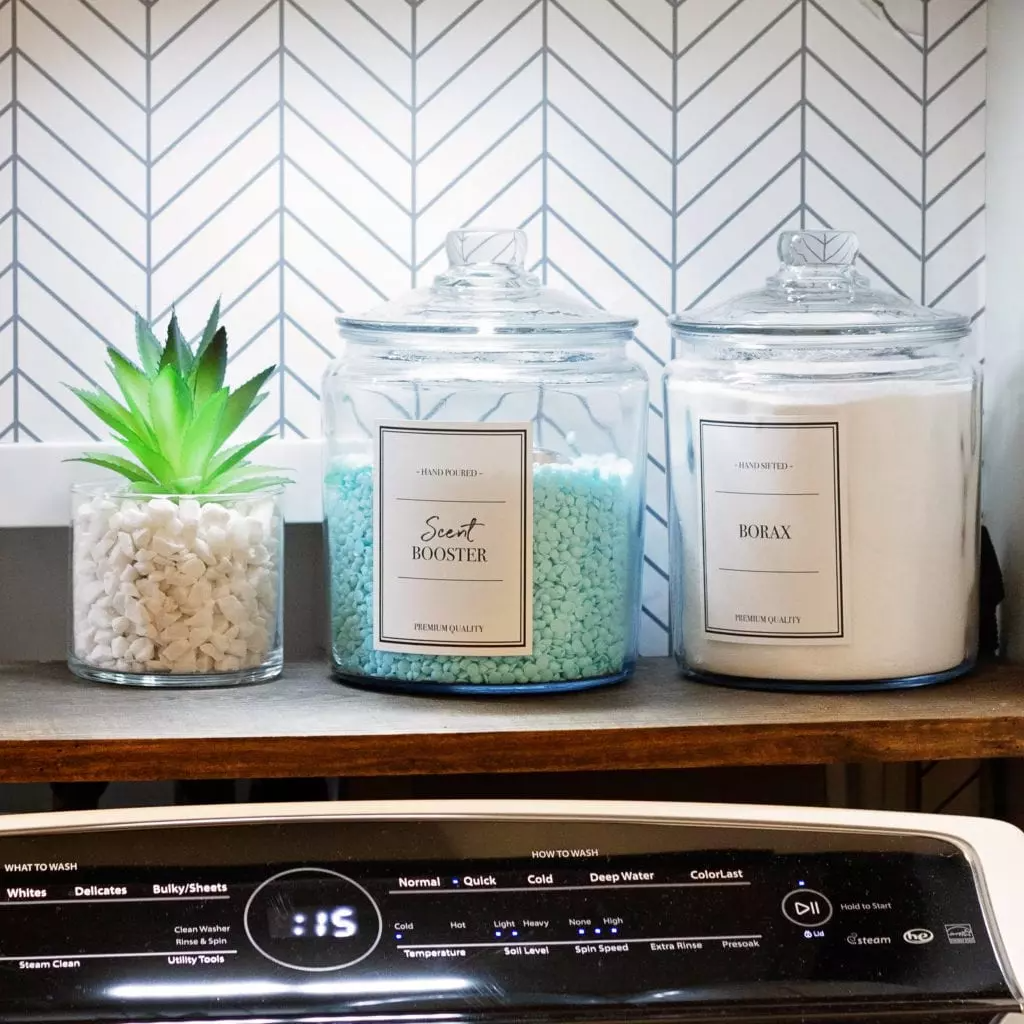 11. The Kid-Friendly Drop Zone
This update takes laundry room storage ideas to the next level. Never mind a minor update: sometimes a big change is in order. Why not turn one wall of your laundry room into a drop zone for the kids' school stuff? This homeowner has transformed their laundry room into a unique after-school organization station. There are separate cubbies for each child, where they can store their shoes, coats, hats, gloves, bookbags, stationery, sports gear, instruments, and much more. The cubbies incorporate open shelves, hooks, racks, and baskets to optimize all possible space—all to help keep the kids organized and school-ready for those busy weekday mornings.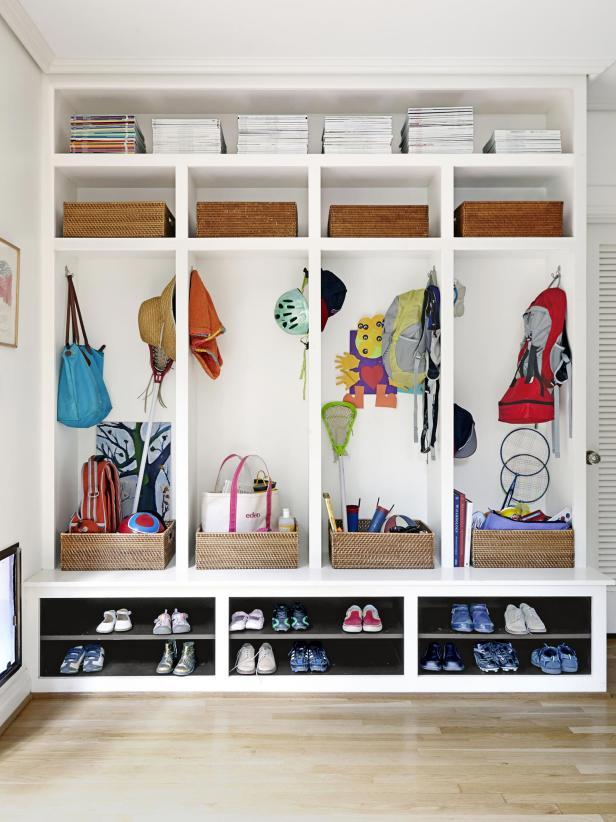 12. Gone to the Dogs
The laundry room isn't just for human messes! This inventive homeowner has installed a doggie shower for their pooch, who seems to have a particular affinity for mud puddles. The laundry room may be the perfect spot for a canine spa. If you're already laying new water lines, it's not difficult to add an extra tap and showerhead. The homeowners have also added hooks and shelves for dog storage, a sloped floor for proper drainage, and lots of tile to help prevent water-damaged drywall. A pup shower stall can also double as a spot to hose off muddy boots, feet, and hands coming in from outside.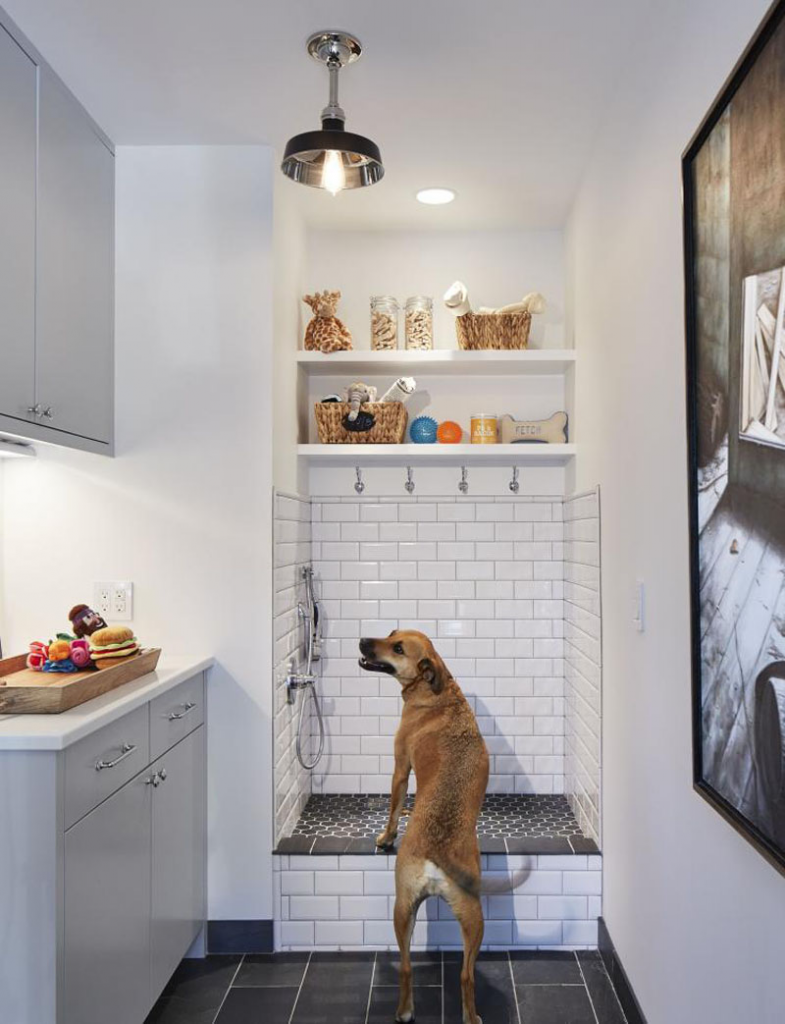 13. Washer, Dryer, Space-Saver
If you're working with limited real estate, here's another one of our tiny laundry room ideas. Washers and dryers can absorb quite a lot of floor space when placed side by side. That's why we recommend stacking the machines one on top of the other. This is a great space saver, and it's pretty stylish to boot! It definitely cuts down on back pain, as you no longer have to stoop over to pull out your laundry. There are also specially designed two-in-one washer dryers that are created with smaller laundry rooms in mind. These are typically narrower than stacked machines, but they're a perfect fit for apartments, townhouses, and the like.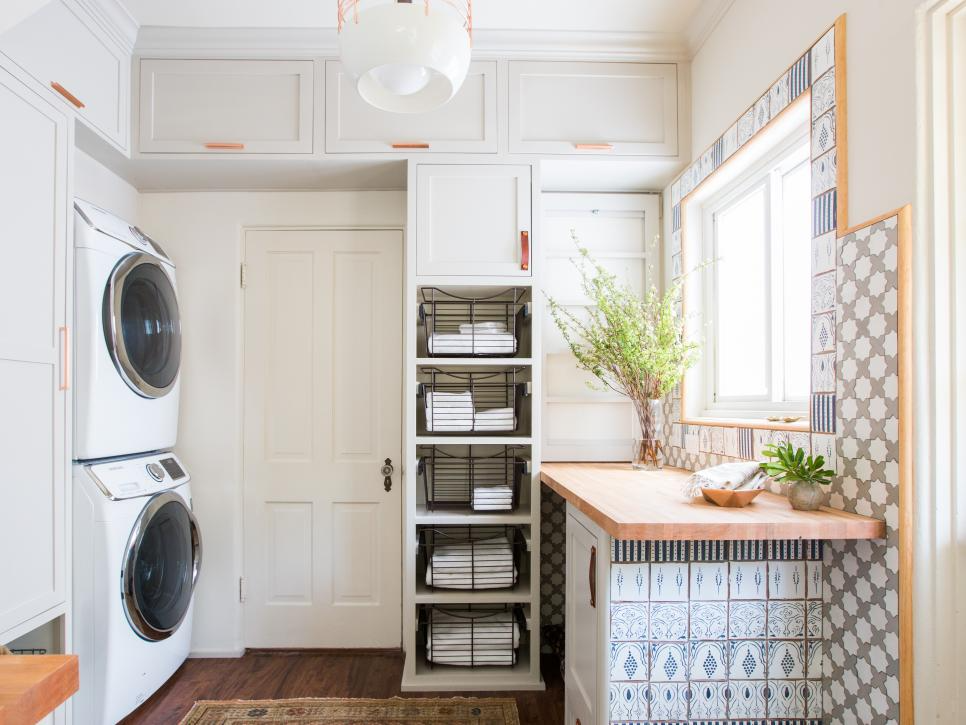 14. Funky Flooring
Forget about plain old laundry room floors made from white tile: try something out of the box! Patterned tile, laminate, and vinyl are all the rage these days and add character to even the most neutral laundry room. This homeowner has done things a little differently: they've created a subtle yet eye-catching tile mosaic. The pattern is made from two differently-toned textiles in the same color palette, with pieces of different lengths and widths. Some pieces are cut on the angle and cleverly positioned to form a kind of abstract chevron. The more you look at it, the more visually appealing it becomes! Not all patterns have to be bold and brash, although we do love a nice bold pattern!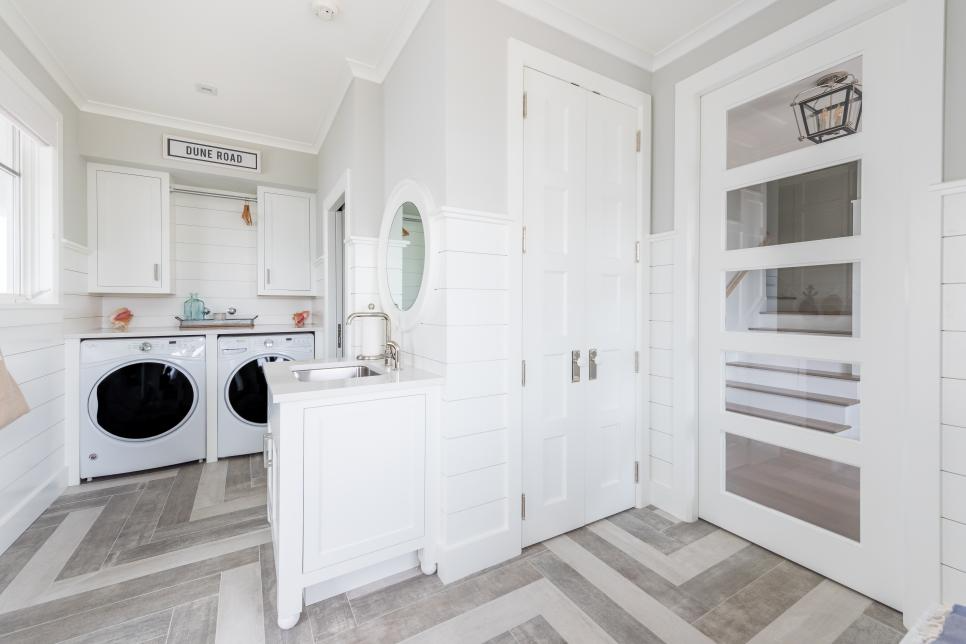 15. Rear Door Storage
Here's another update idea for petite laundry rooms. Use all the space available to you – up high, down low, and of course, behind the door! This laundry room is using that door space to its best advantage. The homeowner has suspended a floating box shelf with over-the-door hooks and then added a hanging bar below, where they've stowed their ironing board. It's a unique and surprising strategy for conserving square footage, and it's perfect for the spatially challenged home.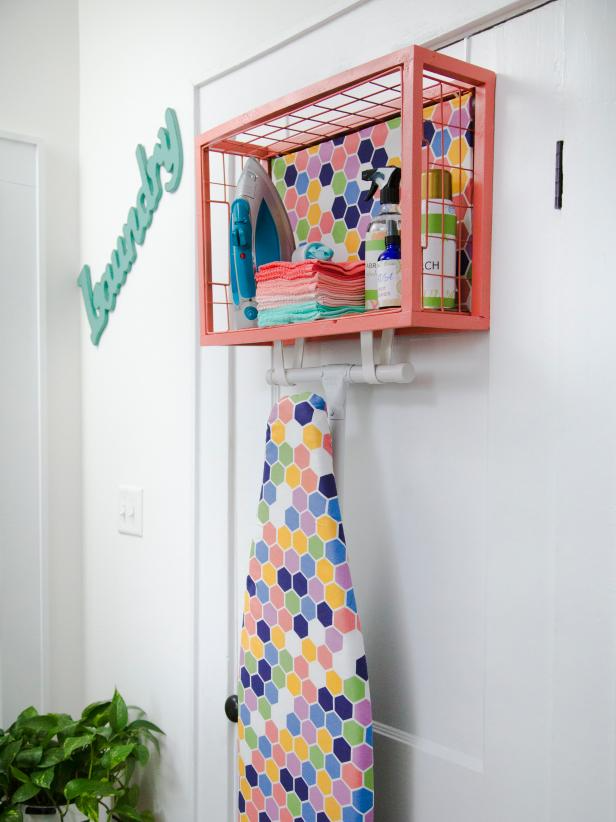 Are you feeling inspired by any of these laundry room ideas? We're always eager to hear about new projects and ideas, and we try to keep our finger on the pulse of new interior design trends. That's why we want to know what inspires you.
Whether you're looking for a total overhaul or a little fix-it, there are countless ways to give your laundry room new life. Maybe you're embarking on a big project, like installing cabinets for added storage. Or maybe you're just changing things up with a new light fixture or cabinet hardware to evolve with the current trends. Whatever the case may be, Fast Cabinet Doors can help make your laundry room vision a reality.
We offer organizational solutions for all rooms and cabinetry in all colors, sizes, and styles. With our speedy delivery, reliable service, and top-quality products, Fast Cabinet Doors brings out the best in your interior.