Decorating your home is a joy, but it can also be the source of an identity crisis. Do you know what your overall interior design style? There are simply so many to choose from; it's hard to know where to start! That's why we've assembled a list of our 20 favorite kitchen styles to inspire your next remodel and home design. Let's dive in!
1. Asian Style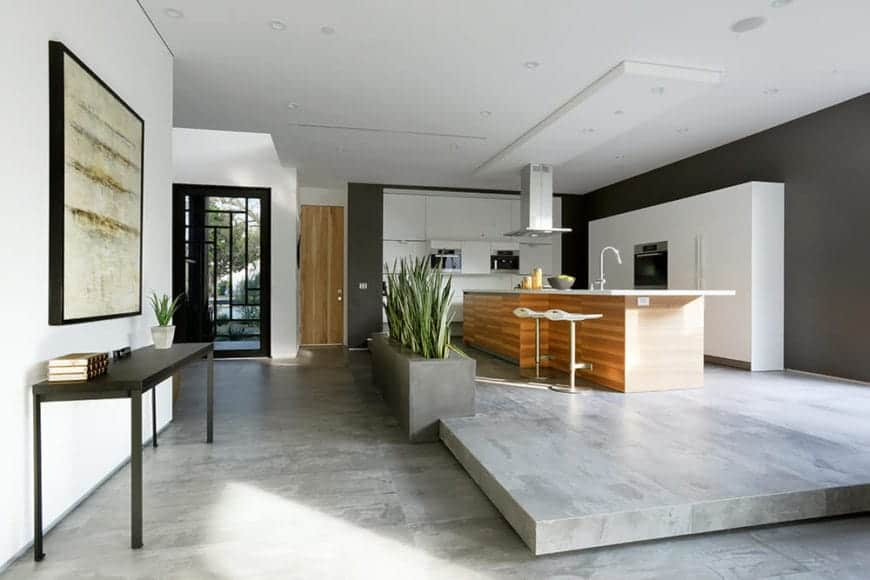 A combination of minimalism and balance characterizes Asian-style interior design. There's a particular affinity for nature-inspired design, clean lines, and refined elegance in this kind of décor. These kitchen styles use plenty of natural materials, including wood, stone, and indoor flora, and also features plenty of natural lighting to help bring the outdoors in. You can see that it also employs a tiered floor and other dimensional design elements, which add depth and visual interest to the space without becoming cluttered or overwhelming. The Asian style is all about finding balance through asymmetry and peace through simplicity. Plank cabinet doors can help to achieve these kitchen styles.
2.    Coastal Style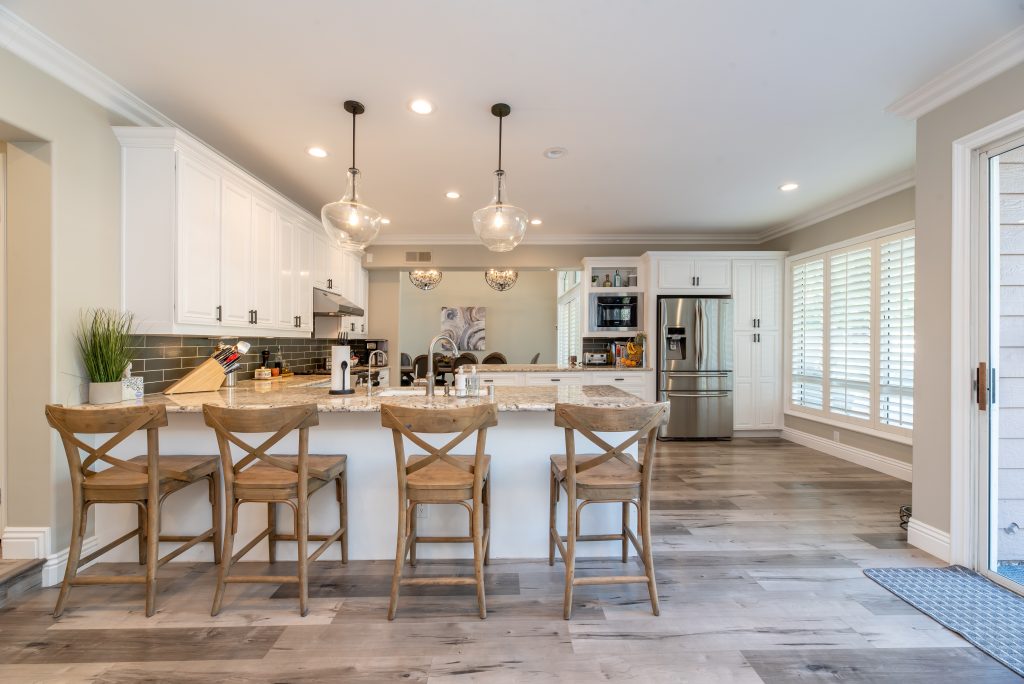 The coastal style embodies the essence of beachy, laid-back living; basically, it's a way to bring summer into your home year-round! In coastal-style homes, you'll find lots of earthy hues, natural textured fibers, and plenty of illumination. Linen and jute fabrics are a staple of coastal design, and color palettes typically consist of bright whites and other creamy hues, light beige and greige neutrals, and layered blue tones. You won't find anything too frilly or out there in a coastal-style home. It's all about chic simplicity with a touch of elegance.
3.    Contemporary Kitchen Styles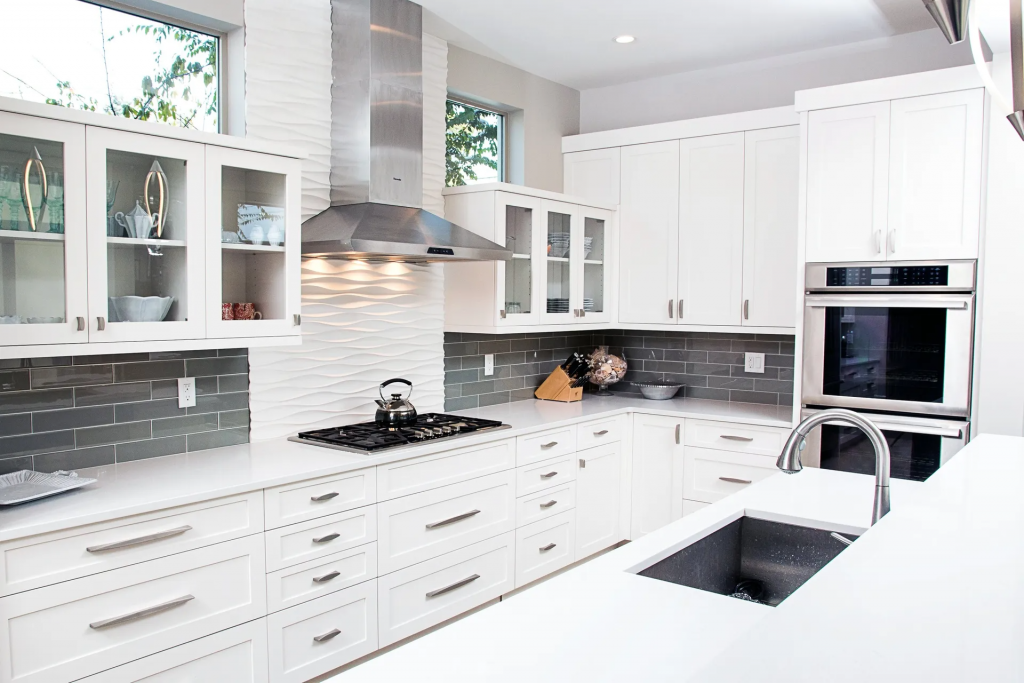 When you think of contemporary style, you probably think sleek, modern, and innovative. Contemporary homes may look futuristic, but they don't have to feel cold and uninviting. The key design elements of a contemporary kitchen are clean lines, a neutral color palette, and streamlined fixtures and appliances. This image shows a kitchen outfitted in whites, blacks, and greys – but despite its cool tones and overall minimalist effect, it's far from boring. Intriguing textures and materials paired with a range of cool neutral hues make this contemporary kitchen as fashionable as it is functional.
4. Country Style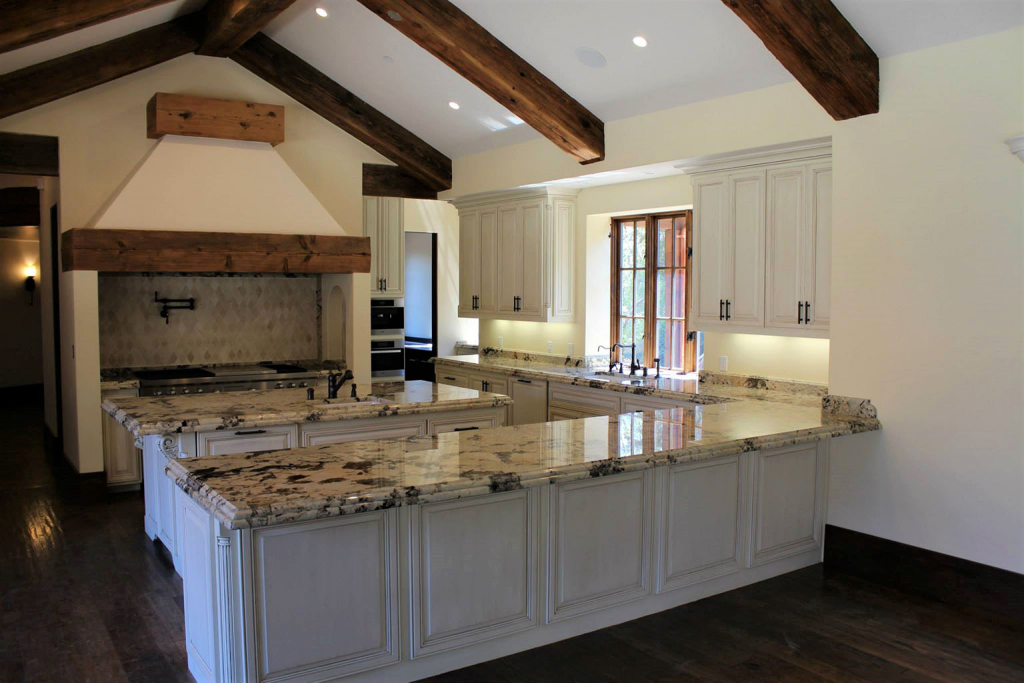 Country kitchen styles can be a little tricky to pin down, as it has a pretty broad definition depending on where you are and who you ask. However, there are a few familiar elements that seem to span most regions. Simply put, the country-style design evokes a sense of a different era. You'll almost always find muted, warm-toned neutral hues, dark wooden furniture, and you'll find lots of patterned woven fabrics in stripes, checks, florals. A country kitchen style is perfect for homeowners who prefer a vintage vibe. 
5.    Craftsman Style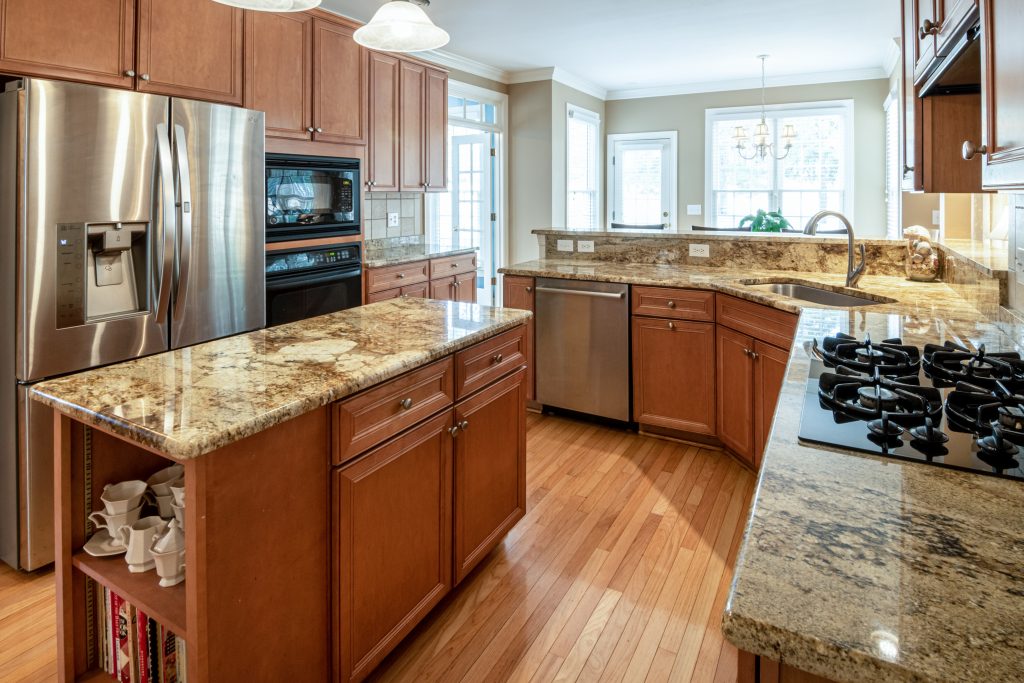 This interior décor style evolved out of the Arts and Crafts movement, which flourished in Europe between the 1880s and 1920s. Craftsman style rejected the stuffy ornamentation popular in the Victorian era and instead gravitated towards decorative handicrafts. The basic principles of this movement were about emphasizing the utility and beauty of a home and enjoying the finer things in life without succumbing to ostentatious glitz and glamor. Craftsman design is characterized by rich, earthy tones, open-concept layouts, and plenty of natural light. Wood is the staple textile of Craftsman design, thanks to the movement's emphasis on handmade artisan goods. Design elements like built-in cabinetry, bookshelves, and exposed wood beam ceilings are popular distinguishing features of the Craftsman style. At its heart, this style is classic, elegant, well-made, practical, and homey.
6.    Eclectic Style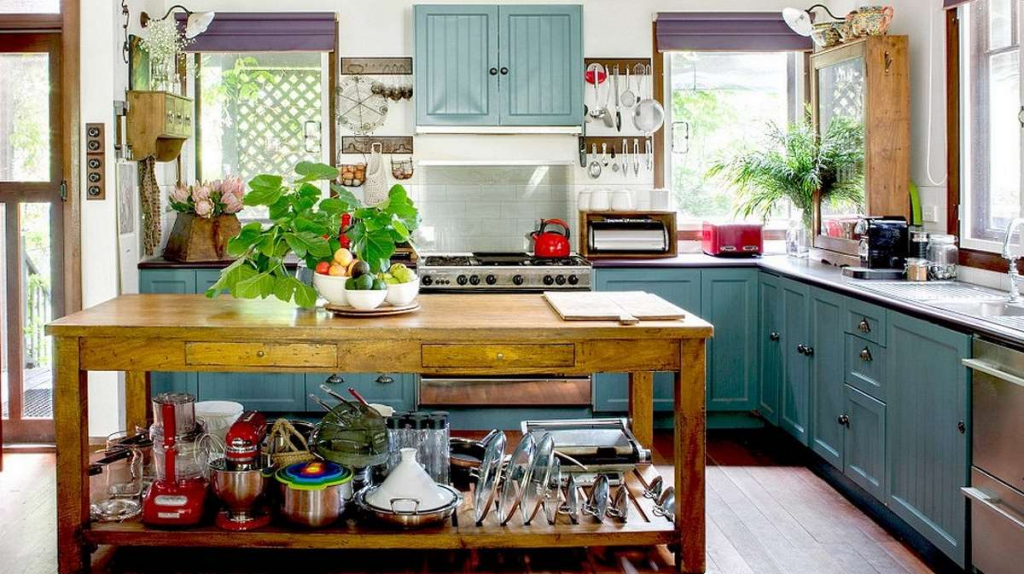 The eclectic style may not be for everyone, but those who have it genuinely love it. The name itself tells you what you need to know: the eclectic style draws inspiration from a range of ideas and designs. It doesn't subscribe to one single style category, and the only thing consistent about eclecticism is its inconsistency. It's layered and stylistically rich; it can be visually bamboozling, but it's also immensely cozy and welcoming. It's… eclectic!
If you choose to go eclectic, start by selecting a core color palette that you can layer with colorful and eye-catching accents. In this eclectic kitchen, you can see that the homeowner has elected for a cream-colored wash on the walls, with warm wood tones and cool accent colors. Even though the honey-hued wood furniture and mahogany floors aren't a perfect match, they are both warm-toned. Meanwhile, the blue shaker-style cabinets and purple blinds are both from the same cool-toned color family. The result is a kitchen that is unusual but still visually consistent – pulled together by brushed nickel fixtures and a splash of red throughout.
7. Farmhouse Style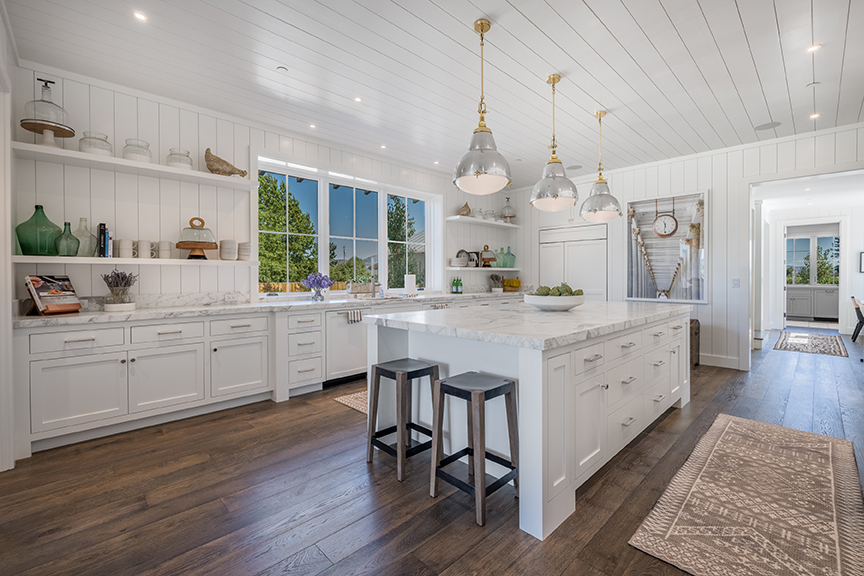 Practical, comfortable, and welcoming, farmhouse interior design makes for stylish country living. Unlike the 'country' kitchen styles, however, farmhouse design eschews the cozy preciousness embraced by the former. Instead, it embodies utility and durability while remaining sophisticated and sleek. In the kitchen reference photo, you can see that this homeowner is doing just that. The crisp white paint paired with the chocolatey wood floor makes for an elegant combination, while the vertical slats on the walls and across the ceiling are vaguely reminiscent of barn board. The kitchen is rounded out with beautiful yet functional elements like industrial-style pendant lighting, open shelving units, sleek stone countertops, and shaker-style cabinets. Although this farmhouse kitchen has elements of softness, its angular shapes and cool coloring keep it from sinking into dated kitsch.
8.     French Country Style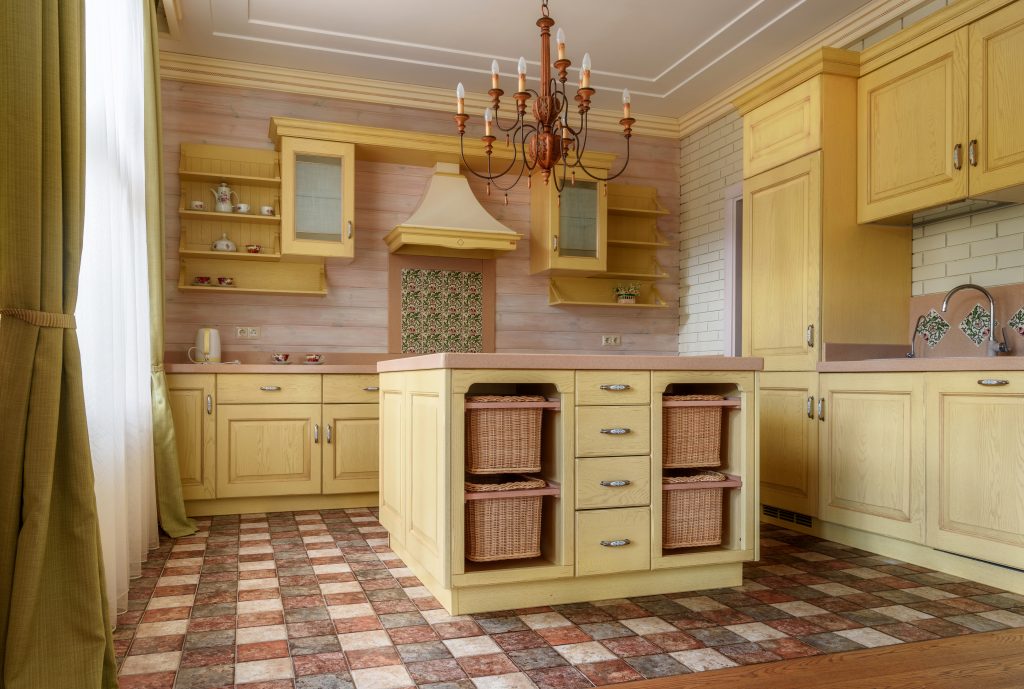 Unlike the standalone 'country' style, the French country style is regional, specific, and simple to define. It has the feel of a traditional kitchen, with beautiful, intricate details and large statement pieces like stunning range hoods and elegant drop lighting. But aside from just being oh-so-fashionable, the French country kitchen is also highly functional. Yes, there are plenty of decorative accents and details, but almost everything in this kitchen has a purpose. Some French country kitchens go for a more glamorous and sleek look, while others prefer a softer, rustic aesthetic. But either way, this style is tasteful, chic, and never boring.
The French country kitchen above is both subdued and incredibly unique: the farmhouse style cabinets are relatively simple, but the color scheme of browns, light pinks, and buttery yellow combine for a fantastic finished product. The exposed brick wall, muted-yet-colorful tile, and intricate backsplash make this kitchen unforgettable. Any raised panel cabinet door will help you achieve the look and style of a French Country kitchen.
9. Industrial Style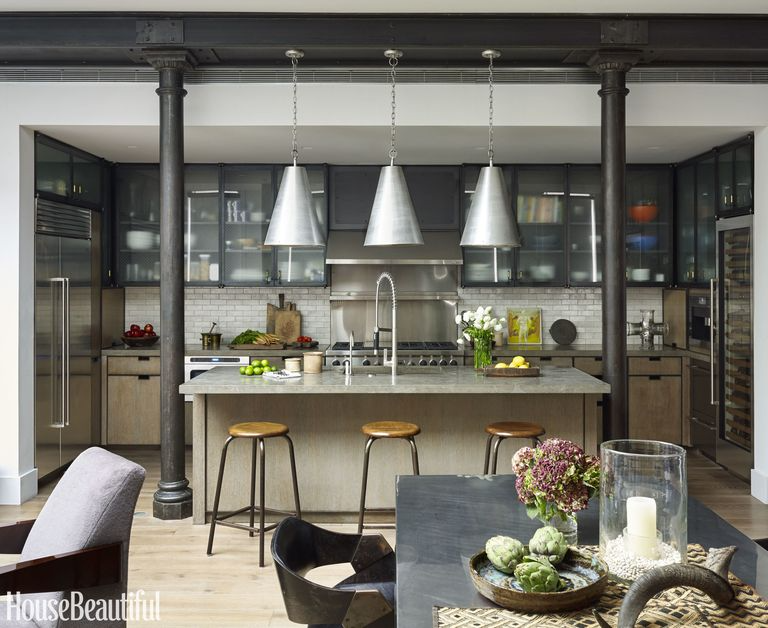 You always know industrial interior design when you see it. That's because it's not particularly common in suburban homes. Sure, homeowners often adopt industrial elements into their modern and transitional kitchens, but a purely industrial kitchen is far rarer to see. But much like eclecticism, those who embrace this unique style truly love it. Industrial designs typically use muted color palettes, and black, grey, silver, brown, and white tones are particular favorites. It's known for its rough-and-tough aesthetic, using materials that you might associate with a construction site. Concrete, metal, natural stone, and wood are commonly used materials, and you may even see exposed bricks, piping, beams, and pillars – like the ones in the industrial kitchen above.
10. Mediterranean Style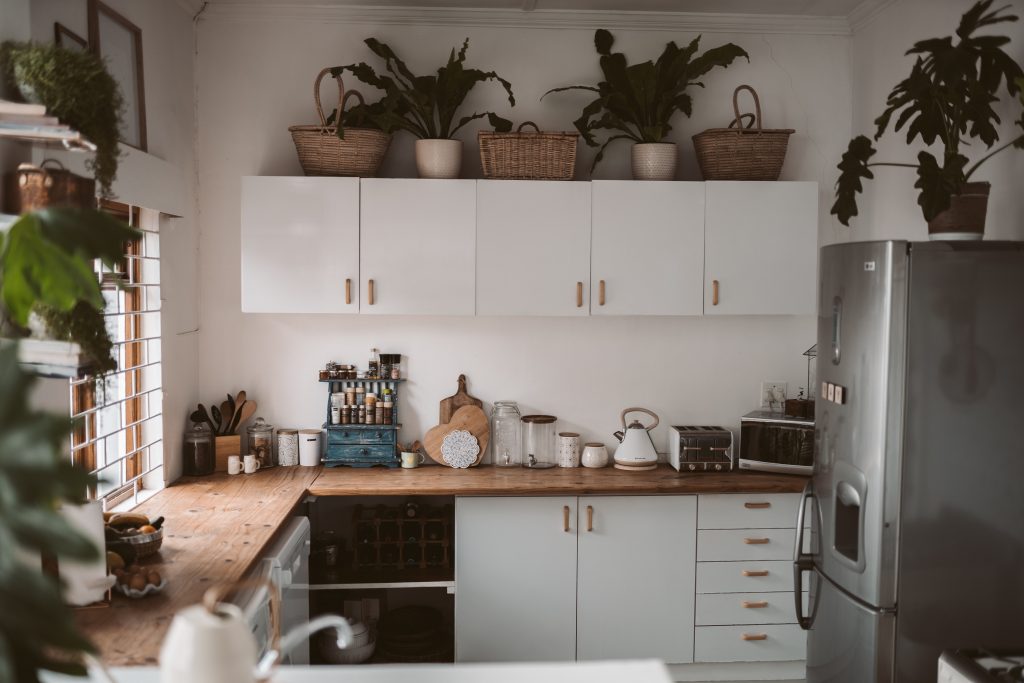 Light, breezy, and romantic are all words that can characterize a Mediterranean-style kitchen. With Mediterranean design, you'll often see light, neutral color palettes that utilize soft creamy tones – off-white is more common than true, bright white and light wood tones like ash and honey. Geometric tile and mosaic work also make a regular appearance in Mediterranean kitchens. Although there is no actual tile in the kitchen in the photo above, there is a brick-style grid covering the window, hinting at geometric tilework. The simple slab cabinets, gorgeous wooden countertops, and matching wood hardware imbue the kitchen with a sense of peace, while the abundance of flora gives it that lush Mediterranean feel.
11. Mid-century Modern Style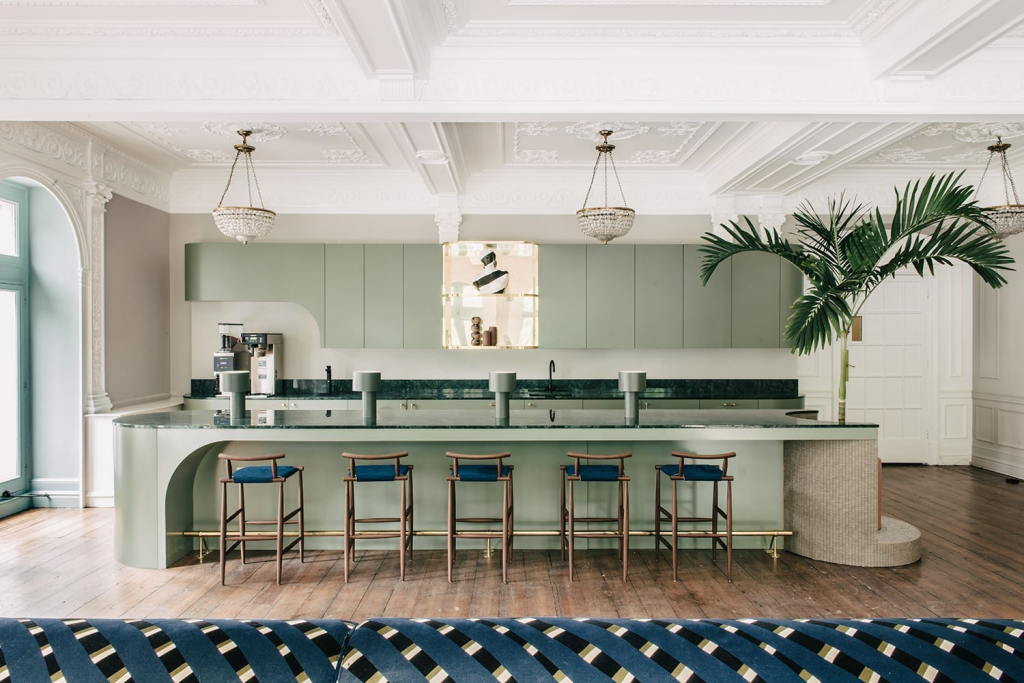 Mid-century modern style was born out of an early 20th century aesthetic movement called Bauhaus. It was immensely popular from around the 30s to the 70s—although once again, it depends on who you ask—though its heyday was undoubtedly in the 1950s. Mid-century modern was (and still is) characterized by open-concept layouts, 'honest' materials, simple, unornamented design, and functionality. Like Asian-inspired design, mid-century modern is all about harmony with nature and is best complemented by wood tones and floor-to-ceiling windows that let in lots of natural light. You can see those windows of full display in the sample kitchen, along with the curved detail on the island and matching slab cabinetry—a perfect display of the 'clean line' tenet beloved by mid-century modern designers. Simplicity and minimalism abound, although its sage green cabinets, rich blue furniture accents, and bronzy metallic tones ensure that this kitchen is a feast for the eyes.
12. Minimalist Kitchen Styles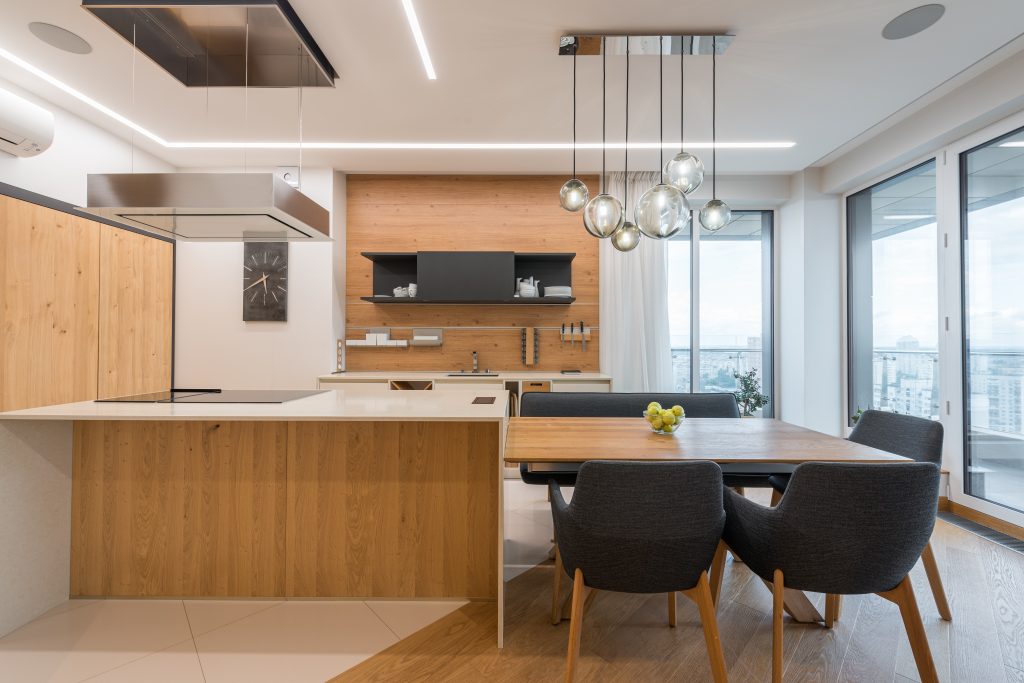 We use the word 'minimalism' a lot when it comes to interior design, but true minimalism is characterized by visual austerity and lack of extraneous architectural frills and furniture. This is the definition of bare-bones decorating, but that doesn't mean it doesn't take effort and coordination. With this style, you'll find an abundance of clean lines, both straight and curved. Minimalist spaces typically adhere to neutral color palettes with minimal variation. To keep the area looking as visually streamlined as possible, only a handful of colors are used throughout, or you may see one color in several hues. In the kitchen above, you can see all the wood is matching, and the only contrasting colors are also neutral tones: silver in the fixtures, cream in the surfaces, and charcoal in the furniture and the unique slide-front shelf/cabinet.
13. Modern Style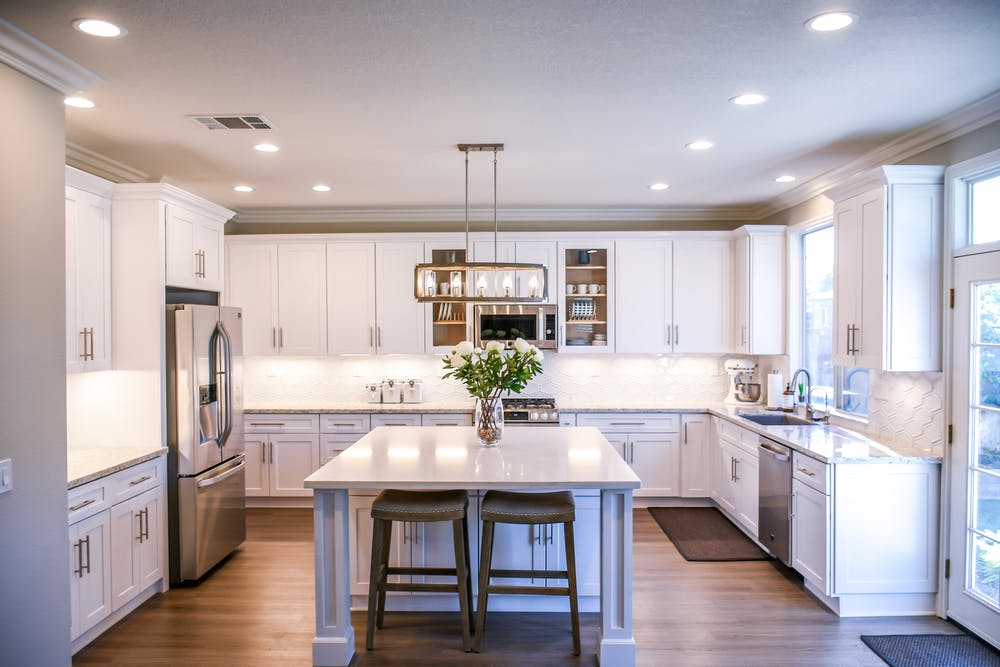 Based on their names, you might think that modern and contemporary kitchen styles are the same – but they're actually quite different. Contemporary style is modern by today's standards, while modern style is more closely aligned with the aesthetic of the 1970s. It's minimal and fuss-free, and while it does often adopt a neutral palette, it also doesn't shy away from the use of bold block colors. It embraces simplicity and industrial materials and clean, geometric lines, moving away from the frills of the past. Modern style can be quirky, but it can also be clean, classic, and timeless.
14. Retro Style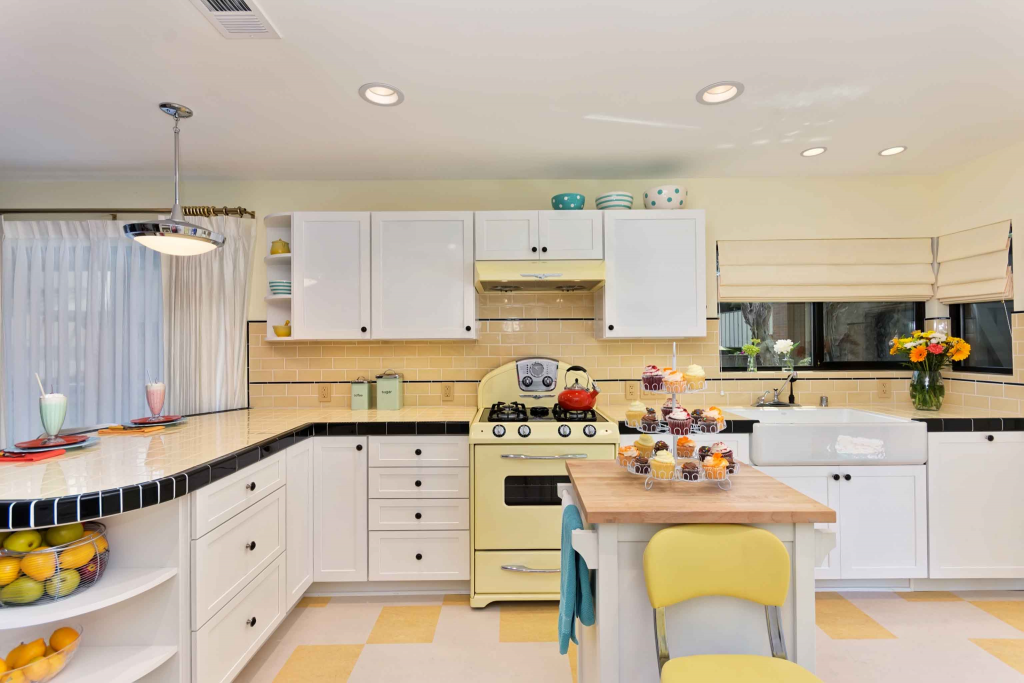 When people think of retro design, the first thing that comes to mind is a retro 1950s-style diner. Retro style invokes the aesthetic of a time long gone, but it might not be as dated as you think! In fact, checkerboard floors keep cycling back into fashion. Although we associate square linoleum checks with the rockabilly era, checkerboard floors have been around pretty much since time immemorial (i.e., the diamond-checked marble floors in the Palace of Versailles). Tessellated tile can be surprisingly versatile, but try pairing it with some other vintage design elements for the perfect retro look. Pastel hues—like butter yellow, baby pink, powder blue, and mint green, for example—can be used in the cabinets, paint, or backsplash, as seen above. Curved shapes in both the architecture and furniture are a must, and cute vintage lighting, like the drop pendant shown above, can make all the difference.
15. Rustic Style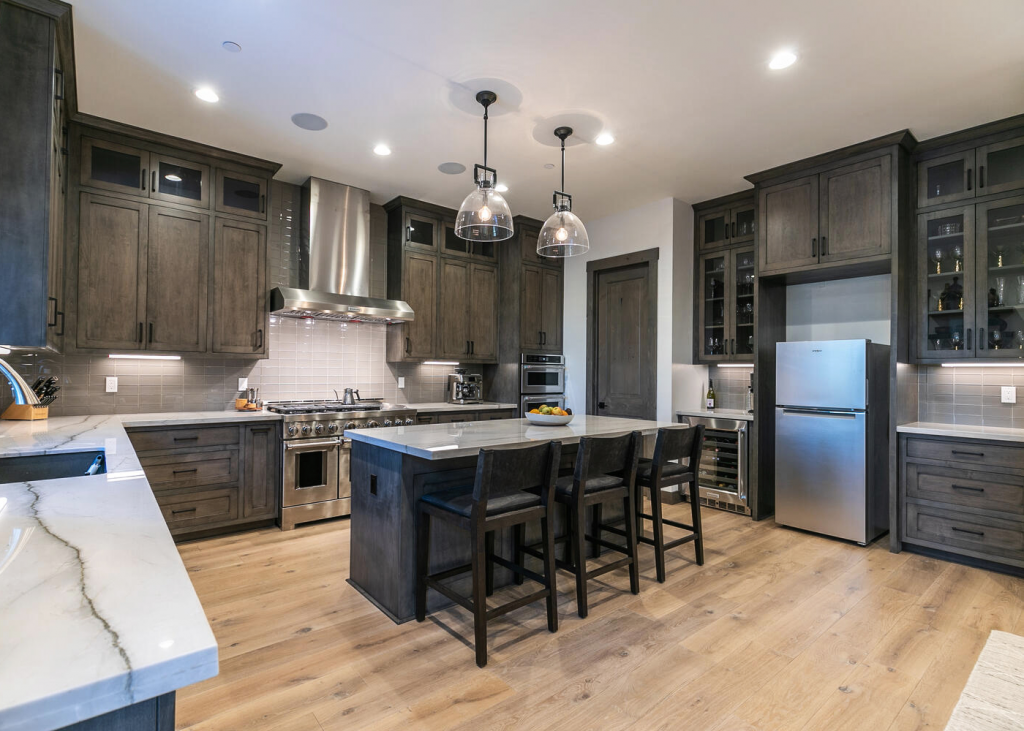 Rustic design is all about going back to our roots. It's about embracing nature and simplicity and giving new life to old materials. You'll rarely find bold colors, manufactured materials like plastic, or extravagant detailing in a rustic-styled home. In the color palette of a rustic home, you'll find neutral tones like brown, grey, grey-blue, cream, tan, beige, olive, and terracotta. Stark white and black hues are less common but not unheard of, especially as an accent color. More natural textures, like jute, wool, leather, linen, wood, and unpolished stone are favorites of rustic designers. These kitchen styles are simple and unornamented, but nonetheless comfortable and stylish. Basically, a rustic home should be the visual equivalent of a warm hug. 
16. Scandinavian Style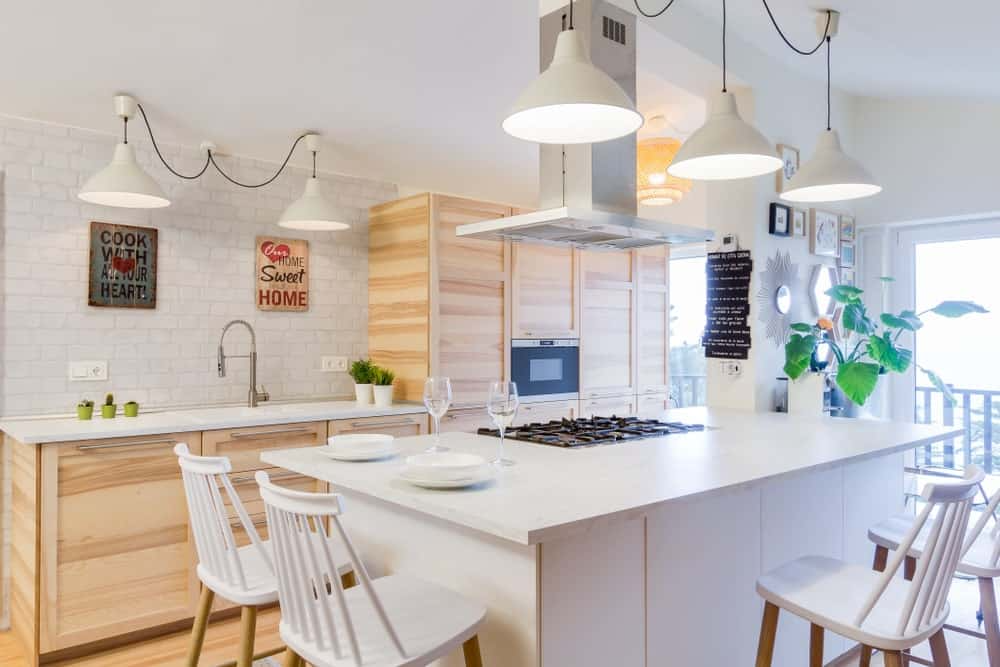 The Scandinavian style could be described as an aesthetic blend of rustic and minimal, similar to movements like mid-century modern. Scandinavian style hails from—where else—the Scandinavian countries of northeastern Europe and primarily focuses on a home's simplicity and comfort. In Scandinavian-style homes, you'll see a combination of soft, neutral hues, nature-inspired materials, and cozy textures. There's nothing too stark or sharp here, just clean lines, neutral tones, and earthy materials like wood and fabric, though this style also doesn't shy away from modern technology like the digital oven shown above. Utility and comfort are at the heart of all things Scandinavian, and the design style is also influenced by the Danish lifestyle phenomenon known as hygge. You're likely to recognize the Scandinavian style as the calling card of the global mega-brand, IKEA.
17. Shabby Chic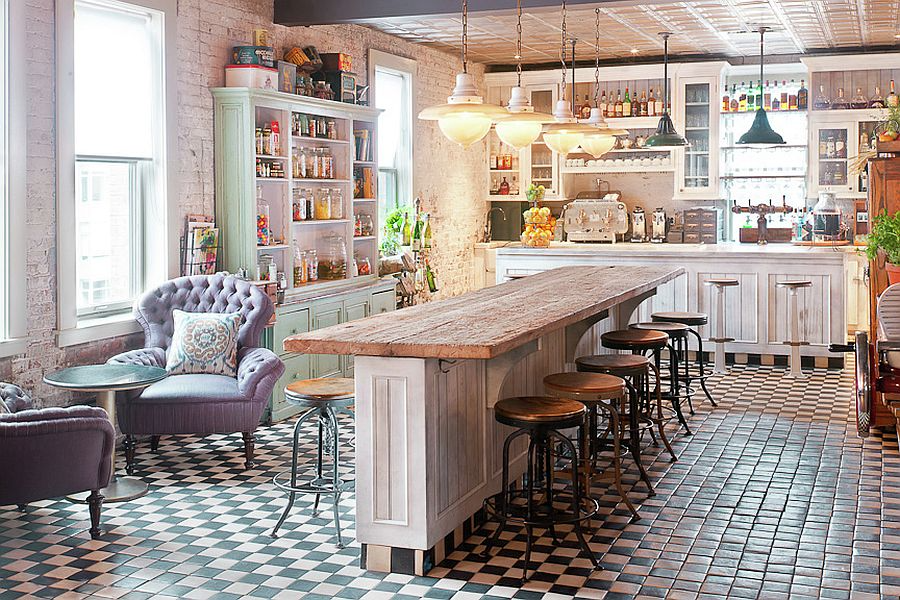 One part repurposed vintage, one part modern styling, 100% chic. Shabby chic is all about the art of upcycling, and the finished product is a space that evokes styles of the past with a modern twist. The best way to do shabby chic in your own space is to start with a light and/or neutral wash on the walls. This gives you the most flexibility when it comes to adding accents and furniture pieces. In the sample kitchen, you can see that the homeowner used exposed brick covered with white paint (a shabby chic staple) as the backdrop for the rest of the space. Then, they added a white island, bar, and mission-style cabinets layered with wood, black and white accents, and green and purple pastel shades. The distressed wood island topper paired with the vintage-inspired furniture sets this kitchen off to perfection.  
18. Southwest Style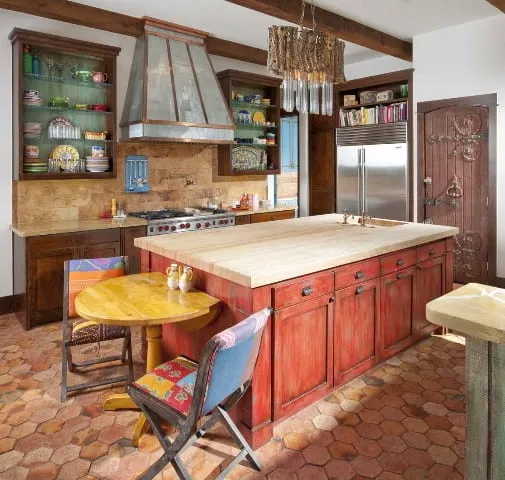 This design style is inspired by the American Southwest and takes many of its aesthetic cues from Spanish, Mexican, and Native American cultures. This style is dominated by a warm color palette consisting of neutrals (cream, tan, beige, brown, and black) and saturated shades (terracotta, red, blue, yellow, and green). Southwestern design is both eclectic and cohesive, and you'll see plenty of patterned materials, including tile mosaics—shown in the southwest kitchen above—adobe pottery and woven fabric. Navajo and Mexican cultures both use prominent graphic patterns, which often appear in Southwest-style blankets, rugs, furniture, and decorative hangings. Wood and wicker are also commonly used, and architectural lines are typically square and blunt.
19. Traditional Kitchen Styles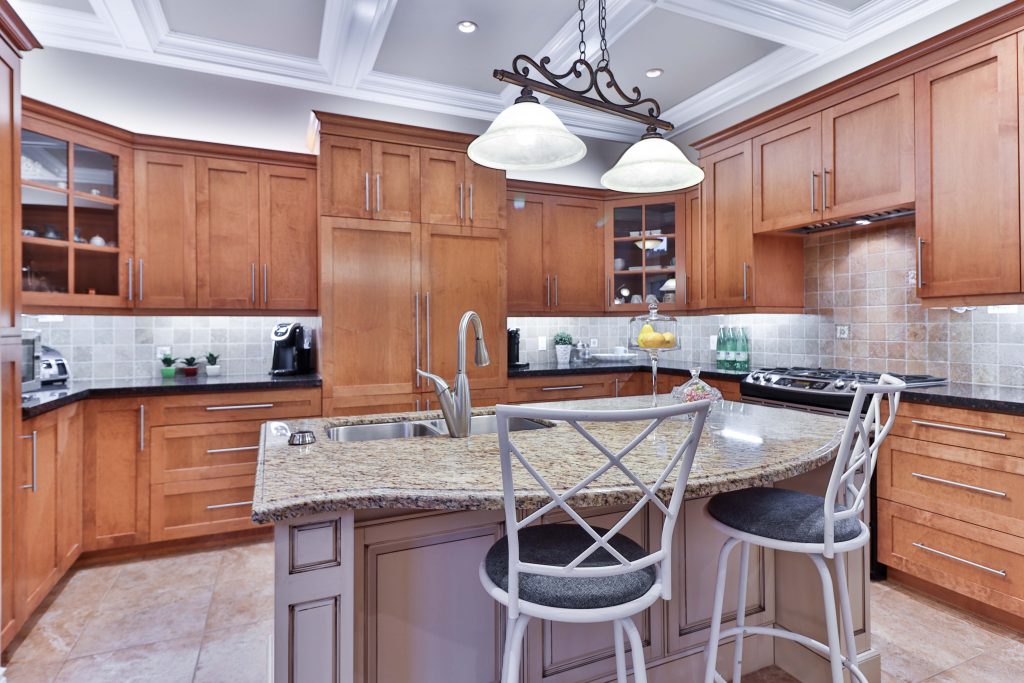 The traditional design pays homage to the grandeur and elegance of European aristocrats' homes. If you look closely, you'll see refined details that you might associate with the architectural styles of old. Crown molding, carved wood, polished natural stone, symmetrical design, and embellished curves are just a few. In essence, the traditional style is luxurious and, in a word, regal. The color palette is typically neutral but warm and often features dark, heavy wooden furniture pieces, like opulent desks and tables and cushy, upholstered seating. Flourishes abound, and traditional kitchens have an affinity for beautiful detail, even if it's not always utilitarian.  
20. Transitional Style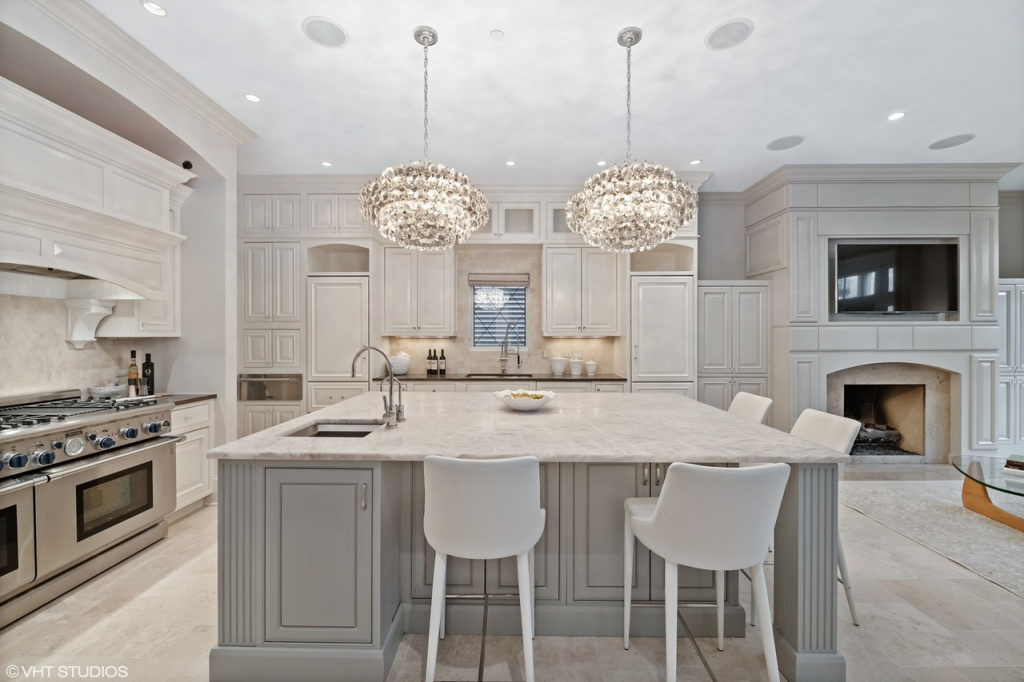 Transitional style seamlessly combines traditional with modern. It's a happy medium that imbues a space with both elegance and functionality. It's more likely than its traditional counterpart to eschew flounces and flourishes, but it still maintains the same essence of luxury. Instead of warm color palettes, you may see more cool tones, including whites, greys, grey-blues, and silvers, which may bring a hipper and more modern feel to the space. The transitional style doesn't shy away from metallics and likes to bring a hard edge of innovation and modernity to the otherwise soft and opulent traditional style. This is a perfect style for homeowners who want to maintain a balance between trendy and elegant.
What's your style? Are you funky and chic, or luxurious and classic? Do you embrace over-the-top, or do you keep it minimal?
Once you've found the style that feels like home, we've got you covered. Get in touch with Fast Cabinet Doors and bring home your style today!