Keeping your home organized isn't always a breeze. That's why you need the right tools to help you stay on top of the clutter. For all your kitchen organization needs, Fast Cabinets is here to help. Our products run the gamut from small-space storage to ultra-accessible solutions and everything in between.
Today we're going to outline some of our favorite kitchen organization ideas. Let's dive in!
Top 15 Kitchen Organization Products and Ideas
Kitchens tend to have some common problems where design is concerned. Ultimately, you want to make the best use of the space and eliminate any dead zones where possible. Here are a few highly practical ideas to help you optimize every aspect of your kitchen design, even in small spaces.
1. Pie-Cut Lazy Susan
Corner cabinets are kind of a necessary evil for kitchen cabinetry. They aren't particularly functional, and they're notoriously difficult to organize. So even though they must be there to create the ideal kitchen layout, they can be a real pain in the butt when it comes to storage. Pie-cut lazy Susans are a practical solution for the oft-maligned corner cabinet zone.
You've likely heard of the tabletop lazy Susan, but the pie-cut is designed specifically for corner cabinets. Our corner cabinet lazy Susan consists of two fully rotating pie-cut lazy Susan shelves. The notched unit fits snugly inside the corner cabinet when the door is closed, but the shelves spin when opened, allowing easy access to everything stored inside. High-quality, sturdy, durable, cost-effective, and easy to install, the pie-cut lazy Susan is ideal for those tricky kitchen corners.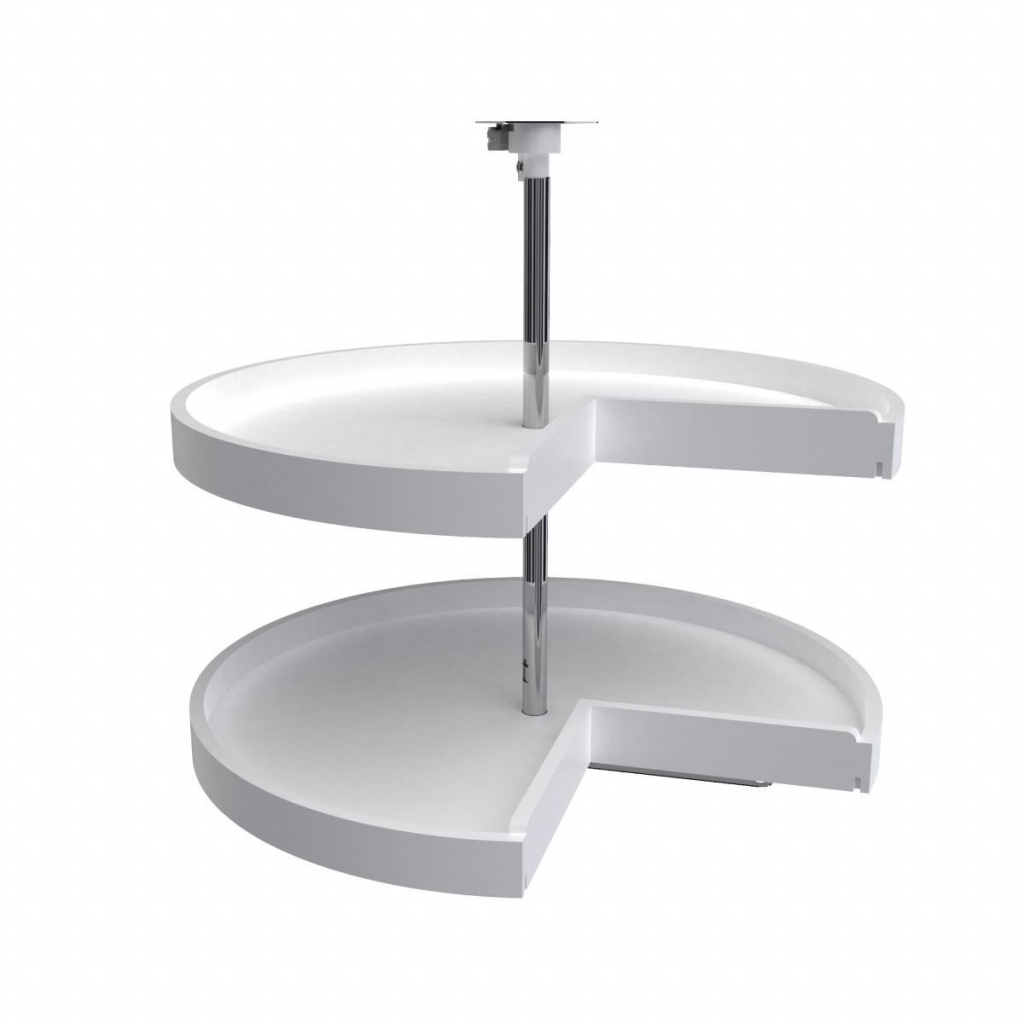 2. Natural Wood Full Circle Lazy Susan Set
If the pie cut isn't your cup of tea, why not try the natural wood full-circle lazy Susan set? Much like its pie-cut counterpart, it features fully rotating lazy Susan shelves, but it has three shelves instead of two and lacks the other's triangular notches. This makes it ideal for any cabinet—corner or otherwise—and makes it oh-so-simple to access all your stored items and make the most of the available space. As a side note, this unit is perfect for taller cabinets.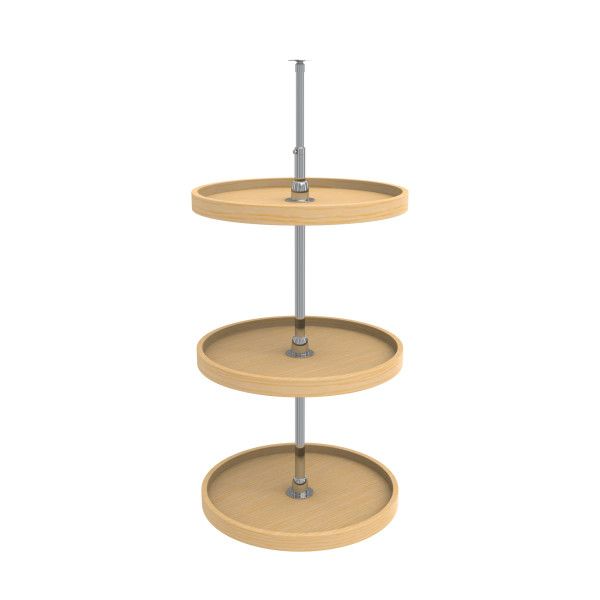 3. Heavy Duty Mixer Lift
Are you tired of hoisting your kitchen mixer from cabinet to countertop? Sure, it's a helpful tool to have, but it's also extremely heavy, and getting it out of storage can be a chore—especially if it's stowed behind your daily-use appliances.
At Fast Cabinets, we're pleased to stock a product that will help you eliminate organizational mixer mix-ups. Our Heavy Duty Mixer Lift cabinet unit is a chrome mechanism specially designed to hold up to 60 lbs. of weight. It can be attached to any custom-built shelf and is easily stowed away inside any cabinet. When in use, the stand mixer cabinet lift opens right out of the cabinet, bringing your mixer to the perfect countertop height. With the mixer lift cabinet unit, it's easy to use and stow your device without having to lift a finger.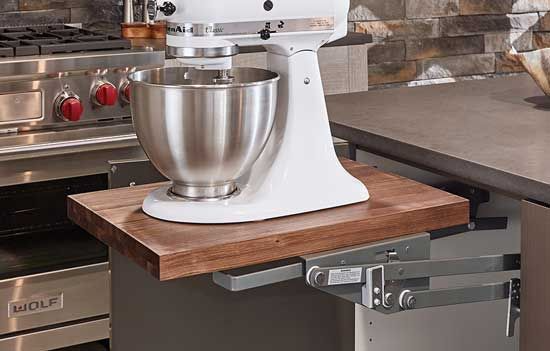 4. Cabinet Door Mount Adjustable Spice Rack
Stow your spices stylishly with Fast Cabinets' cabinet door spice rack. Simple yet stylish, this product makes it easy to organize your spices and keep them handy to the work zone while keeping them tucked away from the hustle and bustle of your kitchen.
Made from wood, this cabinet door-mounted spice rack comes with three vertically adjustable shelves. Each shelf is attached with a simple but sturdy metal hook, making it simple to customize the shelf height when needed. The unit also comes in various widths, so there's a spice rack to fit every shape and size of cabinetry.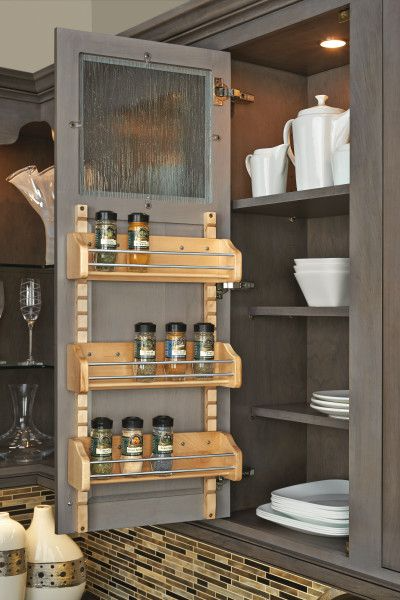 5. ST50 Series Spice Tray
For a different way to stow your spices, we also carry the ST50 Series Spice Tray. Rather than hanging your spices on the inside of your cabinet door, the spice rack drawer tray allows you to lay your spices flat while using tiered racks to keep them visible and organized. Although slightly less customizable than its hanging counterpart, the spice tray drawer insert is still a budget-friendly and straightforward solution for your spice storage woes.
6. White Polymer Tip-Out Tray
Are you tired of countertop clutter? If so, you'll love Fast Cabinets' kitchen cabinet tip-out tray. This product is designed to install on false front panels and is perfect for storing sponges, scrubbers, and other unsightly kitchen tools. Our tip-out trays for cabinets are made from white polymer and can be cut and custom-sized to almost any cabinet. This product also comes with two molded end caps that can be easily removed for simple cleaning. With our kitchen sink cabinet tip-out trays, it's so simple to keep your counters clean: just stow and go!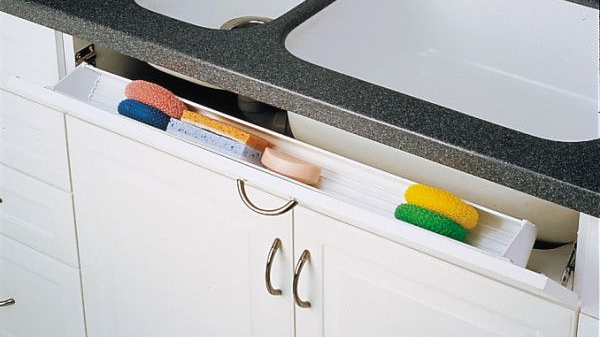 7. Pull-Out Cookware Organizer
If you've ever had to extricate a piece of cookware from a drawer full of loose pots and pans, you know what an absolute racket the process can be. Not only are pots and pans challenging to store because of their weight and shape, but they're also extremely loud. One wrong move can turn your delicate stack of cookware into a tumbling Jenga tower, accompanied by a din loud enough to wake the dead.
Thankfully, Fast Cabinets make it easy to store your pots and pans, thanks to our Pull Out Cabinet Cookware Organizer. With its two independently operating wire racks, the base cabinet cookware organizer is a revolutionary way to store your heavy kitchen goods. This product was designed with weight in mind: the wireframe is built to hold 100 lbs. while fully extended. The top shelf is perfect for organizing your lids, while the bottom tier is built with adjustable dividers for storing even your heftiest pots and pans.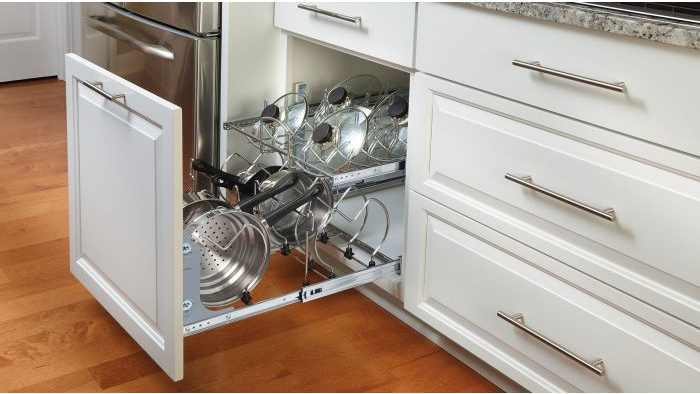 8. Knife Block
A good knife block can be a stylish accessory for your countertop, but not everyone enjoys having their knives displayed in plain sight. For those folks, Fast Cabinets has the perfect solution. Our in-drawer knife block keeps your utensils neatly organized and hidden from view. And if you have young ones in the house, having your kitchen sharps carefully stored provides much-needed peace of mind.
The block's ready-made design features three sleek compartments and 19 blade slots of various sizes, and its drop-in installation is incredibly simple. Beyond that, our wood knife block drawer insert is easily customizable: you can select your finish and dimensions, so the unit fits seamlessly into your existing cabinetry. This makes your kitchen organization a breeze!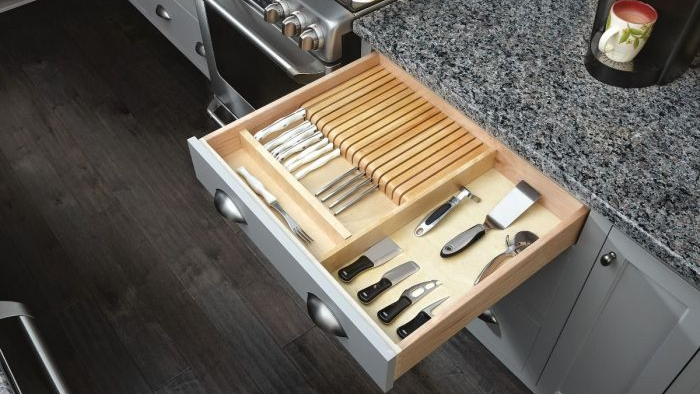 9. Wooden Pull-Out Bottom Mount with Waste Container
Kitchen organization goes beyond your drawers and hard to manage cabinets. Our pull-out trash drawer makes it cleaner, easier, and more sanitary than ever to get rid of the garbage. This sleek, slide-out waste disposal solution is super customizable: you can choose the number and size of your bins, as well as the motion of the slide closures. You won't have to worry about the drawer slamming shut, even under the heaviest of loads!
The trash can pull-out drawer features unique bottom-mounted units and pre-assembled door-mount brackets for incredibly simple installation and use. With a design this sleek, you'd never know it's used to store the trash.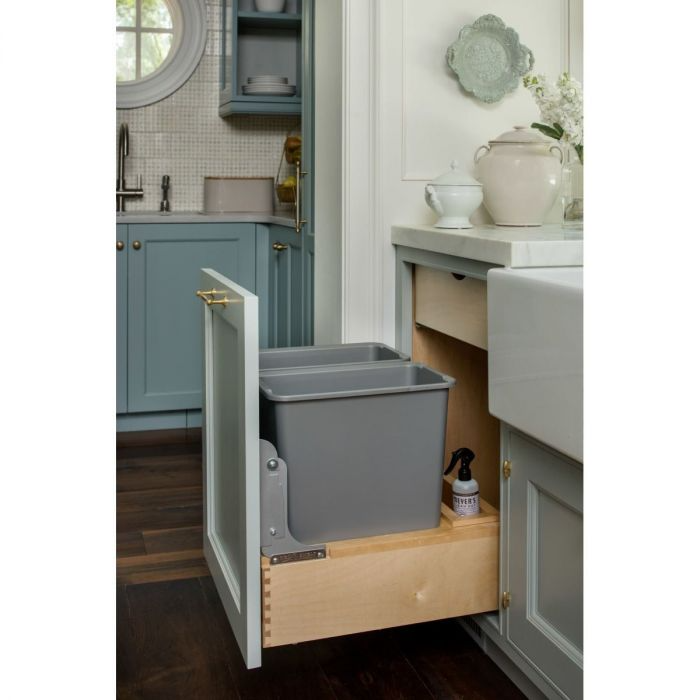 10. Pull-Down Shelving System
Are your kitchen shelves too high up to reach? If you're tired of fetching the step stool every time you need to retrieve something off the upper shelves, then this kitchen organization solution is for you. Fast Cabinets' pull-down upper cabinet shelves are designed for simplicity and ease of use, no matter how tall or short you are. 
With its super-stable and smooth range of motion, this two-tiered wire shelving unit pulls down 11.5 inches. To accomplish this task, our cabinet pull-down shelving system features a unique gas-powered lifting and lowering mechanism, which means you don't need to worry about rattling any dishes loose while you're using it! This unit comes in two different sizes and includes both side and bottom brackets for easy mounting.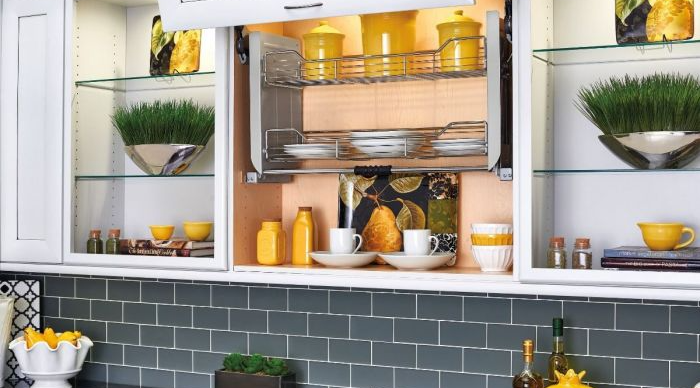 11. Door Mount Foil Rack
Why keep a stack of foil rolls in your pantry when you store them in Fast Cabinets' door-mounted rack? Free up precious space and stow your foil in style with our beautiful wooden foil storage rack. Available in different sizes with adjustable mounting brackets, this unit is as simple to use as it is nice to look at.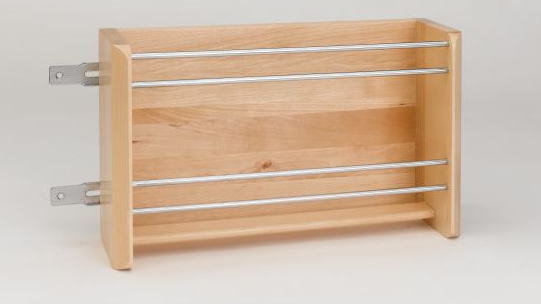 12. Cutlery Drawer Insert
Organize your utensils in these elegant cutlery tray inserts for drawers. The simple wooden design and multi-compartment storage is an affordable and practical way to keep your utensils neat and tidy. With two sizes that can be trimmed to fit any drawer and breezy drop-in installation, this unit suits all kitchens.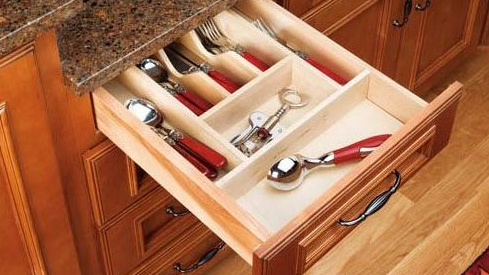 13. Pull-Out Removable Cleaning Caddy
With our cleaning supply caddy, you'll never again have to scour the house looking for your cleaning products. The pull-out kitchen cleaning caddy organizer with a carrying handle is incredibly handy and makes it so simple to store all your necessary products in one place.
Tracks install directly in the cabinet for easy access, but the caddy itself lifts out so you can bring it with you where you need to go. Its unique shape makes it possible to store the caddy alongside plumbing pipes, plus the top tray is removable. And on top of its adjustable size, the caddy is still big enough to hold a handful of product bottles and a roll of paper towel.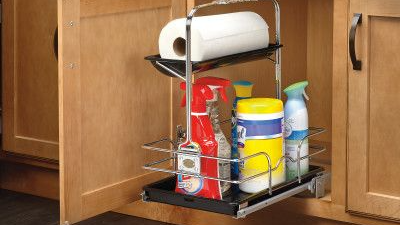 14. Pull-Out Pantry
Does there never seem to be enough room in your pantry? With our pull-out pantry, you'll never cry those blues again. This unit's sleek, streamlined design is both fashionable and functional. It's solid and durable and features a soft-close door, so you don't have to worry about slams and jams. The pantry is constructed of gorgeous wood and has two adjustable shelving units that extend right out of your cabinet. It's incredibly accessible and practical without having to compromise an ounce of style.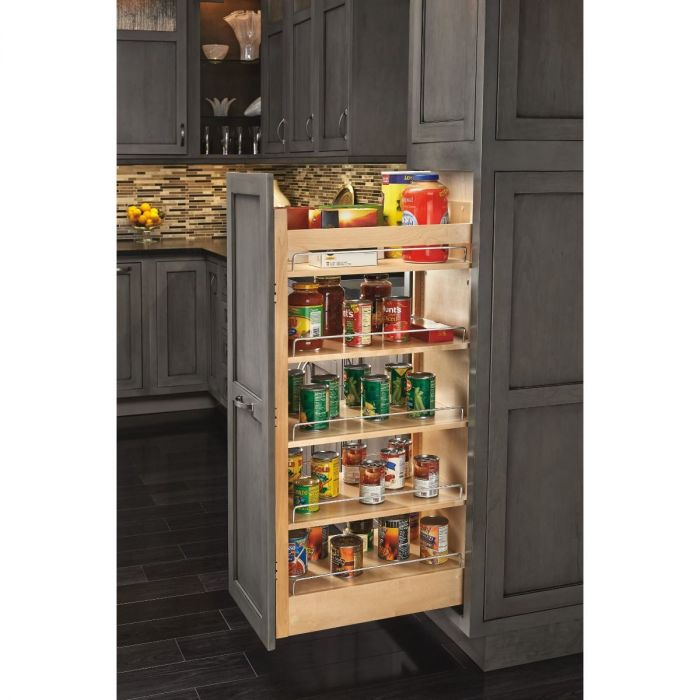 15. Cabinet Door Mount Cutting Board Storage
Our cutting board door mount storage unit stows your cutting boards neatly out of sight but instantly handy when you need them. This Rev-A-Shelf unit features hardwood side brackets, coated support racks and comes complete with mounting hardware and a high-quality maple cutting board included. Nice enough to mount on the outside of your cabinets but made to keep them tucked away, this cutting board storage rack is roomy enough to fit additional cutting boards, baking sheets, or similar-sized items.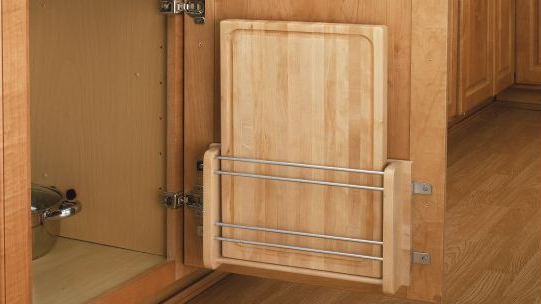 Have you found the perfect solution for your kitchen organization? We have hundreds of kitchen cabinetry products at Fast Cabinets, all designed to help you create an organizational oasis in your home. If you didn't find what you're looking for on this list, be sure to browse our cabinet organization collection to see what else we have in store.