DECK THE HALLS WITHOUT THE HEADACHE WITH THESE SIMPLE CHRISTMAS KITCHEN DECORATING IDEAS
Getting your kitchen ready for Christmas requires a bit more than cookies in the oven. The endless isles of superstore decorations and hobby store craft pieces can be overwhelming, to say the least. It's enough to make you want to ditch the holiday section and go home with a nice Pinot instead, but with just a few tips and a bit of confidence, you can transform your favorite room into a holiday happy place with enough time left in the evening to share that bottle with someone special in the romantic glow of twinkling string lights.
How to Decorate Your Kitchen for Christmas
Keep it Traditional
Instagram and Pinterest might make you feel like you need to create some fantastically contemporary winter wonderland inside your home, but traditional themes can be even more appealing and much easier to pull off because of the wide variety of décor available. Avoiding clutter reduces the amount of décor you have to buy and allows viewers to appreciate the scene more. As Coco Chanel said, "Simplicity is the keynote of all true elegance."
Pick Your Favorite Color
The first step to building your theme is planning your color scheme. Any color can be turned into a Christmas color scheme if you apply it right. Choose a cool or neutral for your main color and something complementary for your accent color. If your accent color seems overused, add a secondary accent color that really pops. Christmas color trends in 2020 are leaning towards earthy neutrals like tops, tan, and brown on white with ample greenery and a vibrant accent.
Shop Off-Season
If you want your décor to be a big hit without taking a big hit to your budget, shop for your holiday decorations in the offseason. You'd be surprised how cheaply you can get handmade or high-end pieces when it's 90°F and sunny outside. Make your whole home look professionally decorated without breaking the bank just by planning early.
General Christmas Kitchen Décor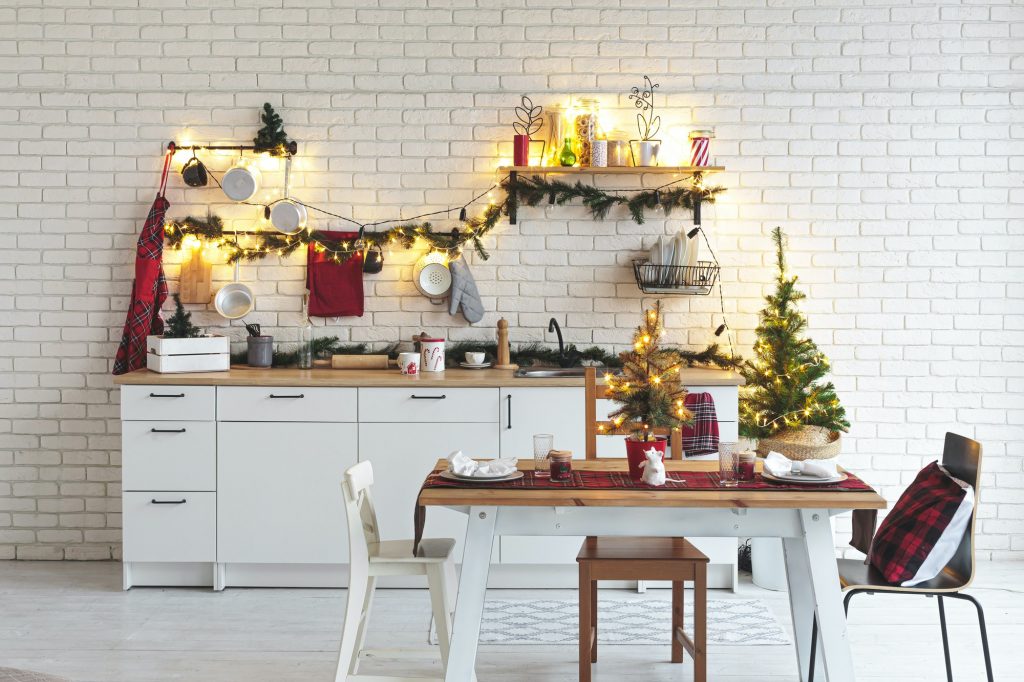 If you know what to look for, kitchens can be one of the quickest and easiest rooms in the house to decorate for the holidays. That's because kitchens tend to have standard elements that can be swapped out for Christmas-themed substitutes. For example, you can trade your regular hand towels with Christmas kitchen towels. Same for your oven mitts and even your window dressing. Take a second to look around and identify what you can swap out to bring Christmas to your kitchen in just seconds.
Don't Forget the Christmas Kitchen Rugs
Kitchens tend to have cold flooring that's designed to be easy to clean and resistant to water damage. Warm up your entire kitchen instantly with a Christmas kitchen rug. This super-affordable trick floods your kitchen with holiday cheer with minimal effort. If you have a large kitchen, add a Christmas kitchen mat in front of the sink to balance the space.
DIY Décor
Make it fun to make the most of your reusable materials. Get your family or a small group of friends together to DIY some holiday wreaths or decorations with stuff you have laying around the house. Make a night of it with a Christmas movie or a glass of eggnog. Remember to plan any gatherings safely this year.
Do Some Christmas Decorating Above Kitchen Cabinets
The cabinets are one of the largest and most prominent features of the kitchen, so don't leave them out while designing your culinary winter wonderland. There aren't many products that are designed specifically to be kitchen cabinet Christmas decorations. By setting your sights on the frame (or the nook, if you have one) above the cabinets, you can choose from a huge selection of decorations without getting in the way of the cabinet doors. If you prefer eye-level holiday spirit, add some oversized bows and ribbons to your cabinet doors.
How to Decorate Your Xmas Kitchen Counters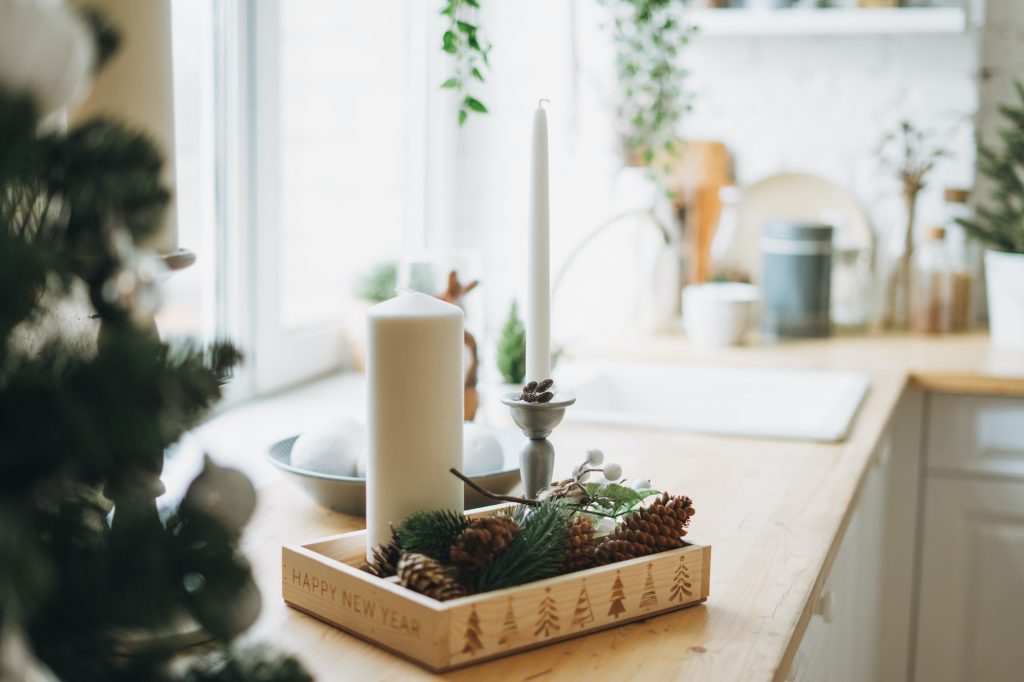 Warm up cold countertops and make your kitchen more inviting with a set of faux candles or a DIY arrangement of your favorite Christmas cards. Because of the upper cabinets and typically close quarters, it's best to use fake candles or leave candles unlit in the kitchen. Never leave lit candles unattended anywhere in the house.
If you have a large countertop, consider a nice display like a nativity, a tiny train that plays carols as it circles the North Pole, or a small, Christmas-themed fountain. Kitchen countertops often provide more room for elaborate or high-end décor than other spaces in the house, so you can get as creative as you like.
How to Decorate Your Xmas Kitchen Island
If your island has an overhanging countertop and an outlet, run some string lights below the lip. By hiding them underneath, you keep the warm glow while removing the harsh brilliance of the lights. Knock out two birds with one stone by turning your favorite snacks and desserts into island decorations. Draw visitors to your festive new kitchen with a tray of cookies or a beautiful bowl of candied nuts.
Pick a Day and Get Started
It's a well-known fact that it's never too early to start decorating for the holidays, but even if you like to wait until the traditional day after Thanksgiving, it's never too early to plan. Start looking around the kitchen when you have some time and think of what you already have that could work in the space and what you could pick up on your next shopping trip to brighten or soften those hard kitchen surfaces. Develop a theme or an extension of your home's existing theme so, when you're ready, you can grab what you need and get out like a pro. Most importantly, have fun. No one ever looked at holiday decorations and thought, "They should have taken this more seriously." Decorate your kitchen with things that make you smile and you can't go wrong.