There are those of us who are perfectly comfortable with painting – whether it be for an art project or a home renovation – and there are those of us that are terrified by the very prospect of it. For the latter, we've got some good news for you.
Keep in mind, whether you are painting your existing cabinet doors for an easy refresh, or painting your new doors before you finish your project, be sure to take all the time you need to follow the proper procedures, and you will be confident that your finished cabinet doors and drawers have a new look that will last them for years to come.
We've taken the liberty of breaking down each step, as well as the materials and tools you'll need to get the job done.
Quick Tip:
When it comes to paint applicators it's possible to achieve a nice finish with a brush or roller. However, a spray gun is optimal for the best possible finish.
Materials/Tools
Primer
Finish Paint
Fine grit sanding paper or sanding blocks
Tack cloth
Paint applicator (Spray Gun/Brush/Roller)
Drop cloth
Step 1 – Priming
When painting cabinet doors or drawer fronts it's important to start with a quality primer coat. Not all primers are created equal however and certain types will not work well when painting new cabinet doors. For this type of project it is best to use a high adhesion primer.
Quick Tip:
We recommend avoiding all in one paints and primers as they do not apply as well in this situation.
When applying primer to the doors some things to keep in mind is to apply a light even coat and to minimize brush strokes. Even though primer will be covered with two finish coats it is important to keep brush strokes flat and even to prevent clumping when applying finish paint. After applying primer allow the doors to dry fully before applying your finish paint.
Quick Tip:
If you are going from a darker color to a lighter color, get your primer tinted with your final color.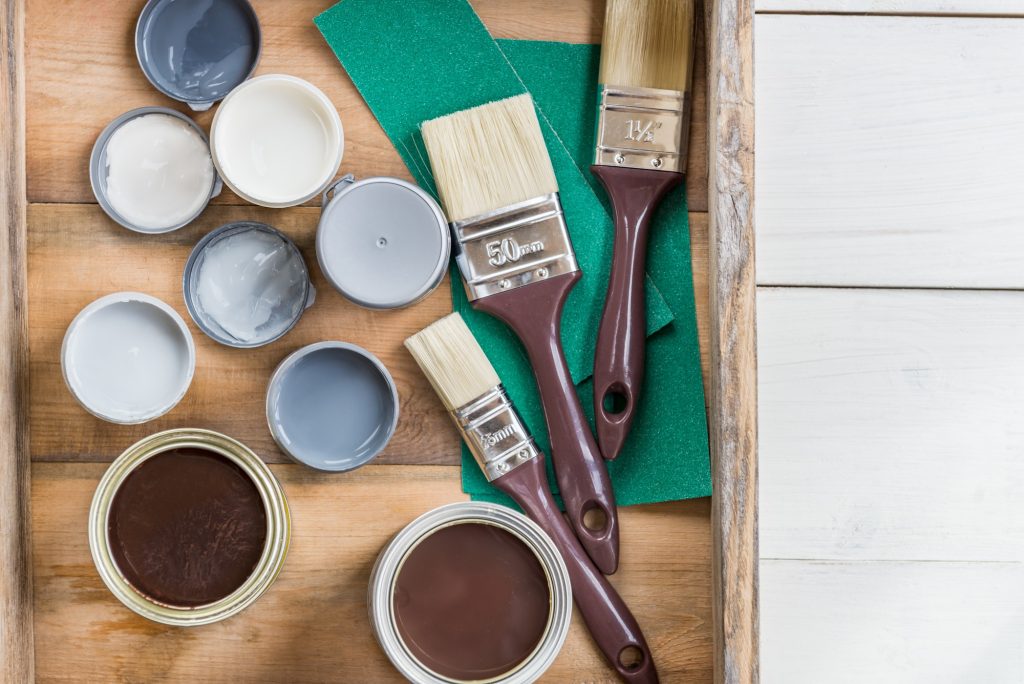 Step 2 – Painting
After applying your primer coat and allowing it to dry check the doors visually and by running a hand over the doors to make sure there are no clumps or drips on the doors. If you find any drips or clumps use your sanding paper or block to lightly knockdown the excess paint then wipe the area with a tack cloth.
Next you will start applying your finish paint by laying a coat of paint with either a brush or a roller. Make sure to get paint into all of the crevices and routed grooves. When using a roller make sure to apply even pressure on each stroke to prevent any roller lines. When using a brush make sure to remove excess paint from your brush as you work to prevent lines of excess paint from forming.
Apply one coat and allow to dry fully before applying a final coat. After the first coat dries check it visually and by running your hands along the cabinet door to check for excess paint. Use your sanding paper or block to remove any excess paint or drips and use your tack cloth to wipe down the doors. Apply your final coat using caution to get a clear even finish.
Allow doors to fully cure for a minimum of 48 hours before hanging.
Things to Avoid
When painting new cabinet doors it is important to use the correct type of paint. We recommend working with a non-blocking high quality paint and avoiding latex paints as they are to soft and will lead to a "sticky feeling."
For best results contact your local paint store instead of a big-box home improvement store for paint recommendations.
Try to keep your workspace free of dust and debris as it can affect the paint layers by settling and drying into freshly laid paint. Utilizing drop cloths or painters plastic is a great way to prevent unwanted dust.
We hope this tutorial was helpful! Please feel free to call if you have any questions. For more information on preparing to reface cabinets, check out our post on Cabinet Refacing!