If you already like your kitchen's look, congrats! If your kitchen could use an overhaul, well, congrats again! Home renovations, while intimidating, are an incredibly exciting prospect. That goes double for kitchens. Whether you're remodeling to update outdated features, create more space, or increase resale value, there is one decision that you'll have to make that mandates the overall look and feel of your space—the kitchen cabinets you choose, and if you want them to match or have some contrast!
There are so many choices available now, the possibilities seem endless. How do you choose from all the colors, styles, and finishes? One way to narrow down your choices is to decide between light and dark. It's a choice that sets the stage for the rest of the design details that you need to finalize. There are benefits to both styles of cabinets, but either way, you want to consider the use of contrast in the space. Use contrast to prevent a monochromatic, uninspiring feel to this important room of your home.
Throughout this guide, we'll discuss the various options for bringing some compelling contrast to your kitchen remodel in an effort to try and help you determine which style might be right for you.
Dark Contrast Kitchen Cabinets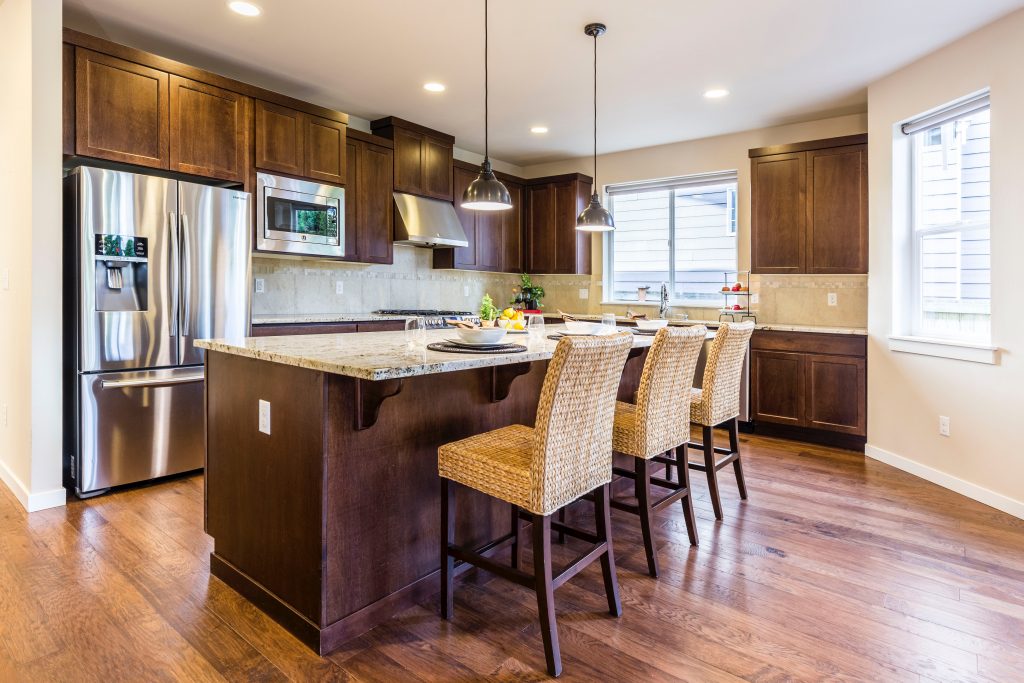 For a warmer, cozier feel, dark cabinets are a great choice. However, when choosing colors like deep espresso or charcoal-black, you want to take into consideration the influence they will have on the room. In small spaces, dark colored cabinets can make a room feel small and cramped. Pairing these cabinets with contrasting elements adds aesthetic appeal to your space—while also brightening any sized room.
When upgrading your cabinets with dark-colored options, the following design elements can add contrasting colors and highlights:
Countertops: The classic contrast is black and white, so it makes sense to highlight your darkly colored cabinets with a bright, clean-looking countertop. Light shades of granite or white marble pair nicely with dark kitchen cabinets and the light surface area will help to bring life and freshness to the room.
Backsplashes: Backsplashes serve as a functional element for protecting your walls from splatters while cooking. Backsplash is also used as a focal point in the kitchen. Light-colored backsplashes beneath dark cabinets break up the block of color and make your new kitchen eye catching.
Floors: With floors taking up a lot of space in your kitchen, they are one of the first things people notice when they walk into the room. Pair light, natural stone or materials, such as cork or bamboo, with darker cabinets to create an open feeling.
Light Kitchen Cabinets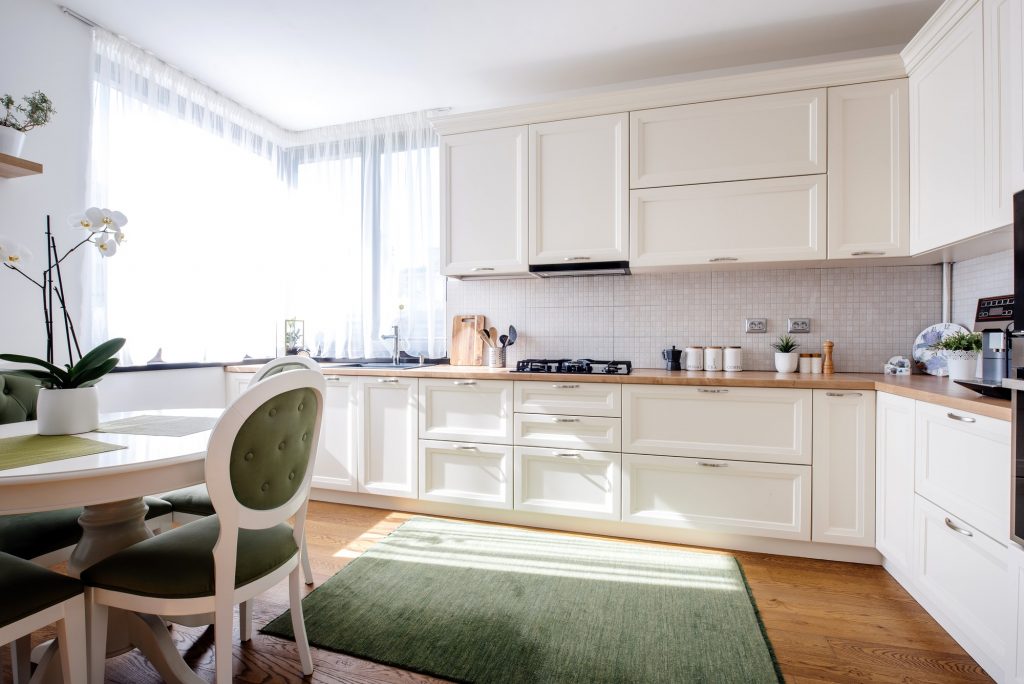 In smaller kitchens, light colored cabinets seem to work best as they create an illusion of a bigger more open space. However, just because you need light-colored cabinets to brighten up the space, doesn't mean that you have to sacrifice a bold look.
Pairing white or light woodgrain cabinets with the following elements can create a nice contrast that adds depth to even the smallest kitchen space:
Kitchen Island: If you are considering putting in a kitchen island and there is enough floor space in the room, they can serve as a highly functional element that can also add a classy look. Consider choosing an island made with dark-colored cabinets or a dark countertop that stands apart from the lightness of your wall cabinets to create a contrasting focal point.
Woodgrain: By introducing some darker woodgrain throughout the space, you can intensify the beauty of light cabinets and create contrast at the same time . Butcher blocks with dark grain threads in a light background add both texture and contrast to create a look that has depth.
Hardware: You don't have to break the bank making your light colored kitchen cabinets more interesting and dramatic. Instead of replacing major elements of the room, consider simply swapping out the standard hardware like knobs, pulls, and handles, for dark options.
Whenever you're remodeling or redecorating, the concept of contrast is bound to come up. There are many simple yet aesthetically pleasing ways to enhance the impact of both light cabinets and dark cabinets. No matter the size of the room, a little contrasting color can go a long way in making the heart of your home a place you enjoy being in.
If you need help picking out cabinet doors, don't hesitate to call and speak to one of our always ready customer service representatives. Check out these posts on how to measure for doors or drawers.