The decision to renovate involves making several choices about what you want your kitchen to look like, and what kind of functionality you want it to have. Among those choices, cabinet drawers certainly shouldn't be lost in the mix. Picking the right cabinet drawers can add a unique highlight to your space.
Let's make sure you pick out the right drawer style for your kitchen.
Styles
There are three main styles of drawers to choose from: raised panel drawers, inset panel drawers, and solid panel drawers. Each type is suited for different spaces and environments, giving you plenty of options for whatever direction you decide to take your kitchen remodel in.
Raised Panel Drawers
One of the more expensive styles, these cabinet drawers pair great with the same type of cabinet door, giving your room a timeless, traditional feel. The middle panel is raised, creating a groove that defines each drawer panel and creates highlights, bringing depth to the cabinetry. Since it is an expensive style, raised panel drawers require a higher level of precision craftsmanship.
Inset Panel Drawers
If you've ever seen or heard of a Shaker Cabinet style, congratulations. You've dealt with an inset panel style drawer, one of the most popular styles on the market today.
Known for being adaptable, inset panel doors have straight-forward designs featuring a recessed center panel surrounded by a frame. These simple, straightforward drawers add a sense of warmth and beauty to traditional, transitional and contemporary settings.
Solid Panel Drawers
Solid panel drawers offer smooth, clean lines and are great for showcasing a particular color or finish in your home. Known as a European style drawer, solid panel have a lack of lines it is used for a seamless look. This style has become fairly common in modern kitchen design, and feels instantly contemporary.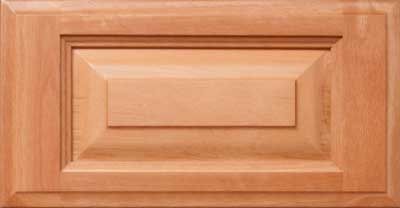 Wood Types
When it comes to wood and finishes you have several options to choose from in addition to the different types of cabinet drawers. There are many species of wood available, like Oak, Walnut, Alder, Cherry, or Pine. There is also the option of Thermofoil cabinets which, despite the name, actually do not contain metal or foil. Instead, Thermofoil is actually a type of vinyl.
MDF cabinet pieces are placed into a large flat tray and fed into a large machine. While in the machine, a thin malleable layer of foil-like vinyl material is heated and then vacuum sealed onto the surface. This process provides so many options for colors and patterns, making it a very popular option. The result is a cabinet with a smooth, seamless finish.
Drawer Boxes
Cabinet drawer boxes that are builder grade are generally made of particle board or thin plywood. These drawers break down overtime and you need replacement drawers. FastCabinetDoors.com offers drawer boxes crafted with the same quality and care as our doors and drawer fronts. Too often underestimated in their importance and value, high quality, solid wood, drawer boxes provide the stability and strength that set custom cabinetry apart from the rest. With many drawer box options available you can create the perfect box combination for your project.
Regardless of whether you are doing a full remodel or purchasing replacement kitchen cabinet drawers, each style brings with it a unique character. Any of these styles can guide a kitchen into a specific design direction, they all have the ability to conform to the design style you're going for in their own ways.
Purchasing drawer fronts that need to be painted? Take a look at how to prepare your cabinets for refacing here. If you need help or have any questions give us a call!